This Chai Cake is a special treat for chai tea lovers. Packed with fragrant spices and paired with a simple cream cheese frosting.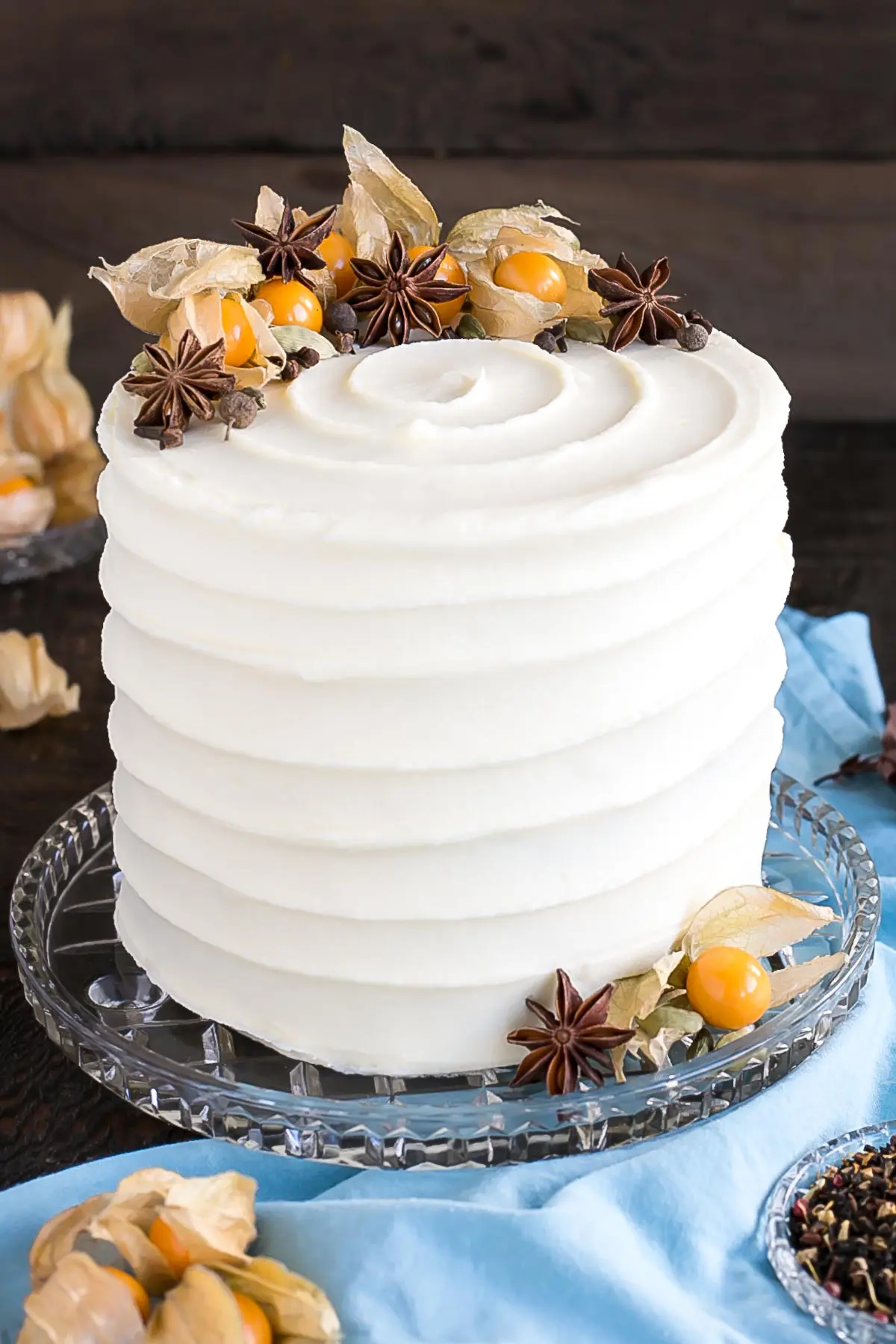 Any chai tea lovers out there?? I'm actually not one of them (gasp!), but I do love a good spice cake, and that's exactly what this is. But before we get into the details all of the deliciousness that is this Chai Cake, let me tell you about the adventure I had trying to decide how to decorate it. Ugh.
I was kind of at a loss for ideas. I was very uninspired, so I started looking at Fall food decorating ideas on Pinterest. Somewhere along the way, in the masses of pumpkins, and pears, and pecans, I stumbled across gooseberries. Now, there are no gooseberries IN the actual cake. They are purely decoration, and I think they do a pretty good job of that. But my quest to find them was not so easy.
I also decided that I wanted some white currants to go with the gooseberries on top of the cake. I had seen some at my local farmers market a few weeks ago, and crossed my fingers they were still there. They were not. Nor were the gooseberries. It wasn't until my 5th stop (!!) that I actually found gooseberries. And it was in a store I never go into and hadn't planned on going to, but there they were. Success! Partial, anyhow.
It was around store #7 that I gave up on finding the white currants. My backup plan, which I didn't have until I gave up on the currants, was to pair the gooseberries with whole spices. None of which I had at home, of course. I hit up store #8 for the whole cardamom pods (since I knew they had them — I should have bought them the week before when I got the ground cardamom there) and loose leaf chai tea. Unfortunately, they didn't have any other whole spices, so I had to go back to stores #2 and #5 to get them, UGH.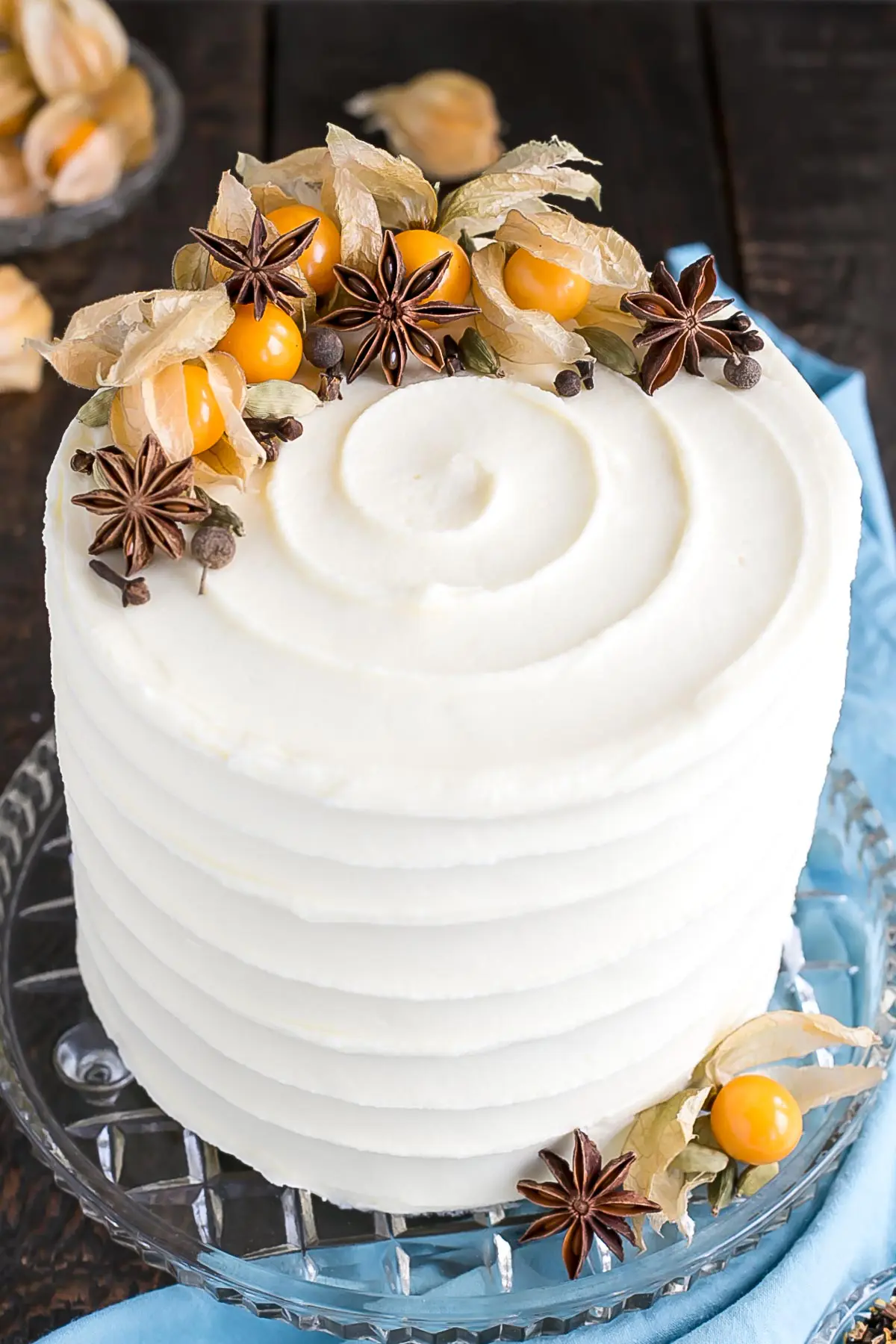 THREE hours later, I was finally home. I didn't get everything I wanted, but it was good enough. I was most happy with finding whole star anise. It's not actually in the cake either (lol), but it's so pretty!! Omg is it aromatic though. Not a pleasant smell unless you like liquorice (which I don't).
For those of you who are unfamiliar with chai tea, it's a very aromatic and spicy tea originating from India. The ingredients vary slightly depending on where you get it (or how you make it), but it typically consists of a black tea with cinnamon, cloves, ginger, black pepper, and the key ingredient, cardamom.
It's cardamom that gives chai tea its unique flavor, and I think it's a love/hate thing, like cilantro. It's very strong, so you want to be careful not to use too much of it.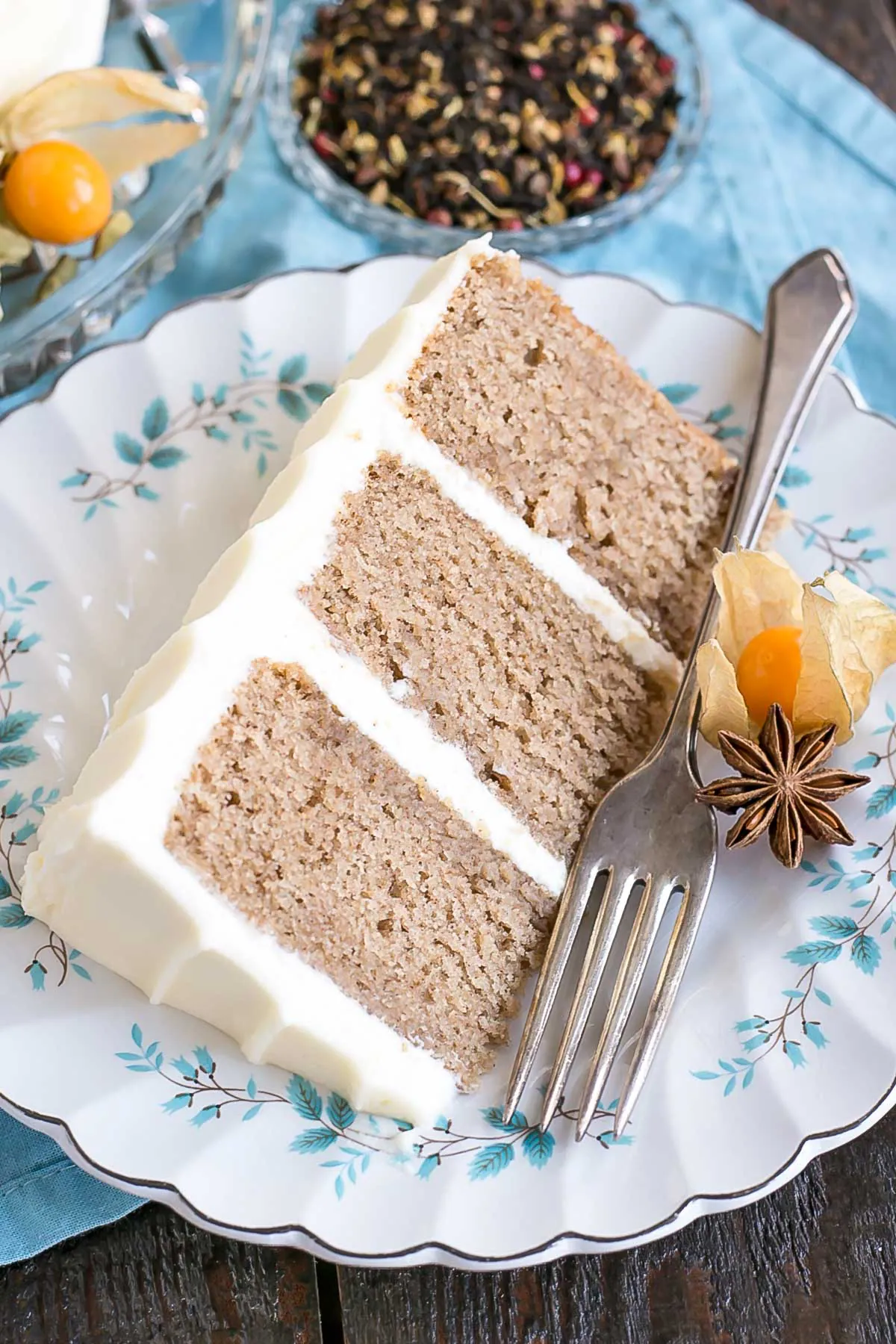 Since this is a spice cake, I chose to pair it with a cream cheese frosting, but you could use a vanilla frosting if you prefer. The flavor of this cake is delicious, and the texture is perfect. But if you don't like chai, you probably won't like the flavor of this cake, though I'm not a chai lover, and it still tastes delicious to me. You can always adjust the amount of cardamom in it too, or just leave it out altogether for a regular spice cake.
Tips for this Chai Cake:
Chai Cake with Cream Cheese Frosting
This Chai Cake is a special treat for chai tea lovers. Packed with fragrant spices and paired with a simple cream cheese frosting.
Ingredients
Instructions
Chai Tea Milk:
Bring milk and tea to a boil in a small pot over med-high heat. Turn heat off and steep for 10mins. Strain and measure out 1 cup. Top up with milk if needed.
Chai Cake:
Preheat oven to 350F. Grease and flour three 6″ cake rounds and line with parchment.

In a medium bowl, whisk flour, baking powder, spices, and salt until well combined. Set aside.

Using a stand mixer fitted with a paddle attachment, cream butter and sugars on med-high until pale and fluffy (approx 3mins).

Reduce speed and add eggs one at a time fully incorporating after each addition. Add vanilla.

Alternate adding flour mixture and Chai milk, beginning and ending with flour (3 additions of flour and 2 of milk). Fully incorporating after each addition.

Bake for 35-40mins or until a toothpick inserted into the center comes out mostly clean.

Place cakes on wire rack to cool for 10mins then turn out onto wire rack. Allow to cool completely.
Cream Cheese Frosting:
Using a stand mixer or hand mixer beat butter until pale and creamy.

Reduce speed to low. Add powdered sugar 1 cup at a time and mix on low until well blended. Increase speed to medium and beat for 3 minutes. Add vanilla and continue to beat on medium for 1 minute.

Slowly add chilled cream cheese one cube at a time (about 1 tablespoon at a time). Beat well until blended and ensure no lumps of cream cheese remain.

If needed, add cornstarch or meringue powder 1 tablespoon at a time to stiffen the frosting (I didn't but this is an option).

Run mixer on low for a couple of minutes to remove any air bubbles.
Assembly:
Place one layer of cake on a cake stand or serving plate. Top with 2/3 cup of frosting and spread evenly. Repeat with remaining layers and apply a thin coat of frosting all over the cake. Chill for 20mins.

Use the remaining frosting to frost the cake and do a rustic swirl on the sides and top with a large offset spatula if desired.

Decorate top with whole spices and gooseberries if desired.
Calories:
717
kcal
Carbohydrates:
86
g
Protein:
6
g
Fat:
39
g
Saturated Fat:
24
g
Cholesterol:
151
mg
Sodium:
246
mg
Potassium:
197
mg
Sugar:
67
g
Vitamin A:
1315
IU
Calcium:
112
mg
Iron:
1.6
mg
The nutritional information and metric conversions are calculated automatically. I cannot guarantee the accuracy of this data. If this is important to you, please verify with your favorite nutrition calculator and/or metric conversion tool.