These Pumpkin Muffins are the perfect way to kick off fall. Less than 25mins start to finish, and only 2 ingredients!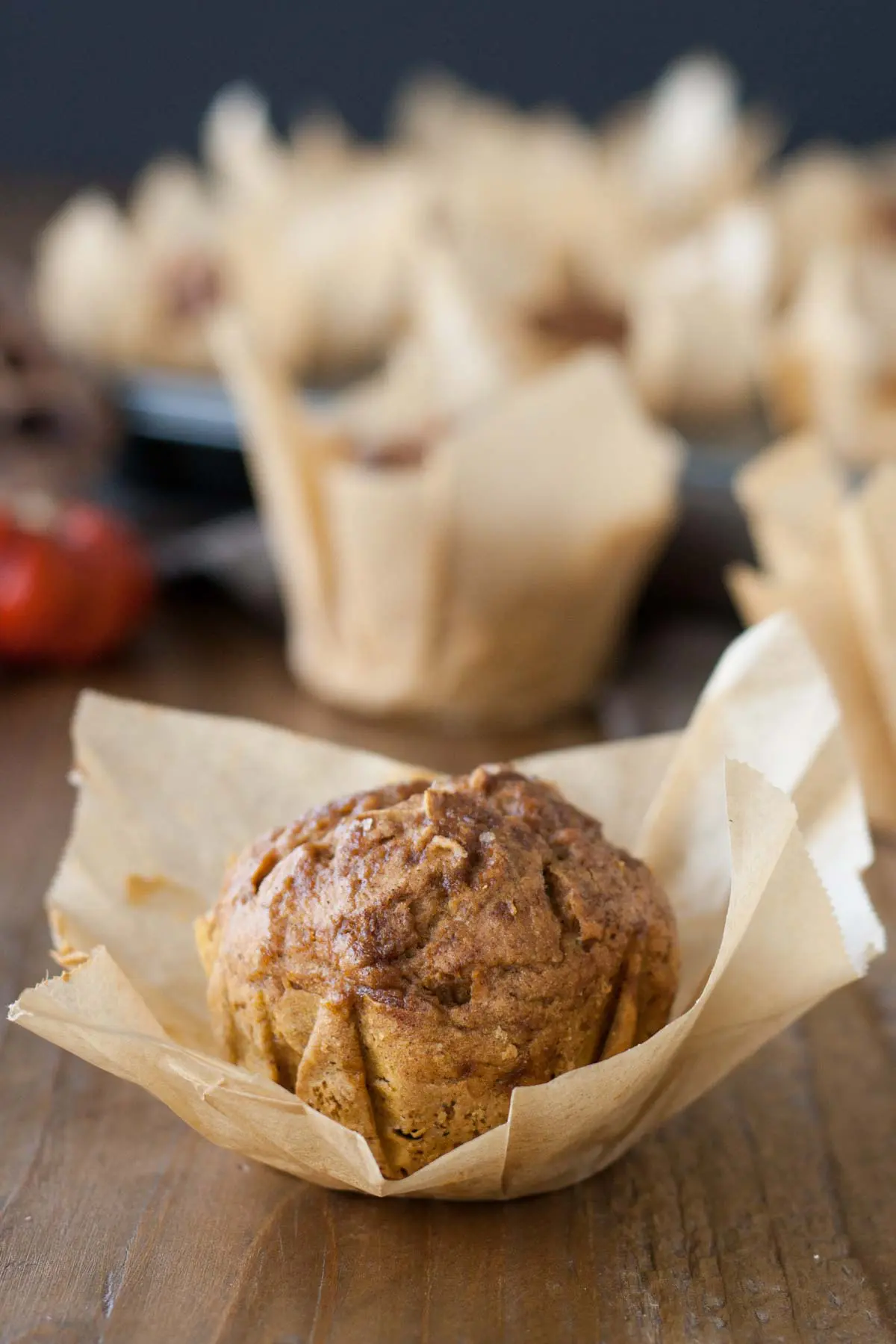 Maybe I'm jumping the gun on pumpkin season here… It's barely halfway through September and I'm busting out the pumpkin recipes. Well I love pumpkin and I LOVE Fall, so I couldn't resist. Plus, these pumpkin muffins right here? TWO ingredients! How amazing is that?? Ok, technically there is a third ingredient – water – but I'm assuming that if you have access to an oven, you also have access to water, so you actually only need to *buy* two things to make these. Read on to get the details of the recipe and find out how I made these adorable muffin liners myself!
I first made these muffins probably about 8 years ago, when Ryan and I were on Weight Watchers. This was before they changed over to their Points Plus plan, which I am not a fan of. Anyhow, on the old plan, if you made 24 of these muffins they were only 1 point each! Craziness. Super easy, delicious, and only 1 point? Sign me up. Needless to say, we made these pretty often. I'm not sure how many points they are on the new plan, but if you're a member you can calculate it.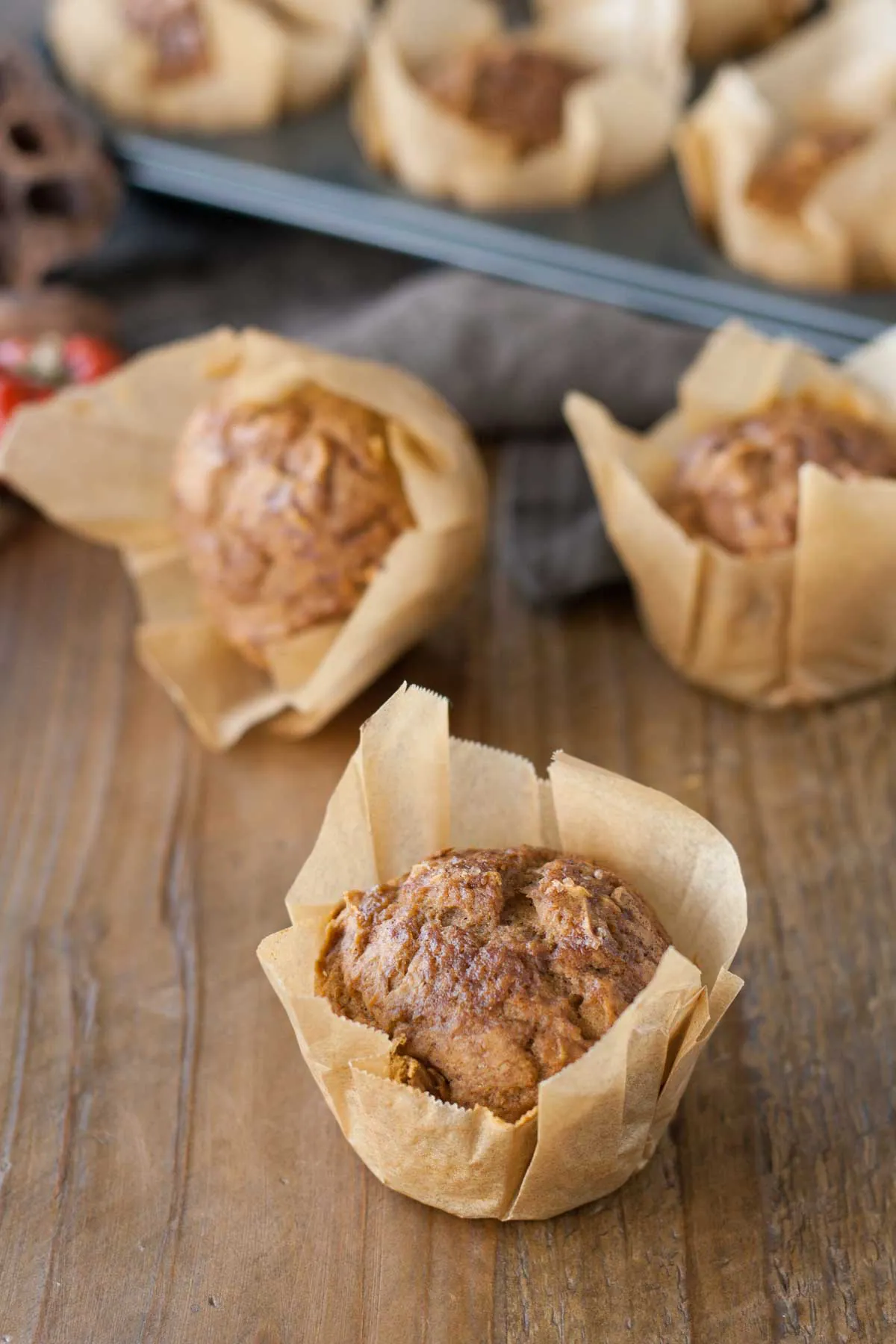 All you need to make these guys is a Spice cake mix (I use Duncan Hines), some pumpkin puree (not pumpkin pie filling), and some water. Throw it all into a bowl and mix it together. That's it! Scoop it into a muffin tin (liners optional), bake for 15-18mins (depending on how many muffins you decide to make), and you're done!
With this recipe, you can choose how many muffins you want to make, anywhere from 12-24. I made 18, so if you make 12, they will be larger and need a bit more baking time. If you make 24, they'll be smaller and bake up quicker. So be sure to adjust as needed.
For the muffin liners, I followed the method described on Craftsy. It was surprisingly easy, and I think they turned out perfectly. I cut 5″ wide strips of parchment, then cut each of those into 3 squares. Once the liners were formed, I used a medium cookie scoop to portion the batter. This was a teeny bit messy due to the uneven spikes on the parchment, but any excess batter on the tips of the liners was easily removed post baking.
I LOVE the rustic look of these liners and will be doing this in the future for all of my muffins! I might try it with cupcakes too, but I worry that the parchment liner would interfere with any frosting on the cupcakes.
These pumpkin muffins freeze really well too, so it's easy to make a large batch, stick them in the freezer, and have them as snacks throughout the week (if they last that long).
There you have it, my first pumpkin recipe of the season. Delicious pumpkin spice flavor and a super easy recipe. Does it get any better??
I've already baked a pumpkin loaf and have a pumpkin Bundt planned for October, so expect many more pumpkin recipes to come! Except pumpkin pie. I love pumpkin, but am not a fan of pumpkin pie. It's a texture thing I think, and WAY too much pumpkin for my taste. That, or maybe I've never had a really good one!
2 Ingredient Pumpkin Muffins
These Pumpkin Muffins are the perfect way to kick off fall. Less than 25mins start to finish, and only 2 ingredients!
Instructions
Preheat oven to 350F. Grease 2 regular size muffin tins with cooking spray or line with parchment/cupcake liners.

Combine all ingredients together in a medium bowl.

Scoop into prepared pan (I use a medium cookie scoop to do this).

Combine topping ingredients and sprinkle on top if desired.

Bake for 15-18mins.

Cool in pan for 10mins, remove and place on wire rack to cool completely.
Notes
* You can add up to 1 cup of water if you prefer less dense muffins.
Calories:
199
kcal
Carbohydrates:
34
g
Protein:
2
g
Fat:
6
g
Saturated Fat:
1
g
Sodium:
285
mg
Potassium:
215
mg
Fiber:
1
g
Sugar:
21
g
Vitamin A:
5145
IU
Vitamin C:
1.5
mg
Calcium:
50
mg
Iron:
2.5
mg
The nutritional information and metric conversions are calculated automatically. I cannot guarantee the accuracy of this data. If this is important to you, please verify with your favorite nutrition calculator and/or metric conversion tool.