These cinnamon spiced heart macarons are the perfect way to celebrate Valentine's Day!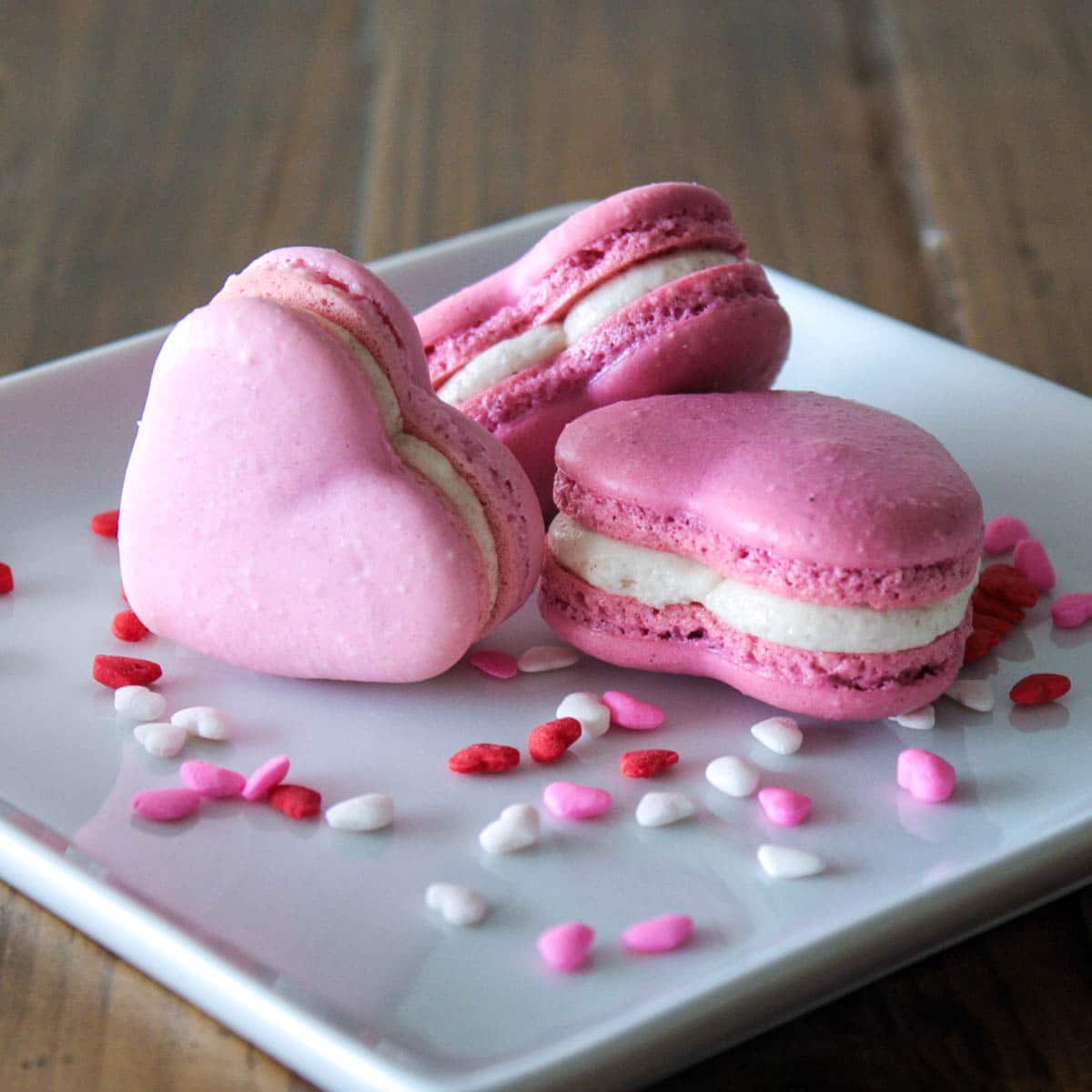 Baking holiday-themed stuff could be my most favorite thing ever. I get just a little excited about the prospect of incorporating different themes and flavors into my baked goodies. So, what better way to celebrate Valentine's Day than with some pretty pink heart macarons?
How do you make heart shaped macarons?
It didn't take me long to decide what I wanted to make, but it took some research to figure out how I would create the heart shapes. I spent too much time looking for a heart shaped cookie cutter to create my parchment templates. I needed ONE cookie cutter, not 3 and preferably not giant. This was harder to find than expected mid-January. Cookie cutter hunt was fruitless so I looked for a template online. I found this one, printed two 8 1/2″x11″ copies on my home printer and taped/cut them into an 11″x17″ shape for my pans. NOTE: The template I used is no longer available, but here is a similar one from my friend Mimi. I placed the parchment templates under my Silpat mats to use as a guide.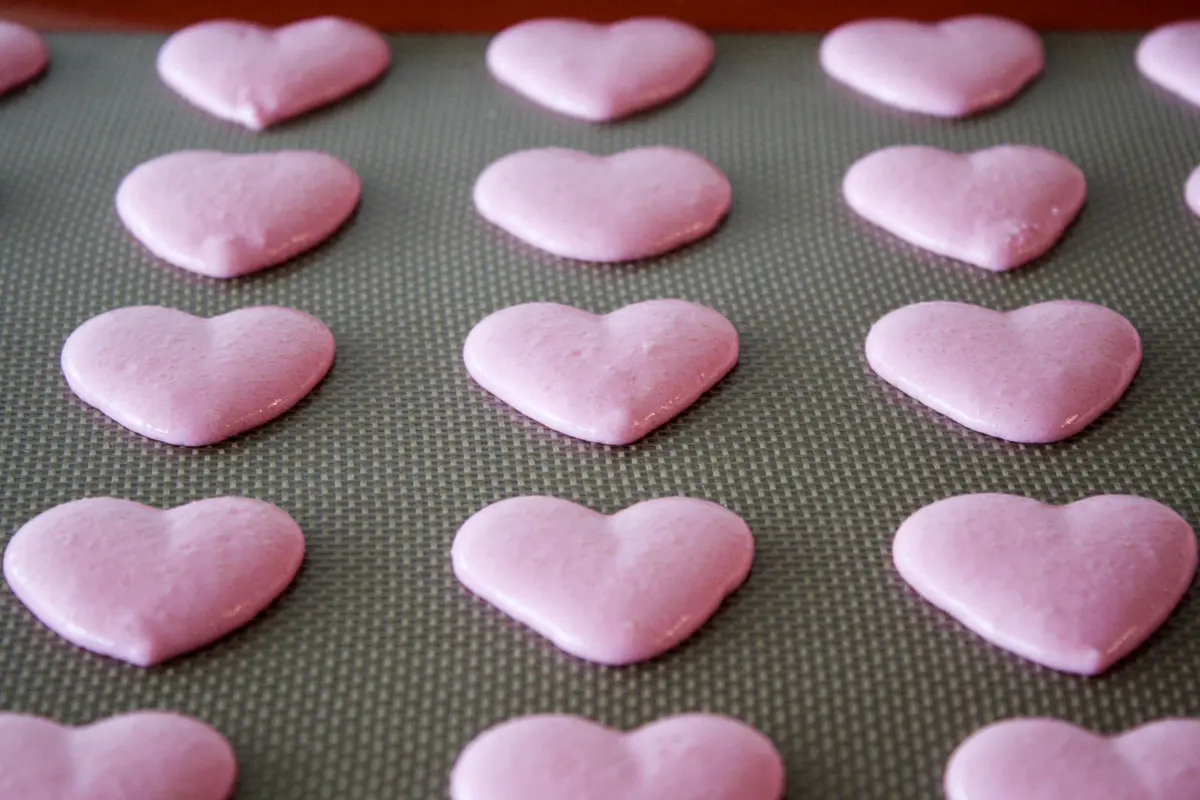 Piping the macarons was easier than expected, though I did use a toothpick on most of them to get the point at the bottom of the heart. I used the 2A tip for these guys as opposed to the 1A tip I usually use. The 2A is a bit smaller and was better for making this shape.
These didn't quite turn out as pretty as I'd hoped and I should have done a better job sifting the dry ingredients. Post-baking they were a bit lumpy and did not have the pristine smooth tops they should have.
Still though, after my initial distaste for their appearance (and thoughts of redoing them entirely), I think they turned out pretty good! I made these in two batches, one for light pink and one for dark pink. I added in some fuchsia color gel when I was doing the final mixing (referred to as macaronage).
For the filling, I made a buttercream using this recipe except I quartered it and added about 1/4 tsp cinnamon. It was a very subtle flavor, so if you like cinnamon, I would add more.
As is the case with most macarons, these only got better with age. You can eat them right away, (and really, who can resist?) but it's better to let them sit in the fridge overnight or even 24-48 hours.
Let the aged macs sit at room temperature for a bit before devouring and see if YOU have the will power to limit yourself to just one.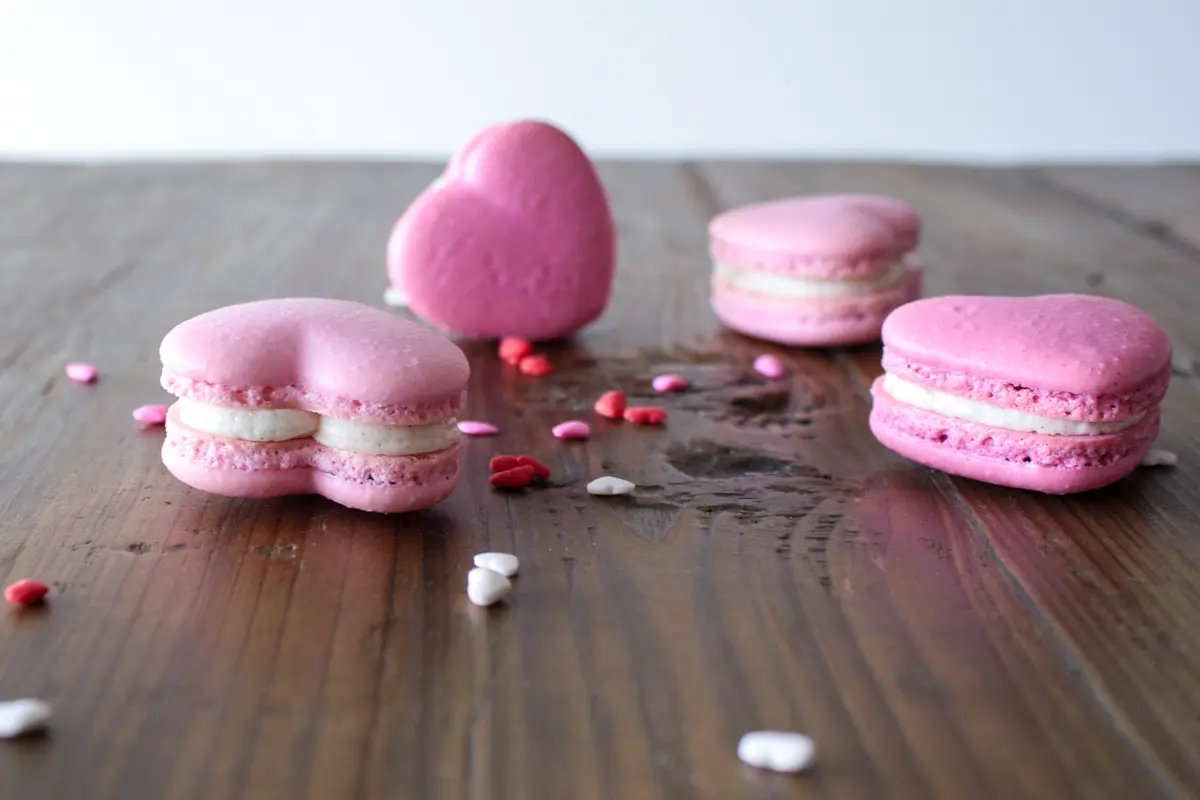 Tips for making these Valentine's Heart Macarons:
The measurements listed are by weight. I strongly recommend using a scale for macarons. They are incredibly finicky and temperamental, so the ingredients have to be precise.
You will need to do a LOT of folds to get them to the proper consistency.
Do not skip on the drying time. This is a MUST DO. They must be completely dry to the touch before you bake them or they will crack.
If they don't come out perfect the first time (they rarely do), know that they will still taste delicious! Looks aren't everything! 🙂
Valentine's Heart Macarons
These cinnamon spiced heart macarons are the perfect way to celebrate Valentine's Day!
Servings
10
sandwiched cookies
Instructions
Line baking sheet with a silpat mat or parchment.*

Place the almond powder and powdered sugar in a food processor. Process until just beginning to clump.

Sift well and discard any bits that won't pass through the sifter. Set aside.

Whip the egg whites until they're the consistency of a loose foam. Continue whipping while slowly adding the granulated sugar. Whip to a stiff meringue.

Fold the dry mixture into the meringue. Add in color gel at this point**

Pour the batter into a piping bag fitted with the 2A tip.

Pipe the macarons onto your baking sheet.

When all your macarons are piped, whack the baking sheet on the counter at least 3 times to get rid of any air bubbles.***

Let the macarons dry at room temperature until dry to the touch. Approx 1 hour. DO NOT skip this step.

Once dry, bake macarons in a 300°F oven until they stick a little bit to the pans. This can be anywhere from 10-20mins depending on your oven and how crowded the macarons are on the pan.

Let cookies cool completely before removing from pans.

Pipe buttercream into the center, sandwich the cookies and press together.
Notes
*I used a heart template and placed it under my Silpat mat.
**You will need to do a LOT of folds to get the batter to the proper consistency. You're looking for it to be smooth and shiny and have some movement. If you lift some up with a spatula, it should pour in a steady stream and settle into the remaining batter. DO NOT overmix.
*** Do not be shy with the whacking!
Calories:
249
kcal
Carbohydrates:
13
g
Protein:
2
g
Fat:
3
g
Sodium:
10
mg
Potassium:
9
mg
Sugar:
12
g
Calcium:
17
mg
Iron:
0.3
mg
The nutritional information and metric conversions are calculated automatically. I cannot guarantee the accuracy of this data. If this is important to you, please verify with your favorite nutrition calculator and/or metric conversion tool.