These Strawberry Cheesecake Cookie Cups are the perfect pairing of fruity cheesecake and chewy sugar cookies.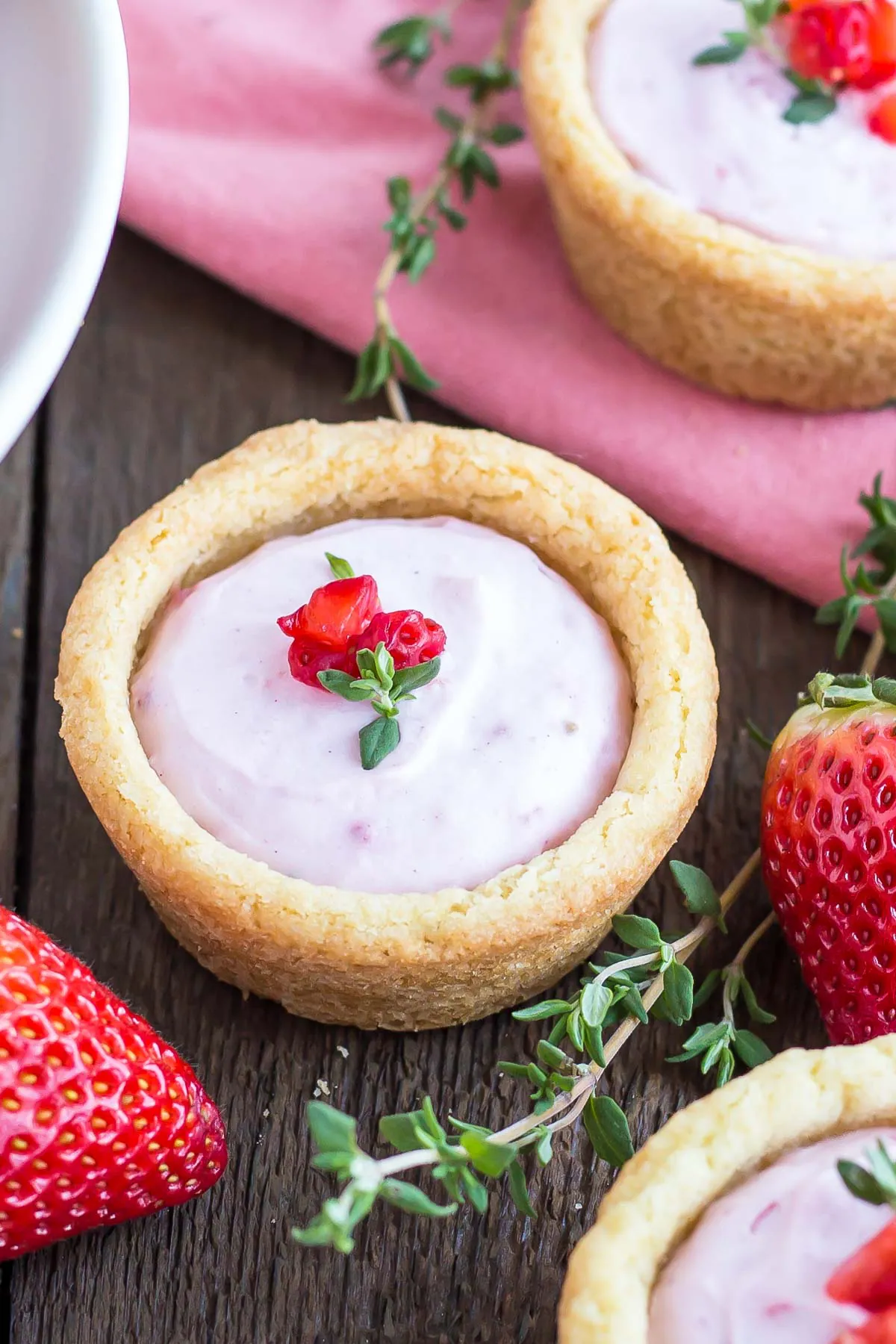 Has anyone else had trouble getting back into the swing of things? Ugh. My brain is still in Holiday mode and it's been a bit of a slog trying to get through this week. The gears just aren't turning. Unfortunately (for me), due to very poor planning (as always), I had to crank out and shoot 3 recipes this week. Which would have been a lot on its own, never mind the fact that I also managed to get a nasty cold halfway through the week. Ugh January.
This is the worst time of year. There's this huge build up through the Fall and into the holidays (my favorite) and then it all comes crashing down on New Year's Day… like the stock market in 1987.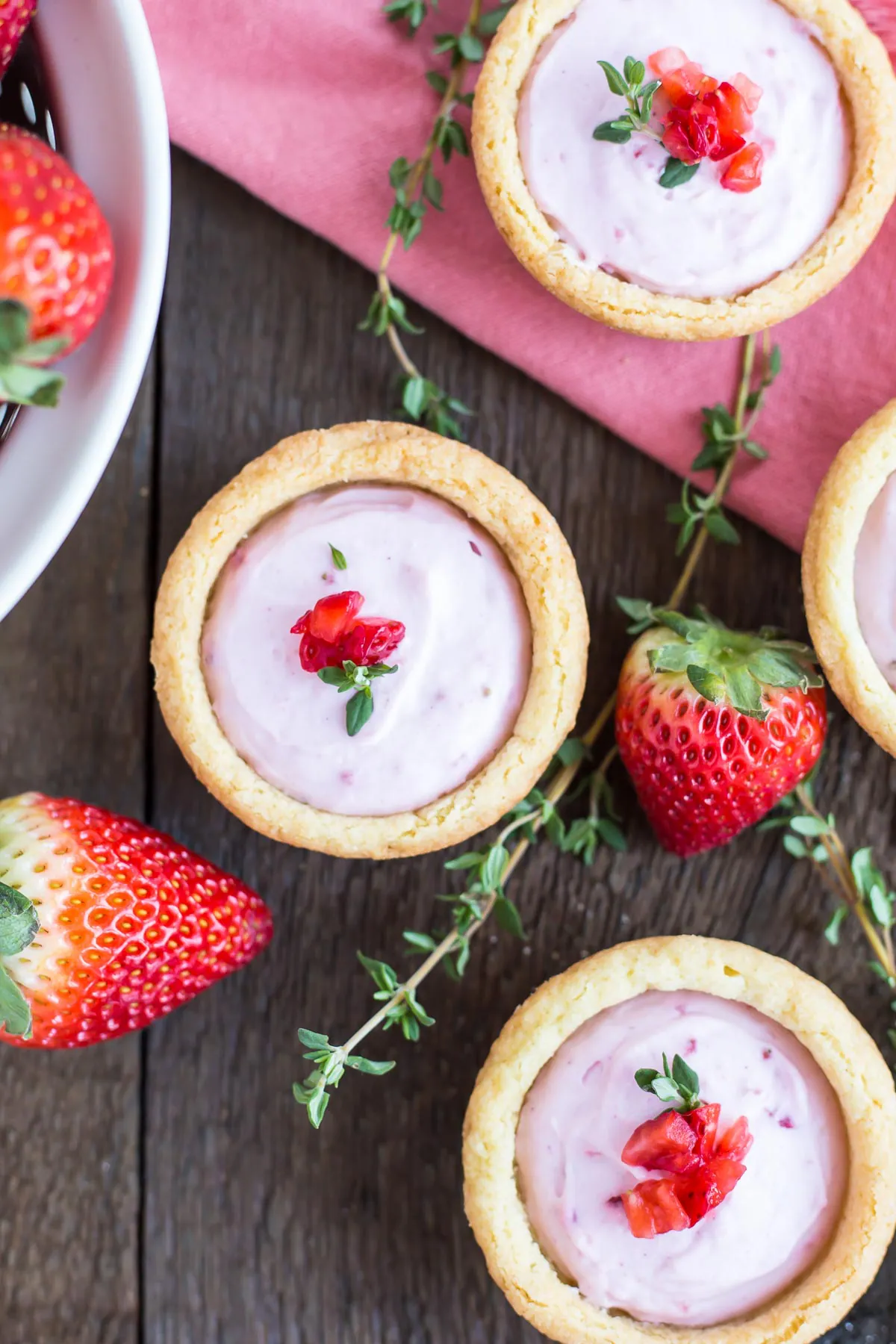 There is literally nothing to look forward to for months. MONTHS. We don't even get a long weekend here till the end of February, and even that is a newly added "holiday". It certainly doesn't help that I have no fun "themed" stuff to bake anymore. Fall and winter are so perfect for that. I'm not as into Valentine's or Easter baking, but I will make the best of it!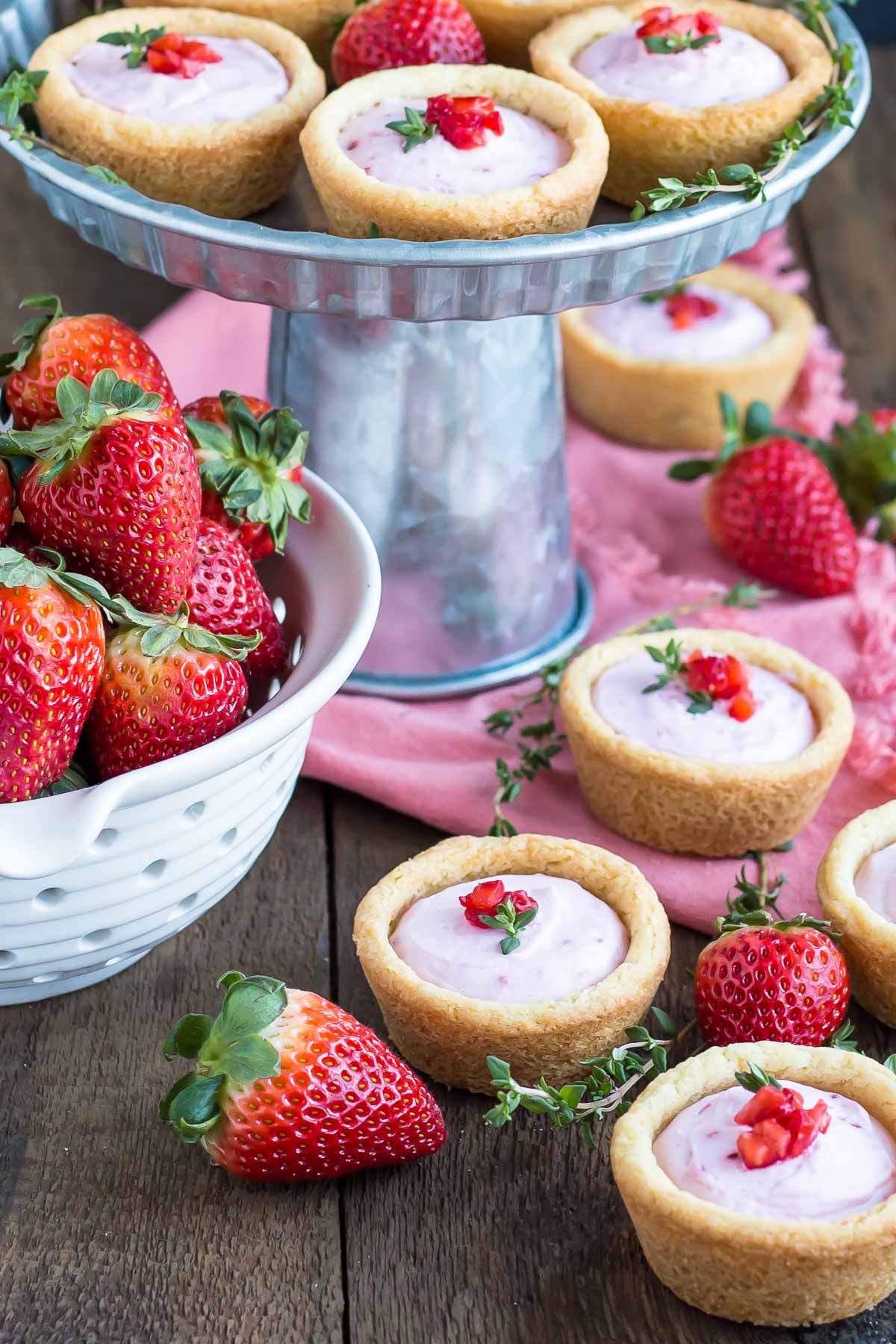 If you haven't noticed, I'm kind of a fan of cookie cups. And judging by the results of the Best of 2016, so are you! Who can blame you. They're easy to make and delicious to eat.
These bright and cheery Strawberry Cheesecake Cookie Cups are my attempt at bringing some sunshine to these dark, dreary, and cold winter months. I am loving this pop of color! The fact that I managed to find decent looking strawberries in January is an accomplishment on its own. They were on sale too! Finding things I need on sale is just the BEST.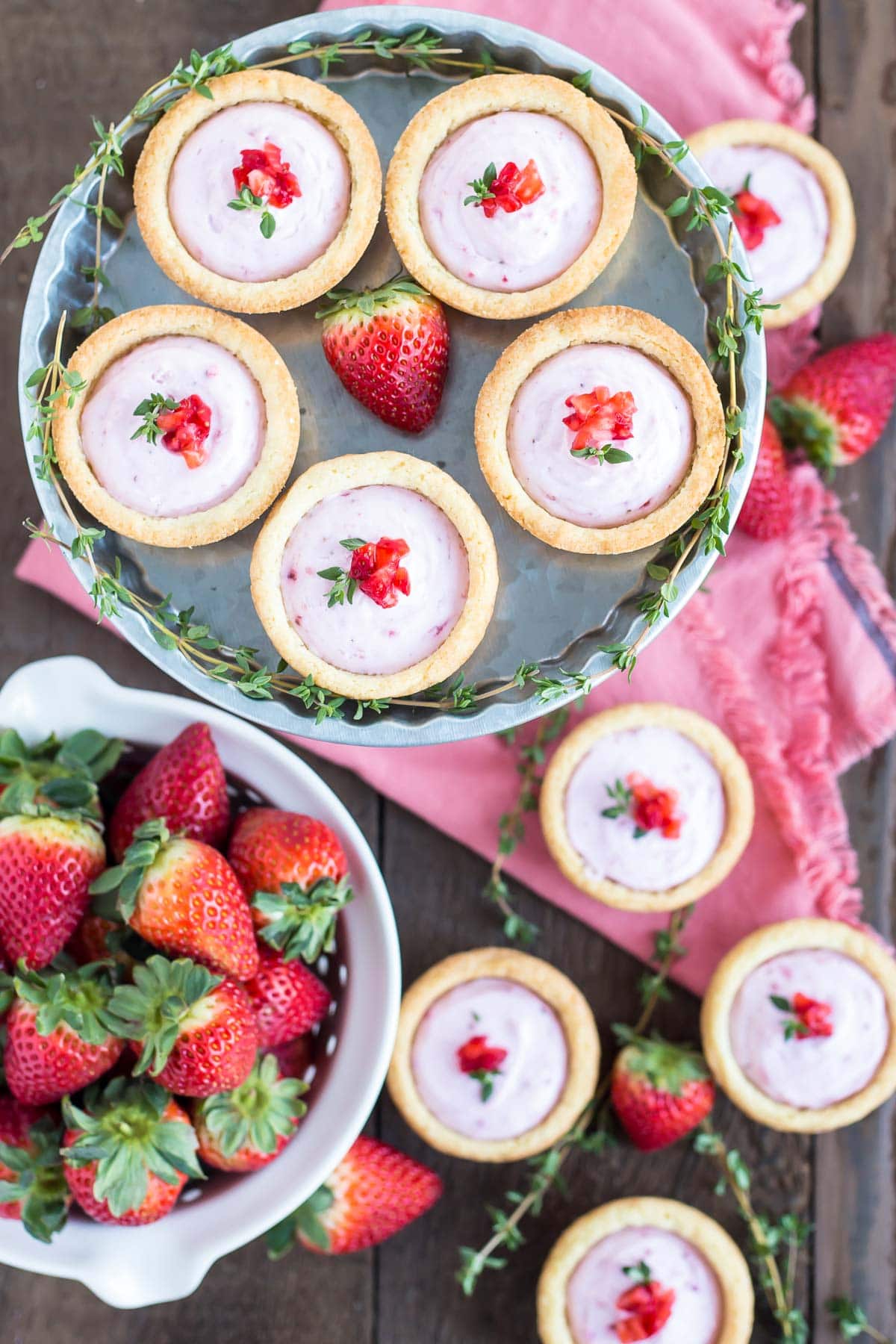 I'm actually not the biggest fan of strawberries. They are not my go-to berry – probably 3rd or 4th on the list. I feel like I might have a mild allergy to them, and generally don't like eating them in their pure form. That's why you see so many raspberry recipes around here!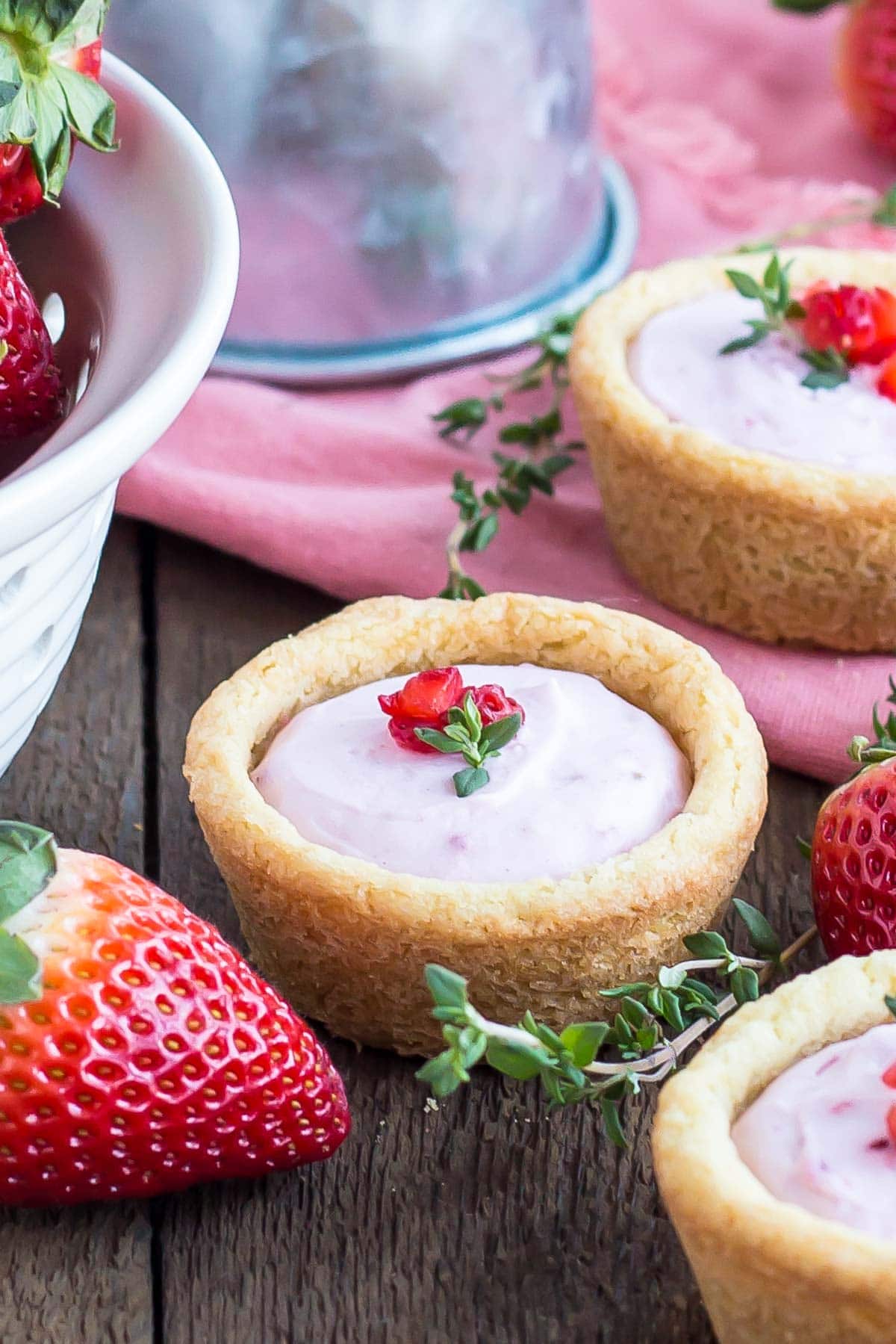 These were actually supposed to be Raspberry Cheesecake Cookie Cups, but I felt like I needed to mix things up a bit. I am SO glad I did! These turned out amazing and I actually can't see preferring the raspberry version. They have a perfect, creamy, strawberry flavor — like a milkshake or ice cream, but better. I might have to start incorporating more strawberries into my recipes after all.
It took all of my will power to not inhale an entire one (or three) of these after they were finished. I restrained myself to a single bite since we're dieting (*sob*). YEP. Just another reason this time of year sucks. We're not typically big on New Year's resolutions, but we'll be somewhere hot and sunny in a few weeks time, which means shorts, tanks, and *gasp* swimwear.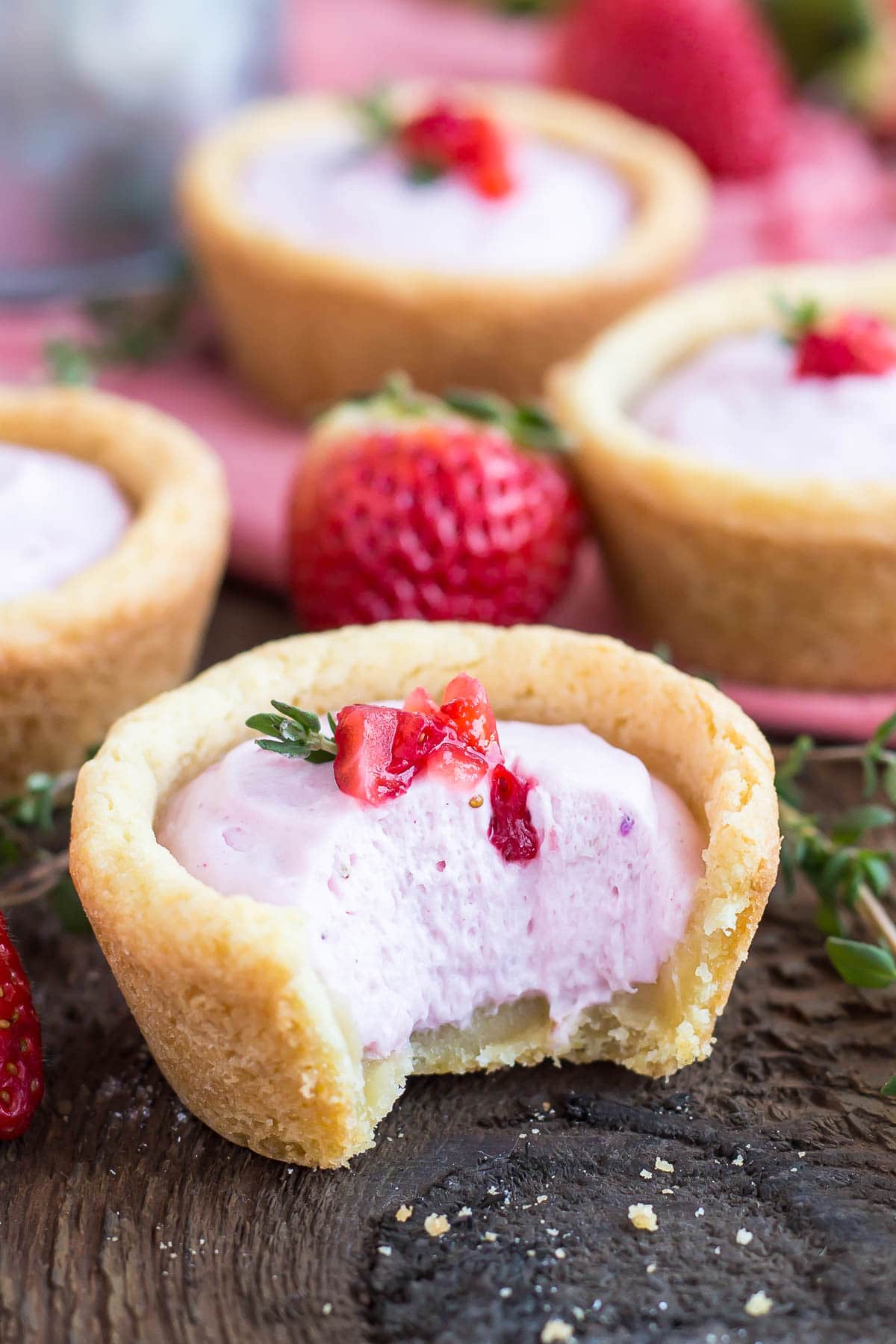 So, much to my dismay, the majority of these delicious cookie cups went off to Ryan's work with him. I am told they did not last long.
If you like chewy sugar cookies and creamy strawberry desserts, you will love these Strawberry Cheesecake Cookie Cups!
Notes & tips for these Strawberry Cheesecake Cookie Cups:
You can use a different fruit puree if you prefer.
Ensure your heavy cream is cold (ideally the mixer bowl too) as this will make the cream whip up better.
The cookies will soften a bit the longer they sit with the filling.
These freeze very well! Store in fridge for up to 5 days or in freezer (in an airtight container) for 1-2 months.
Best served cold, out of the fridge.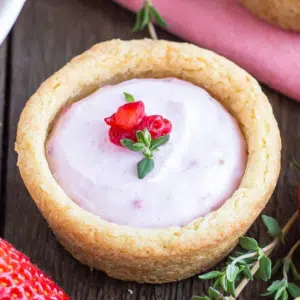 Strawberry Cheesecake Cookie Cups
These Strawberry Cheesecake Cookie Cups are the perfect pairing of fruity cheesecake and chewy sugar cookies.
Ingredients
Strawberry Cheesecake Filling:
1

cup

heavy whipping cream

cold

8

oz

cream cheese

softened

1/2

cup

granulated sugar

1/2

cup

strawberry puree

*

pink or red color gel

optional
Instructions
Cookie Cups:
Preheat oven to 350°F and spray 2 regular sized muffin tins with cooking spray.

Whisk together flour, baking soda, and salt, set aside.

Beat butter and sugar on med-high until pale and fluffy (approx. 2-3mins). Reduce speed and add eggs (one at a time), and vanilla. Beat until combined.

Add flour mixture and mix until just combined.

Using a

large cookie scoop

(3 Tbsp), scoop dough into muffin tins, press down to flatten slightly.

Bake for 10-12 mins or until lightly browned and mostly set.

Remove from oven and immediately use a small jar or container to press firmly down in the center to create a well. Cool in pans for 10 mins, then place on wire rack to cool completely.
Strawberry Cheesecake Filling:
Whip heavy cream until stiff peaks (ideally with a cold whisk and in a cold bowl).

In a separate bowl, beat cream cheese and sugar until smooth.

Fold cream cheese mixture and strawberry puree into whipped cream. Add additional color if desired. Pipe into cooled cookie cups. Refrigerate until set (approx. 2 hours).

Serve cold and eat within 2-3 days. Or freeze for up to 4 weeks.
Notes
* 1 cup of whole fresh strawberries, stemmed and hulled, pureed.
Calories:
332
kcal
Carbohydrates:
35
g
Protein:
3
g
Fat:
20
g
Saturated Fat:
12
g
Cholesterol:
79
mg
Sodium:
219
mg
Potassium:
60
mg
Sugar:
22
g
Vitamin A:
710
IU
Vitamin C:
2.4
mg
Calcium:
30
mg
Iron:
0.9
mg
The nutritional information and metric conversions are calculated automatically. I cannot guarantee the accuracy of this data. If this is important to you, please verify with your favorite nutrition calculator and/or metric conversion tool.