No campfire needed for these S'mores Cookie Cups! Graham cracker cookie cups filled with a Hershey's milk chocolate ganache, topped with toasted homemade marshmallow fluff.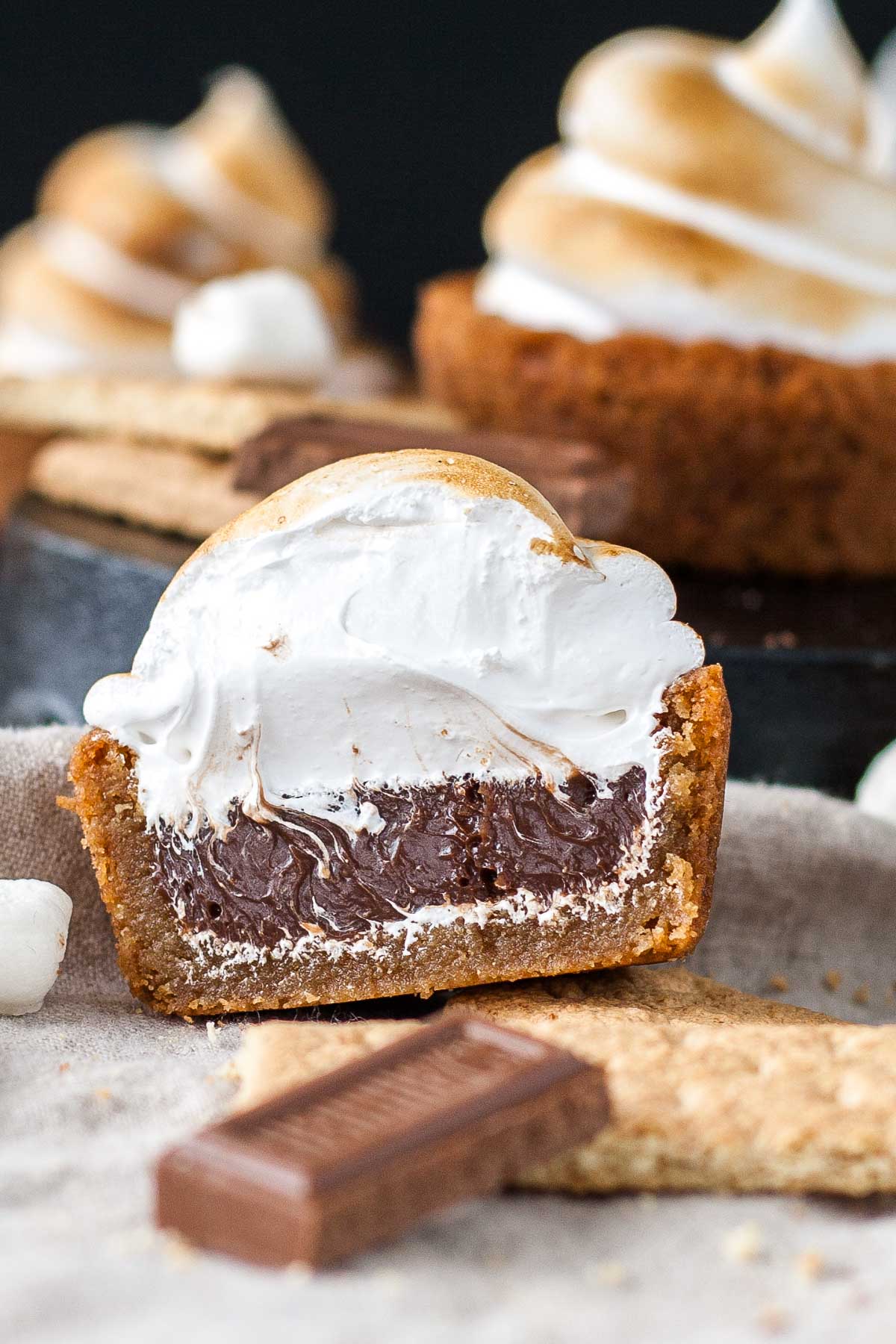 You may have noticed the lack of a new post last weekend — that happened for two reasons:
It was a holiday weekend for both the US and Canada, so I didn't expect many people to be on their various devices.
I took the entire long weekend (plus a day!) OFF from almost everything blog-wise to celebrate/recuperate because we finally found a place to live! AND managed to get it. Which is a feat unto itself these days.
We are no longer homeless. Wooohooo! We weren't actually at risk of being completely homeless just yet, but it felt like it was touch and go there for a while. I am SO GLAD to be done with the house hunting, you have no idea. It was honestly one of the most stressful and time-consuming experiences of my life. In a normal housing market it would be fine… fun, even! But not these days, not here.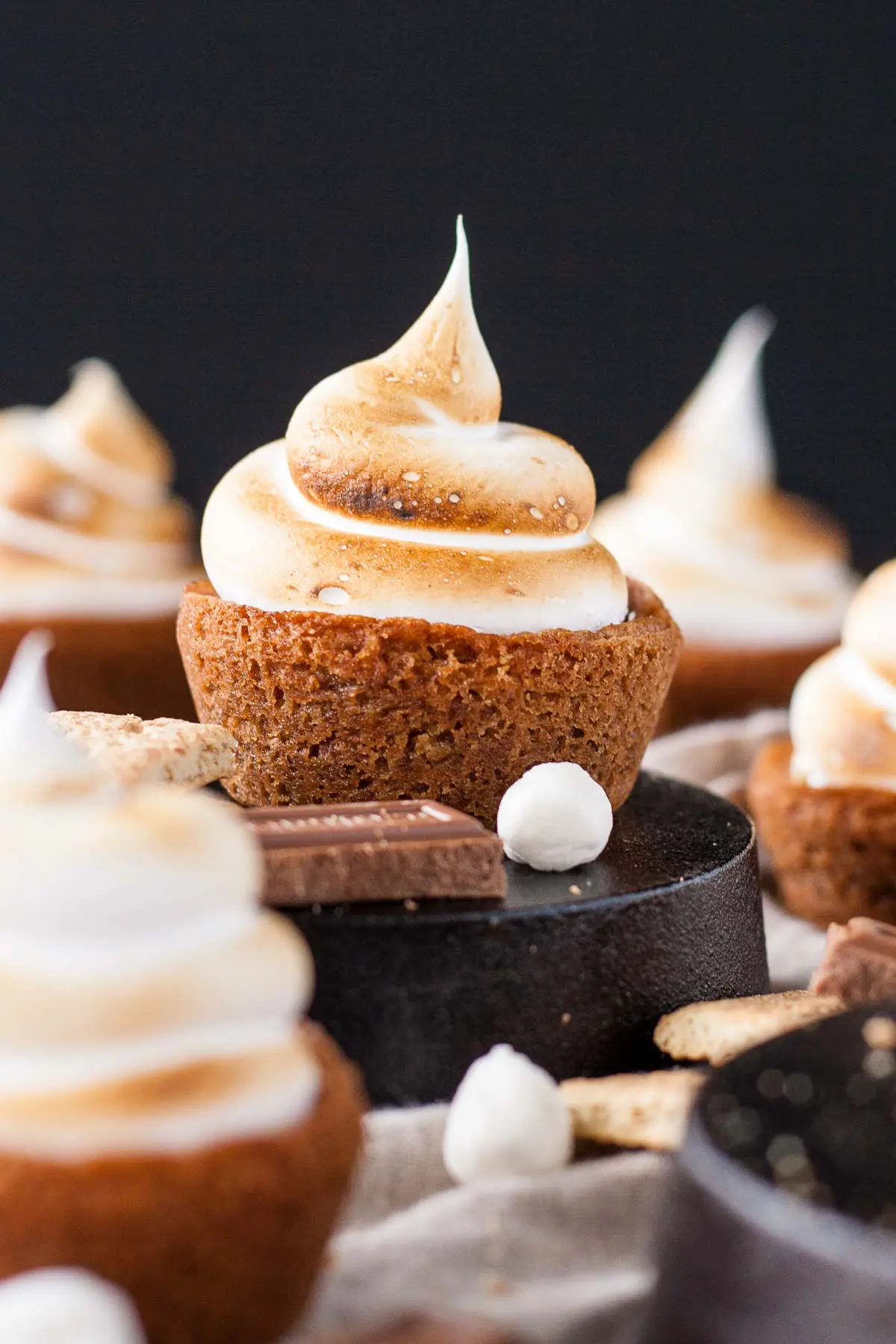 PSA to any of my Vancouver readers, if you're thinking of entering the housing market because of the no doubt ridiculous sum of money you can get for your current place, I strongly advise against it. If we didn't already want to move (our neighbours SUCK), I think we would have waited.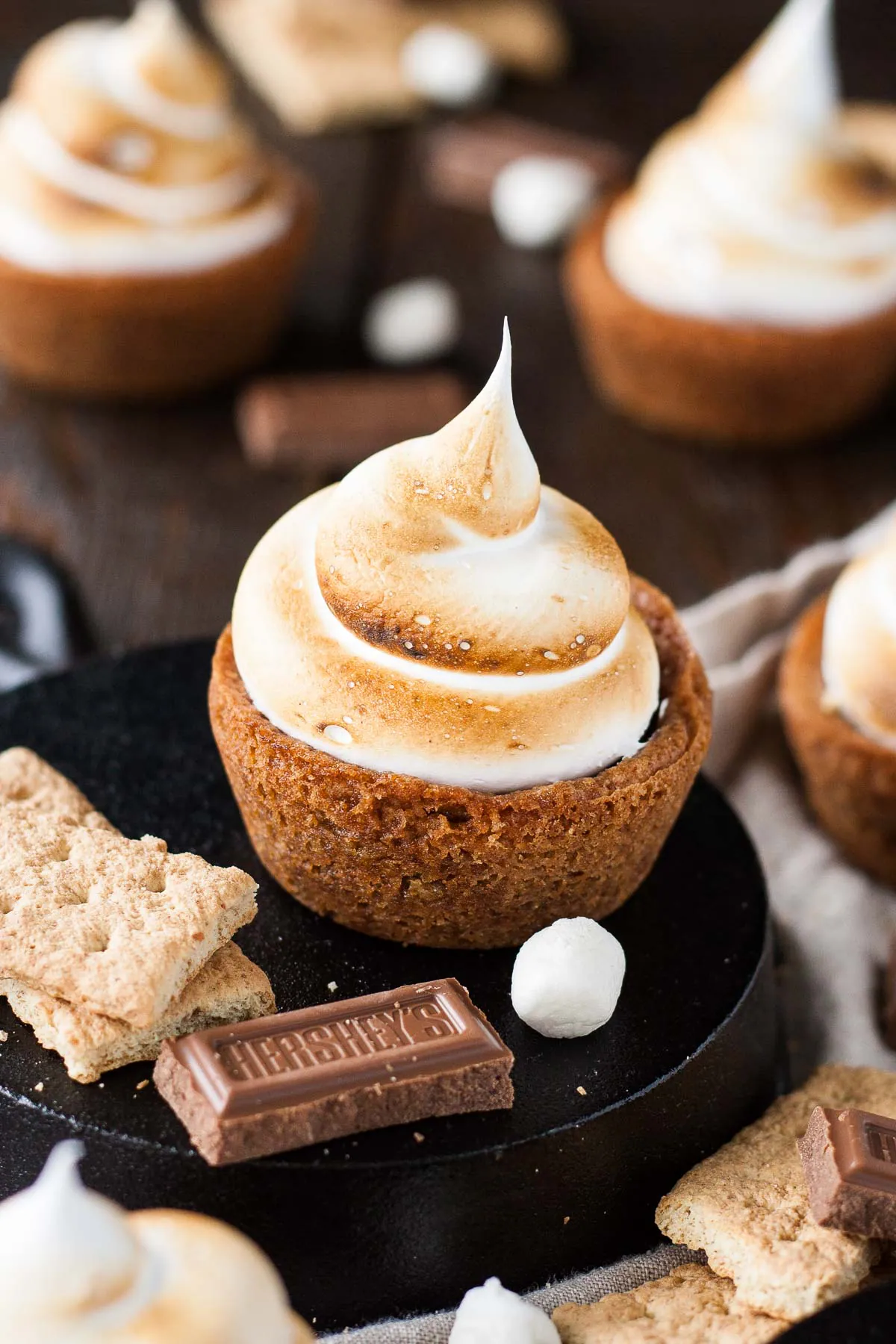 If you read my last post, you know about the ridiculous crowds of people at the open houses. It does not seem to be slowing down by any means. But somehow in all this insanity and craziness, after losing out on another place just the night before, we ended up finally getting a place that had 4 other offers on it. Stress. Life.
Anyway, it's over, and for that I am glad. Now we have a couple of months to slowly pack up our stuff and move at the end of the summer. I am really looking forward to moving into the new place!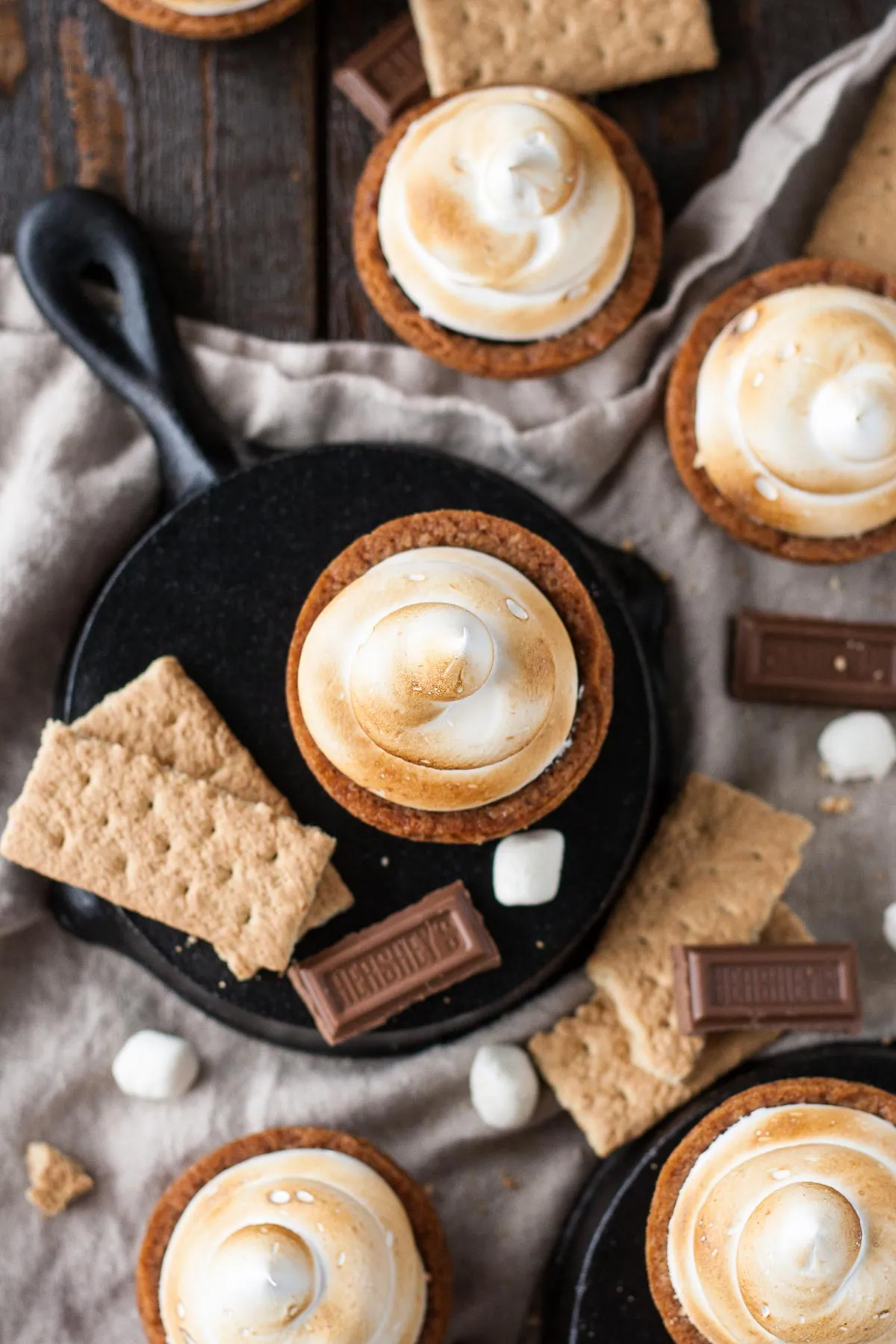 As a result of all of the self-imposed stress, I honestly hadn't felt much like baking these past few weeks. My life was consumed with scouring MLS listings, planning out our open house schedules, dealing with banks, realtors, etc. It was the opposite of fun and I just had no motivation for anything else.
Thankfully, I did muster up the energy one day to make these S'mores Cookie Cups. They're like a fancy version of a s'more (and more delicious in my opinion). I needed something to get me through the days!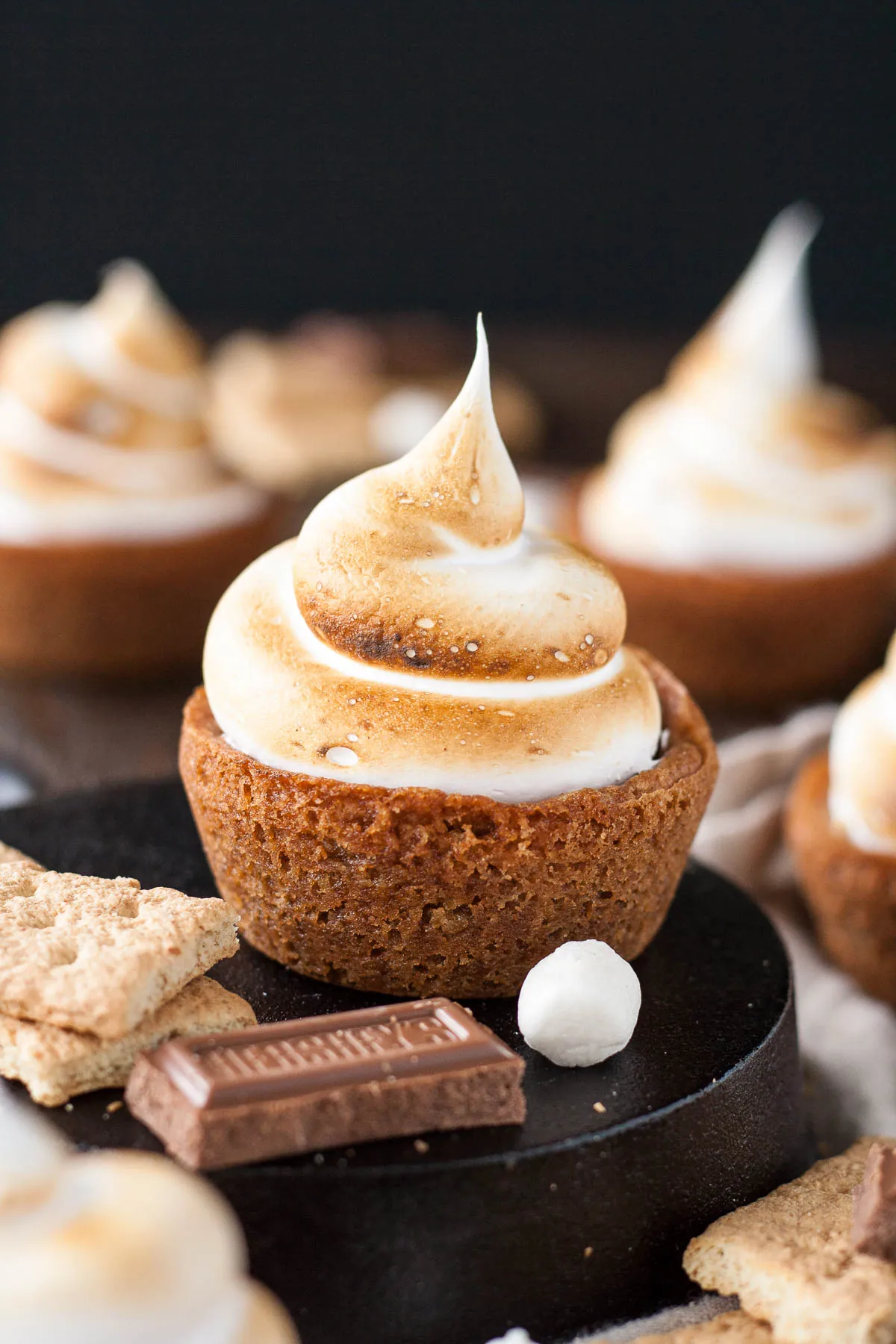 I have a crapload of s'mores recipes. Honestly, I don't know why I have so many! You'd think I have some sort of s'mores obsession or something. I don't.
If you haven't made cookie cups before, you need to try them. They are so easy and fun to make! These S'mores Cookie Cups are definitely more work than your traditional s'more, but they are well worth the effort. PLUS, you don't always have a campfire nearby to make the real ones.
For the cookie cups, I used my favorite chocolate chip cookie recipe and swapped out some of the flour for graham cracker crumbs. The filling is a ganache made with Hershey's Milk Chocolate and heavy cream. I opted to make my own marshmallow fluff for the topping, because it's delicious.
I haven't had luck with the store-bought kind, so I don't recommend it, but you could try it to see if it works. I'm not sure it would be pipeable, but you could probably smear it on the top and then torch it. Alternatively, for an uber easy (though less gooey) route, you can place a jumbo marshmallow on top and torch that.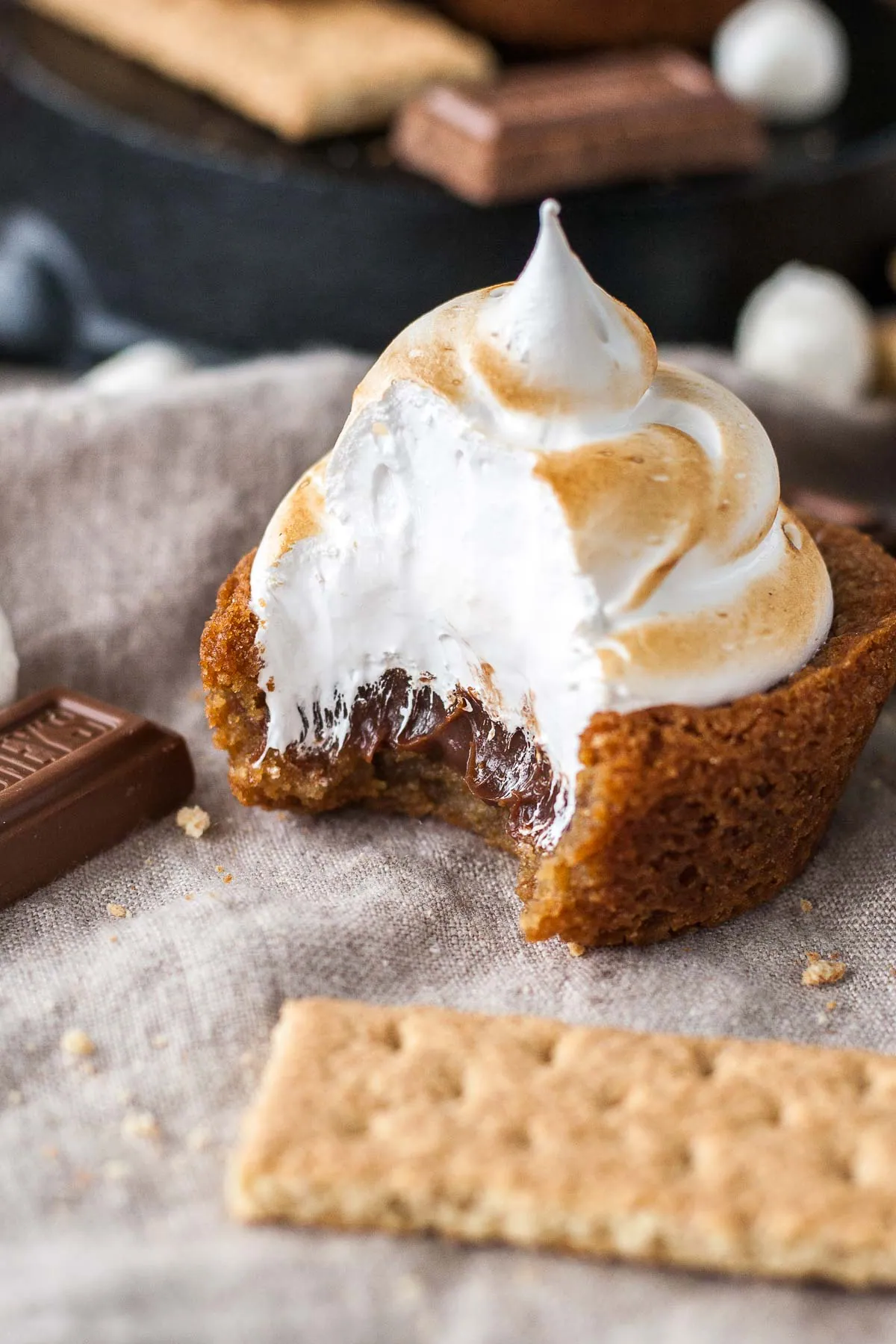 These S'mores Cookie Cups are honestly amazing. I'm not the hugest fan of s'mores, but these things are GOOD. They are on the sweet side, but that works just fine for me. If you'd like to tone it down a bit you can use dark chocolate instead of milk chocolate.
These guys also store and freeze really well. I would keep them in the fridge if you're not planning on eating them right away, but you could definitely pop them into the freezer in an air-tight container for a few weeks. You know, in case you want to double the batch but prevent yourself from eating them all in one sitting ;). Just let them come to room temperature before you dive in.
Enjoy!
Tips for these S'mores Cookie Cups:
The cookie cups are very soft right out of the oven and chewy once cooled. If you'd prefer them to be firmer, swap out equal portions of the graham cookie crumbs for more flour.
For ease, you can try using store-bought marshmallow fluff, but it might not be as easy/pretty to pipe out.
These freeze very well! Store in fridge for up to 5 days or in freezer (in an airtight container) for 1-2 months.
Best served at room temperature.
S'mores Cookie Cups
No campfire needed for these S'mores Cookie Cups! Graham cracker cookie cups filled with a Hershey's milk chocolate ganache, topped with toasted homemade marshmallow fluff.
Instructions
Cookie Cups:
Preheat oven to 350°F. Spray a regular sized muffin tin with cooking spray.

Whisk together flour, graham cracker crumbs, baking soda, and salt, set aside.

Beat butter and sugars on med-high until light and fluffy (approx. 2-3mins). Reduce speed and add egg and vanilla. Beat until combined. Add flour mixture and mix until just combined.

Using a large cookie scoop (3 Tbsp) scoop dough into muffin tins, press down to flatten.

Bake for approx. 13mins or until browned and mostly set.

Remove from oven and immediately use a small jar or container to press firmly down in the center to create a well. Cool in pans for 15mins, then place on wire rack to cool completely.
Chocolate Filling:
Place chopped chocolate and cream into a microwave safe bowl. Stir to combine. Microwave for 20 seconds, stir. Microwave in 10 second intervals, stirring in between, until smooth and silky. Set aside to cool completely before using.
Marshmallow Fluff:
Place water, sugar, and corn syrup (or honey) in a medium saucepan. Stir to combine.

Insert a candy thermometer into the pot and heat over medium-high. Do not stir from this point on as crystals will form.

Ensure mixer bowl and whisk are completely grease free.*

Place egg whites and cream of tartar in the bowl of a stand mixer.

When the sugar syrup reaches about 225°F, start whipping the egg whites to soft peaks. Approx 3-4mins.

When the whites are ready, the sugar syrup should be at 240°F. Remove from the heat, turn mixer to medium and very slowly and carefully pour the sugar syrup into the whites in a thin, steady stream.**

Once all of the syrup is in, set mixer to medium/high and continue whipping. The whites will deflate at first, but they will thicken and fluff up. Continue to whip for 7-8 minutes, or until the mixture is thick and glossy. Add in vanilla and whip until the fluff has cooled.
Assembly:
Pour chocolate onto a liquid measuring cup for ease. Pour a couple of teaspoons of chocolate into each cookie cup. Allow to set (you can speed this up in the fridge).

Prepare a

large (16) piping bag

fitted with a large round tip (I used

Ateco 808

). Fill with marshmallow fluff and pipe onto each cookie cup. Toast with a kitchen torch.
Notes
*If there is even a speck of grease (or egg yolk) the meringue will not whip. I wipe everything down with lemon juice before adding the egg whites.
**The sweet spot for this is getting the stream right between the whisk and the sides of the bowl, so the syrup doesn't get splashed by the whisk. You will have some marshmallow fluff left over which you can store in an airtight container in the freezer and use it at a later date for S'mores Macarons, S'mores Baked Alaska, or good old Rice Krispie Treats.
Calories:
457
kcal
Carbohydrates:
70
g
Protein:
4
g
Fat:
19
g
Saturated Fat:
11
g
Cholesterol:
61
mg
Sodium:
240
mg
Potassium:
84
mg
Sugar:
62
g
Vitamin A:
460
IU
Calcium:
66
mg
Iron:
0.8
mg
The nutritional information and metric conversions are calculated automatically. I cannot guarantee the accuracy of this data. If this is important to you, please verify with your favorite nutrition calculator and/or metric conversion tool.