Make the most of rhubarb season! 10 minutes of prep is all you need to make this simple Rhubarb Galette.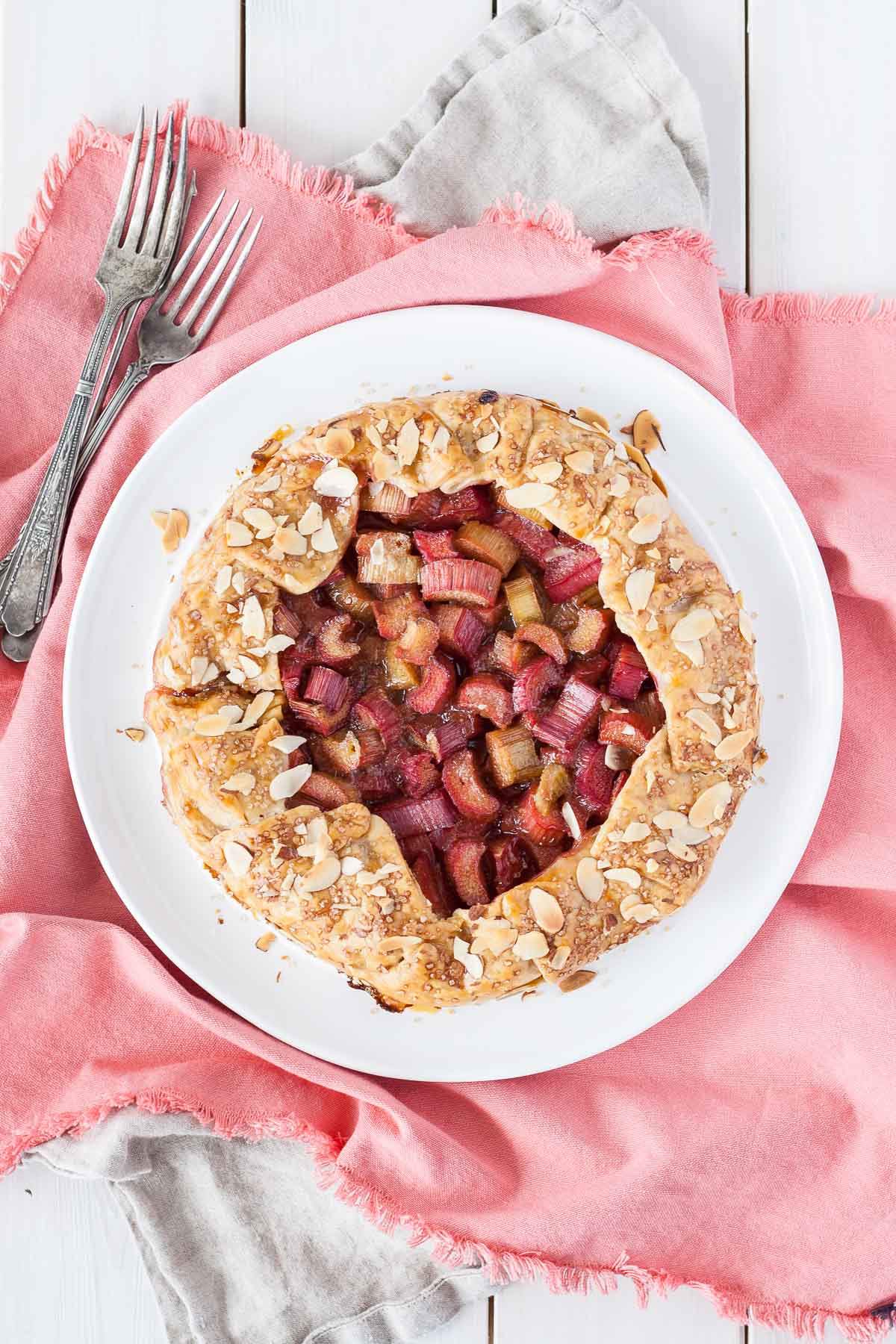 A more appropriate title for this may be "The Rhubarb Galette That Almost Wasn't". This poor recipe, that I was so uninspired to make, kept getting pushed to the back burner (and the back of the fridge) every time something more interesting came up. I finally decided to make it this week, since I needed a post for the weekend. So it was out of necessity, not desire, that the rhubarb actually got used.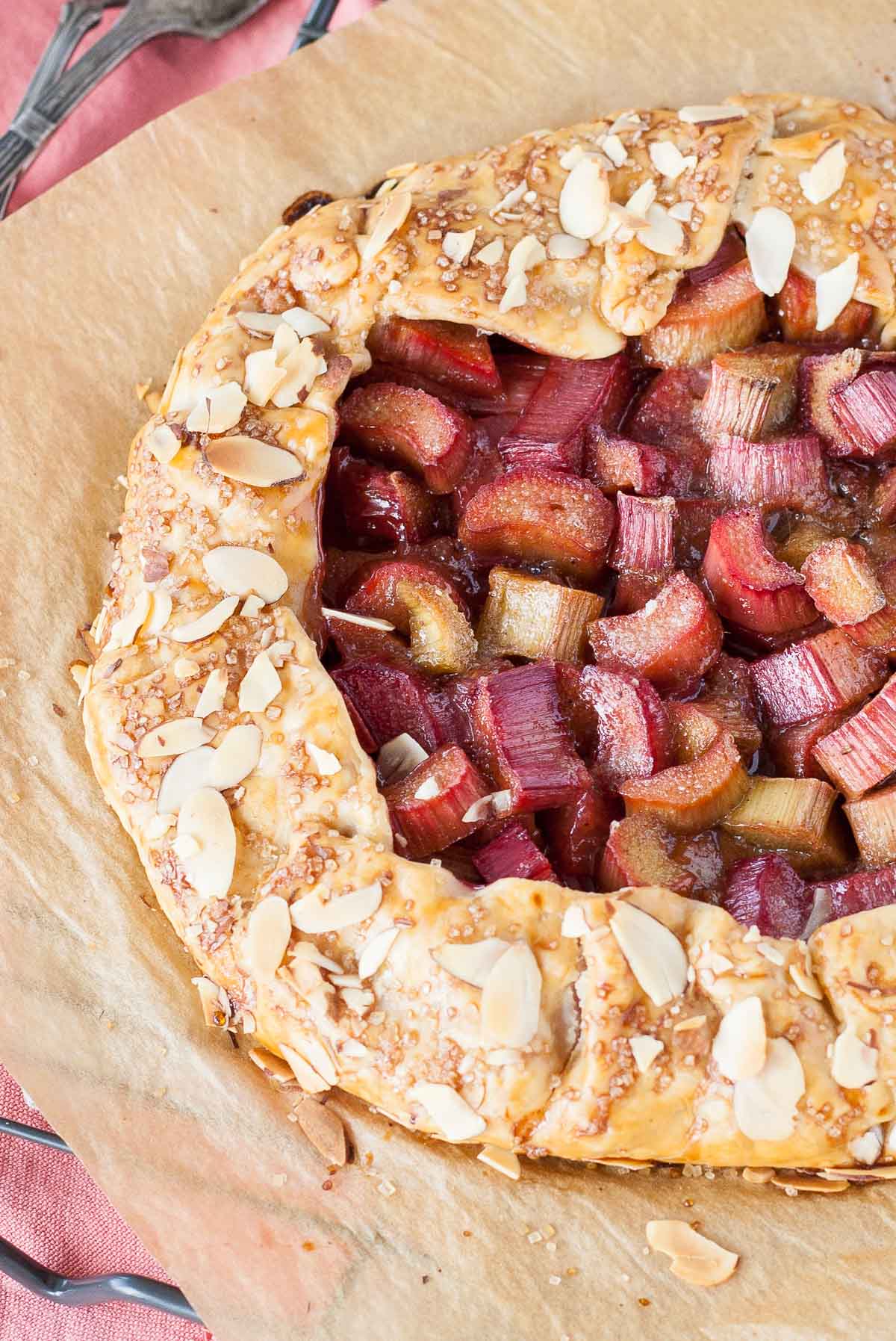 I had never used rhubarb in a recipe before, and honestly I'm not sure if I had even eaten it before. I knew it had a more acidic taste and was often paired with berries in desserts, but the purple celery-looking fruit? Vegetable? It never really intrigued me.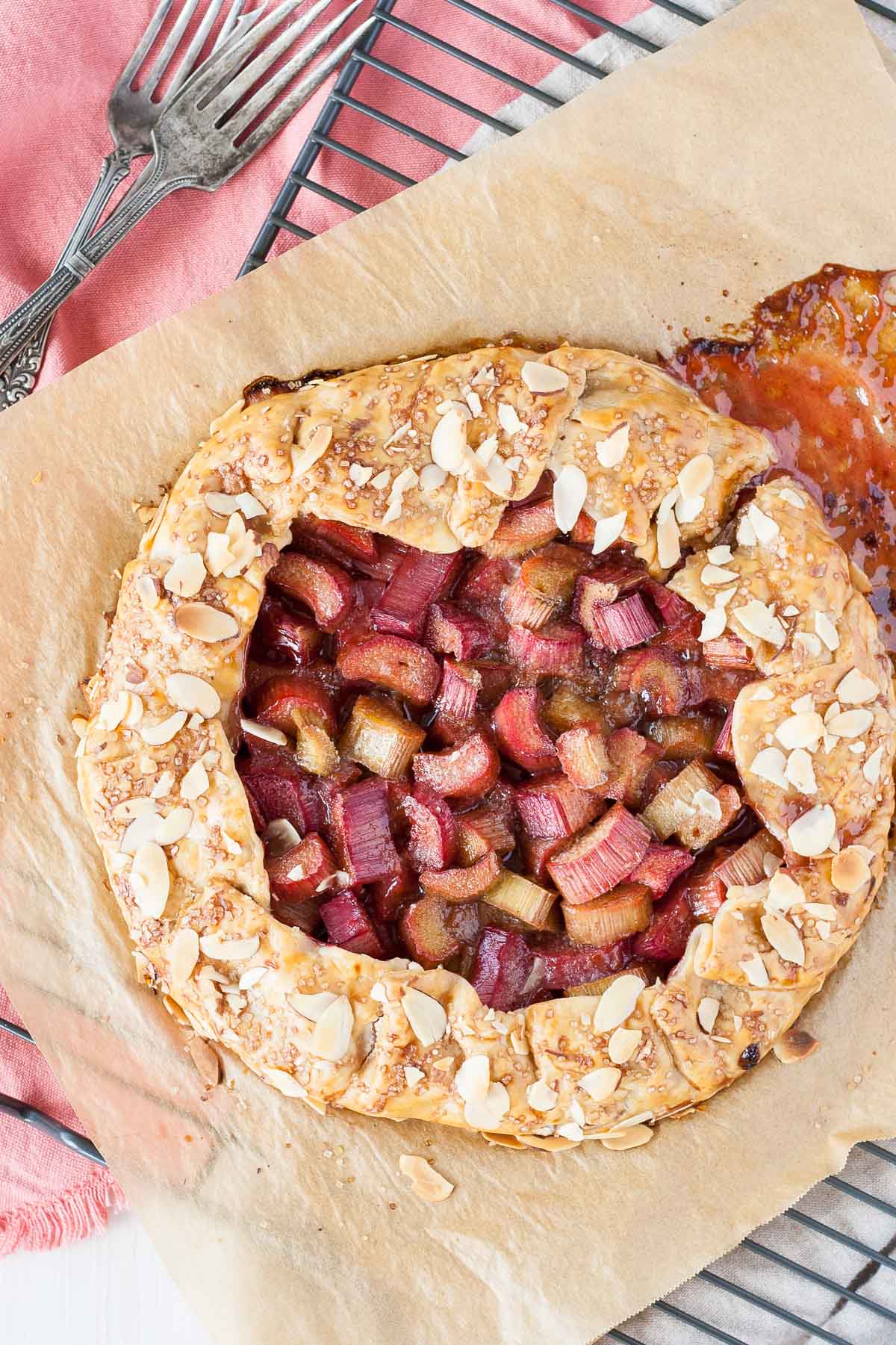 Seeing as how it's rhubarb season, I thought I would jump on the bandwagon and create a super easy dessert with it. And by super easy, I mean SUPER easy. This rhubarb galette comes together in 10mins tops. Stick it in the oven, and an hour later you have a delicious dessert on your hands.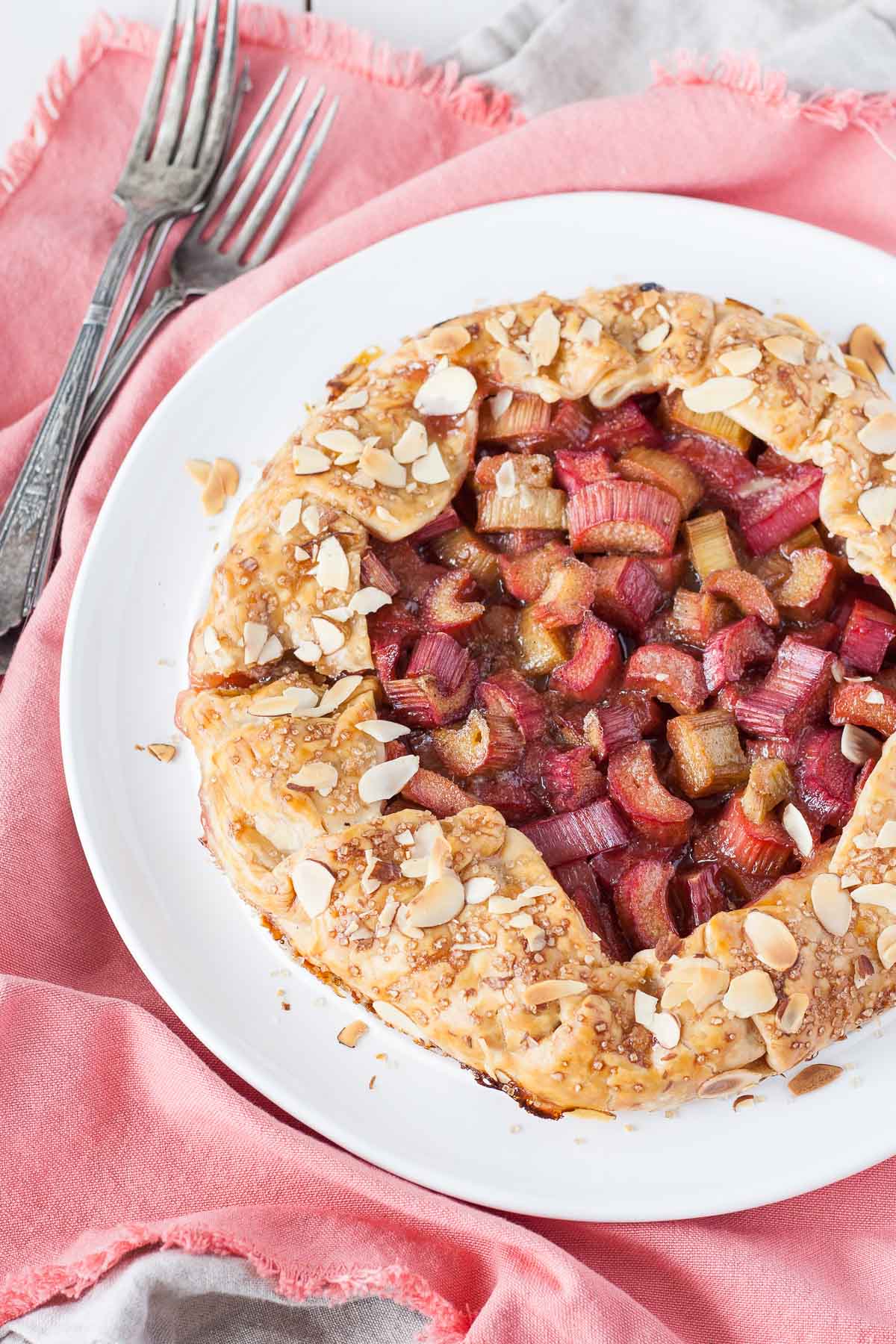 I made my first galette ever last summer and it was freaking delicious. And SO easy. If you read that post, you'll know that making pie crust is among my least favorite things to do. I like to eat them, but it's on the bottom of the ladder of things I enjoy making. Actually, it's not even on the ladder. I find it messy and stressful, so I don't do it and use store-bought, which is just as good in my opinion. That being said, if you're a purist you could totally make your own! Either way, it's sure to be a simple and delicious dessert all around.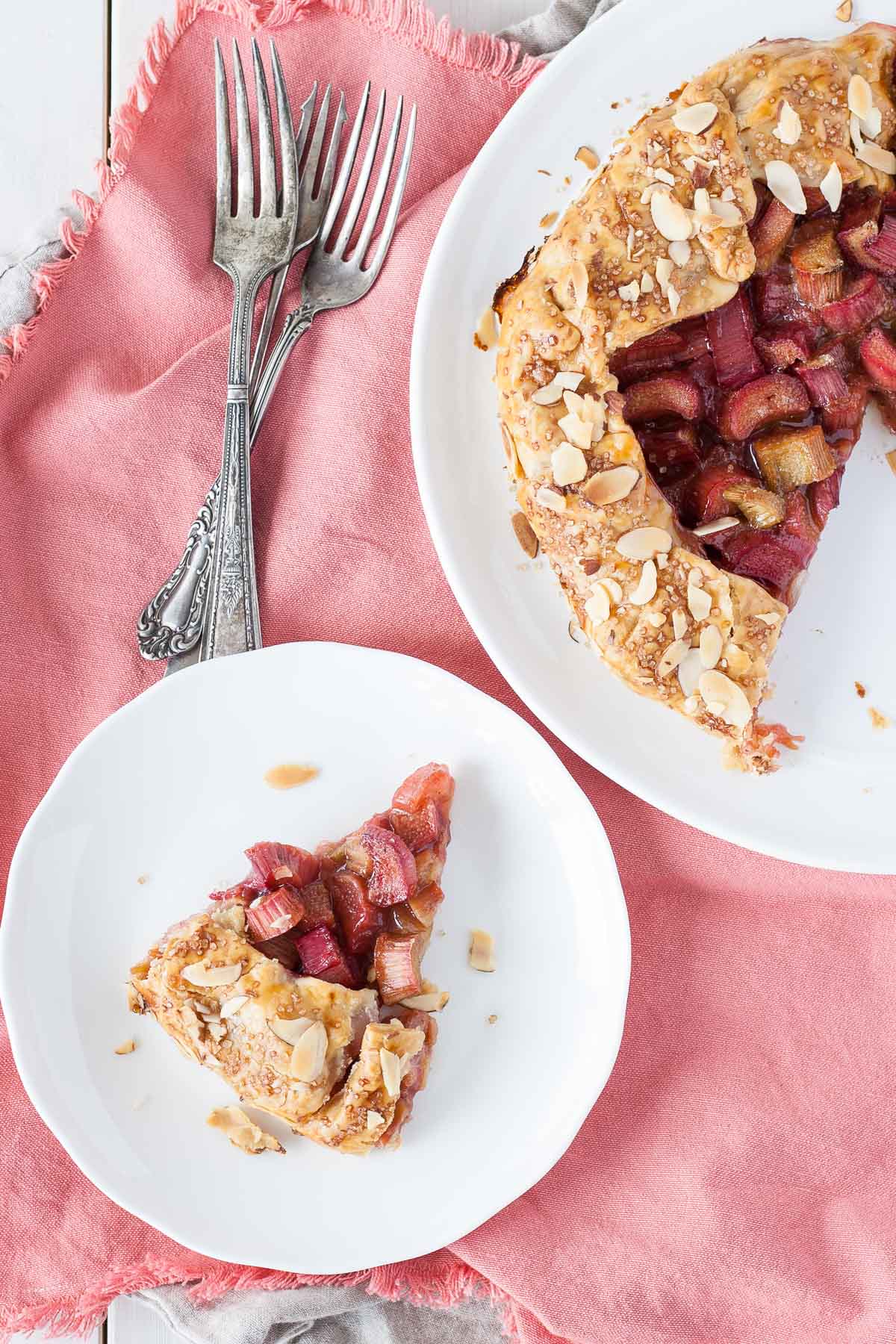 I sprinkled some coarse sugar and sliced almonds on the crust for some added crunch (aka I had some lying around and thought it would look pretty).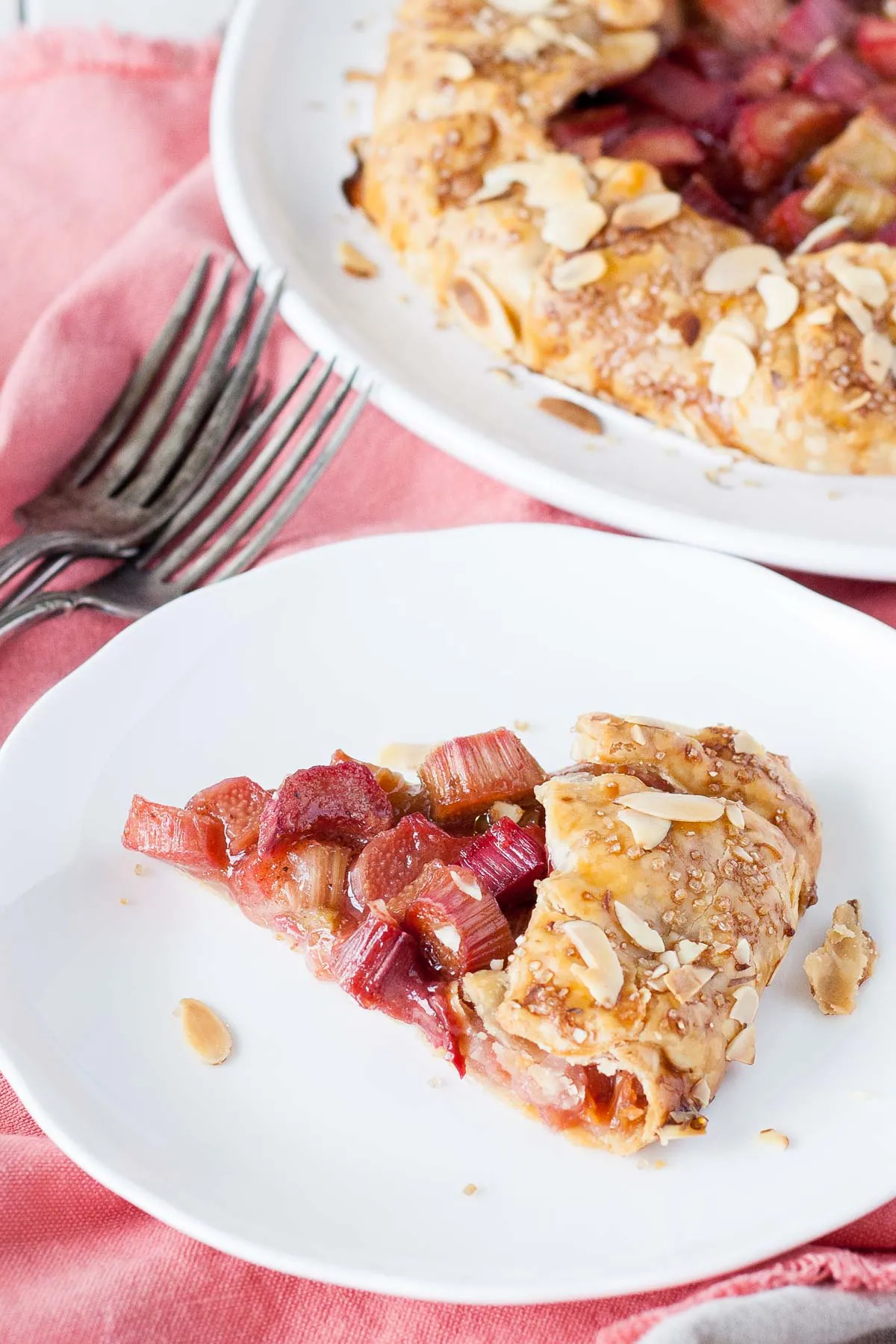 If you haven't had rhubarb before, you need to try it! Trust me, you're missing out, as I have been all these years. This Rhubarb Galette is the perfect sweet-tart treat. You can eat it warmed up or straight out of the fridge, plain or with a side of ice cream. So simple and delicious!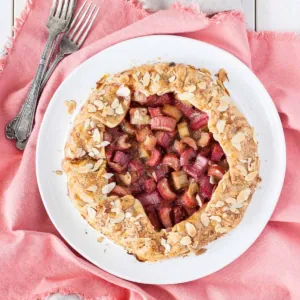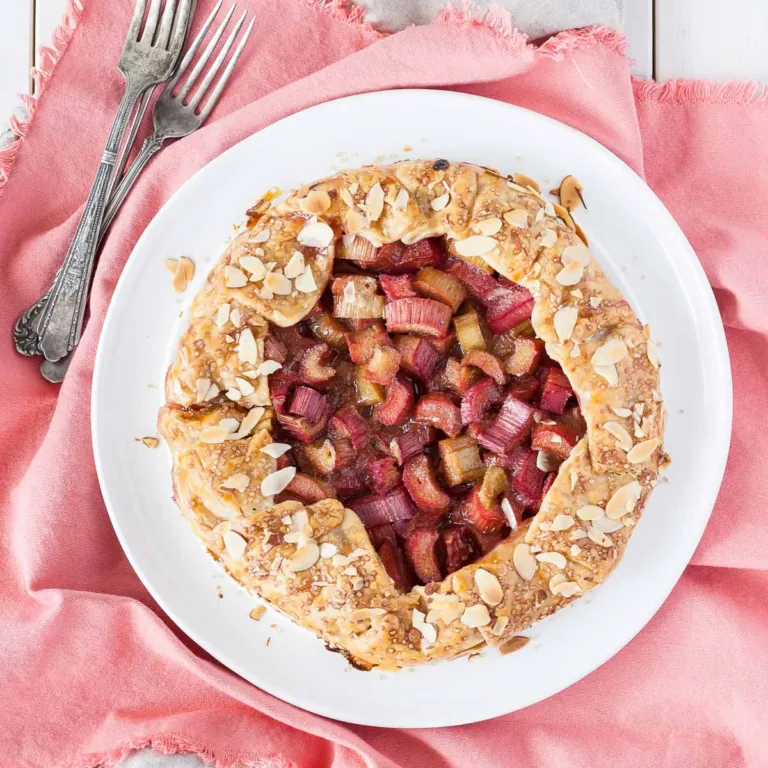 Rhubarb Galette
Make the most of rhubarb season! 10 minutes of prep is all you need to make this simple Rhubarb Galette.
Instructions
Preheat oven to 375F and line baking sheet with parchment.

Place rhubarb in a large bowl. Add sugar, cornstarch, cinnamon, nutmeg, salt, lemon juice, and vanilla. Mix well until combined.

Roll out pie dough to an 11″ disc and place on parchment lined baking sheet. Place rhubarb in the middle of the pie crust leaving a 2″ border. Fold dough over and pinch to enclose the rhubarb, leaving the center open.

Brush crust with egg wash and sprinkle with coarse sugar and sliced almonds if desired. Chill for 15mins. Add small pats of the 1 Tbsp of butter on top of the rhubarb.

Bake for 35-40mins, until crust is golden and juices are bubbling.

Cool on sheet for 10mins. Slide off with parchment onto wire rack to cool completely.

Store in fridge. Serve cold or reheated.
Calories:
104
kcal
Carbohydrates:
20
g
Protein:
1
g
Fat:
2
g
Saturated Fat:
1
g
Cholesterol:
27
mg
Sodium:
11
mg
Potassium:
184
mg
Fiber:
1
g
Sugar:
17
g
Vitamin A:
140
IU
Vitamin C:
5.6
mg
Calcium:
56
mg
Iron:
0.3
mg
The nutritional information and metric conversions are calculated automatically. I cannot guarantee the accuracy of this data. If this is important to you, please verify with your favorite nutrition calculator and/or metric conversion tool.