Teeny tiny shortbread bites studded with rainbow sprinkles. These Rainbow Bites are so addictive, the kids will love these!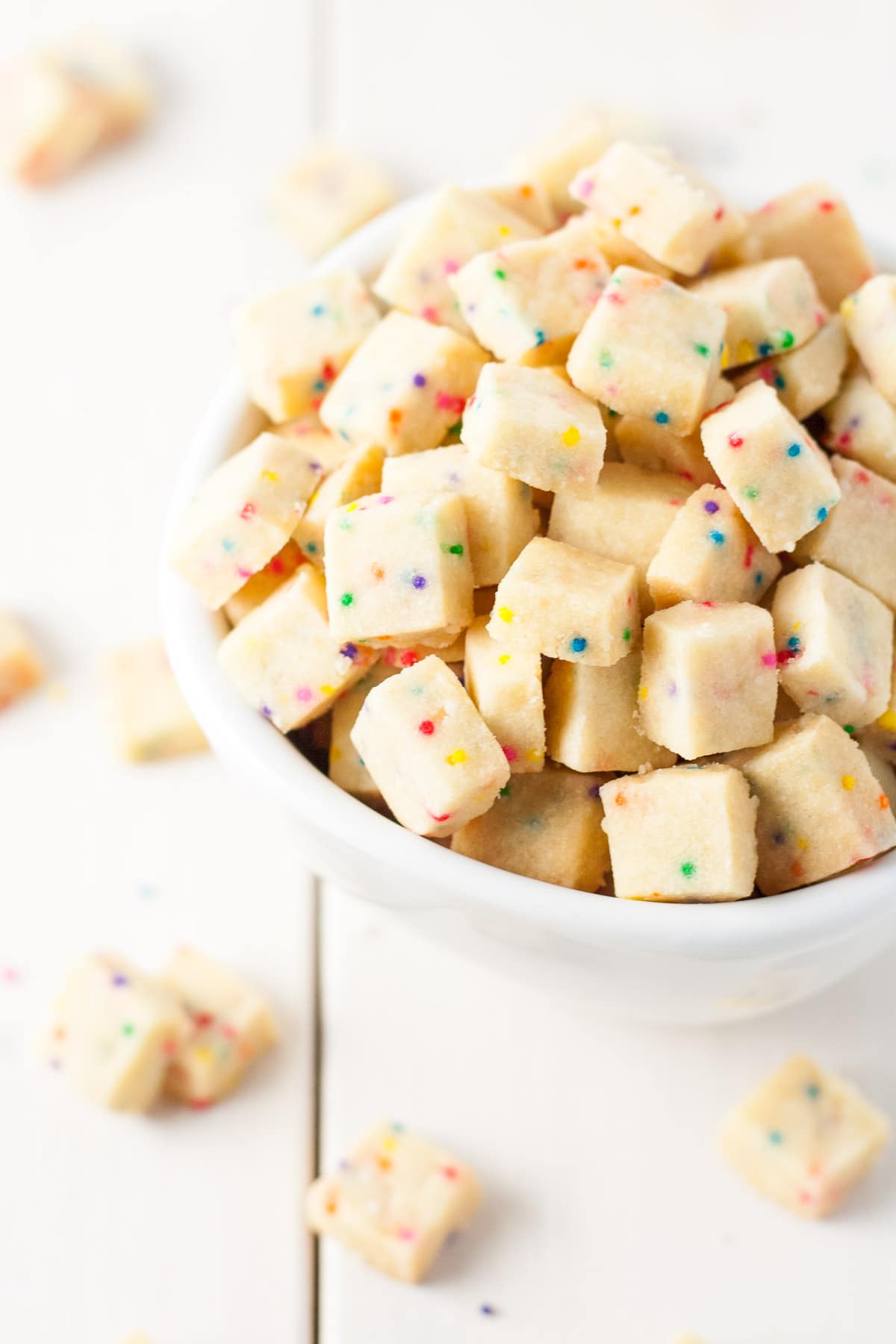 Ok, how damn CUTE are these guys?? I was poking around my sister's Pinterest page because I saw that she'd pinned my Blue Bear Birthday Cake from last week, and came across this post. My planned baking for the week quickly came to a halt and these were bumped up to the head of the line. Can you blame me? It's January (aka worst month of the year), it's dreary, and these Rainbow Shortbread Bites are the perfect rays of sunshine.
Not only is January the worst ever weather-wise, there is literally nothing to look forward to for MONTHS. To add insult to injury, Ryan and I are on a frikken DIET because we got mega-fat over the holidays (or the past few months, whatever). Restraint was not in our vocabulary.
So come January 1st we signed back up with Weight Watchers. What is UP with them constantly changing their plans? What was wrong with the initial one they had? Back in the mid-2000's the plan was great and easy to follow. Now they've changed everything up (again) and it's really frustrating. My morning coffee that used to be 2 points is now 6? But my daily points haven't increased? Give me a frikken break. I realize that they're probably trying to get people to eat "healthier" but at least have the option for members to use the old plan. Needless to say, we cancelled our subscription and asked for a refund within 2 days of re-subscribing. We're trying out the My Fitness Pal app now, and it's working much better. The whole diet thing in general still sucks, mind you, but at least this approach is better for us.
So, feeling miserable from the time of year, counting calories, starving, cutting back on everything delicious, and here come these delicious little rainbow shortbread bites. They're only 60 calories for 10! They're tiny, I know, but you *feel* like you're getting a bit more.
This recipe has all of 6 ingredients and is really easy. You make a standard shortbread dough and press it into an 8″ square pan, chill it, and cut it into 1/2″ bites.
256 bites to be exact. Initially I was like eff that, I'll just cut them into 1″ squares instead of 1/2″ — but trust me when I say they weren't nearly as cute or appealing. So I ended up cutting them into 1/2″. It really didn't take that long, and it was worth the effort.
Once cut, bake for 15mins and you're done! It's times like these that I really wish our nieces and nephew lived closer. They would LOVE these. Alas, I'll just have to make them next time I visit.
I love that these rainbow shortbread bites are totally customizable, too. A simple change in the color of the sprinkles and you're set for any holiday or event. Whether it's Valentine's Day, Christmas, a baby shower, or even game day get-togethers with the colors of your favorite sports team.
These Rainbow shortbread bites are pure bite-sized deliciousness that's easy and fun to make. How can you say no?!
Rainbow Shortbread Bites
Teeny tiny shortbread bites studded with rainbow sprinkles. So addictive, the kids will love these! A simple change in the color of the sprinkles and you're set for any holiday or event.
Servings
25
10 bite servings
Instructions
Preheat oven to 325F and line 2 baking sheets with parchment or silpat mats.

Line an 8″ x 8″ square pan with parchment – allow for some overhang.

Beat butter and sugar until creamy, add almond/vanilla extract and mix well.

Reduce speed to low and add flour, salt, & sprinkles and mix until incorporated. Press mixture into a ball and knead a couple of times until it comes together.

Press evenly into square pan and chill for 30mins.

Lift dough from pan by using the overhanging parchment. Cut into 1/2″ squares.

Place on prepared baking sheets and bake one sheet at a time for approx 15 minutes or until bottoms are lightly browned. Chill other sheet while one is baking.

Cool completely on pans and store an airtight container.
Calories:
67
kcal
Carbohydrates:
8
g
Protein:
1
g
Fat:
4
g
Saturated Fat:
2
g
Polyunsaturated Fat:
1
g
Monounsaturated Fat:
1
g
Trans Fat:
1
g
Cholesterol:
10
mg
Sodium:
24
mg
Potassium:
8
mg
Fiber:
1
g
Sugar:
3
g
Vitamin A:
113
IU
Calcium:
2
mg
Iron:
1
mg
The nutritional information and metric conversions are calculated automatically. I cannot guarantee the accuracy of this data. If this is important to you, please verify with your favorite nutrition calculator and/or metric conversion tool.