This easy and delicious plum cake is the perfect dessert for summer!
My mom has been making this Plum Cake for years. It's a recipe she got from a friend decades ago, and she makes it every summer when plums are in season. It's amazing. The perfect mix of sweet and tart. I like to think that it's a traditional Polish cake recipe, though I have no actual evidence to back that up. It's definitely not your typical cake recipe, and when my mom was telling me how to make it I was a bit skeptical. What do you mean there's no butter? 4 or 5 eggs – which is it?? Not to mention that she uses literal cups, not measuring cups, to scoop her flour. "Oh you know, I just use the glass that I drink my coffee in, that much flour." This goes against everything I learned in pastry school. I like to imagine this is how they did it in the old days in Poland…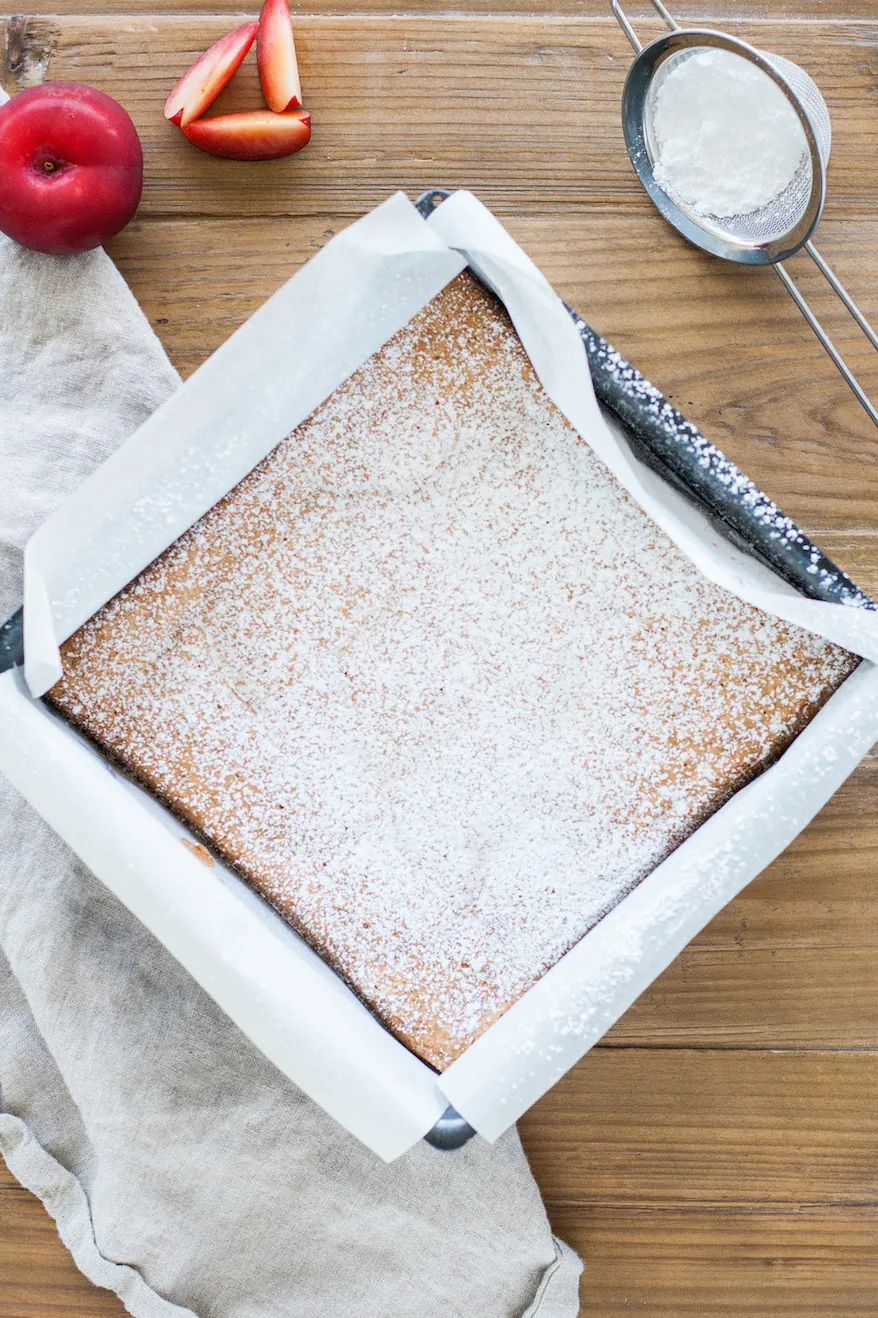 Needless to say, my first attempt at this Plum Cake a few weeks ago, though not an epic failure, was less than stellar. The pictures, on the other hand, were an epic failure, and no amount of editing could get them to look decent. I was having such a hard time taking pictures if there was a lot of white in the scene. Everything would turn out super grey. Like, dark grey, even in the best lighting. So frustrating!! Since that experience though, I have mustered up the courage to mess around with manual mode on my camera, and now all is well with the world.
Ok so this Plum Cake. It's simple. It's delicious. You should really just make it.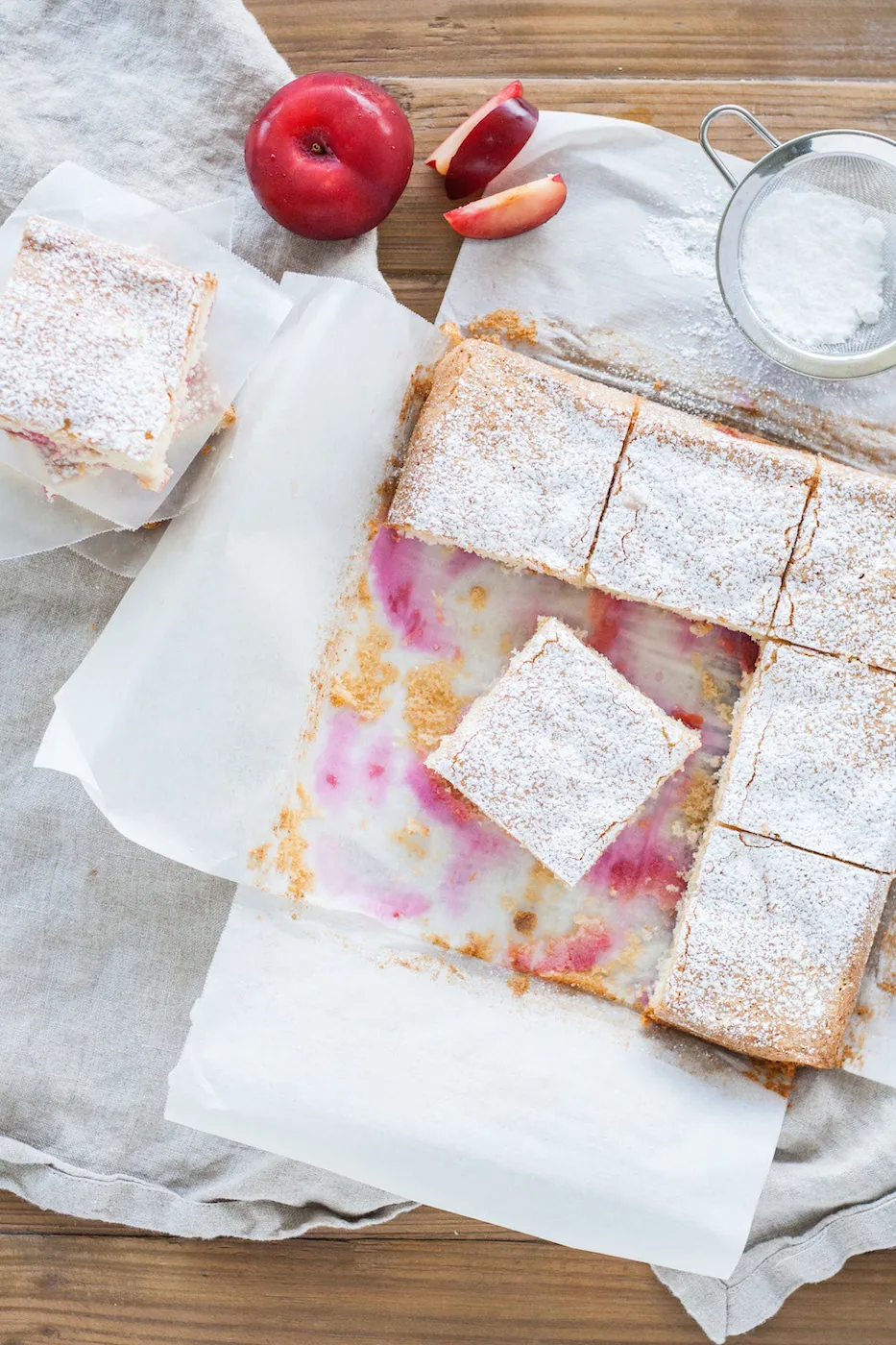 The beauty of this recipe is that you can use almost any fruit. I think the original actually calls for blueberries, which would be delicious, but I can also imagine peaches, cherries, or raspberries. The possibilities are endless, really.
Your fruit will likely sink to the bottom like my plums did. Well they didn't actually sink – they started out on the bottom because there wasn't that much batter, but as the batter doubled in size the plums stayed where they were. I see no issue with fruit on the bottom though, and it tastes every bit as delicious.
I chose to slice the plums and fold them in, but you could also just halve the plums and place them on top of the batter instead, which is what I did the first time. It didn't look as pretty as I thought it would, and the plum distribution wasn't the best, so I tried slicing them this time instead, and I think it came out better.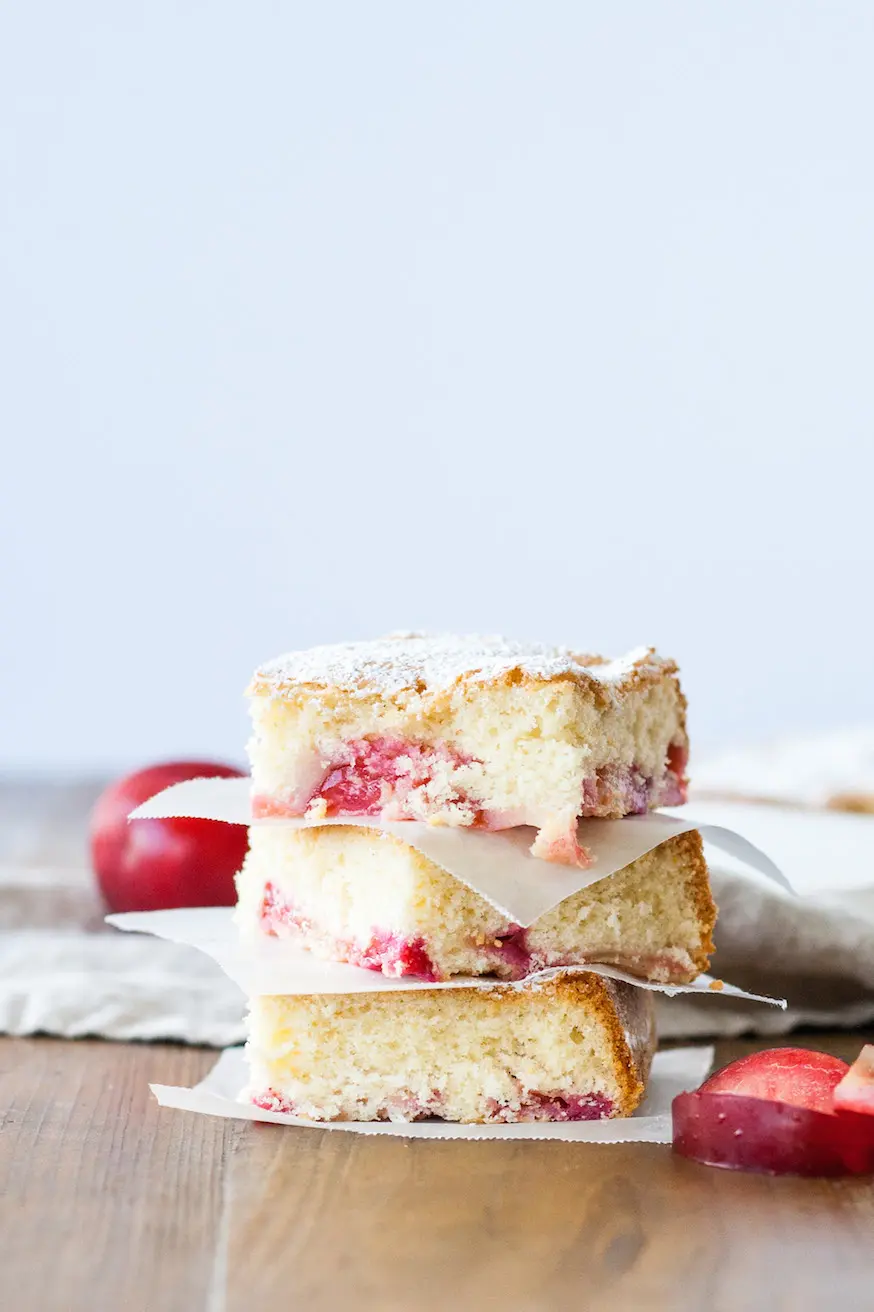 For this attempt, I halved the recipe and used an 8″ x 8″ pan, but it can easily be doubled and done in a 9″ x 13″ pan. Your cake will likely be a bit thicker in the bigger pan, but still equally delicious.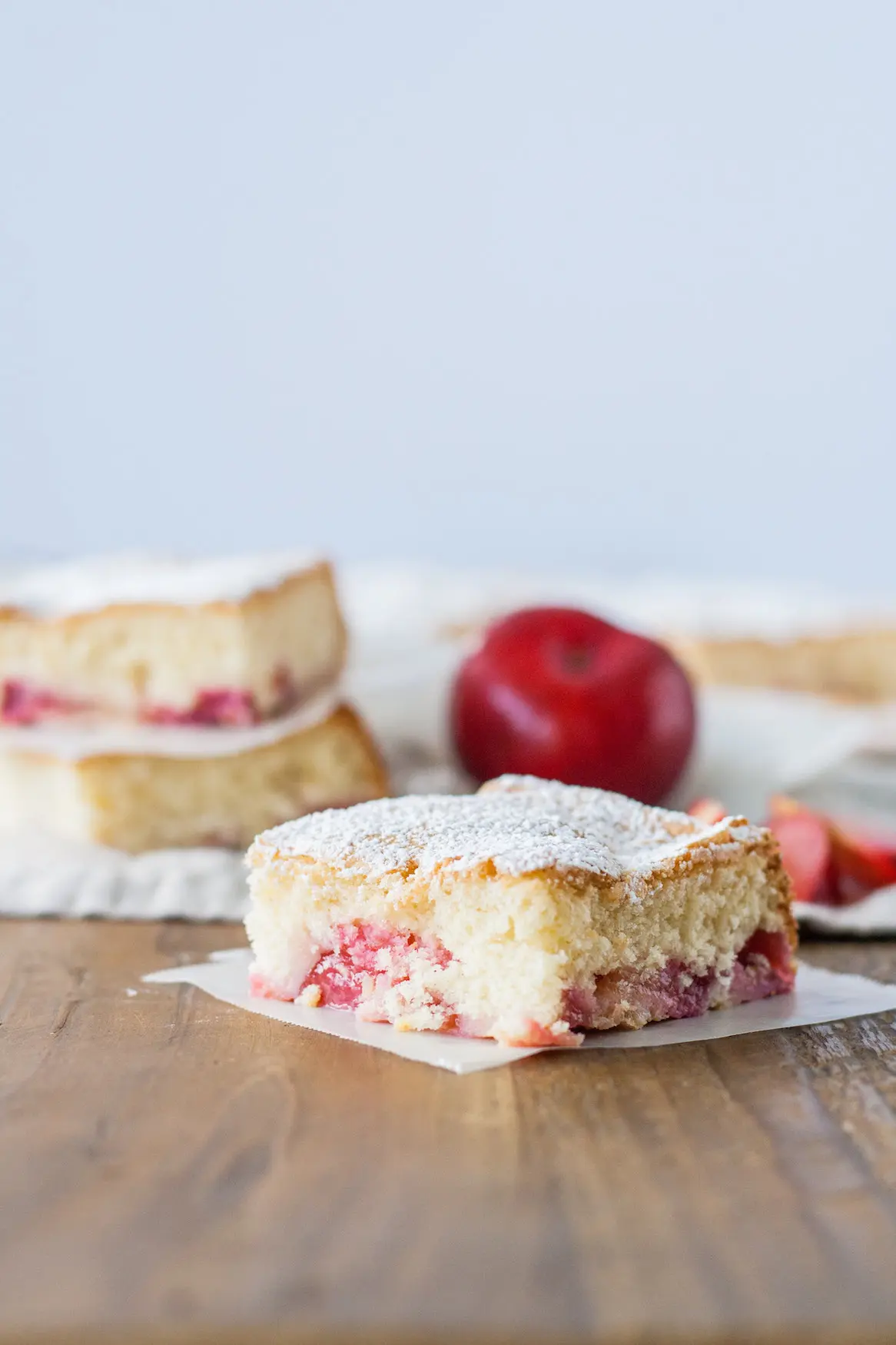 The cake actually baked up a lot lighter and fluffier than I expected. The first time I made this, it was a lot more dense, which is how it is when my mom makes it. I'm not really sure why, maybe the pan size? Or that I added more sugar this time? Regardless, if you follow the recipe below, you will not be disappointed. A perfectly light, super moist, sweet & tart cake awaits you. All you need is a simple dusting of powdered sugar and you're good to go!
Plum Cake
A light and delicious plum cake, perfect for summers or afternoon tea.
Instructions
Preheat oven to 350F and spray an 8″ x 8″ pan with cooking spray. Line with parchment.

Whisk flour and baking powder in a small bowl, set aside.

In a stand mixer fitted with a paddle attachment, beat eggs and sugar on high until pale and fluffy (approx. 5mins).

Reduce speed to medium and slowly stream in oil and vanilla. Beat on high until well combined (2-3mins).

Reduce speed to low and gradually add flour mixture. Mix just until combined.

Fold in sliced plums and spread in prepared pan.

Bake for 30-35mins until golden and a cake tester comes out almost clean.

Cool completely in pan. Dust with powdered sugar.
Notes
Recipe can be doubled to fit a 9″ x 13″ pan and baking time will need to increase to 45mins or so.
Calories:
156
kcal
Carbohydrates:
20
g
Protein:
2
g
Fat:
7
g
Saturated Fat:
5
g
Cholesterol:
41
mg
Sodium:
16
mg
Potassium:
63
mg
Sugar:
12
g
Vitamin A:
110
IU
Vitamin C:
1.4
mg
Calcium:
14
mg
Iron:
0.7
mg
The nutritional information and metric conversions are calculated automatically. I cannot guarantee the accuracy of this data. If this is important to you, please verify with your favorite nutrition calculator and/or metric conversion tool.