The Ultimate Birthday Cake. A sweet funfetti cake, topped with a cream cheese buttercream, and delicious cookie crumble.
To say that this cake was involved is an understatement. Not only did I have to purchase specific ingredients (cake flour, glucose, grapeseed oil, clear vanilla extract), I also had to buy new tools and equipment (quarter-sheet pan, 6″ cake ring, acetate). This was a project and I was totally up for it, especially since it was going to be for my husband's birthday. I wanted it to be over the top and special.
If you know anything about Momofuku recipes, you know they are kind of ridiculous and there are multiple separate components that need to be created for the final product. Many people fail at making them for one reason or another. I'd made their cookies before as a sort of first easy (lol) stab at a Momofuku recipe. I didn't fail on those, but they were definitely not easy. This cake on the other hand, even though it looks almost perfect, had some pretty epic fails.


After I'd finished making it, I vented over email to my friend Nancy @ Gotta Get Baked, so she's already heard a (less censored) version of this story, but here goes…
Ok seriously, this god damn cake. It was all going to perfectly fine. I paced myself, measured EVERYthing in advance for each component, and organized myself like never before. I was on point. The crumble was super easy, as was the frosting, both worked out perfectly. No issues.
Then I got to baking. The cake was a frikken disaster. I had cake all over the bottom of my oven and what was left in the pan sank like a ton of bricks after I took it out. Epic fail.
Round 2, I figure I must have messed something up in the mixing so I try again, with the same sheet pan. In hindsight I don't know what I was thinking, but she said quarter-sheet and I had a quarter-sheet! Basically a repeat of the first cake, except this time I put another sheet pan under it to catch the drippings. There were a lot of drippings. Sigh.
BOTH cakes were a total fail. And why? Pan size. Again, I got totally screwed over by pan size. I'd been screwed over by it before here and here and I'd learned my lesson, so I wasn't going to mess with changing up the pan size again. So, I specifically purchased a quarter-sheet pan as Christina Tosi's recipe calls for. Well, did you know not all quarter sheet pans are the same size? Apparently. Even though mine specifically says "quarter-sheet pan" on the back of it, it is evidently not even close to the quarter-sheet pan they use at Momofuku. I finally discovered (post cake completion) that hers are 10×15″ where the one I bought is actually 9.5×12″. That is a HUGE difference! You think they'd specify pan size specifically in their recipes. That's a pretty standard thing to do!
That was only part of the problem. The cake took forever to set, and I like to rotate my pans part way because my oven sucks. Well when I went to check this one after 30mins, I must have nudged it a bit too much, because it literally deflated in front of my eyes. Many expletives were thrown. To top it off, the second cake wasn't baked enough because I relied on Christina Tosi's cake testing instructions of "poke it" and "looks like the centre is set" instead of my trusted method of a wooden skewer. I ended up using mostly the first cake with one layer from the second. All the layers were much thinner than they should have been, but I was done at that point.
Assembly was a bit of a pain as well, but I won't bother you with the boring details there. Mostly stupid mistakes on my part, and rushing things, and having a disaster of a kitchen. As soon as I stuck it into the freezer, I swore I'd never make another Momofuku recipe again. Ever. But then I tasted it and o.m.g. It's honestly the BEST cake I have EVER had. No joke. The cake is sweet, but the frosting isn't, and the cookie crumble with it all basically makes the cake. I'll definitely make the frosting again, and different versions of the crumble for cakes in the future. I'm for sure taking a Momofuku break for a while though…
So there you have it. Another baker taken down by a Momofuku recipe. Ok maybe I'm exaggerating. Overall, I am happy with how it turned out and it IS delicious, but I could have done without the fails.
Here are a few key things about this recipe, should you attempt it on your own, along with some insider tips now that I've gone through it once:
Clear Vanilla Extract – Use it! Initially I wasn't going to bother with this and just use my regular stuff, but I'm so glad I did. Christina Tosi says to use it for flavor, but the biggest factor for me was color. I'd seen some pics of other bakers who didn't use the clear stuff, and their frosting turned out kinda beige. Not the pretty stark white. So, use the clear stuff!
Citric Acid – I couldn't find this at my local grocer and didn't want to hunt it down for just a "pinch" in a recipe so I used a bit of lemon juice instead. Worked perfectly fine.
Frosting – I used 1.5x the recipe for frosting. In my research, some bloggers were saying to double the recipe, but I opted to do 1.5x and it was perfect. I had a tiny bit left over, but otherwise I think it was a great ratio, even with my super thin cake layers.
Timing – I wouldn't recommend trying to do this all in one day. It's certainly doable, but for sanity's sake, make the crumble and cake one day, then do the frosting and assembly the next day.
Pan Size – For the love of all things baked and delicious, make sure your "quarter-sheet pan" is 10×15″ before you attempt this!! I've also thought about using three 6″ cake rounds and seeing how that would turn out. The layers might be a bit thicker and have more of a finished look on the outsides, but I'm sure it would taste just as delicious, and would likely be a lot easier to manage.
This cake is not for the faint of heart. It's a ton of work, but the effort will be worth it in the end when you finally have a slice or two of this amazing cake!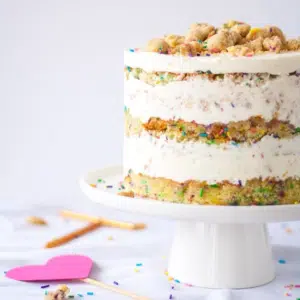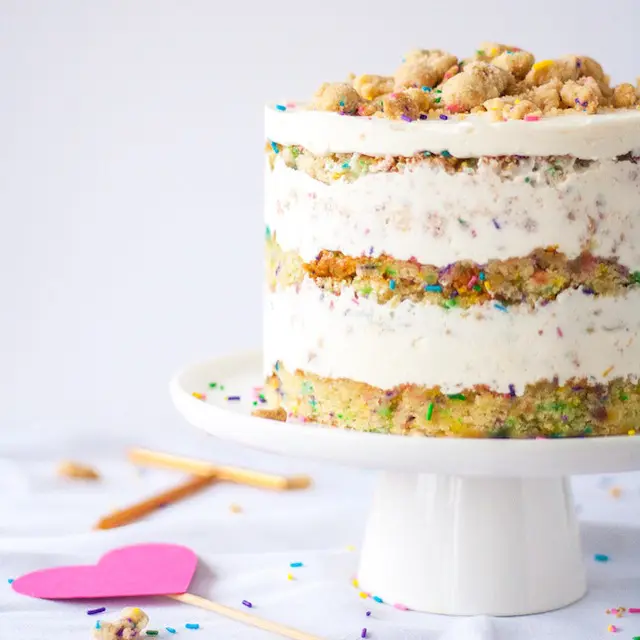 Momofuku Birthday Cake
The Ultimate Birthday Cake. A sweet funfetti cake, topped with a cream cheese buttercream, and delicious cookie crumble.
Ingredients
Instructions
Crumble:
Preheat oven to 300F and line a baking sheet with parchment or a silpat.

In the bowl of a stand mixer fitted with the paddle attachment, combine all dry ingredients (sugars, flour, baking powder, salt, sprinkles). Mix on low until well combined.

Add oil and vanilla, mix again on low to distribute until small clusters form.

Bake for 15mins.

Cool completely before using on cake.

Store in an airtight container for 1 week at room temperature or 1 month in the fridge or freezer.
Cake:
Preheat oven to 350F and spray a quarter-sheet pan (10"x15") cooking spray and line with parchment or a silpat.

In a medium bowl, whisk together cake flour, baking powder, salt, and 50g (1/4 cup rainbow sprinkles). Set aside.

In the bowl of a stand mixer fitted with the paddle attachment, combine butter, shortening, and sugars. Beat on med-high for 2-3mins. Scrape bowl if necessary.

Add eggs one at a time, fully incorporating after each addition. Scrape bowl.

Turn mixer to low and stream in buttermilk, oil, and vanilla. Increase mixer to med-high and beat for 4-6minutes until mixture is light, fluffy, and no streaks of fat or liquid remain. Scrape bowl.

On low speed, add flour mixture and mix just until batter comes together, 30-60 secs.

Spread cake batter in an even layer in the pan and sprinkle with remaining 25g (2 Tbsp) rainbow sprinkles.

Bake for 30-35mins or until a cake tester comes out clean.

Cool completely on a wire rack.

The cooled cake can be stored in the fridge, wrapped in plastic wrap, for up to 5 days.
Frosting:
In a medium bowl, sift together confectioners sugar, salt, and baking powder. Set aside.

In the bowl of a stand mixer fitted with the paddle attachment, combine butter, shortening, and cream cheese. Beat on med-high for 2-3mins until the mixture is smooth and fluffy. Scrape bowl.

Turn mixer to low and stream in glucose, corn syrup, and vanilla. Increase mixer to med-high and beat for 2-3mins until smooth and glossy white. Scrape bowl.


Turn mixer to low and add in sugar mixture and citric acid (I used lemon juice). Once combined, turn mister to med-high and leaf for 2-3mins until white and smooth.

Use immediately, or store it in an airtight container in the fridge for up to 1 week.
Soak:
Whisk together the milk and vanilla in a small bowl or measuring cup.
Assembly:
Cut acetate into two 3" high and 20" long strips.

Place a piece of parchment or silpat onto the counter and invert cake onto it. Peel off parchment/silpat from bottom of the cake.

Using the cake ring, stamp out 2 circles (start in the corners to be able to get 2 full ones). These will be your top and bottom layers. Stamp out 2 half circles from the remaining scraps.

Clean cake ring and place in the center of your quarter-sheet pan lined with parchment or a silpat.

Place 1 strip of acetate inside the cake ring to line it. **Make sure the cake ring is completely dry or you won't be able to get it out of the ring after freezing!!**

Place your less pretty full layer into the bottom. Dip a pastry brush into the soak and brush onto the cake layer.

Using the back of a spoon, spread 1/5 of the frosting in an even layer over the cake.

Sprinkle 1/3 of the crumble evenly over the frosting. Press down with the back of your hand to anchor them in place. (I reserved the chunkiest crumbs for the very top).

Using the back of a spoon, spread 1/5 of the frosting in an even layer over the crumble.

With your index finger, tuck the second strip of acetate between the cake ring and the top 1/4 inch of the first strip of acetate, so that you have a clear ring of acetate 5 to 6 inches tall – high enough to support the height of the finished cake.

Place the two half circle cake pieces on top of the frosting layer and press in additional cake scraps to fill in the layer. Use the back of your hand to press the scraps together into a flat even layer.

Repeat steps 6, 7, and 8.

Place the remaining cake round onto the frosting and cover the top with remaining 1/5 frosting. Spread frosting evenly or a bit messier if you like.

Top with remaining crumble — either around the edge or in the center, however you like.

Place sheet pan into the freezer and freeze for a minimum of 12 hours. Cake will keep in the freezer for up to 2 weeks.

At least 3 hours before serving, remove the cake from the freezer and using your fingers and thumbs, pop the cake out of the cake ring. Gently peel off the acetate and transfer cake to platter or stand.

Let it defrost in the fridge or counter for a minimum of 3 hours (wrapped well in plastic, the cake can be refrigerated for up to 5 days).
Calories:
739
kcal
Carbohydrates:
89
g
Protein:
5
g
Fat:
40
g
Saturated Fat:
15
g
Cholesterol:
96
mg
Sodium:
317
mg
Potassium:
152
mg
Sugar:
68
g
Vitamin A:
655
IU
Calcium:
74
mg
Iron:
0.6
mg
The nutritional information and metric conversions are calculated automatically. I cannot guarantee the accuracy of this data. If this is important to you, please verify with your favorite nutrition calculator and/or metric conversion tool.