Chewy caramel cookie cups loaded with gooey caramel and topped with a silky dark chocolate ganache.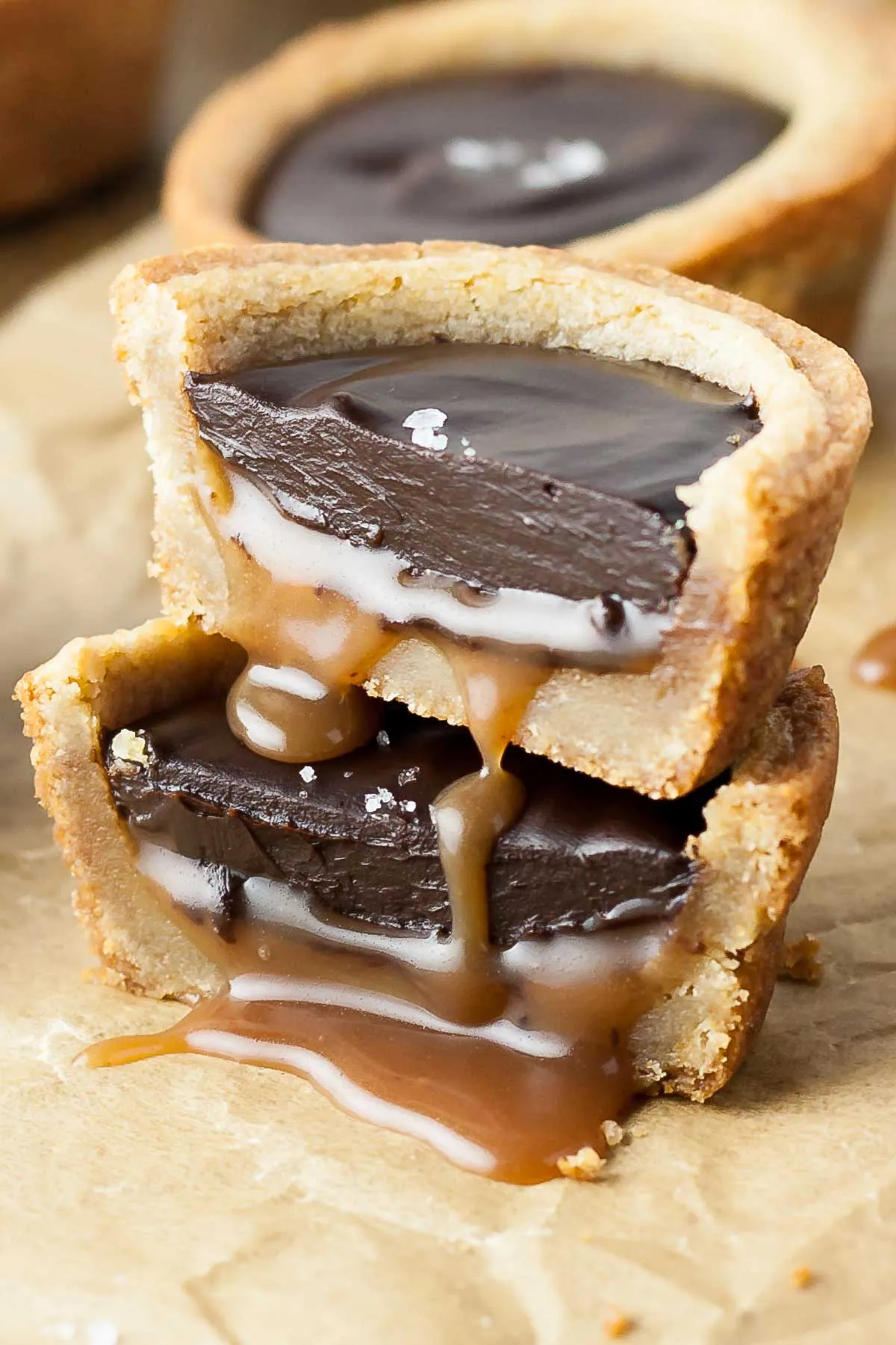 Gooey is an understatement. You're going to need a napkin nearby when eating one of these Caramel Cookie Cups, but I'm guessing you're ok with that. I mean, LOOK at that caramel. Heaven.
I've collaborated with a few Canadian blogger friends once again, and this time Charlene from Chew Street came up with a Chocolate theme for Valentine's Day.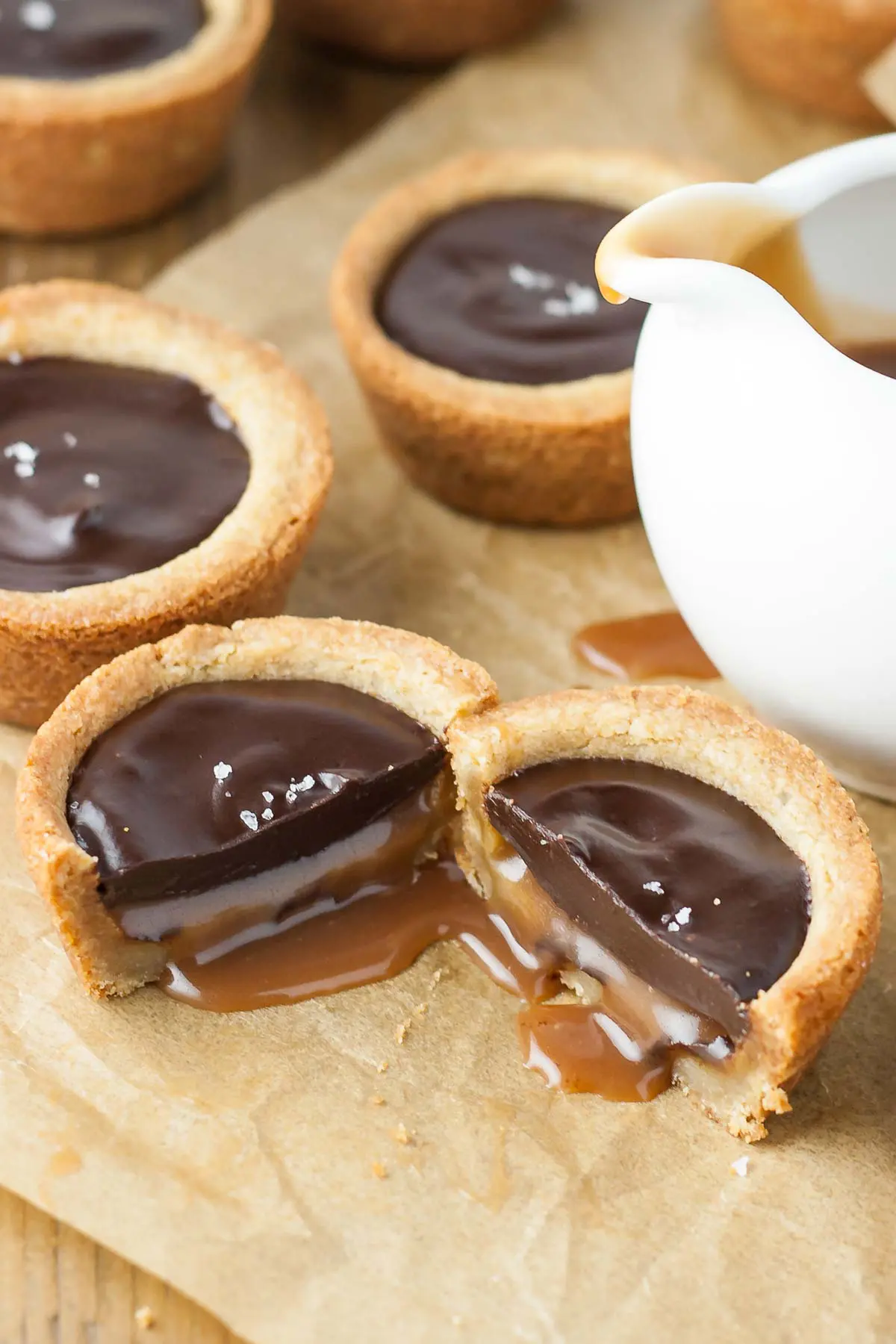 The idea for these Caramel Cookie Cups came to me from this pin which uses a clever two-pan method, but that's not how I ended up making them. That WAS my plan, but I was worried the cookie dough would be too firm and wouldn't bake/shape up properly.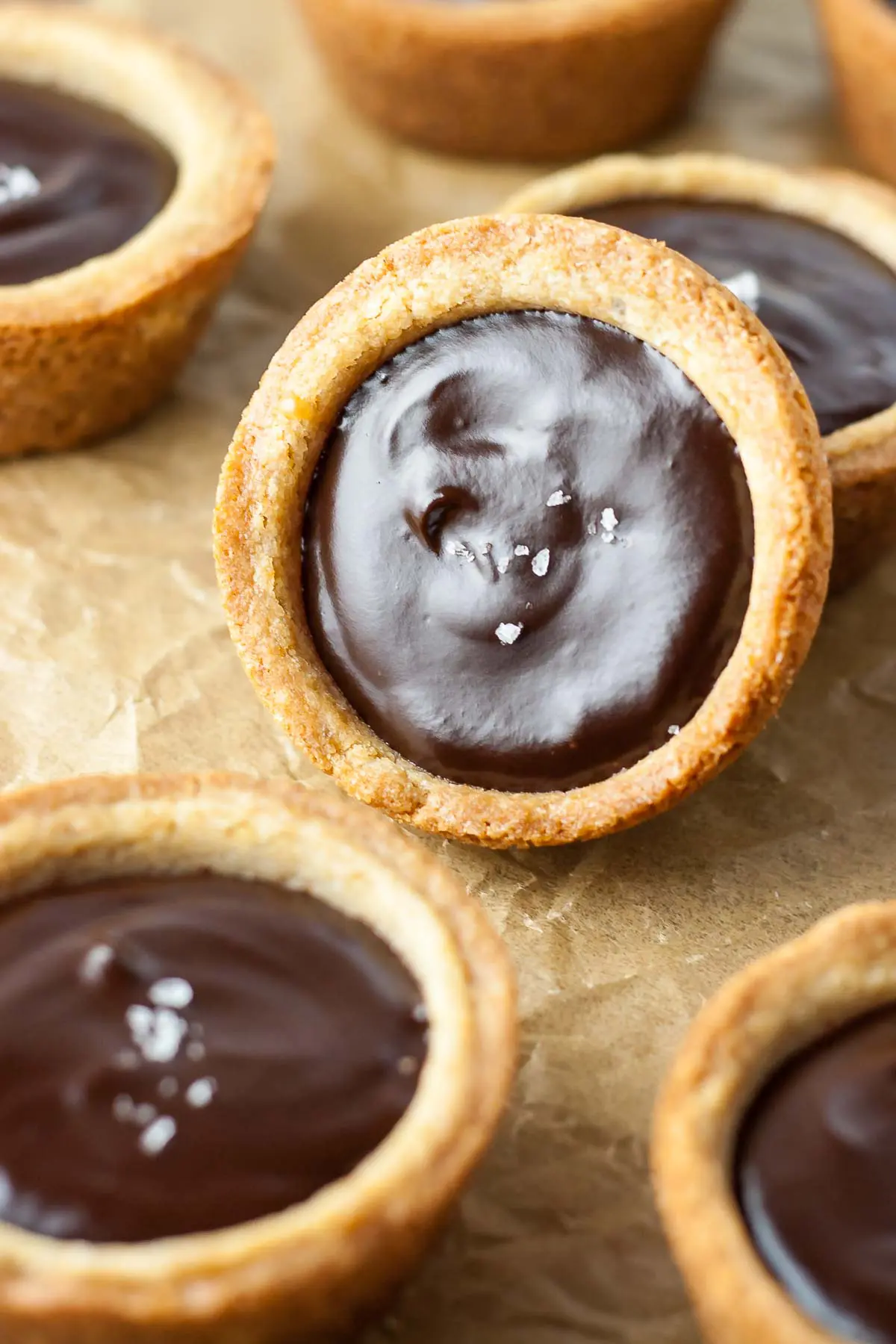 To make the cookie crust, I adapted my favorite chocolate chip cookie recipe minus the chocolate chips, used a large cookie scoop to portion it, and baked them up.
I still baked them in a muffin tin, but then I used the cap from my Pam for Baking cooking spray to press down into the cookies right after they came out of the oven.
You could use any small jar or container as long as it's smaller than the muffin tin cup size. You need to do this when the cookies are still HOT though, so be careful not to burn yourself.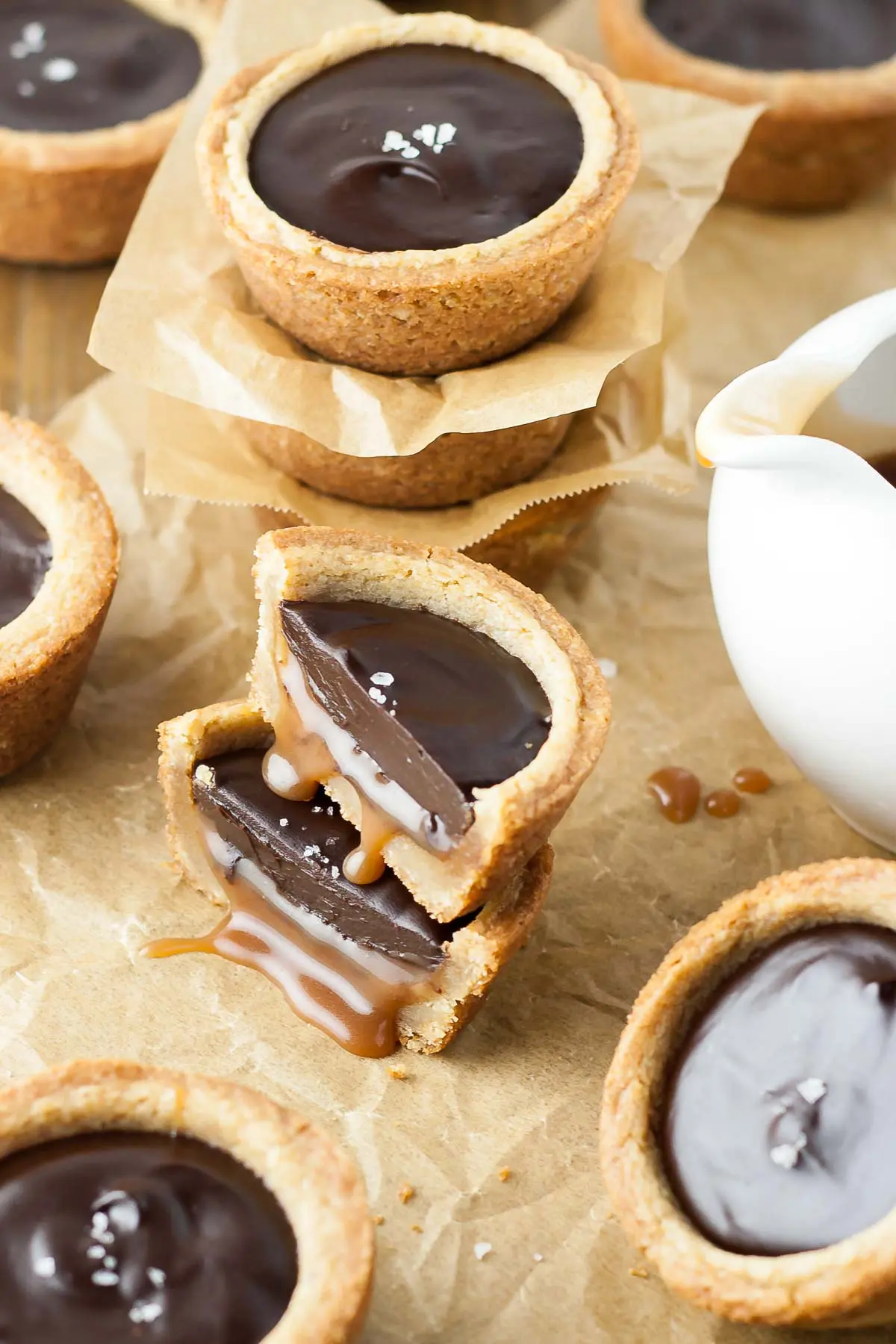 I made the caramel from scratch, but you could use store-bought as well.
Caramel and I are not exactly friends. For some reason, I always struggled with it in pastry school. Then again, working with boiling sugar is not my favorite thing to do. I was stressing a bit about making it, but it was actually easier than I remembered, and every bit as delicious.
The caramel sauce is a bit on the thinner side, even after chilling, so if you'd like it thicker just use a bit less cream in the recipe. You'll need to refrigerate this before using it in the cups, so I recommend making it as the cookie dough is chilling.
Be sure to check out my How to Make Caramel post for a detailed tutorial.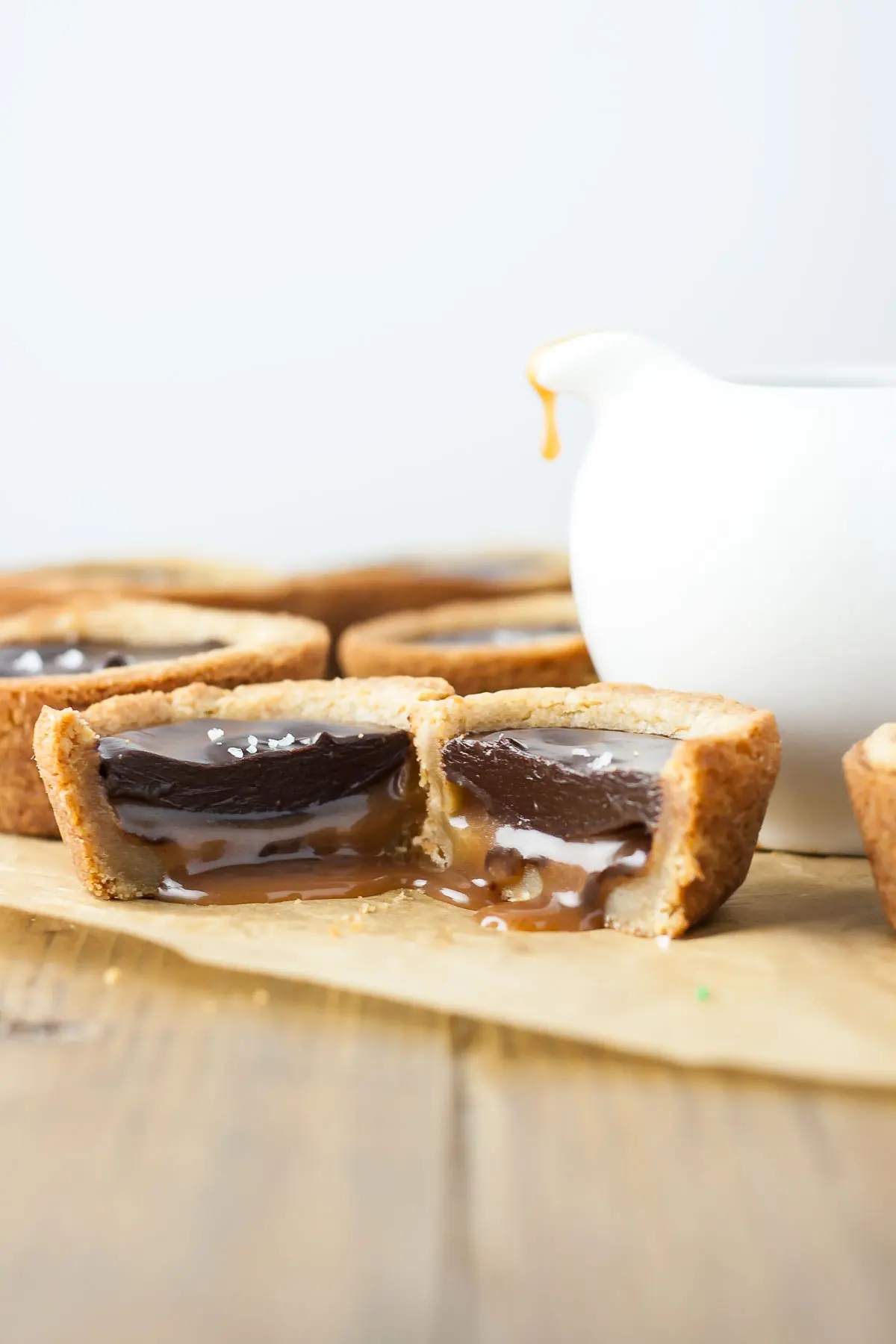 The chocolate ganache is incredibly simple to make. Chop some chocolate, boil some cream, and you're done. It's really important that you use good quality chocolate.
I used Callebaut Dark Chocolate because it's easily available to me. The dark chocolate worked well here, cutting against the sweetness of the caramel for the perfect overall balance. But you can use milk chocolate if you prefer.
Whichever you choose, good quality chocolate really makes a big difference in both flavor and texture, so try to get the best you can.
Typically I would let the ganache sit in the fridge overnight, but it would get too firm in this case. You just need to cool it to room temperature so it doesn't soften the caramel when you pour it on.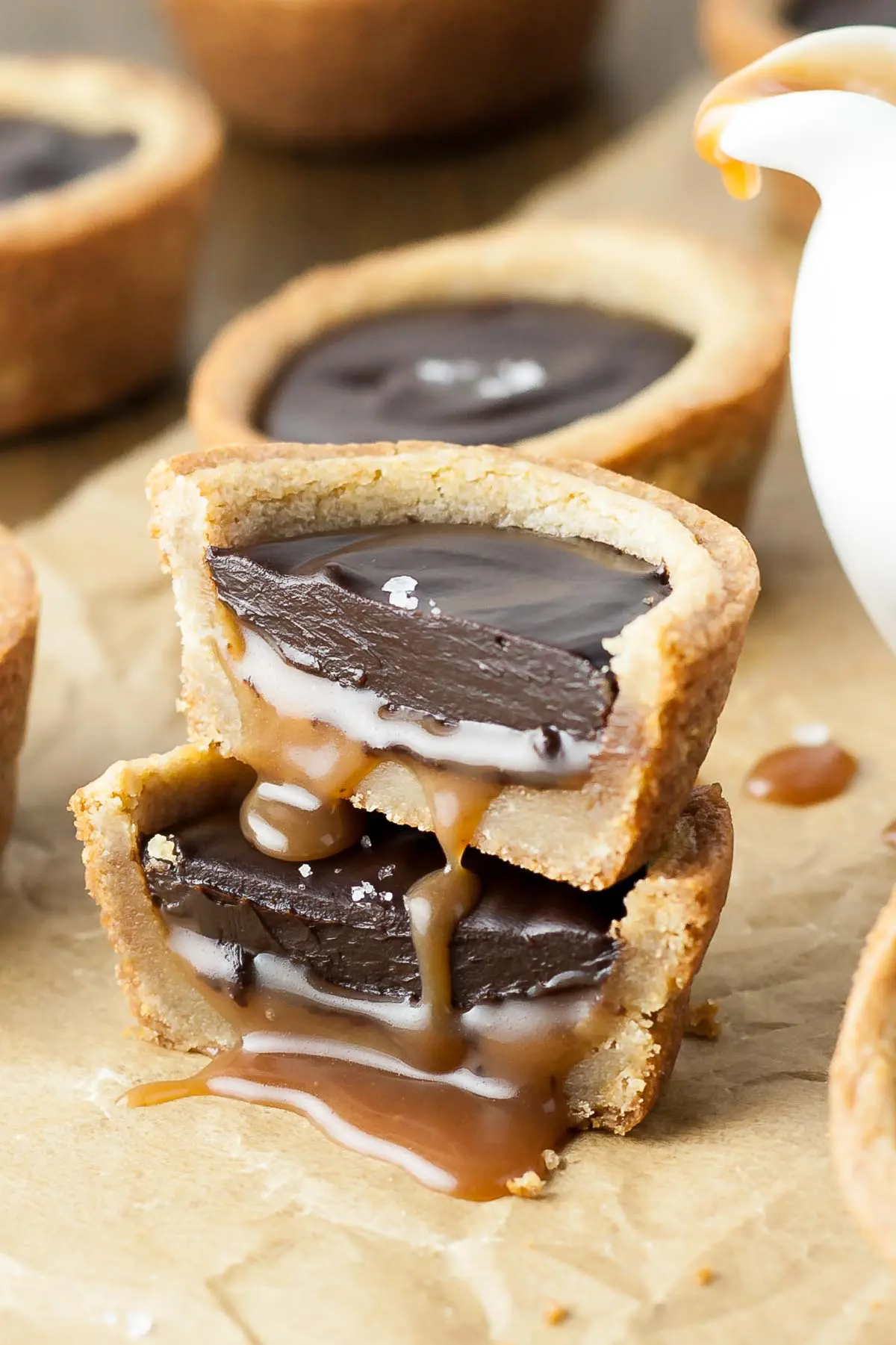 I used a measuring cup and a teaspoon to fill each of the cups, but you could use a piping bag if you prefer. I poured in some caramel, placed the cups in the freezer for 30mins, then topped with the chocolate ganache and some sea salt. How much caramel/chocolate you add in each cup is up to you!
These Caramel Cookie Cups are ultra decadent and delicious. Plus, you can easily try different combinations of cookie, filling, and chocolate. I already have a few ideas on my radar.
Be sure to check out the delicious Chocolate-themed recipes from my Canadian blogger friends after the recipe!
Notes & tips for these Caramel Cookie Cups:
You can use store-bought caramel if you prefer, though I would recommend Dulce de Leche since i find it a bit thicker.
Be sure to check out my How to Make Caramel post for a detailed tutorial.
Ensure the ganache and caramel are completely cool before pouring them into the cups.
Chill the cups once the caramel layer is in to firm them up.
These freeze very well! Store in fridge for up to 5 days or in freezer (in an airtight container) for 1-2 months.
Caramel Cookie Cups
Chewy caramel cookie cups loaded with gooey caramel and topped with a silky dark chocolate ganache.
Ingredients
Caramel:
1

cup

granulated sugar

200g

1/4

cup

water

150

ml

heavy whipping cream

room temperature

1/2

cup

unsalted butter

100g, room temperature
Instructions
Cookie Cups:
Preheat oven to 350°F. Spray 2 regular sized muffin tins with cooking spray.

Whisk together flour, baking soda, and salt, set aside.

Beat butter and sugars on med-high until light and fluffy (approx. 2-3mins). Reduce speed and add eggs (one at a time), and vanilla. Beat until combined.

Add flour mixture a little at a time and mix until just combined.

Using a large cookie scoop (3 Tbsp) scoop dough into muffin tins, press down to flatten slightly.

Bake for approx. 15mins or until browned and mostly set.

Remove from oven and immediately use a small jar or container to press firmly down in the center to create a well. Cool in pans for 15mins, then place on wire rack to cool completely.
Caramel:
Place sugar and water into a medium pot, stir to combine, but to not stir from this point forward. Cook over high heat, washing down the sides of the pot with a pastry brush dipped in water as needed to prevent crystals.

Cook until desired color of caramel is reached and immediately remove from heat. Very slowly, add heavy cream. The mixture will bubble up (a lot) and boil. Add butter, return to heat, and bring back to a boil. Cook for 2 minutes stirring constantly.

Remove from heat and let cool to room temperature. Transfer to a container and place in fridge to thicken.*
Ganache:
Place chopped chocolate and cream into a microwave safe bowl. Stir to combine. Microwave for 20 seconds, stir. Microwave in 10 second intervals, stirring in between, until smooth and silky. Set aside to cool completely before using.**
Assembly:
Using a measuring cup or a teaspoon, pour some of the thickened caramel into each cup. Place in freezer for 30mins to set.

Remove from freezer and use the same method to top with ganache. Sprinkle with sea salt if desired and place in fridge to set.
Notes
* I let mine sit in the fridge overnight.
** The ganache can sit on the counter overnight. Place plastic wrap directly onto ganache to prevent a skin from forming.
Calories:
403
kcal
Carbohydrates:
42
g
Protein:
3
g
Fat:
24
g
Saturated Fat:
15
g
Cholesterol:
74
mg
Sodium:
168
mg
Potassium:
138
mg
Fiber:
1
g
Sugar:
28
g
Vitamin A:
660
IU
Vitamin C:
0.1
mg
Calcium:
36
mg
Iron:
2.3
mg
The nutritional information and metric conversions are calculated automatically. I cannot guarantee the accuracy of this data. If this is important to you, please verify with your favorite nutrition calculator and/or metric conversion tool.
Sweet & Savory Chocolate Recipes for Valentine's Day
3-Ingredient Dairy-Free Chocolate Raspberry Cups by The Refreshanista
Chocolate Dipped Honeycomb by My Kitchen Love
Chocolate Spice Fig Truffles by The Busy Baker
Cocoa-Rubbed Drumsticks by Chew Street
Dark Chocolate Rosewater Truffles by The Cinnamon Scrolls
Mocha Waffle Torte by Cocoa Bean, The Vegetable
Savoury Chocolate Ravioli with Ricotta-Beet Filling by Imagelicious
Two-Bite Mochi Brownies by The Chewy Life