A modern take on a French classic, this decadent Opera cake is rich, chocolatey, and packed with espresso flavor.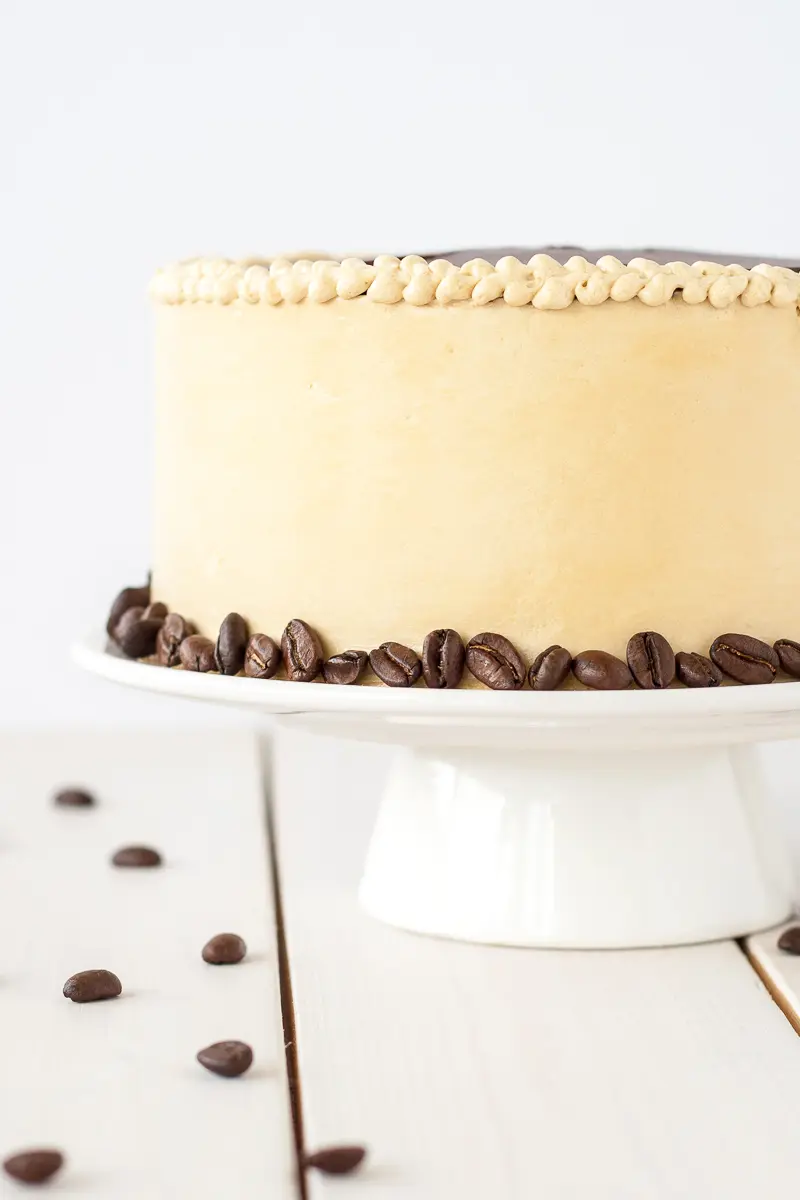 I'm so excited for today's post, as it's a recipe from Tessa at Style Sweet CA's first cookbook – Layered! I have been eyeing this book for months and I was so excited to finally get my hands on one thanks to Food Bloggers of Canada. There are honestly so many amazing and delicious sounding recipes in this book that it was hard to pick which one to start with, but this French Opera Cake recipe was calling my name.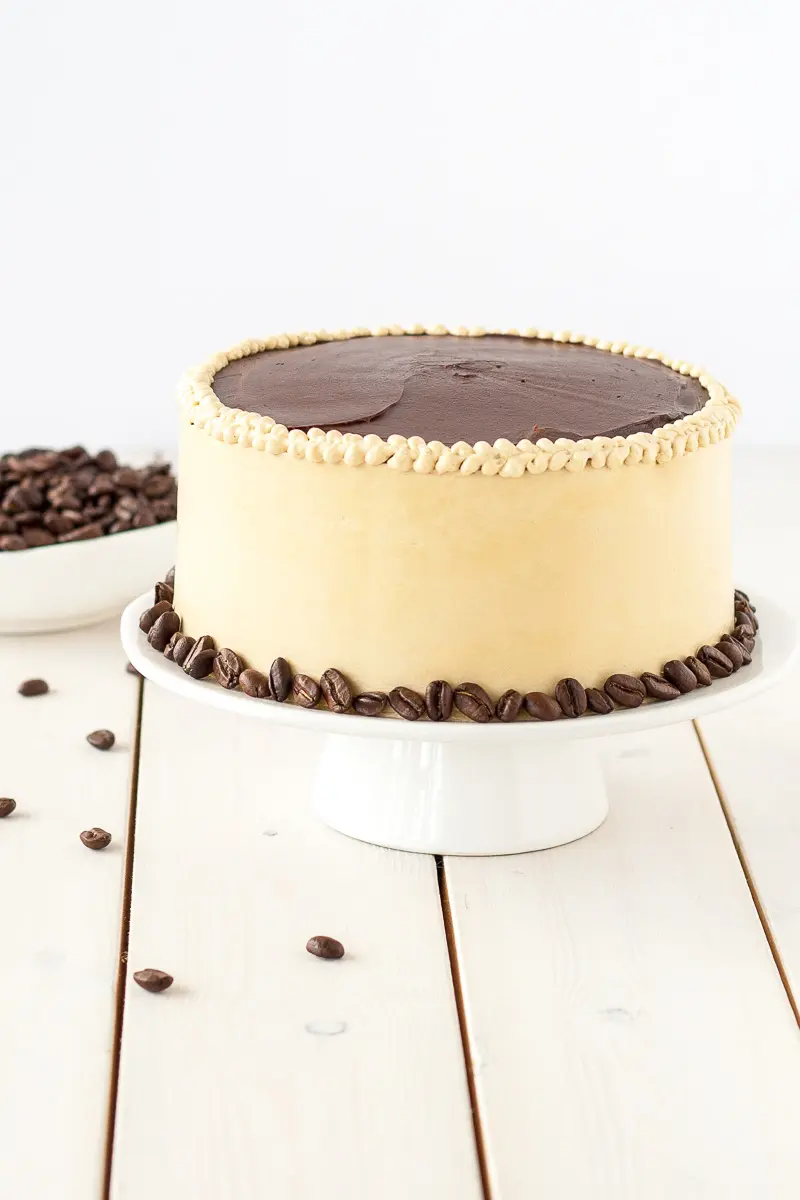 A few years ago, Ryan and I lived in Paris for 3 months. It was honestly the most amazing experience. I miss it so much, and I dream about going back or even living there someday. We saw a lot during our time there, and ate so much delicious food — especially bread and pastries! Omg. It was amazing.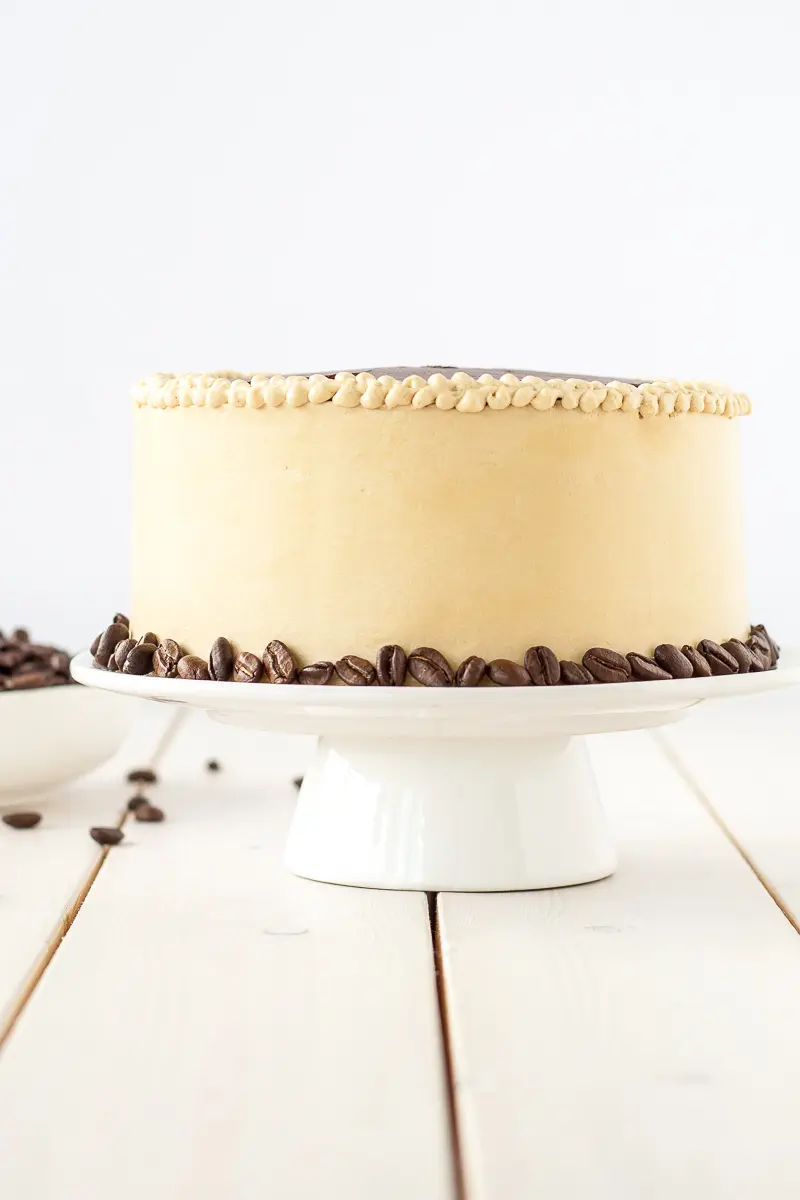 So, a Paris story: We're in this cafe, about halfway through our trip (we frequented a LOT of cafes during our time there). This one was Cafe de Flore, a famous (aka touristy) Parisian cafe that was on our list to see. We'd had our lunch and our coffee, and naturally I was eyeing the dessert case.
A particularly intriguing dessert caught my eye, and I pointed out to the waiter which one I wanted. I didn't check the menu for the price, but whatever, it's not like it was going to be $20 or something. So we ordered this elegant little dessert, which we found out was called an Opera Cake.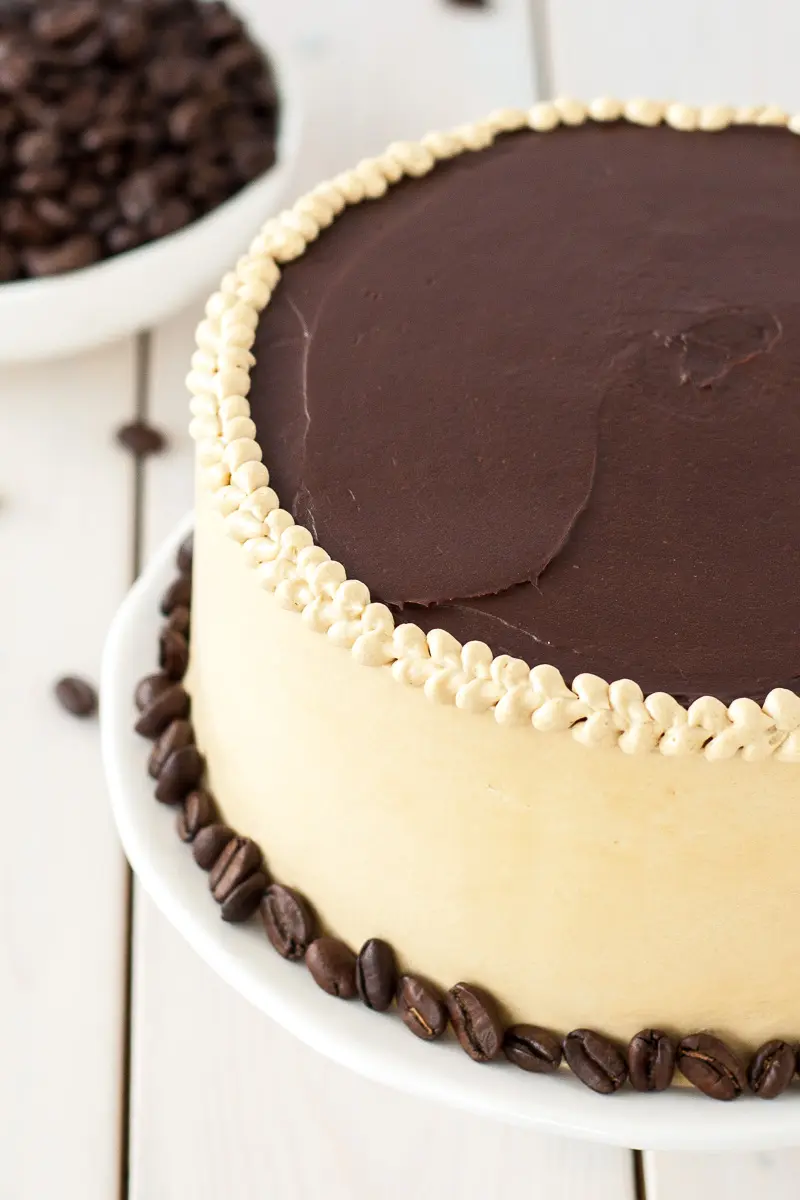 When I say little, I mean little. It was literally 2″x4″ small.
Sure enough, we get the bill and that little dessert was €15 which was basically like $20. I kid you not! The most expensive dessert we had during our time there, for sure. It was good, but certainly not $20 good. I could have had like 10 macarons for that price! Needless to say, lesson learned, and we checked prices on everything from that point on.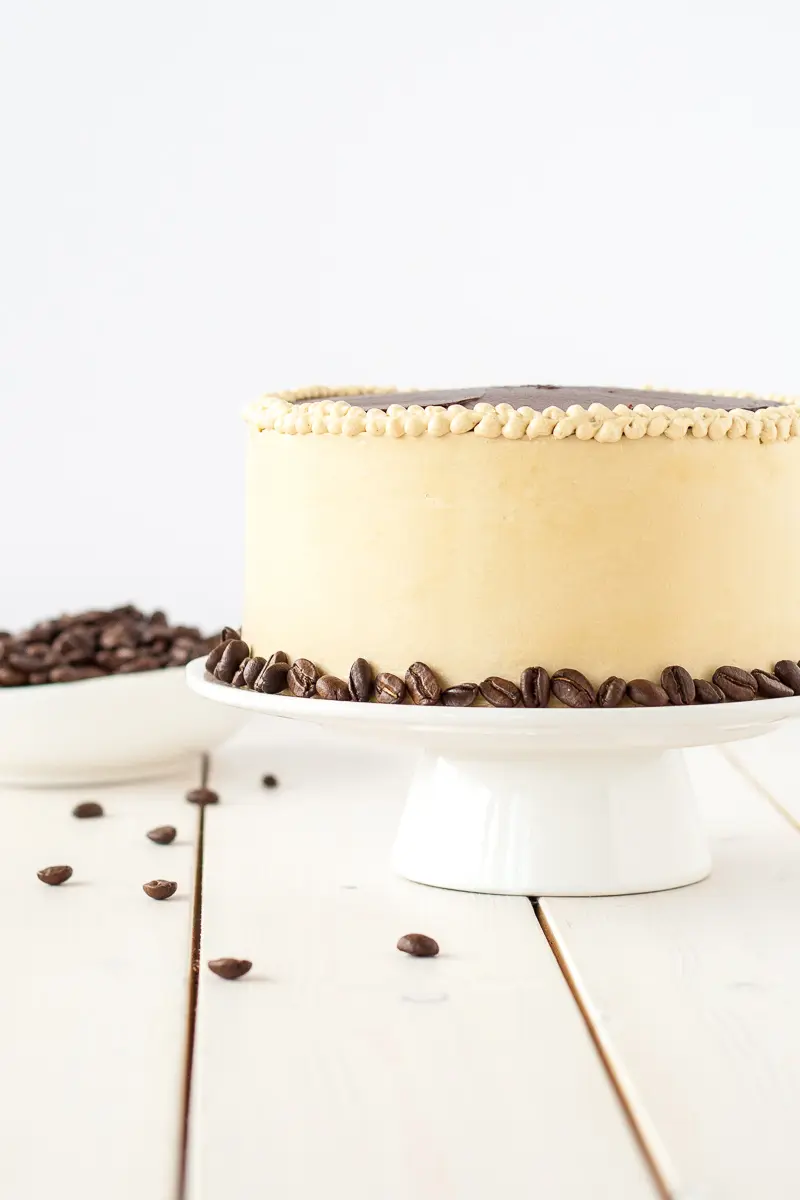 What is an Opera Cake?
This French Opera Cake has all of the delicious elements of a traditional Opera, but without the fuss (or hefty price tag). Layers of light almond sponge cake soaked in coffee, with a heavenly coffee flavored French buttercream and a deep dark chocolate ganache.
It has a strong espresso flavor throughout — in the layers, in the coffee soak, and in the buttercream. So if you're a coffee drinker, you will love this French Opera cake recipe. Making it takes a few more steps than a typical cake, but it's well worth the effort and Tessa walks you through it all in her book.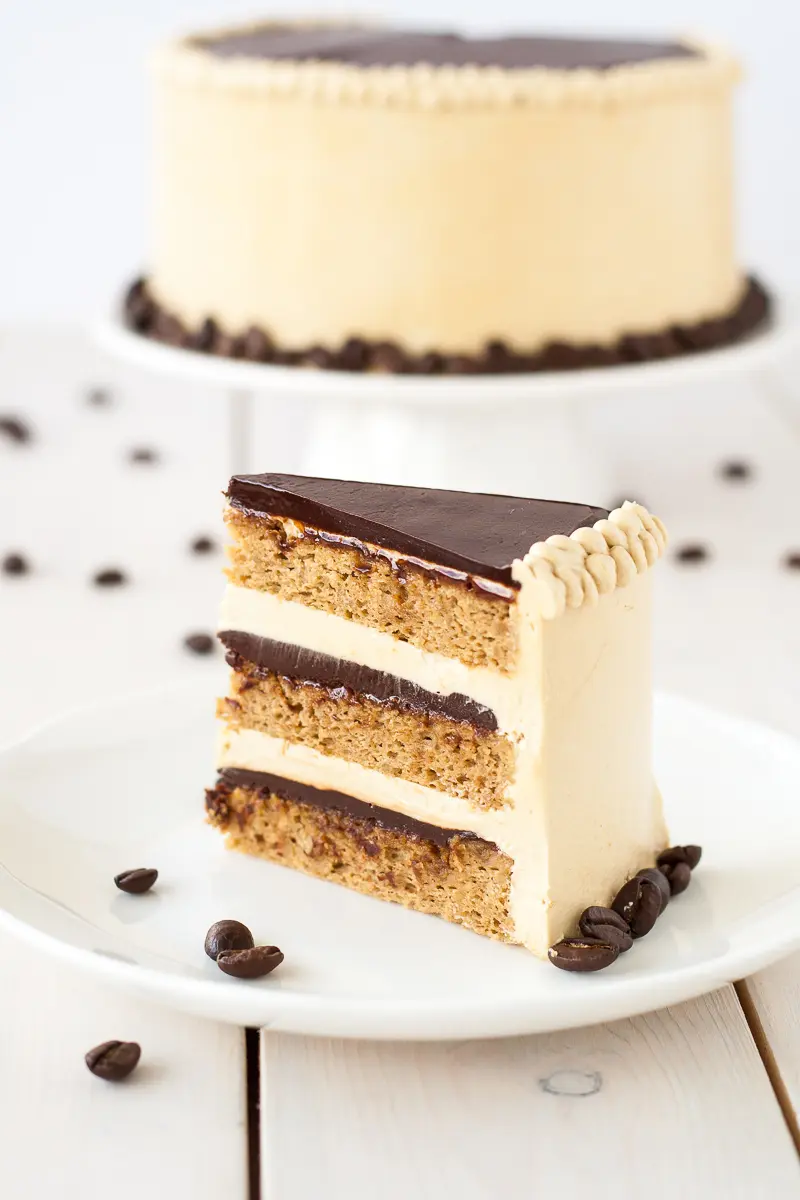 Layered is a truly stunning book. From classics like Strawberry Shortcake to intriguing combinations like Raspberry Guinness, it's a cake lover's dream! The book is packed with 150 recipes (and photos for every single cake) as well as tips and tutorials. This is one that you'll want to have in your collection. I love this book and I know you will too.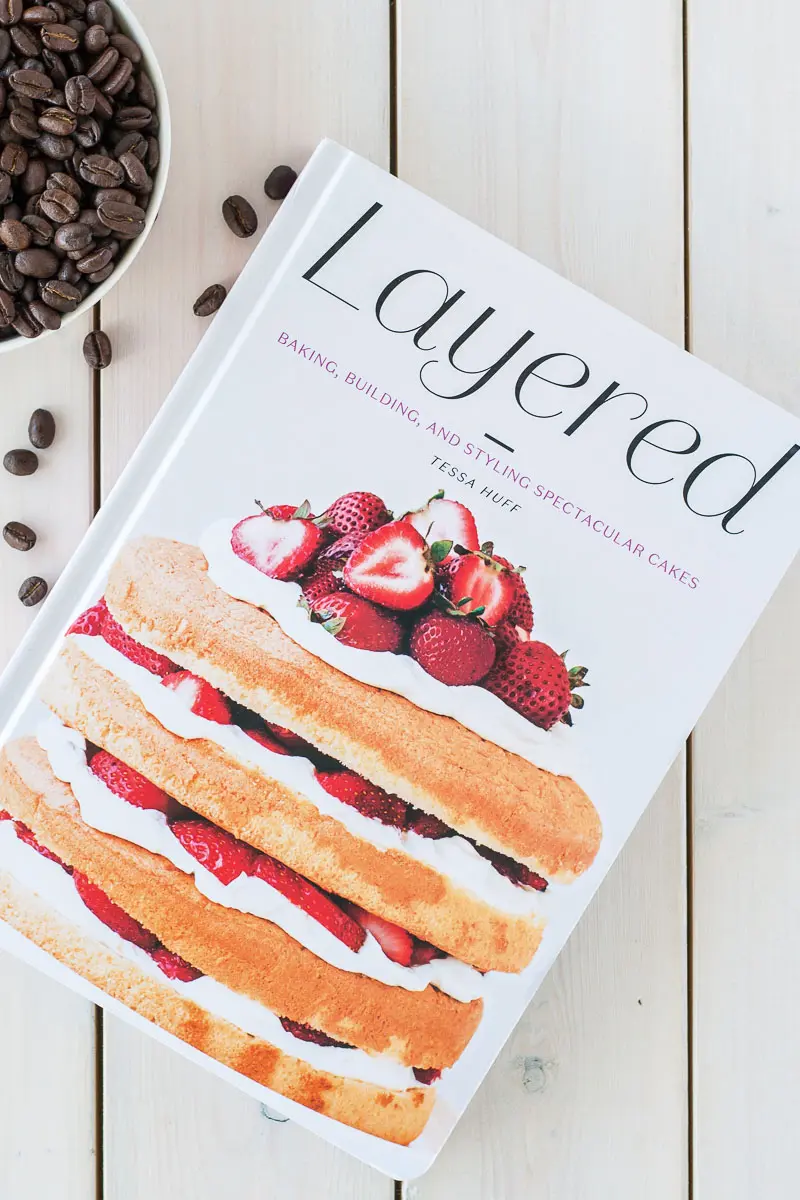 Looking for more coffee flavored desserts?
Tips for making this Opera Cake Recipe?
Be sure to use espresso powder, not granules in the cake and frosting. The granules will not dissolve properly.
Try to use the best quality chocolate you can for the ganache, it really makes a difference! I use Callebaut.
You can leave out the coffee liqueur if you prefer.
If you don't have a cake ring, you can try and bake this in three 6″ cake pans instead.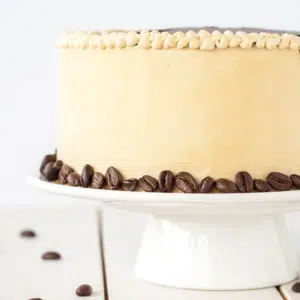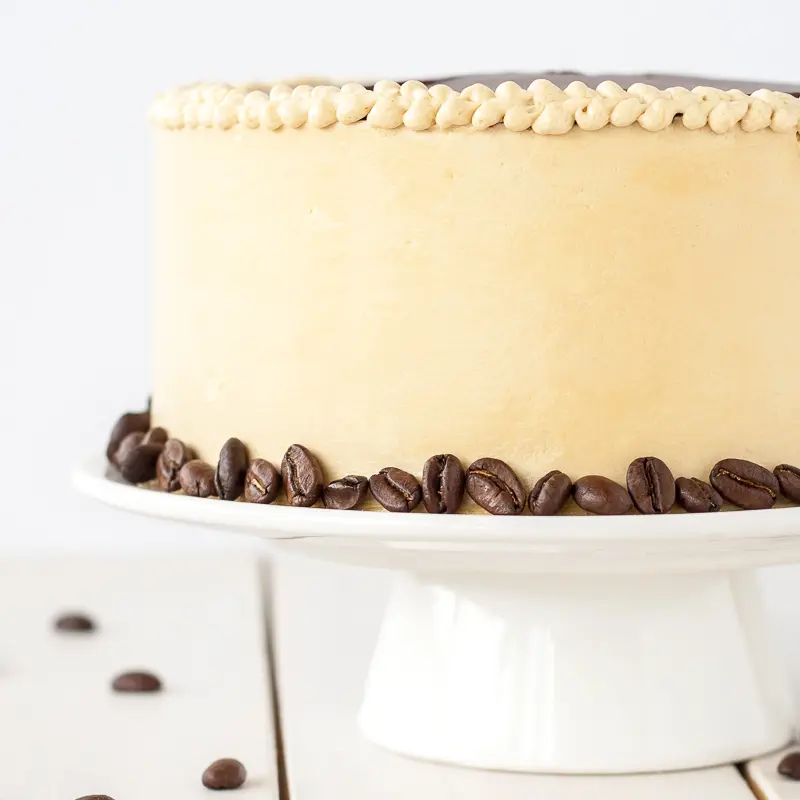 French Opera Cake
A modern take on a French classic, this decadent Opera cake is rich, chocolatey, and packed with espresso flavor.
Ingredients
Instructions
Coffee Almond Sponge Cake
Preheat oven to 375F. Grease a 10×15″ pan and line with parchment. Allow parchment to overhang the edges by a couple inches.

In a medium bowl, whisk flour, espresso powder, baking powder, and salt. Set aside.

In the bowl of a stand mixer, combine powdered sugar, 4 eggs, and vanilla. Whip until thick and pale. The whisk will leave tracks and ribbons will form if you drizzle the mixture onto itself. Mix in flour mixture and then the melted butter.

In a clean bowl of a stand mixer, begin to whip the egg whites on medium. When they start to foam, add the cream of tartar. Continue whipping while slowly adding the granulated sugar. Turn mixer to high and whisk until stiff peaks form.

Gently fold egg whites into the cake mixture. Pour into prepared pan and spread evenly. Bake for 5-10mins or until the cake springs back when pressed. Cool for 10mins before removing from pan.
Coffee Soak
Place sugar, espresso powder, and water into a small saucepan and bring to a boil. Simmer for 2mins. Remove from heat and stir in coffee liqueur. Cool completely.
Coffee French Buttercream
In a small bowl, combine espresso powder and hot water. Set aside.

Place sugar and water into a medium saucepan. Stir to combine but do not stir from this point forward. Insert a candy thermometer and cook until the mixture reaches 240F.

Meanwhile, using a stand mixer, whip egg yolks on high until thick, pale, and ribbons form.

When the sugar reaches 240F, remove from the heat. Turn mixer to medium and very slowly and carefully pour the sugar syrup into the yolks in a thin, steady stream.* Increase mixer to high and continue whip until the bowl is no longer warm to the touch (~10mins).

Switch to paddle attachment. Slowly add cubed butter and mix until smooth. Add the espresso mixture and whip until combined and the frosting is smooth.

Dark Chocolate Ganache
Finely chop chocolate and place into a bowl. Bring cream just barely to a simmer and pour over chopped chocolate. Cover with plastic wrap and let stand 2 mins. Stir with a spatula until combined and smooth. Allow to cool and thicken slightly before using on cake.

Assembly
Using a 6″ cake ring, cut out three cake rounds from the cake. Brush each with the coffee soak.

Place one cake round on a cake stand or serving plate. Spread with 1/3 cup of the ganache. Refrigerate until ganache sets. Spread with 1/2 cup of the french buttercream. Repeat with next layer.

Place last layer of cake on top. Frost the sides and top of the cake with the remaining frosting. Chill for 20mins.

Spread ganache over the top of the cake. Do a decorative border with remaining frosting if desired.
Notes
* The sweet spot for this is getting the stream right between the whisk and the sides of the bowl, so the syrup doesn't get splashed by the whisk.
Calories:
688
kcal
Carbohydrates:
56
g
Protein:
10
g
Fat:
47
g
Saturated Fat:
24
g
Cholesterol:
268
mg
Sodium:
69
mg
Potassium:
353
mg
Fiber:
3
g
Sugar:
44
g
Vitamin A:
1215
IU
Calcium:
98
mg
Iron:
3.5
mg
The nutritional information and metric conversions are calculated automatically. I cannot guarantee the accuracy of this data. If this is important to you, please verify with your favorite nutrition calculator and/or metric conversion tool.