These chocolate macarons are the perfect sweet treat! Chocolate cookies filled with a rich dark chocolate ganache.
It's no secret that I have a mild obsession with these delicate confections. The first time I made these was in Paris when I registered for a one-day class on making macarons. One and a half years later, I finally made them for the second time during my first week of pastry school. These days, it's a regular occurrence.
This is the first recipe I'm posting, and it's based off the one we made in school: Chocolate Macarons with a Dark Chocolate Ganache. Ok, the ganache at school was actually hazelnut, but I didn't have the ingredients for that at home.
Macarons are actually not the easiest things to make. The ingredients are so simple! But it's the technique that can make or break them. Under-mix the batter and you'll get lumpy, feet-less, cracked cookies. Over-mix it and they'll be flat as pancakes and likely uneven.
I still have a hard time getting the batter just right, and more often than not I have to dump it out of my piping bag back into the bowl because I haven't mixed it enough. It can be very frustrating.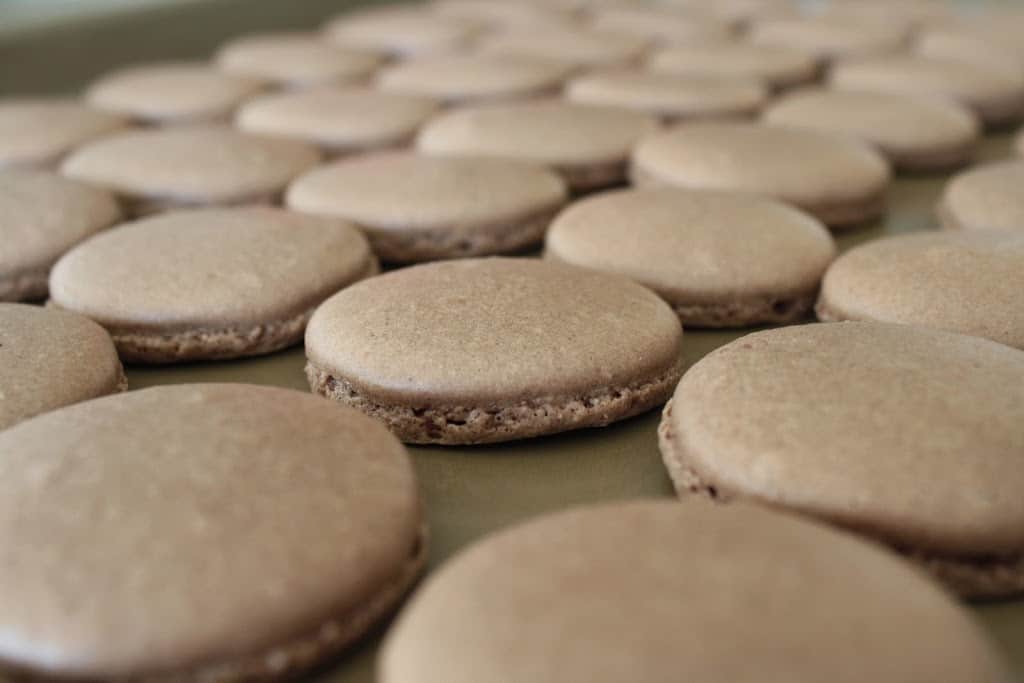 When they turn out though… it could be the best feeling ever.
Heavenly.
Looking for more Macaron recipes?
Tips for these Chocolate Macarons:
The measurements listed are by weight and I strongly recommend using a scale for macarons. They are incredibly finicky and temperamental, so the ingredients have to be precise. I do not have cup measurements for these.
You will need to do a LOT of folds to get the batter to the proper consistency. This might take some trial and error.
Do not skip on the drying time. This is a MUST DO. They must be completely dry to the touch before you bake them or they will crack.
If they don't come out perfect the first time (they rarely do), know that they will still taste delicious! Looks aren't everything! 🙂
Chocolate Macarons
These chocolate macarons are the perfect sweet treat! Chocolate cookies filled with a rich dark chocolate ganache.
Servings
10
sandwiched cookies
Instructions
Chocolate Macarons:
Line baking sheet with a silpat mat or parchment.*

Place the almond flour, powdered sugar, and cocoa powder in a food processor. Process until it just begins to clump.

Sift and discard any bits that won't pass through the sifter. Set aside.

Whip the egg whites until they're the consistency of a loose foam. Continue whipping while slowly adding sugar. Whip to a stiff meringue.

Fold the dry mixture into the meringue.**

Pour the batter into a piping bag fitted with the 1A tip. Pipe the macarons onto your baking sheet.

When all your macarons are piped, whack the baking sheet on the counter at least 3 times to get rid of any air bubbles.***

Let the macarons dry at room temperature until dry to the touch. Approx 1 hour. DO NOT skip this step.

Once dry, bake macarons in a 300°F oven until they stick a little bit to the pans. This can be anywhere from 10-20mins depending on your oven and how crowded the macarons are on the pan.

Let cookies cool completely before removing from pans.
Dark Chocolate Ganache:
Place the finely chopped chocolate into a bowl. Heat the cream until it just barely starts to simmer. Immediately pour over chopped chocolate. Do not stir! Cover the bowl with plastic wrap for 2 mins. Stir to emulsify ganache. Place in fridge to set.****
Assembly:
Match up cookies by size into pairs. Using a piping bag fitted with the 1A tip, pipe ganache into the center, sandwich the cookies and twist together.

Refrigerate macarons overnight to allow them to mature and soften.
Notes
* I create a parchment template using a 1 1/2″ cookie cutter to create circles and place it under my silpat mat.
** You will need to do a LOT of folds to get the batter to the proper consistency. You're looking for it to be smooth and shiny and have some movement. If you lift some up with a spatula, it should pour in a steady stream and settle into the remaining batter. DO NOT overmix.
*** Do not be shy with the whacking!
**** If the ganache has some unmelted bits after stirring, heat over a simmering bain marie.
Calories:
173
kcal
Carbohydrates:
18
g
Protein:
3
g
Fat:
10
g
Saturated Fat:
4
g
Cholesterol:
9
mg
Sodium:
14
mg
Potassium:
98
mg
Fiber:
2
g
Sugar:
14
g
Vitamin A:
100
IU
Calcium:
27
mg
Iron:
1.6
mg
The nutritional information and metric conversions are calculated automatically. I cannot guarantee the accuracy of this data. If this is important to you, please verify with your favorite nutrition calculator and/or metric conversion tool.