Enhance classic chocolate chip cookies with the nutty flavor of brown butter! Soft & chewy, sweet & salty — these brown butter chocolate chip cookies will be a new favorite!
I know, I know, you're probably thinking to yourself: Does the world really need another chocolate chip cookie recipe? These are not just your typical, plain old chocolate chip cookies though — there are two not-so-secret ingredients that will make these the BEST chocolate chip cookies you've ever had.
The first key ingredient, obviously, is brown butter.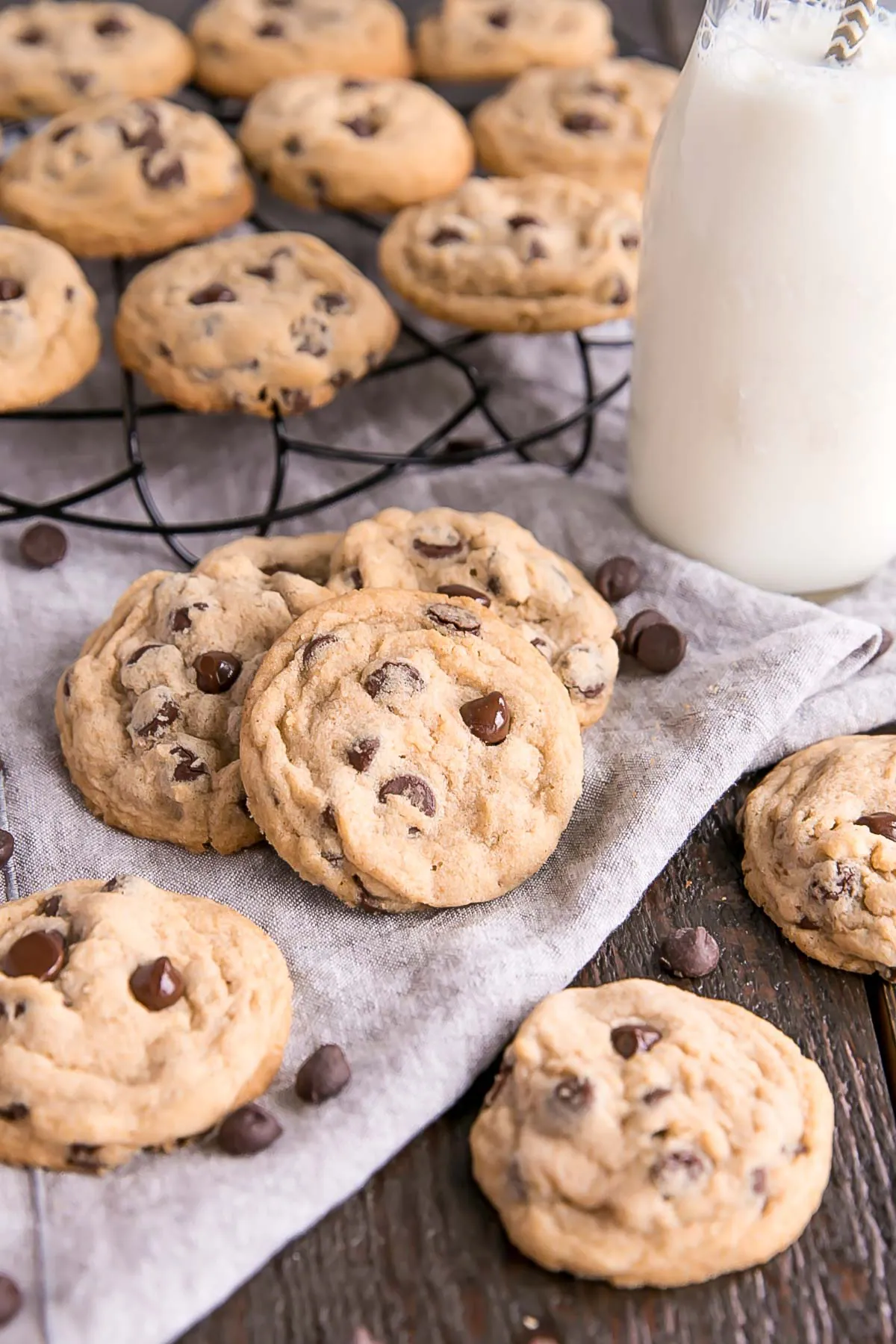 This is only my second time ever making/using brown butter, and I honestly don't know why I don't use it more often. I first tried it for my Brown Butter Cake and was amazed at how much of a flavor impact such a simple change could have.
You can read the details of what brown butter is and how to make it in that post, and if you haven't tried it, I suggest you get on that asap!
Brown butter has a wonderful nutty smell/flavor. It's pure heaven. I had some left over from the batch I made for these cookies, and we used it in pancakes this weekend. SO good. I'm trying to come up with other ways to use it and omg I just thought: it would be AMA-zing on pasta.
That's happening soon.
The second key ingredient that makes a huge difference is sea salt. Plain old salt will just not do. You need to get your hands on some flakey and delicious sea salt. There is nothing quite like that contrast of sweet and salty that totally makes your mouth water.
Have I sold you on these Brown Butter Chocolate Chip Cookies yet?? I hope so.
Now typically with my cookies, I chill the cookie dough and have indicated so in the recipe. This time though, I was a little impatient, so I just baked them right up. They turned out perfectly fine, so it's totally up to you if you decide to chill or not!
Chilling the cookie dough is usually very important, as it helps prevent the cookies from spreading too much and becoming flat and dry. I loaded these with chocolate chips though, so they really couldn't spread that much!! You could always bake up a test batch of a couple cookies un-chilled and see how it goes.
If you have a die hard chocolate chip cookie fan in your life (or are one yourself), I hope that you give these Brown Butter Chocolate Chip Cookies a try!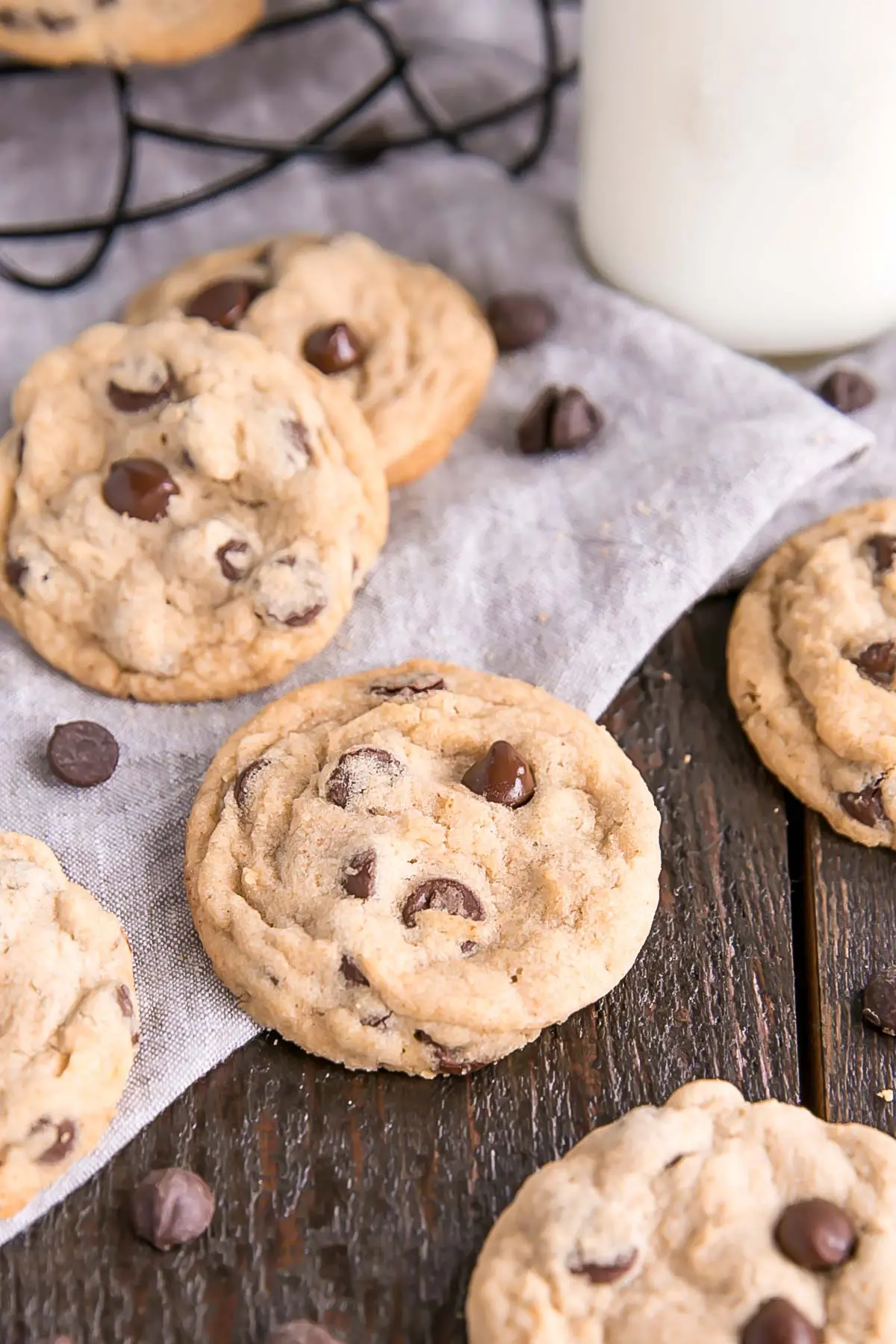 Tips for making these Brown Butter Chocolate Chip Cookies:
Using sea salt over regular old salt is a game changer! This is the one I love and use.
I've added dough chilling time into the recipe because I usually chill. I didn't this time, so it's totally optional.
I used semi-sweet chocolate chips, but these would be equally delicious with dark chocolate chips or even chunks of chocolate.
I used a medium cookie scoop (1 1/2 Tbsp) for these but you could use a large one (3 Tbsp) instead for bigger cookies. Baking time will need to be adjusted though.
Brown Butter Chocolate Chip Cookies
Enhance classic chocolate chip cookies with the nutty flavor of brown butter! Soft & chewy, sweet & salty — these brown butter chocolate chip cookies will be a new favorite!
Ingredients
Brown Butter:
1 1/2

cups

unsalted butter
Brown Butter Chocolate Chip Cookies:
Instructions
Brown Butter:
Place butter into a large, shallow, light colored saucepan. Cook over med-low heat, stirring frequently until the butter starts to brown and smell nutty.*

Remove from heat, stir, and pour into a measuring cup to measure out 1 cup.**

Be sure to get the the brown bits in there!

Let cool to room temperature and solidify.***
Brown Butter Chocolate Chip Cookies:
Whisk together flour, baking soda, and sea salt. Set aside.

Beat brown butter and sugars on medium speed until light and fluffy (approx. 2-3mins).

Reduce speed and add eggs (one at a time), and vanilla. Beat until combined.

Add flour mixture a little at a time and mix until just combined (do not overbeat).

Add in the chocolate chips (I toss these right into my mixer but it struggles a bit). If you're using a hand mixer I'd recommend folding them in with a spoon or spatula.

Refrigerate cookie dough for at least 3 hours or overnight.

Preheat oven to 350°. Line baking sheets with parchment paper or silicone mats.

Bake for about 8-10mins or until golden on the edges, but still gooey in the center.

Remove from oven. Let cool on pans for 2 minutes, then transfer onto wire racks to cool completely.
Notes
* Be careful not to burn it. It will go from brown to black very quickly.
** Any extra can be used as a sauce for meat or vegetables.
*** Once the butter is at room temperature, you can place it in the fridge to speed up the solidifying process. Be sure to bring it to room temperature before using in the cookies.
NOTE: Prep time does not include time to make and cool brown butter, but does include cookie dough chilling time.
Calories:
170
kcal
Carbohydrates:
20
g
Protein:
1
g
Fat:
9
g
Saturated Fat:
5
g
Cholesterol:
24
mg
Sodium:
133
mg
Potassium:
78
mg
Fiber:
1
g
Sugar:
12
g
Vitamin A:
180
IU
Calcium:
16
mg
Iron:
1.1
mg
The nutritional information and metric conversions are calculated automatically. I cannot guarantee the accuracy of this data. If this is important to you, please verify with your favorite nutrition calculator and/or metric conversion tool.