These Blueberry Cheesecake Cookie Cups make perfect use of those fresh summer berries!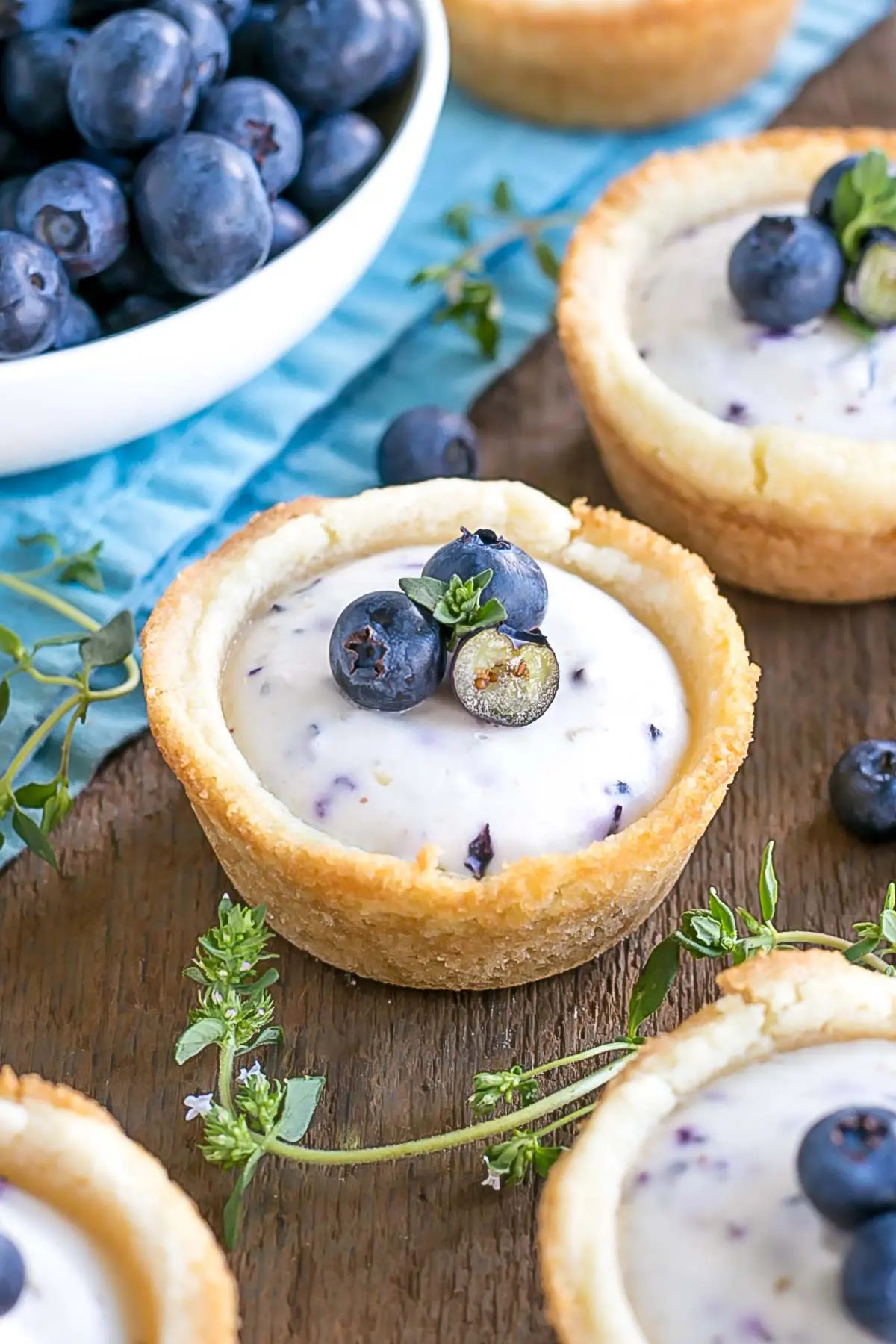 You guys, I am SO excited. We are in the midst of planning our first trip to Walt Disney World in the fall for my 40th birthday. I cannot think of a better way to celebrate, can you?? We are avid Disney fans (understatement) and have been to Disneyland multiple times, but this is our first time at the parks in Orlando. PLUS, I am just a little bit excited for all of the Harry Potter stuff over at Universal.
I'll be honest though, planning this trip is a bit overwhelming. I can't believe how HUGE and VAST everything is. No walking to the parks from the hotels here… unless you're shelling out the big bucks. We're trying to decide which hotel to stay at (there are so many) and how much time to spend at each park (there are so many) and which restaurants to eat at (there are so many). So, if you have any tips or advice or opinions, I would love to hear them! Also, if you have any do-not-miss things for the Disney parks and Universal, let me know!
Ok, on to these Blueberry Cheesecake Cookie Cups!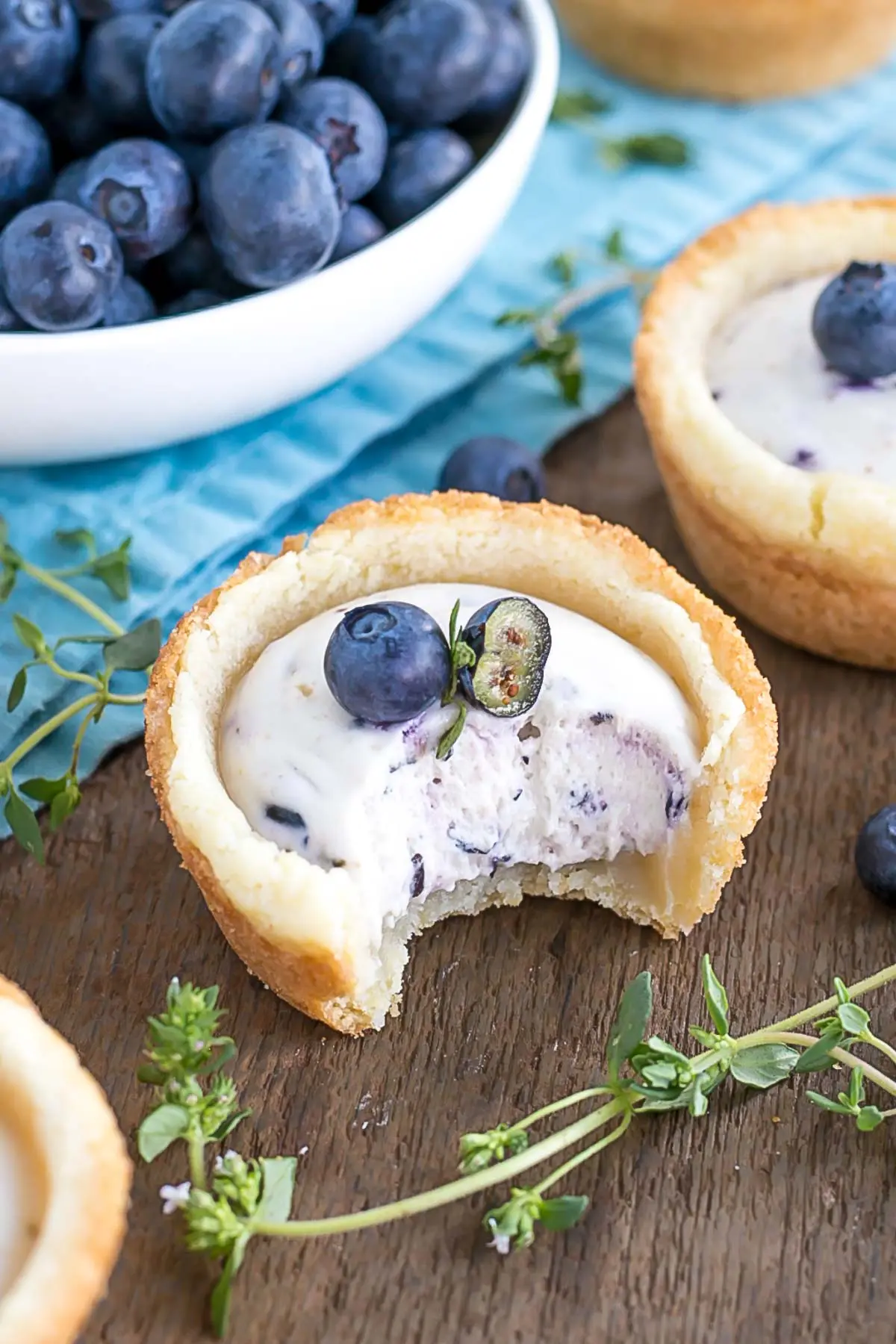 It's been almost a whole two months since I threw a cookie cup recipe at you, so I think it's time for another. This blueberry cheesecake recipe is pretty much identical to the one for my Strawberry Cheesecake Cookie Cups, except that I halved the recipe and made them with blueberries instead. It's easy enough to double though, in case you want a larger batch.
I had to make the filling for these guys twice because of a stupid mistake. Learn from my errors, people!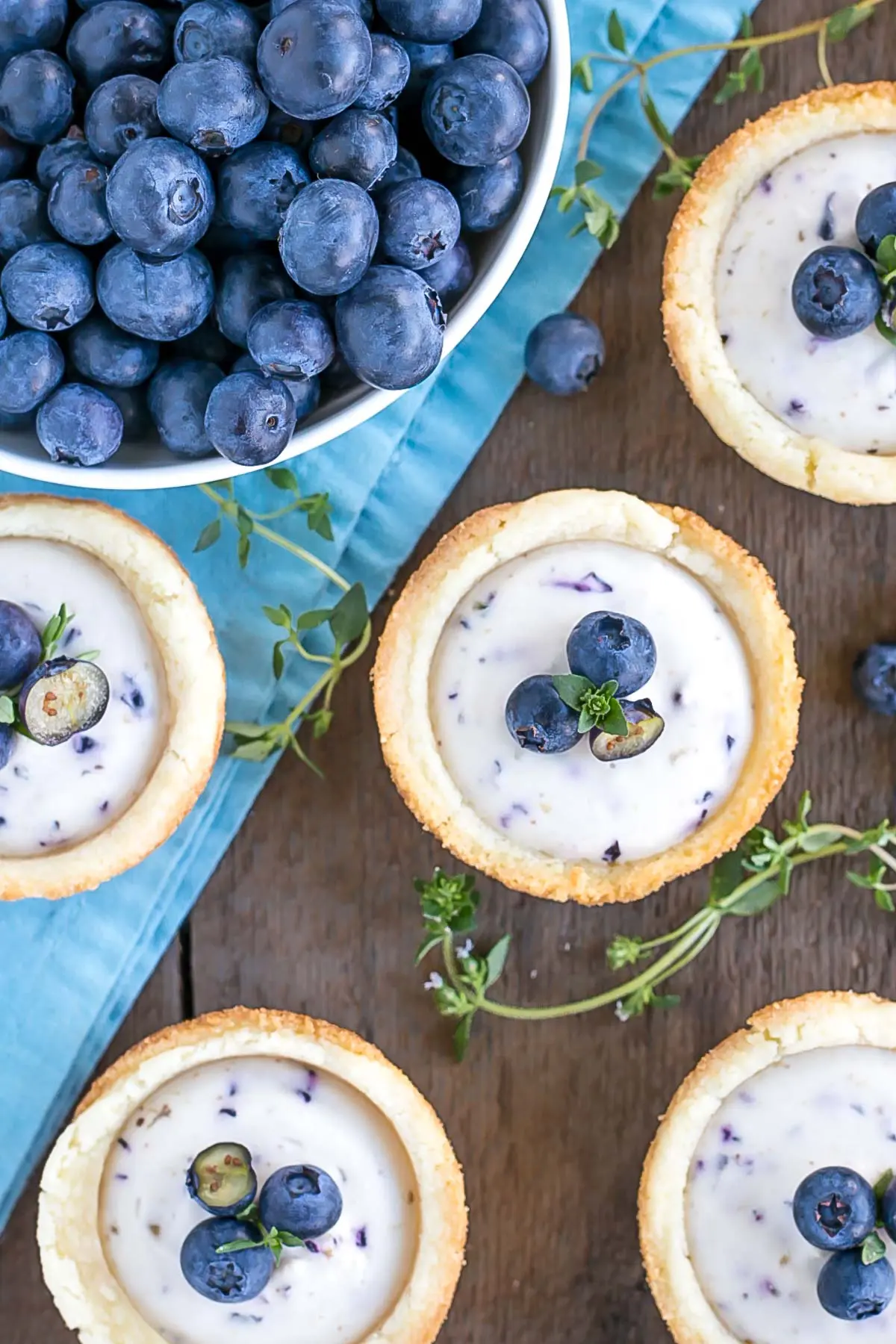 I made the mistake of adding blue gel coloring to the first batch of filling I made for these. I felt like the natural color wasn't blue enough and didn't really pop. Sometimes, natural is better. Sigh. Adding the blue color gel actually turned the filling GREY. WTH right? So I added some purple, thinking that would help. It didn't, lol. Needless to say, I now have a bowl full of greyish-bluish-purplish blueberry cheesecake filling sitting in my fridge. Good thing it still tastes delicious.
Anyhow, you could add coloring if you like, but be warned that it might not turn out how you expect. And you know what? I think I actually like the natural look of these better after all.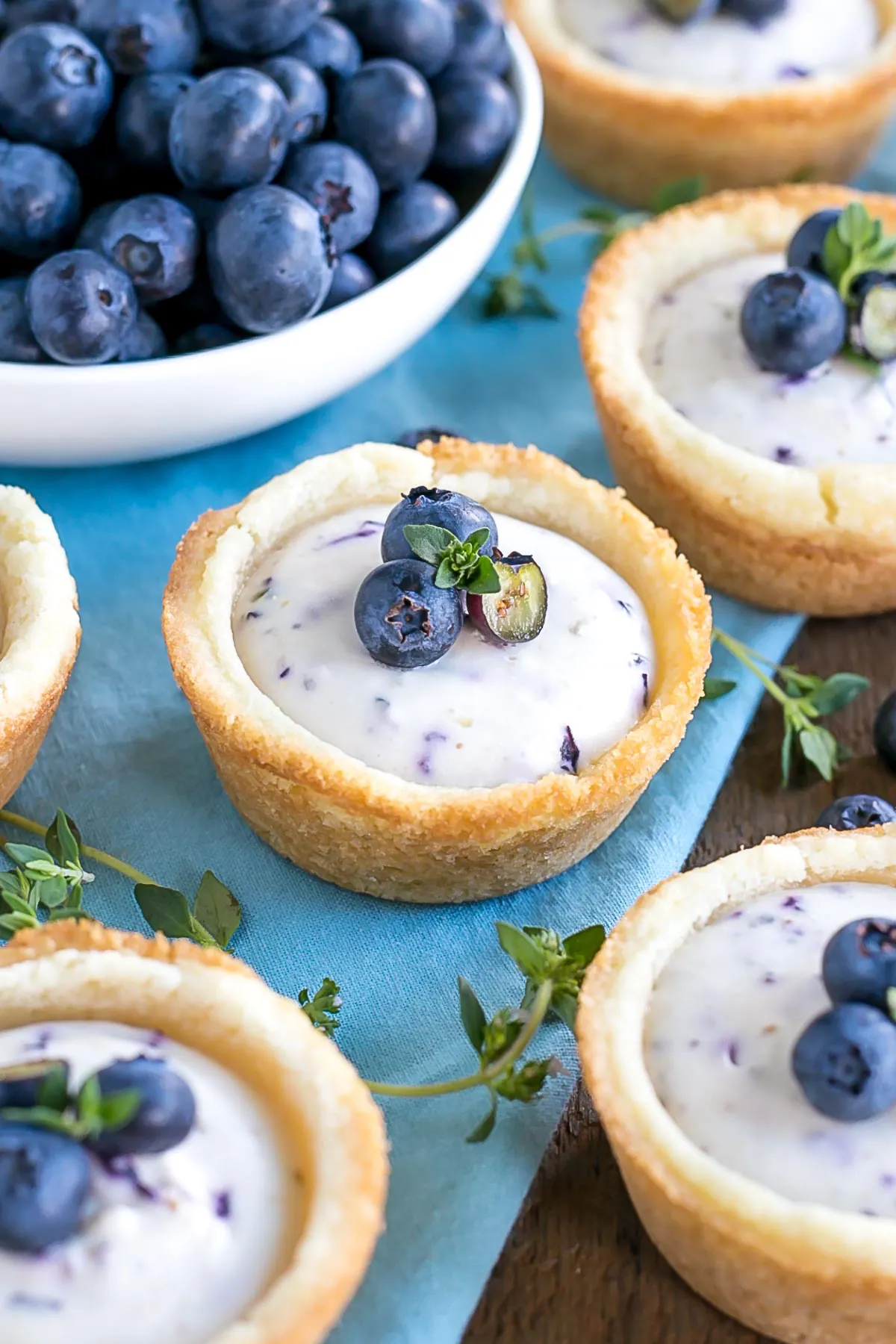 These Blueberry Cheesecake Cookie Cups are the perfect summer dessert. They are easy to make and freeze really well! You know, in case you need to make them ahead of time… or prevent yourself from eating them all in one sitting.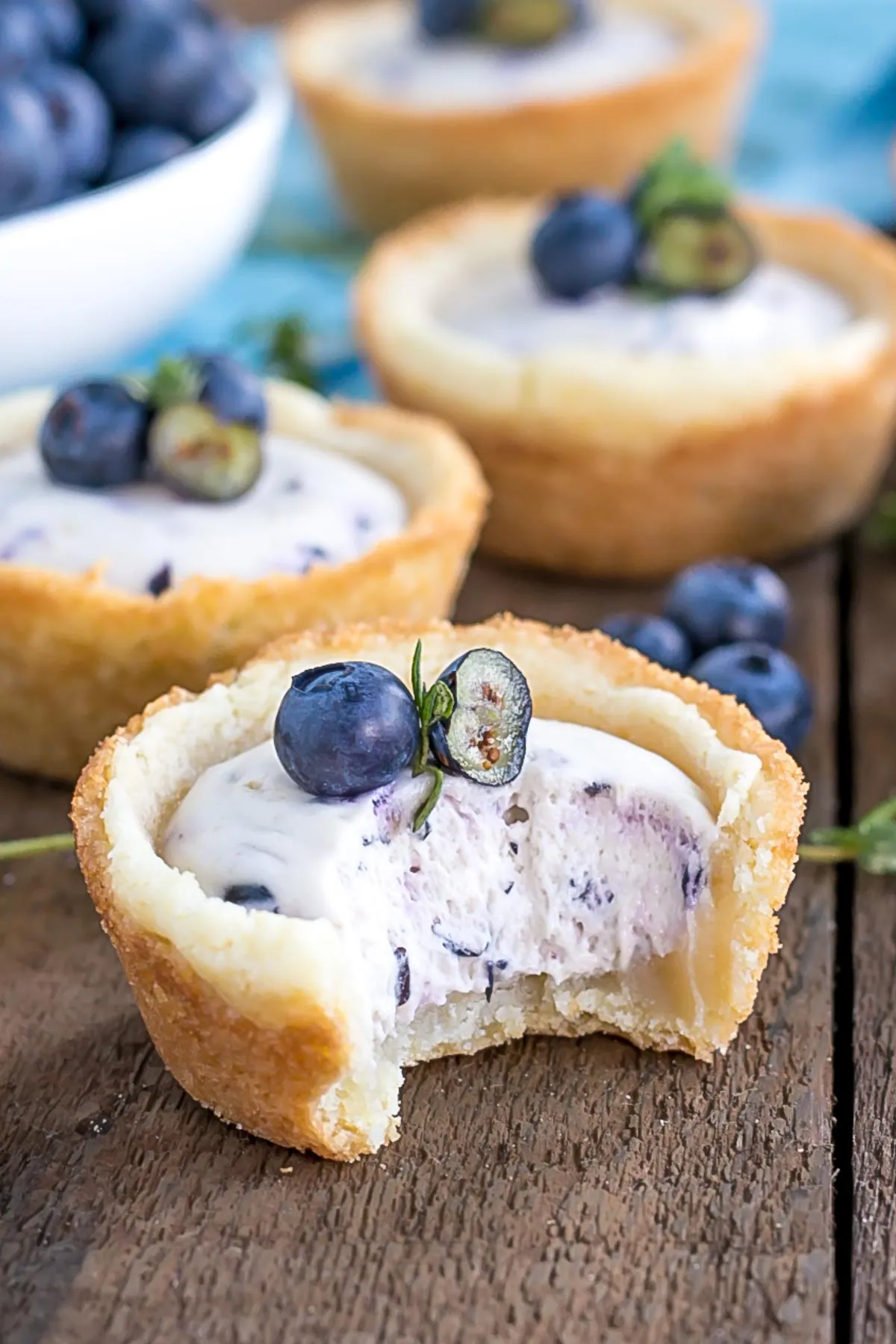 Tips for these Blueberry Cheesecake Cookie Cups:
You can use a different fruit puree if you prefer.
Ensure your heavy cream is cold (ideally the mixer bowl too) as this will make the cream whip up better.
The cookies will soften a bit the longer they sit with the filling.
These freeze very well! Store in fridge for up to 5 days or in freezer (in an airtight container) for 1-2 months.
Best served cold, out of the fridge.
Blueberry Cheesecake Cookie Cups
These Blueberry Cheesecake Cookie Cups make the perfect use of those fresh summer berries!
Ingredients
Blueberry Cheesecake Filling:
1/2

cup

heavy whipping cream

cold

4

oz

cream cheese

softened

1/4

cup

granulated sugar

1/4

cup

blueberry puree*
Instructions
Cookie Cups:
Preheat oven to 350°F. Spray a regular sized muffin tin with cooking spray.

Whisk together flour, baking soda, and salt, set aside.

Beat butter and sugar on med-high until pale and fluffy (approx. 2-3mins). Reduce speed and add egg and vanilla. Beat until combined.

Add flour mixture and mix until just combined.

Using a large cookie scoop (3 Tbsp), scoop dough into muffin tins, press down to flatten slightly.

Bake for 10-12 mins or until lightly browned and mostly set.

Remove from oven and immediately use a small jar or container to press firmly down in the center to create a well. Cool in pans for 10 mins, then place on wire rack to cool completely.
Blueberry Cheesecake Filling:
Whip heavy cream until stiff peaks (ideally with a cold whisk and in a cold bowl).

In a separate bowl, beat cream cheese and sugar until smooth.

Fold cream cheese mixture and blueberry puree into whipped cream. Pipe into cooled cookie cups. Refrigerate until set (approx. 2 hours).

Serve cold and eat within 2-3 days. Or freeze for up to 4 weeks.
Notes
* 1/2 cup of whole fresh blueberries, pureed.
Calories:
294
kcal
Carbohydrates:
30
g
Protein:
2
g
Fat:
18
g
Saturated Fat:
10
g
Cholesterol:
71
mg
Sodium:
197
mg
Potassium:
44
mg
Sugar:
20
g
Vitamin A:
640
IU
Vitamin C:
0.3
mg
Calcium:
26
mg
Iron:
0.7
mg
The nutritional information and metric conversions are calculated automatically. I cannot guarantee the accuracy of this data. If this is important to you, please verify with your favorite nutrition calculator and/or metric conversion tool.