A delicious vanilla funfetti Bundt cake, topped with a simple glaze and lots of sprinkles.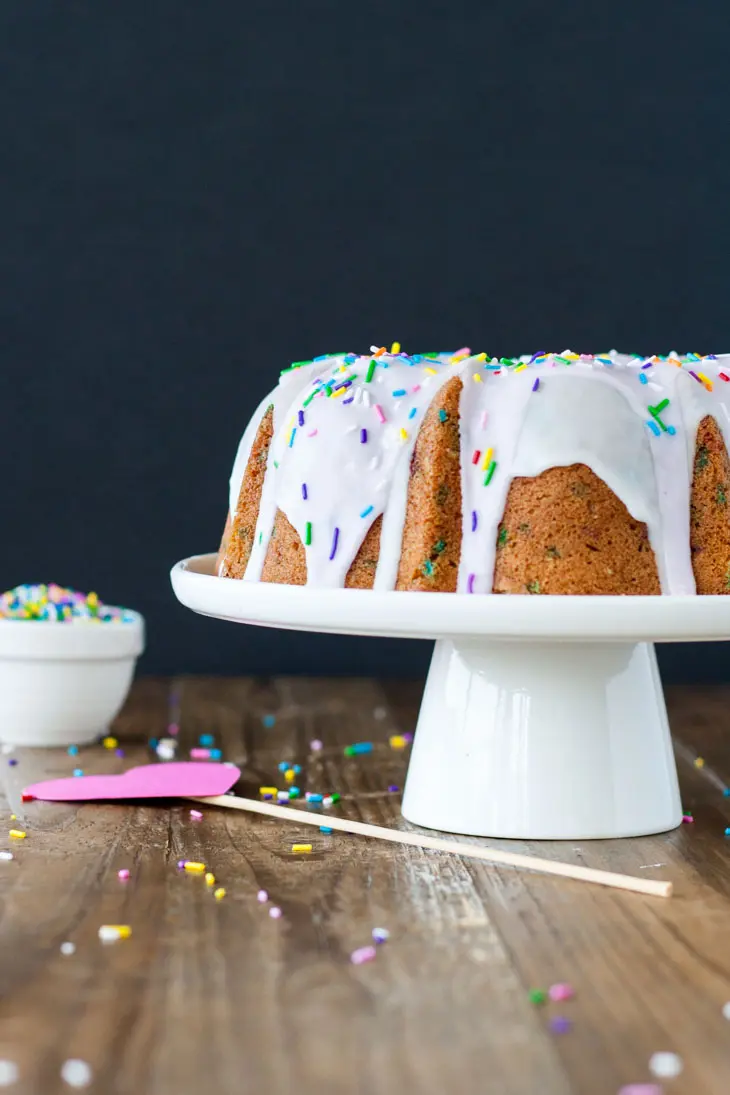 I've been sitting here for the past 2 hours (no joke) trying to figure out what to write. Like, what is going ooooon? I always have plenty to say, usually too much, but now I sit here staring at the screen and can't think of a word. It's like when you're trying to fall asleep and you look at the time, then you can't stop thinking of the time, making it harder to fall asleep. That's me right now, but with writing this post. So finally I gave up and decided to write about how I couldn't think of what to write about. Genius, right? I'm sure you're very enthralled. Let's just get down to business and talk about this pretty, colorful Bundt.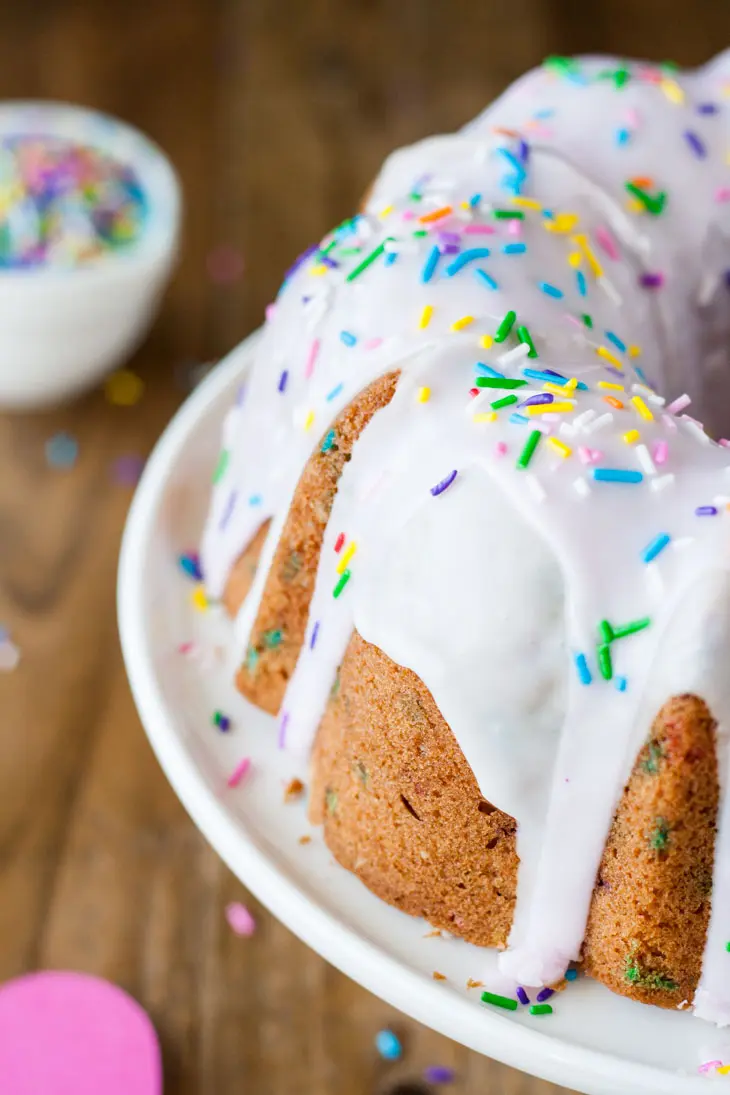 This month's #BundtBakers theme — Sprinkles — comes from Terri at Love and Confections. I'm not sure why, but I rarely bake with sprinkles (aka funfetti). I have nothing against sprinkles, and I actually like them so much that I have multiple containers of them in my cupboard. I get easily distracted by pretty colors, so I buy them… but then I forget to use them and they sit there. The only other time I've baked with them was for Ryan's birthday cake, which was epic and delicious.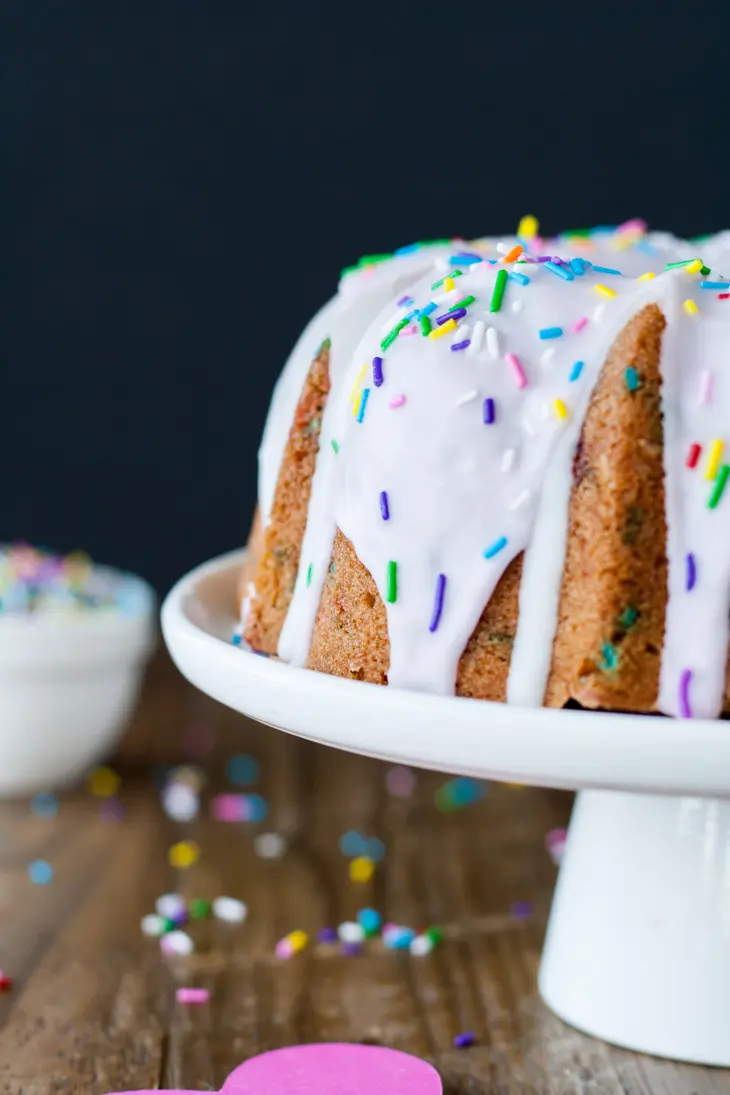 So, with this month's theme I decided to stick with traditional sprinkles. A few of my other #BundtBakers friends came up with WAY more creative ways to use the Sprinkles theme, so you'll have to check out the links at the bottom of this post!
This yummy Funfetti Bundt is a simple vanilla cake, filled with sprinkles, topped with glaze, and… more sprinkles. The glaze was kind of a fail. I was going for a Simpson's Donut inspired cake, and I should have used a frosting instead of a glaze. I did two layers of glaze: one light, and one pink. You can barely tell the pink though. It looked hot pink before I poured it on, but because the glaze was on the thinner side, the color just faded away. Next time, I would do a buttercream to get the desired effect and spread it on.
It's important to note that I baked this in a smaller 6-cup Bundt pan rather than a standard 10 or 12-cup pan. So if you're using one of those sizes, be sure to double the recipe.
Even though this Bundt didn't turn out exactly like I wanted looks-wise, it tastes delicious. The classic flavor of vanilla, paired with a sweet glaze and crunchy sprinkles. What's not to love??
Funfetti Bundt Cake
A delicious vanilla funfetti Bundt cake, topped with a simple glaze and lots of sprinkles.

Instructions
Bundt:
In a medium bowl, whisk together flour, baking soda, salt, and sprinkles. Set aside.

In a small measuring cup, combine milk and sour cream. Set aside.

Cream butter and sugar in med-high until pale and fluffy. Approx. 5mins.

Add eggs, one at a time, fully incorporating after each addition. Add vanilla.

Reduce speed to low. Alternate adding flour mixture and milk mixture — 2 additions of flour and 1 of milk. Mix just until combined.

Spread evenly in prepared bundt pan.

Bake for 35-40mins or until a cake tester comes out clean.

Cool in pan on wire rack for 10mins. Whack pan against counter to loosen Bundt and turn out onto cooling rack to cool completely.
Glaze:
In a medium measuring cup, combine sugar and milk. Stir well to ensure there are no lumps (I use a fork for this).

Pour half of the glaze over the cooled Bundt Cake. Allow to set 10-20mins.

Add 1 drop of color gel into remaining glaze and mix well to combine. Pour over cake and top with sprinkles.
Notes
**Note: this recipe is for a 6-cup Bundt pan. If you have a 10 or 12-cup Bundt pan you will need to double it.
Calories:
360
kcal
Carbohydrates:
57
g
Protein:
3
g
Fat:
13
g
Saturated Fat:
7
g
Cholesterol:
68
mg
Sodium:
208
mg
Potassium:
62
mg
Sugar:
42
g
Vitamin A:
420
IU
Vitamin C:
0.1
mg
Calcium:
34
mg
Iron:
1.1
mg
The nutritional information and metric conversions are calculated automatically. I cannot guarantee the accuracy of this data. If this is important to you, please verify with your favorite nutrition calculator and/or metric conversion tool.