This Dark Chocolate Tart is an elegant dessert that is so easy to make. A simple cookie crust with a rich chocolate ganache filling.
The Liv for Cake kitchen has had more than its fair share of baking mishaps. Despite my seemingly endless research and planning, sometimes recipes just flop. Most recently it was the first batch of my sugar cookie cups.
I tried something new instead of sticking with my gut and modifying my tried and true cookie recipe so I had an entire batch of cracked, ugly cookie cups that I literally had to pry out of the pan. We're talking 20 cookie cups here.
I don't like to see anything go to waste, so I decided to repurpose some the failed cookie cups into a tart crust for this Dark Chocolate Ganache Tart.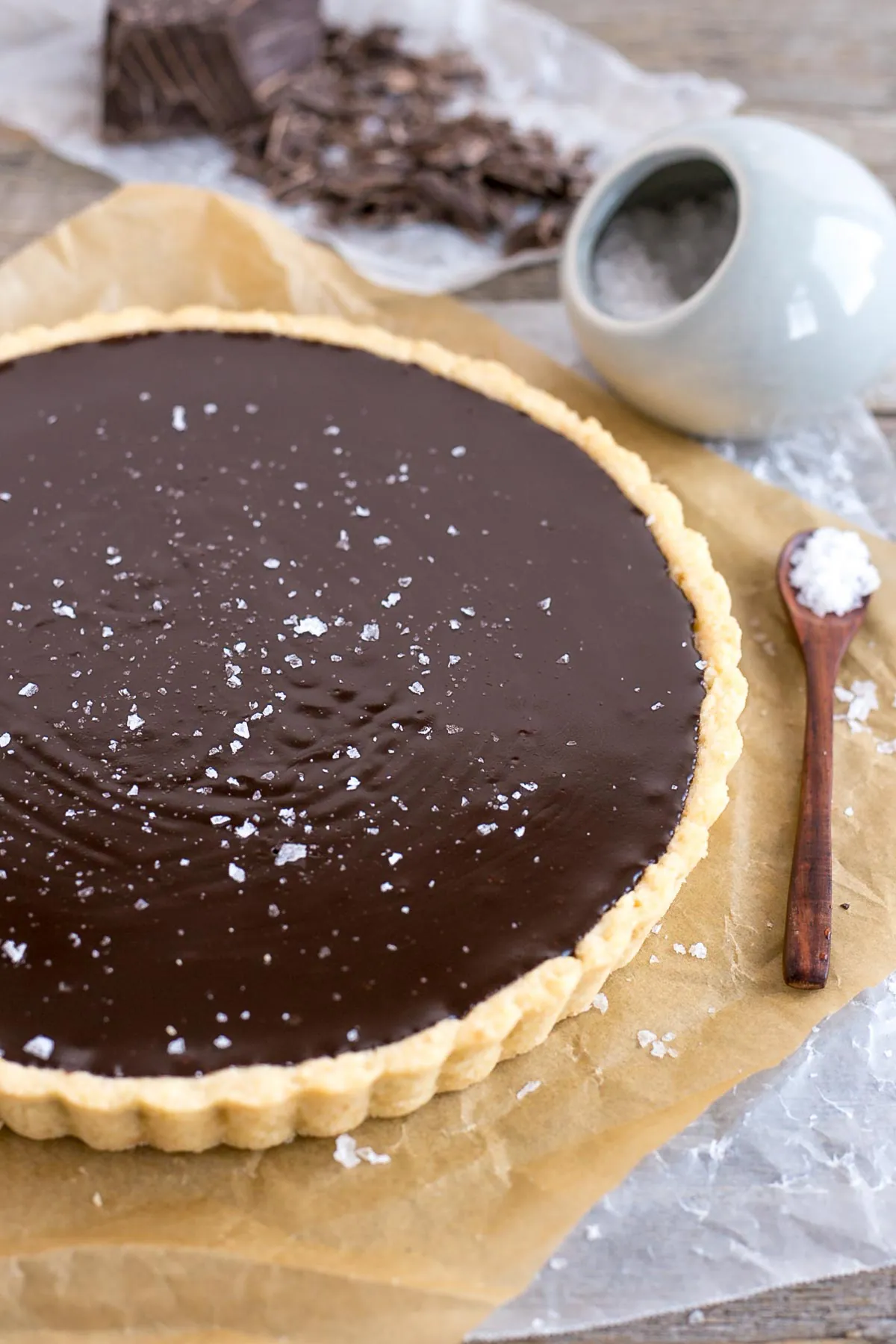 It's no secret that I love chocolate. If you're at my place, you'll always find chocolate in a variety of forms, and not just for baking.
A piece of chocolate is my go-to sweet treat after (almost) every meal. I need a little something and (sadly) it can't always be a slice of cake!
My current non-baking stash includes:
I'm pretty sure there's some leftover Christmas chocolate buried at the bottom of the stash too.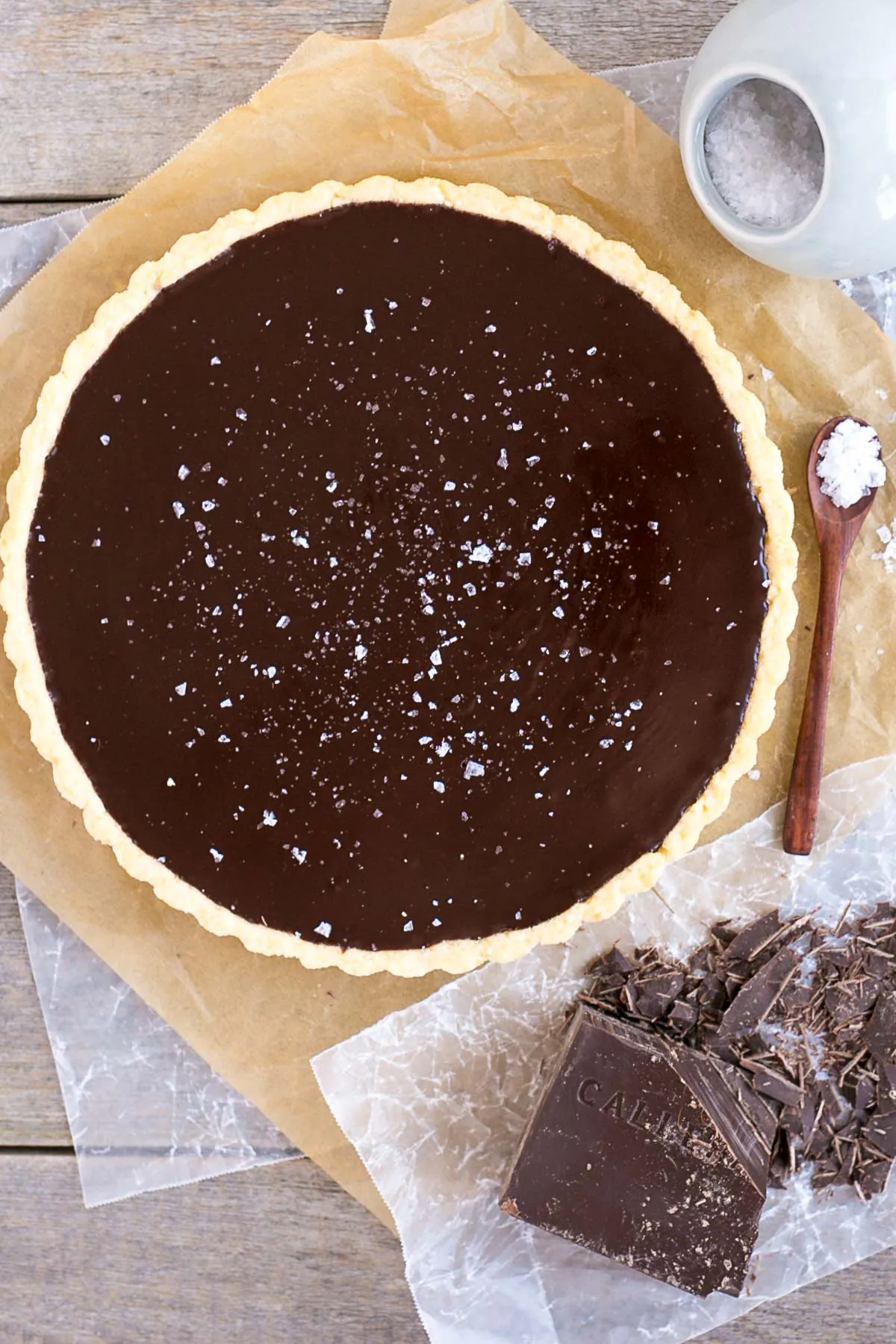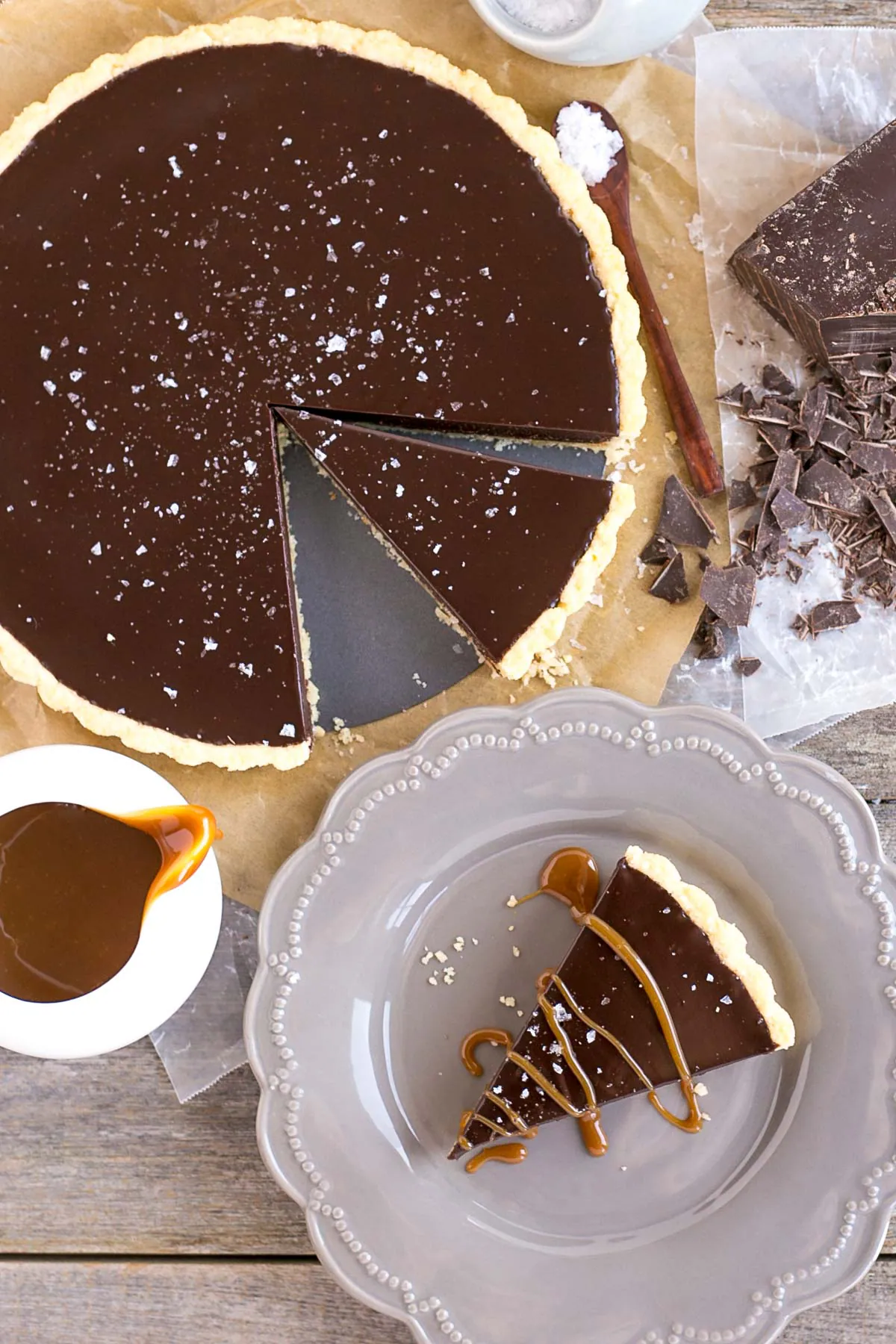 How to Make this Chocolate Tart
The tart crust is very easy to make. You just need a few simple ingredients:
cookie crumbs (any kind — graham cracker, digestive, Oreo, sugar cookie, etc.)
melted butter
a bit of sugar
Mix it up, press it into the tart pan and bake for 7mins. SO easy, right?
The ganache filling is really just as simple too. You just need:
good quality dark chocolate
butter
heavy cream
Pour hot cream over the chopped chocolate and stir until it's silky smooth. Pour it into the cooled tart pan, let it set, and you're done. Is that an easy dessert or what?
How to Make Ganache
I am a huge fan of ganache. There is just something heavenly about that silky chocolate and cream combo. My mouth is literally watering as I type this. I can't think of a better filling for this dreamy Chocolate Tart!
I have a detailed tutorial on How to Make Ganache. It covers all the basics of how to make it whether for a frosting or a filling or a drip.
The one I made for this tart is slightly different though as it uses butter to add shine. The proportions are slightly different too as it's used as a tart filling, but nevertheless, that tutorial will give you a good run-down of what to expect and how to make it.
It's very important to use the best quality chocolate you can find especially since it's such a prominent component in this dessert. That means no grocery store brands (Lindt can be ok though) and definitely not Bakers chocolate! What you want is couverture chocolate.
I like to use Callebaut (which I can actually find at the grocery store, but it's not common and it's not in the candy aisle). If you're in a pinch and can't find any couverture chocolate Lindt is the best grocery store one I can recommend.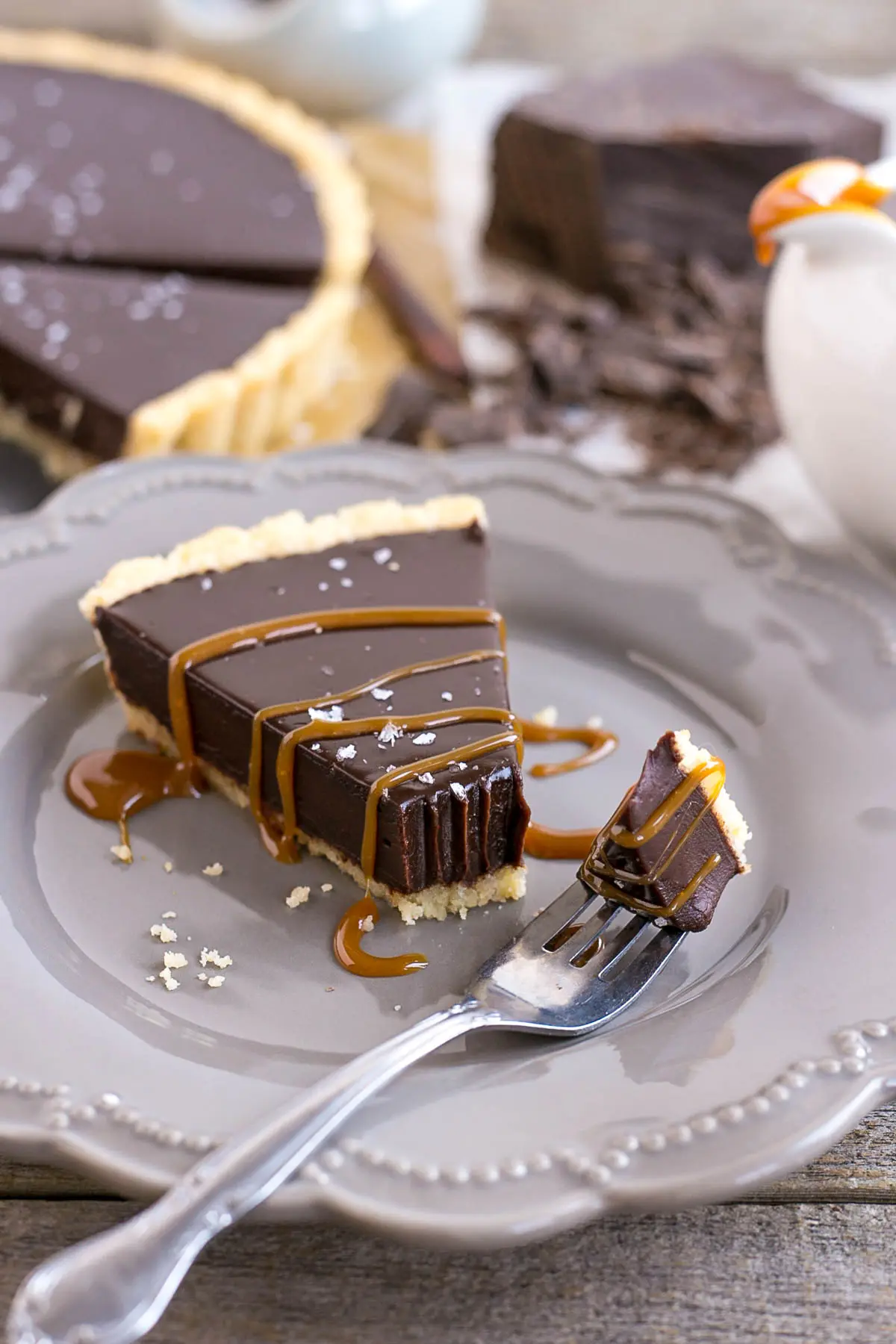 I topped this chocolate tart with some sea salt flakes and Dulce de Leche. I used store-bought Dulce de Leche Sauce because I was lazy, but you can easily make your own with some condensed milk. Good old caramel is another great option or simply some fresh seasonal fruit or berries, or a fruit coulis, yum!
If you want a stunning dessert that is easy to make look no further than this easy desserts are your thing, this Dark Chocolate Ganache Tart!
Tips for this Dark Chocolate Tart
You can use any kind of cookie crumbs to make the base (graham cracker, digestive, Oreo, etc).
This freezes very well. Store in the fridge for up to a week or freeze for up to 1 month.
I use Callebaut dark chocolate because it's easily available to me, but any good quality couverture dark or semi-sweet chocolate will do. Do not use Bakers chocolate.
Slice with a hot, clean knife for cleanest results. Run the knife under hot water for a few seconds, dry, then cut — do this between each cut.
Dark Chocolate Tart
This Dark Chocolate Tart is an elegant dessert that is so easy to make. A simple cookie crust with a rich chocolate ganache filling.
Ingredients
Cookie Crust:
1 1/2

cups

cookie crumbs

(sugar cookie, graham cracker, digestive, etc.)*

6

Tbsp

unsalted butter

melted

1/4

cup

granulated sugar
Dark Chocolate Ganache Filling:
Toppings:
Maldon Sea Salt Flakes

Dulce de Leche
Instructions
Cookie Crust:
Preheat oven to 350F.

Combine all ingredients in a medium bowl until crumbly. Press firmly into a 9″ tart pan (sides first, then bottom).*** Bake for 7-8mins. Cool completely in pan.
Dark Chocolate Ganache Filling:
Place chopped chocolate and butter into a large bowl.

In a small saucepan, bring cream just barely to a simmer. Pour over chopped chocolate and cover bowl immediately with plastic wrap. Let stand 5 mins. Stir with a spatula until combined and smooth. ****

Pour into cooled tart shell and allow to set – overnight at room temperature or 1-2 hours in the fridge.

Sprinkle with sea salt and drizzle with dulce de leche (or any other sauce) if desired. Serve at room temperature.
Notes
* I used crushed up sugar cookies from a failed recipe.
** Do not use baker's chocolate.
*** I used a flat metal measuring cup to help press down.
**** If you have unmelted chunks of chocolate in your ganache still, you can heat it up over a simmering double boiler on the stove.
Calories:
483
kcal
Carbohydrates:
30
g
Protein:
4
g
Fat:
38
g
Saturated Fat:
22
g
Cholesterol:
67
mg
Sodium:
96
mg
Potassium:
276
mg
Fiber:
3
g
Sugar:
15
g
Vitamin A:
735
IU
Vitamin C:
0.2
mg
Calcium:
49
mg
Iron:
4.5
mg
The nutritional information and metric conversions are calculated automatically. I cannot guarantee the accuracy of this data. If this is important to you, please verify with your favorite nutrition calculator and/or metric conversion tool.