The classic combination of chocolate and peppermint make these Dark Chocolate Candy Cane Cookies the perfect treat for the holidays!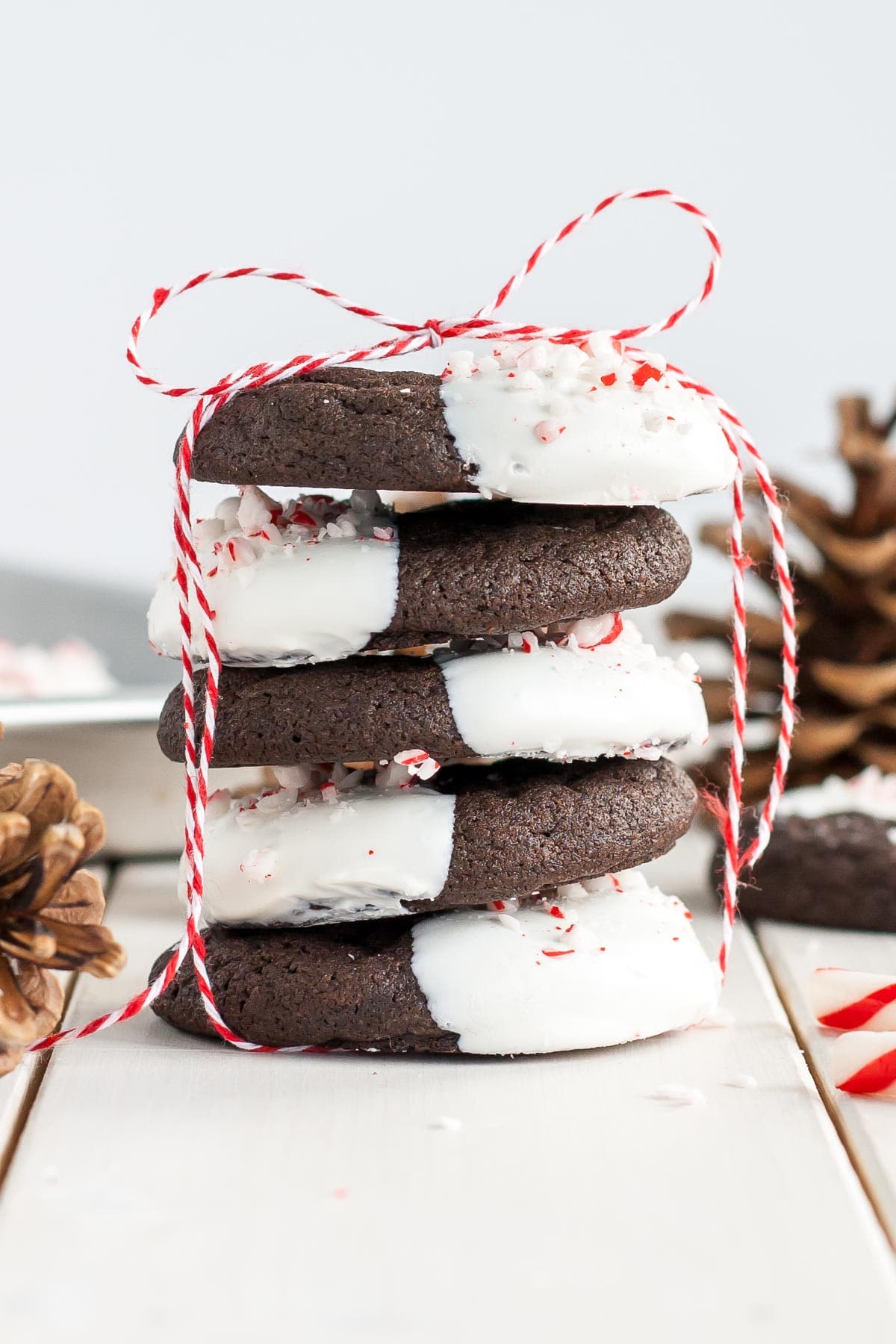 Before we dive into the deliciousness of these Dark Chocolate Candy Cane Cookies, allow me to indulge you in a story that is just so typical "me".
A few years ago, around this time of year, I was shopping at my favorite discount housewares store. Truthfully, I'm there so often they probably know me by name.
If you've ever been to HomeSense (aka Homegoods in the US) you know they have an awesome selection of discount bakeware, props (it's where I get most of my cake stands), and generally everything you could ever want for your home.
You have to put in a bit of time searching, but you can find some really good treasures there.
HomeSense around the holidays is honestly one of my favorite things ever. They have an amazing selection of decorations.
AMAZING!
Unique pieces from all over the world. It takes SO much restraint for me not to walk out of there with bags full of goodies. I have to keep asking myself: Do I really need this reindeer with sparkly antlers? (it was SO pretty!) Or these minimalist Santas from Sweden? (I did, and I bought them).
It's a serious struggle.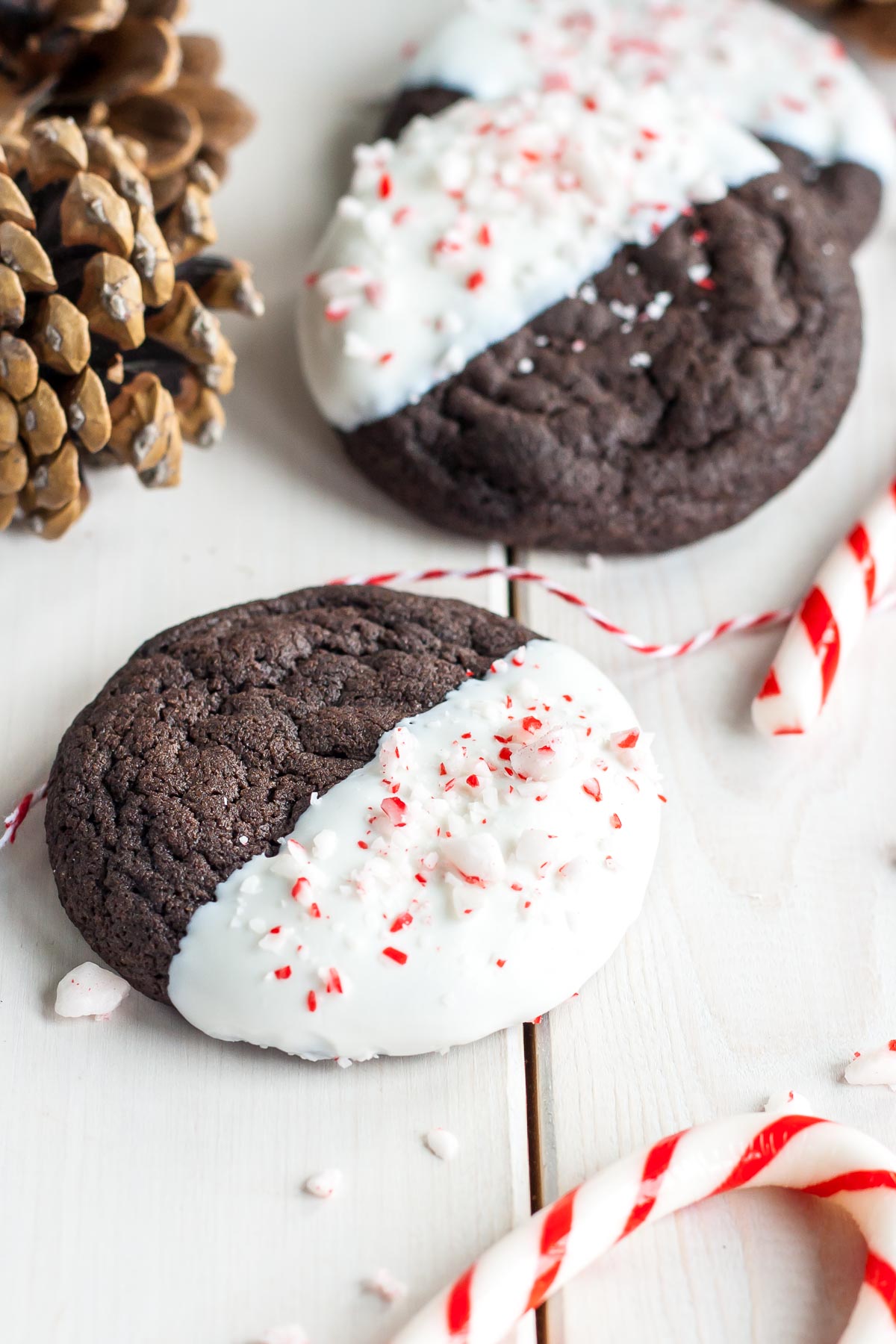 So there I am a few years ago, blissfully perusing their holiday decorations, when I stumble across these authentic handmade Nutcrackers from Germany. There was a variety of them and they weren't the traditional, boring (sorry!) Nutcrackers.
Each of these Nutcrackers had a theme — there was a fisherman, a Scottish bagpiper, a leprechaun, a painter, a toymaker… They were freakin' adorable.
And then I saw it.
There was a CAKE BAKER Nutcracker. OMG.
My heart maybe started to race a little bit… until I looked at the price. These guys were all $40-$60, which isn't crazy unreasonable (but sorta), and this was before I had gone to pastry school and gotten back into baking and blogging.
I literally thought to myself: 'If I was still really into the cake thing I would totally buy this'. But I wasn't, so I didn't buy the Nutcracker. Sigh.
I kid you not that I have looked for that Nutcracker every damn year since (probably about 3 years now). Every year!
I scour various HomeSense locations hoping it will pop up. They have a series of these Nutcrackers every year, so I am hopeful, but alas, I haven't been able to find it.
I even looked for it online, but can't find the exact one I saw (or at least the way I remember it). The one I can find online is a bit uglier than the one I remember (lol), and I'm certainly not willing to spend $100 incl. shipping on it.
We never really had Nutcrackers when we were growing up — they weren't part of our holiday traditions.
We did go see the Nutcracker ballet one year though, and I remember it fondly. I must have been 12 or so at the time. It was the first "fancy" outing for my sister and me, and we got new outfits for it. I still remember the dusty-rose corduroy pants and matching sweater I was wearing. Sooooo 80's, I love it.
I dragged Ryan to see the Nutcracker ballet a couple of years ago. It's a bit of a snooze-fest (especially for Ryan), but very festive nonetheless.
Anyhow, with my sister in town, we had to hit up HomeSense at least once during her visit.
I'd like to tell you that I finally found the cake baker, but alas, I did not. However, I did come across a cookie baker that I'd seen in previous years. I would totally have been settling to get him since he wasn't "the one" but I looked at the price and noticed he was only $16.99!
He was obviously mispriced, as all the other ones were $40. I feel a teeeeeeny bit bad about getting him for that price, but honestly, I spend so much money in HomeSense that I'm not losing sleep over it.
So cute, right??
I'll keep checking every damn HomeSense every year until I can find that cake baker. But for now, I'm quite happy with the gingerbread baker. In my search for the cake one it turns out this is actually a gingerbread seller, but whatever!
He'll do.
It would have been ideal if I'd had the foresight to do a gingerbread cookie recipe to tie in with this post, but it wasn't in my plans (neither was the Nutcracker) so you get these Dark Chocolate Candy Cane Cookies instead!
If these cookies look familiar, it's probably because they are. I slightly modified the recipe for my Halloween Sprinkle Cookies to bring you a holiday version. As soon as I made those Halloween ones, I knew a holiday version would not be far on the horizon.
If you read my Halloween Sprinkle Cookies post, you know that those are some of my favorite cookies ever. The white candy melts are surprisingly delicious with the Oreo-like cookie.
These Dark Chocolate Candy Cane Cookies are super simple to make. It's a fairly standard cookie though, with the exception of one unique ingredient: black cocoa powder
What Is Black Cocoa Powder?
Black cocoa powder is cocoa powder that has been heavily Dutch-processed.
What this means is that almost all of the acid has been removed from it. Regular cocoa powder, that you buy in the grocery store, hasn't had any of the acid stripped. Dutch-processed cocoa powder has had most of the acid stripped and black cocoa powder even more so.
This results in a richer flavor and color. In the case of black cocoa powder, it results in a cocoa powder that is almost completely black and tastes just like an Oreo cookie.
It's delicious!
I try to add it in, in some part, to most of the recipes I make that call for cocoa powder.
If you don't have black cocoa powder and don't want to buy it, it's not the end of the world. I would recommend sticking with Dutch-processed though over regular cocoa powder if you can swing it though. It will really result in a better tasting cookie!
As for the dipping. I used Bright White Candy Melts over white chocolate because I wanted that stark white color contrast. Either will work though.
If you're going to use candy melts, be sure to read over the details in this post as it has some tips on how best to melt them for dipping.
The dipped cookies will freeze well, but the crushed candy canes won't. If you're looking to make these in advance, I would recommend baking and freezing just the cookies themselves, then thawing, dipping, and decorating when you need them.
Rich chocolate cookies with splash of peppermint and some crushed up candy cane make these Dark Chocolate Candy Cane Cookies the perfect festive treat for the holidays!
Tips for making these Dark Chocolate Candy Cane Cookies
Dark Chocolate Candy Cane Cookies
The classic combination of chocolate and peppermint make these Dark Chocolate Candy Cane Cookies the perfect treat for the holidays!
Instructions
In a medium bowl, whisk together flour, cocoa powders, baking soda, and salt. Set aside.

In the bowl of a stand mixer, beat butter and sugars on med-high until light and fluffy (approx. 2-3mins). Reduce speed and add egg and peppermint extract. Beat until well combined. Add flour mixture and mix until just combined.

Chill dough for at least 1 hour or overnight.

Preheat oven to 350°F and line baking sheets with parchment paper or silicone mats.

Using a medium cookie scoop, portion dough onto baking sheet (I did 9 cookies per sheet). Bake for approximately 10 mins, or until the middle is set. Cookies will deflate and crinkle a bit upon cooling.

Cool on pans for 5 mins then transfer to to a wire rack to cool completely.

Dip in melted candy melts or white chocolate, place on a parchment lined baking sheet and sprinkle with crushed candy canes. Allow to set.
Notes
* Read this post for details on how to best melt candy melts.
Calories:
128
kcal
Carbohydrates:
16
g
Protein:
1
g
Fat:
6
g
Saturated Fat:
4
g
Cholesterol:
23
mg
Sodium:
77
mg
Potassium:
39
mg
Sugar:
10
g
Vitamin A:
175
IU
Calcium:
11
mg
Iron:
0.6
mg
The nutritional information and metric conversions are calculated automatically. I cannot guarantee the accuracy of this data. If this is important to you, please verify with your favorite nutrition calculator and/or metric conversion tool.
Originally published Nov 20th, 2016