Light and crunchy on the outside, soft and gooey on the inside. These chewy raspberry meringues are the perfect sweet treat.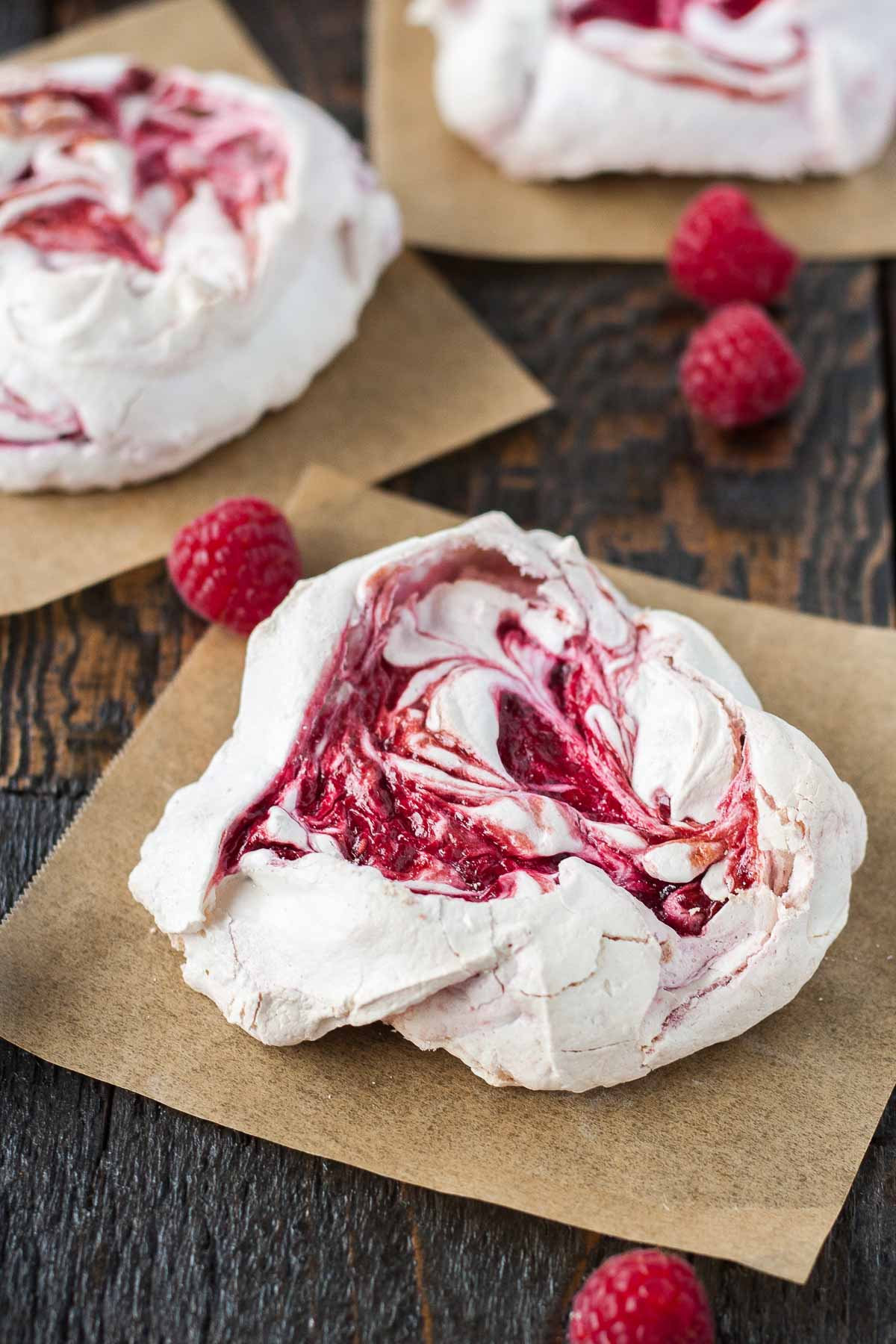 I still remember the first time I had a good meringue cookie. It was at a catered event at my old job. I reached for it reluctantly, since all the meringue cookies I'd had in the past had been dry, crumbly messes, but I thought I'd give it another go. This one looked better than most I'd had before – it was all crushed and gooey, practically calling my name. Sure enough, one bite and I was hooked. A crunchy exterior with a melt-in-your-mouth marshmallowy middle. Pure heaven. That was a couple years ago, and I've been thinking about those cookies ever since.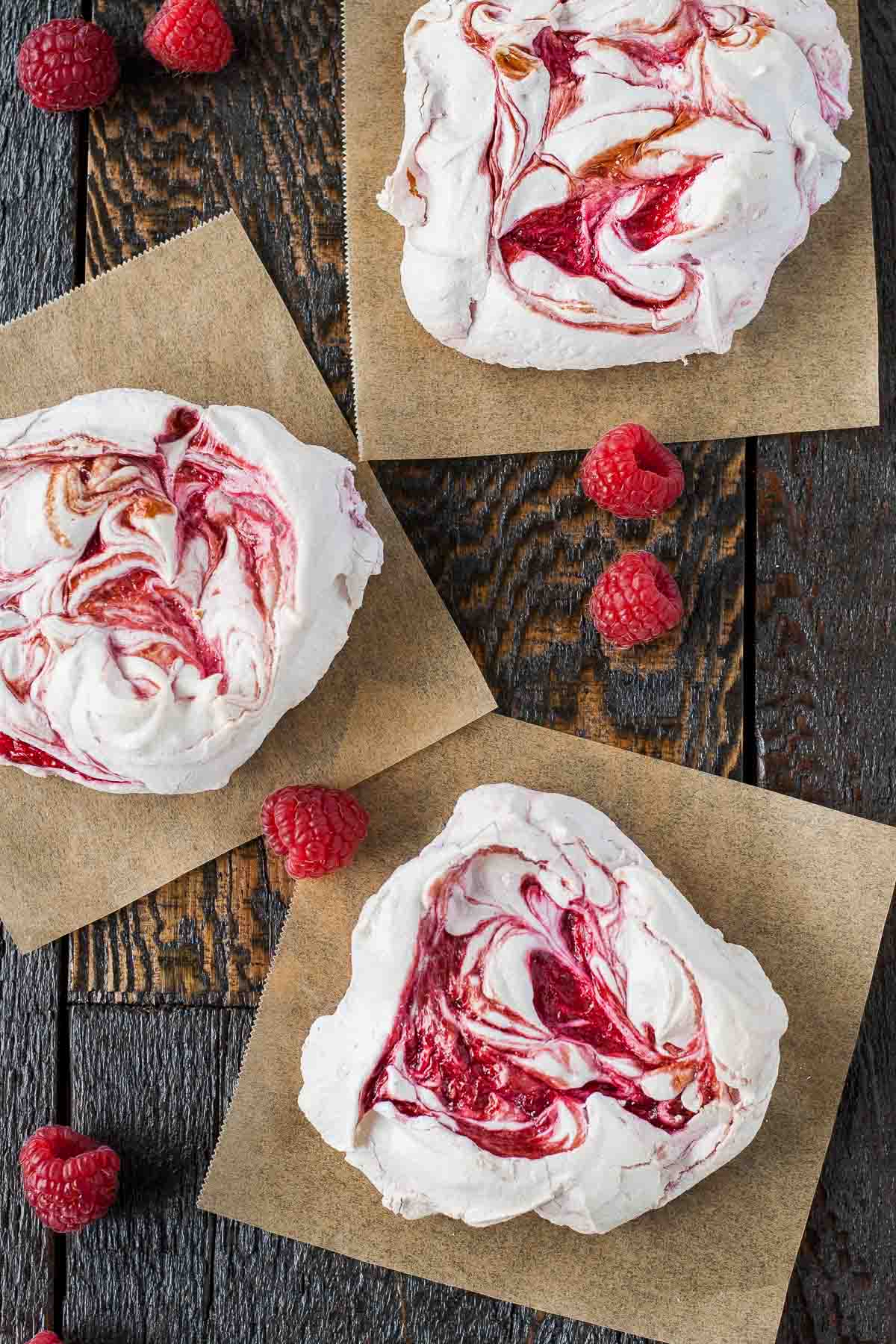 This is my first time actually making a meringue cookie. I've made meringue-based things before, like buttercream and marshmallow fluff, but never the actual cookies. I think maybe I was intimidated by the whole oven process, convinced mine would end up like so many disappointing ones I'd had before.
I did a ton of research on these to ensure these Raspberry Meringues came out perfectly chewy — searching online for "chewy meringues", going through my old notes and textbook from school, etc. I'm not really a trial & error girl. I'm more a research the crap out of something so I only have to do it once kinda girl. Doesn't always work out that way, but I'm pleased when it does. Well, this was one of those times when it didn't completely work out, and you should know that I'd totally written off this recipe after the first 25mins of initial baking time. Read on to hear more about that.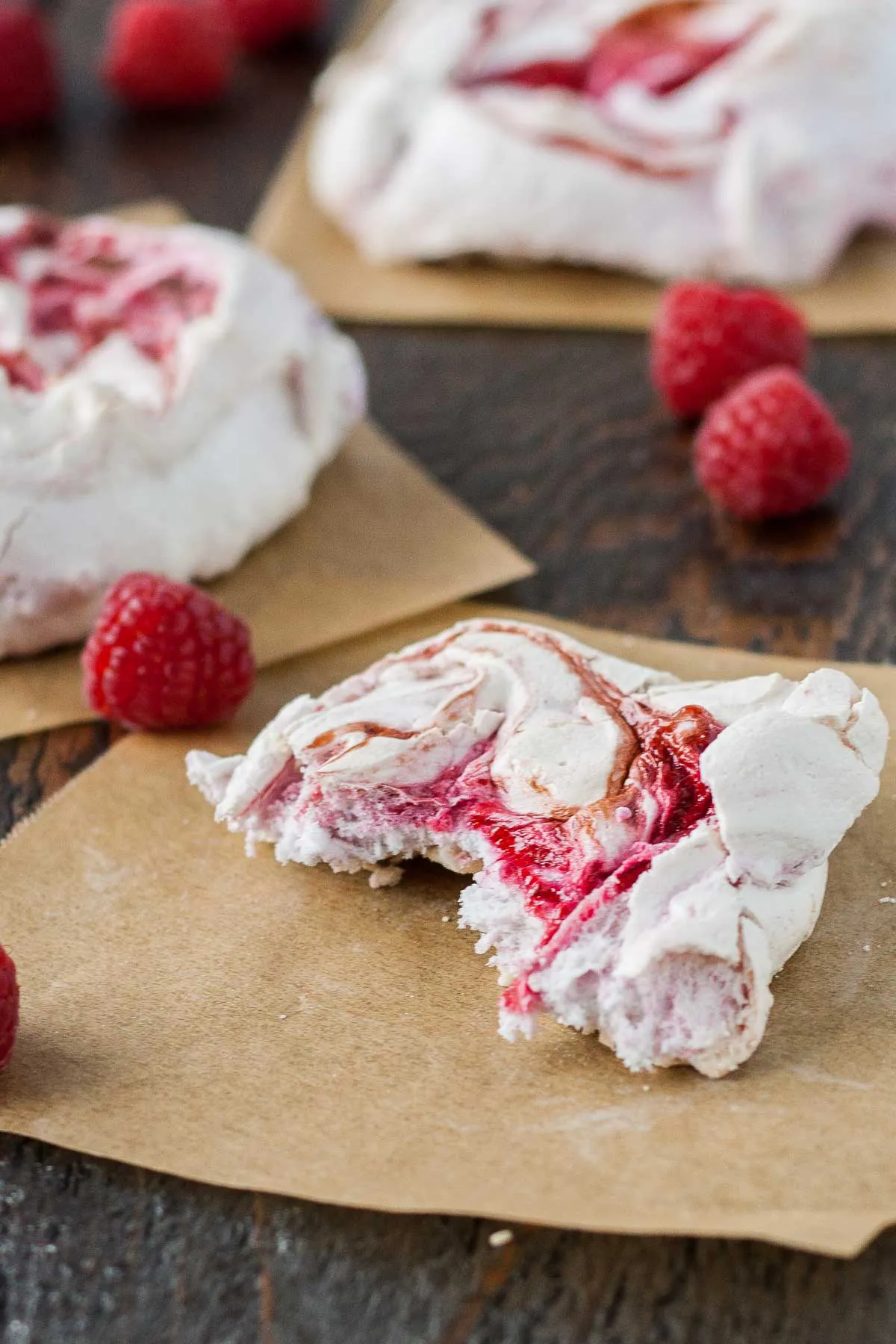 The most important thing you can do to help ensure a good, strong meringue is to ensure everything you use to make it is 100% grease free. Even a speck of oil or a tiny bit of egg yolk, and your meringue will not whip. I wipe my measuring cup, mixer bowl, and whisk(s) down with some lemon juice to get rid of any potential grease.
The first batch of my meringue was a complete fail, and I'm convinced it was the store-bought egg whites. It just would not whip up. This has happened to me in the past with store-bought egg whites, so I won't be making that mistake again. Trust me when I say: use whole eggs and make sure there is no yolk in the whites when you separate them.
My second batch of meringue whipped up perfectly. I added some cornstarch to it because I'd read that it helps give meringues that chewiness. After that, I folded in the raspberry sauce and dolloped them onto my baking sheet. Admittedly, they were larger than I planned, but ended up being a good size.
I popped them into the oven for 20mins and checked them. They had puffed up a bit, but were still very soft on the outside, so I rotated the pan and gave them another 5 mins. They were still super soft on the outside, or at least softer than I expected. Also, during that last 5 mins, the raspberry jam caramelized a bit. This wasn't a big deal, but I was hoping they'd stay a nice, complete white. Sigh, oh well. I kept going with the process anyway, turning the oven off and leaving them in there. It was at this point that I wrote them off, thinking they'd be a soft gooey mess.
I ended up leaving them in the turned-off oven for the full 2 hours. They deflated quite a bit and firmed up nicely on the outside, insides still perfectly gooey. Success!!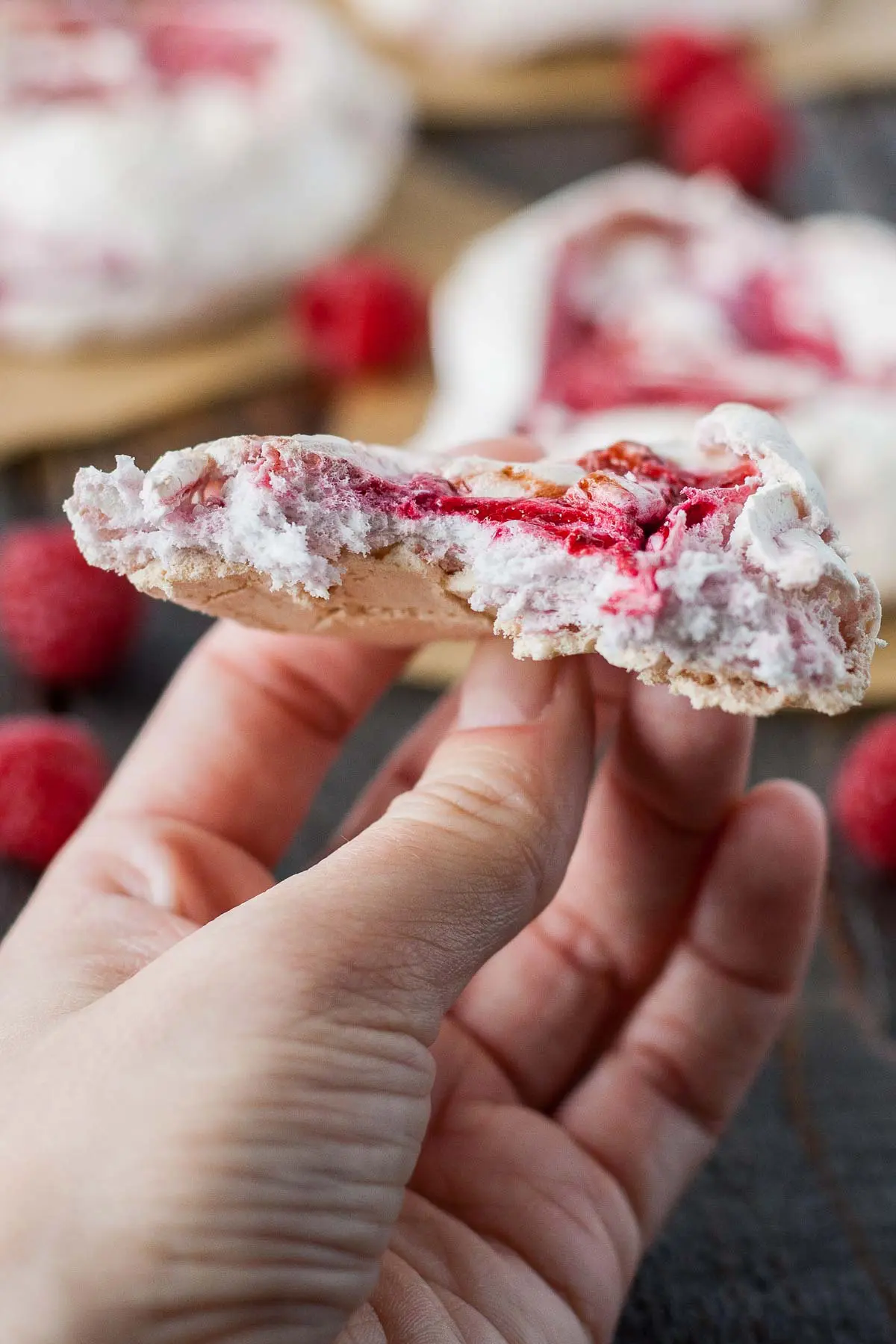 The best thing about this recipe is that it's easily customizable. The base meringue requires only 3 ingredients! Instead of the raspberry sauce, you could use (cooled) melted chocolate, Nutella, a variety of different fruit sauces, and even chopped nuts. My next attempt will be with caramel!
Chewy Raspberry Meringues
Light and crunchy on the outside, soft and gooey on the inside. These chewy raspberry meringues are the perfect sweet treat.

Instructions
Raspberry Sauce:
Place frozen raspberries and 1 Tbsp sugar into a small saucepan and cook over med-high, stirring often, until raspberries are broken down and syrupy (crush with a wooden spoon as you stir). Strain out seeds and cool completely. You should have approximately 1/4 cup of sauce.
Meringue:
Preheat oven to 300F and line a baking sheet with parchment or a silpat mat.

Place egg whites and sugar into the bowl of a stand mixer, whisk until combined.

Place bowl over a hot water bath on the stove and whisk constantly until the mixture is no longer grainy to the touch (approx. 3mins).

Place bowl on your stand mixer and whisk on med-high until the meringue is stiff and cooled (the bowl is no longer warm to the touch).

Sift cornstarch over meringue and whip until combined.

Reserve 1Tbsp of raspberry sauce and drizzle the rest over the meringue. Gently fold a few times to incorporate slightly. You want there to be steaks of raspberry.

Dollop onto prepared baking sheet, ensuring meringues are roughly the same size. I did all 8 on one sheet.

Drizzle remaining 1 Tbsp of raspberry sauce over meringues and swirl with a toothpick.

Bake for 25mins, turn oven off and leave meringues in there for 2 hours.
Calories:
119
kcal
Carbohydrates:
28
g
Protein:
1
g
Sodium:
25
mg
Potassium:
47
mg
Sugar:
27
g
Vitamin C:
4
mg
Calcium:
4
mg
Iron:
0.1
mg
The nutritional information and metric conversions are calculated automatically. I cannot guarantee the accuracy of this data. If this is important to you, please verify with your favorite nutrition calculator and/or metric conversion tool.