The perfect chewy peanut butter chocolate chip cookies. Your favorite chocolate chip cookie kicked up a notch.
I have a rather bold statement to make about these Peanut Butter Chocolate Chip Cookies: These soft, chewy, sweet and salty peanut butter chocolate chip cookies rival my favourite chocolate cookie recipe. I honestly did not think that was possible. No cookie has ever come close, but these ones give the traditional chocolate chip cookie a run for its money.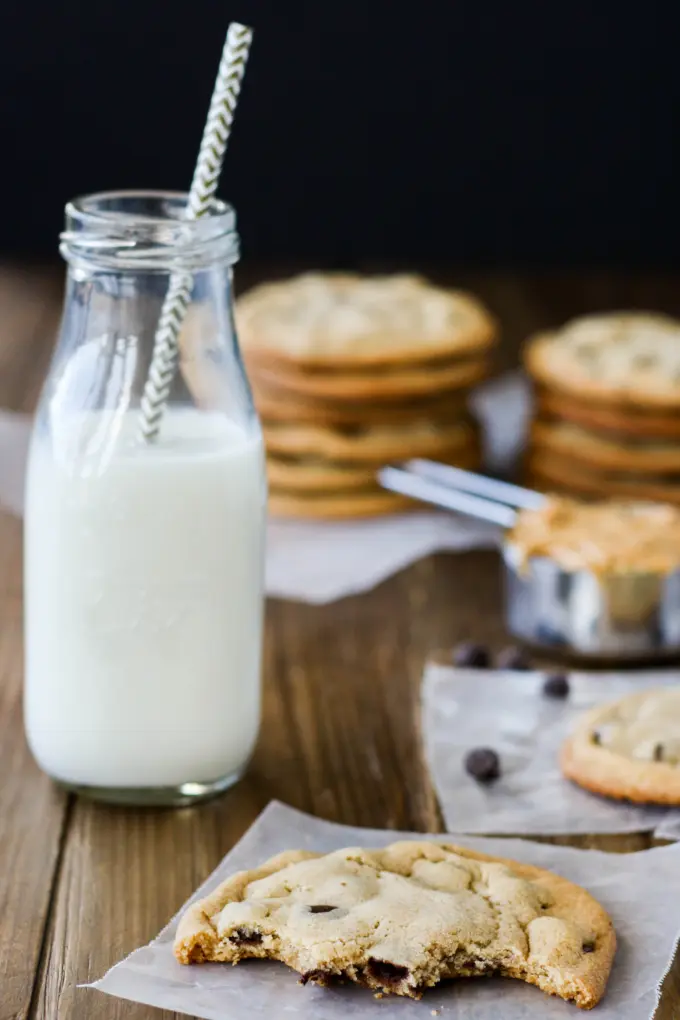 Switching that recipe up to include peanut butter was surprisingly simple. I just replaced some of the butter with peanut butter and hoped for the best. It worked!
Can I use Natural Peanut Butter?
It's important to note that the kind of peanut butter you use will make a difference. Natural peanut butter is much oilier than the regular kind and it will not work. The cookies will have too high a fat content and they will spread a lot more. I used Kraft smooth peanut butter in these cookies, but any normal peanut butter will work.
I recommend using a smooth peanut butter for best results, but you could give it a try with crunchy!
You can make these straight up with just peanut butter, but I like chocolate chips in my cookies, and who doesn't like the Peanut Butter Chocolate Chip combo? Seriously.
Though I will say the chocolate chips took away a bit from the peanut butter flavor, so if you really want a PB cookie, I'd halve the amount of chocolate chips or leave them out entirely. You can add chopped peanuts as a substitute if you like!
Before you bake them though be sure to chill your cookie dough, especially for these cookies. The peanut butter in them could cause them to spread more than your average cookie and no one wants that. A bit of time in the fridge to firm up will make a huge difference! Not ideal if you're nursing a serious cookie craving, but worth the effort.
I like to bake my cookies until they start to get golden around the edges but are still quite unset in the center. They will continue to cook on the pan once you take them out of the oven.
Slightly crunchy golden brown edges with a soft and chewy center. I love how pretty and crackled these turned out.
One interesting thing I did notice while baking these is that my silicone baking mats yielded different results. I have a couple of different ones — the traditional ones from Silpat and a few from Fat Daddio's. I baked 3 trays of cookies, 5 on each tray, since these were rather large and I wanted room for them to grow.
The ones on the Silpat mats spread a bit more and were larger than the ones on the Fat Daddio's. This was a lightbulb moment, since I've been having issues with my chocolate chip cookie recipe spreading too much, and it's likely due to the fact that I started using the Silpat mats. They are a bit thinner, so that may be the cause.
Overall, these Peanut Butter Chocolate Chip Cookies were a huge success. Even my husband, who isn't a huge fan of peanut butter, loved them.
Looking for more cookie recipes?
Brown Butter Chocolate Chip Cookies
Peanut Butter S'mores Cookies
Tips for making these chewy Peanut Butter Chocolate Chip Cookies:
Do not use natural peanut butter. It is too oily and will affect the consistency of the cookies.
You can leave these plain, without chocolate chips, or replace them with something else like nuts or other flavored chips.
Be sure to chill your cookie dough! The peanut butter in them could cause them to spread more than your average cookie.
I used a large (3 Tbsp) cookie scoop for these cookies, but you could make smaller ones if you prefer. Baking time will need to be adjusted though.
Bake your cookies until they just start to brown around the edges, but are still a bit unset in the middle. They will continue to cook once out of the oven.
Peanut Butter Chocolate Chip Cookies
The perfect chewy peanut butter chocolate chip cookies. Your favorite chocolate chip cookie kicked up a notch.
Instructions
Place flour, baking soda and salt into a small bowl and whisk to combine.

Place butter and peanut butter into the bowl of a stand mixer fitted with the paddle attachment. Beat on med-high until combined.

Add sugars and beat until light and fluffy, approx 3 minutes.

Add egg and vanilla and beat until well combined. Scrape bowl if needed.

Reduce mixer to low and add flour mixture. Mix until just incorporated.

Add chocolate chips and mix until just incorporated.

Using a large cookie scoop (3Tbsp), portion the dough into 15 cookie portion. Round the mounds into balls and press down slightly to flatten.

Place mounds on a tray, cover with plastic wrap and refrigerate at least 3 hours. Do not bake unchilled dough! Cookies will spread too much and flatten.

Preheat oven to 350F. Line a baking sheet with parchment or a Silpat.

Place cookie mounds on baking sheet at least 3″ apart. I use a half sheet pan and baked 5 cookies per sheet.

Bake for 10-12minutes or until edges have browned and center is almost set but still glossy.

Cool on baking sheet for 10mins and transfer to a cooling rack to cool completely.
Calories:
265
kcal
Carbohydrates:
31
g
Protein:
4
g
Fat:
14
g
Saturated Fat:
7
g
Cholesterol:
29
mg
Sodium:
136
mg
Potassium:
151
mg
Fiber:
1
g
Sugar:
19
g
Vitamin A:
215
IU
Calcium:
22
mg
Iron:
1.5
mg
The nutritional information and metric conversions are calculated automatically. I cannot guarantee the accuracy of this data. If this is important to you, please verify with your favorite nutrition calculator and/or metric conversion tool.