A dark, chocolate Oreo Bundt cake with a marshmallow glaze and topped with chopped Oreos!
I have a bundt addiction. I fully intended on waiting until June's #BundtBakers challenge to bake my next bundt cake, but then I picked up this amazing square bundt pan from NordicWare while Ryan and I were in San Francisco. I was actually on a mission to buy it, since the Nordic Ware pans are harder to find in stores in Vancouver — not to mention more expensive!!
In fact, the only other purchase I made was the San Francisco Relief City mug from Starbucks. I also have a mug addiction. I see neither of these addictions as a problem, though Ryan would beg to differ. I saw the Jubilee and Cathedral bundt pans in a store in Vancouver this week, and had to force myself to walk away. They were on sale, too!! This was harder to do than you'd think.
So, what to bake in the square bundt… These pans are pretty new, and there isn't a lot of photo inspiration out there, so I didn't know how it would look when glazed, etc. I was thinking of doing a two-toned style similar to the Rocky Road bundt I made a couple weeks ago, but I wasn't super inspired by my ideas for that, and there was no way I was going to pipe cake batter into these tiny grooves. That's just crazy talk (I'll probably do it someday).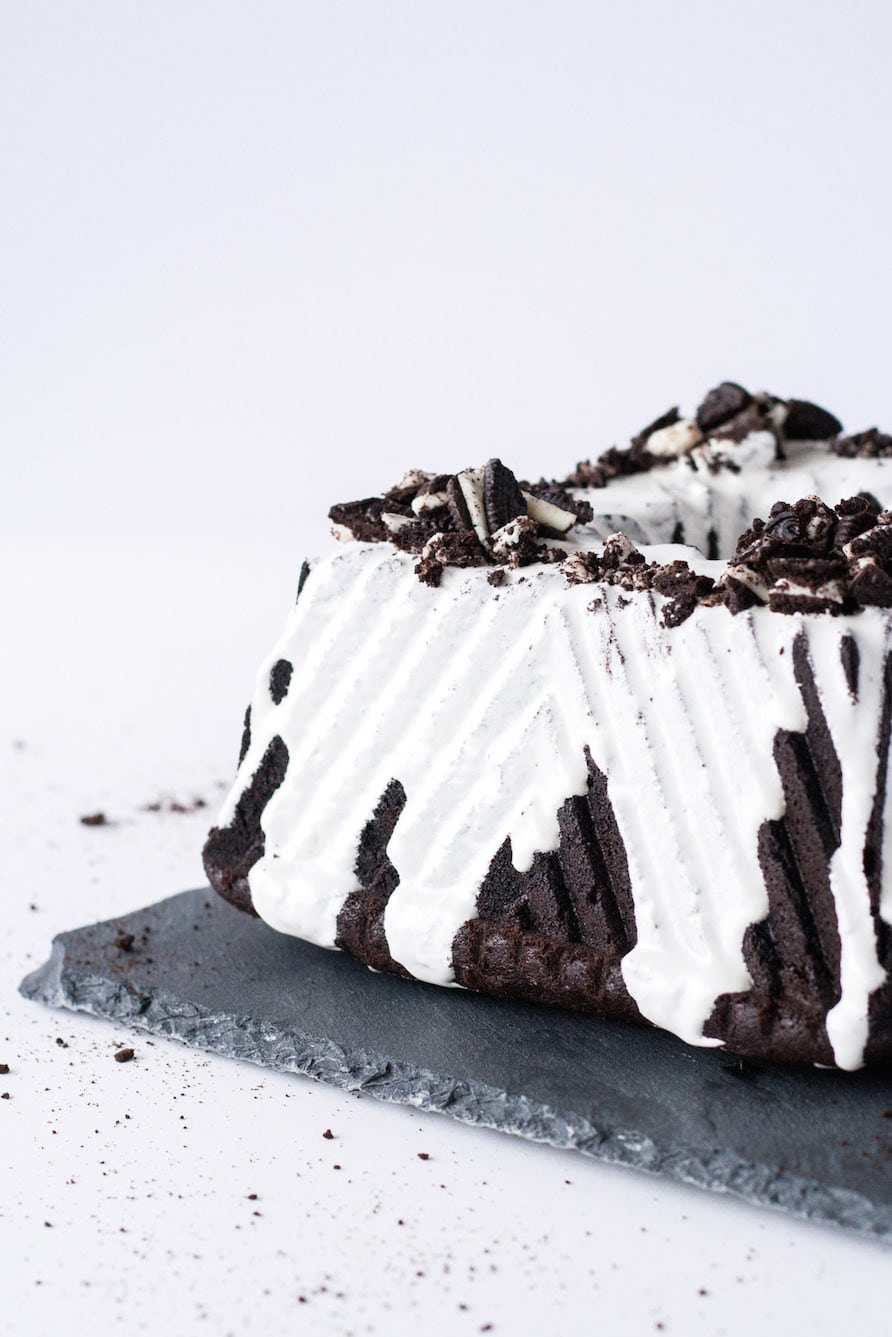 I wanted to do something to make the pan stand out and I wanted something bold. Ryan suggested an Oreo Bundt (who doesn't love Oreos??) so I started thinking of ideas around that. I had black cocoa already, so the color of the cake would be a perfect Oreo dark.
I didn't really know how/if the cake would come out of this bundt pan well, and there wasn't a lot of info out there to tell me. I greased the pan with cooking spray and I was going to dust it with cocoa powder, but I didn't want to waste a bunch of my black cocoa on a dusting and the regular Dutch-processed would have given it a lighter color which I didn't want.
I had an unopened box Oreo Baking Crumbs sitting in my cabinet for months, so decided to dust the pan with those. I had to use a sifter to do this though, as some of the crumbs were quite large. This was not the easiest/cleanest thing to do, but it worked!
The recipe was a bit of an experiment too, and I'm happy that it worked out. There are chopped up chunks of Oreo in the cake batter, and they didn't sink to the bottom. Yay! I used double-stuffed Oreos – I mean, why would you use the regular kind if you had the option for more filling? This was not a difficult decision to make. I should have added more chopped up Oreos to the batter though. I used 12 cookies, but would have liked more in each piece. Next time I'd probably do 15 or so.
I was originally going to make a standard glaze for this guy — powdered sugar and milk — but I decided to use cream instead, because I thought it would give it a smoother look. What it actually gave it was a dingy yellow tinge. That was a fail.
I wanted a sharp, white contrast to the deep, dark of this Oreo Bundt, so I resorted to the perfectly stark white marshmallow glaze I had made for the Rocky Road bundt. Except that I didn't have any more marshmallow fluff in my freezer and making it was just not on my radar for thingsIhavetodotoday. I am grateful that there is a grocery store steps from my building.
The store-bought marshmallow fluff worked perfectly for the glaze and I topped it off with some chopped up Oreos. The cake is dense and super moist, the glaze a perfect compliment, and the chopped Oreos add more flavor and texture. Delicious!
Oreo Bundt Cake
A dark, chocolate Oreo Bundt cake with a marshmallow glaze and topped with chopped Oreos!
Instructions
Oreo Bundt
Preheat oven to 325F. Grease a 10 or 12-cup bundt pan and dust with Oreo cookie crumbs or cocoa powder.

In a medium bowl, whisk together flour, cocoa powders, baking soda, and salt. Set aside.

In a measuring cup, mix milk and sour cream until combined. Set aside.

Place butter and sugar into the bowl of an electric mixer fitted with the paddle attachment. Beat on med-high until light and fluffy (approx 3mins).

Add eggs one at a time, fully incorporating after each addition. Add vanilla.

Reduce speed to low. Add flour mixture in 2 batches, alternating with milk/sour cream mixture. Beat until just combined.

Fold in Oreo cookie chunks.

Spread the batter evenly in the bundt pan.

Bake for approx. 55mins or until a cake tester comes out clean.

Cool in bundt pan for 10mins. Rap bundt pan on the counter to loosen cake and turn out onto cooling rack to cool completely.
Marshmallow Glaze
Place marshmallow fluff, and icing sugar into a medium bowl, stir well to combine. Add 2 Tbsp of cream and stir until glossy and smooth. Add more cream as needed until desired consistency is reached.

Using a small measuring cup, pour glaze carefully onto the cooled bundt cake.

Top with chopped Oreos.
Calories:
643
kcal
Carbohydrates:
92
g
Protein:
8
g
Fat:
29
g
Saturated Fat:
15
g
Cholesterol:
117
mg
Sodium:
500
mg
Potassium:
219
mg
Fiber:
2
g
Sugar:
57
g
Vitamin A:
735
IU
Vitamin C:
0.2
mg
Calcium:
64
mg
Iron:
4.8
mg
The nutritional information and metric conversions are calculated automatically. I cannot guarantee the accuracy of this data. If this is important to you, please verify with your favorite nutrition calculator and/or metric conversion tool.
Originally published on May 31, 2015