Use this simple decorating technique to create the perfect red velvet Dragonscale Cake!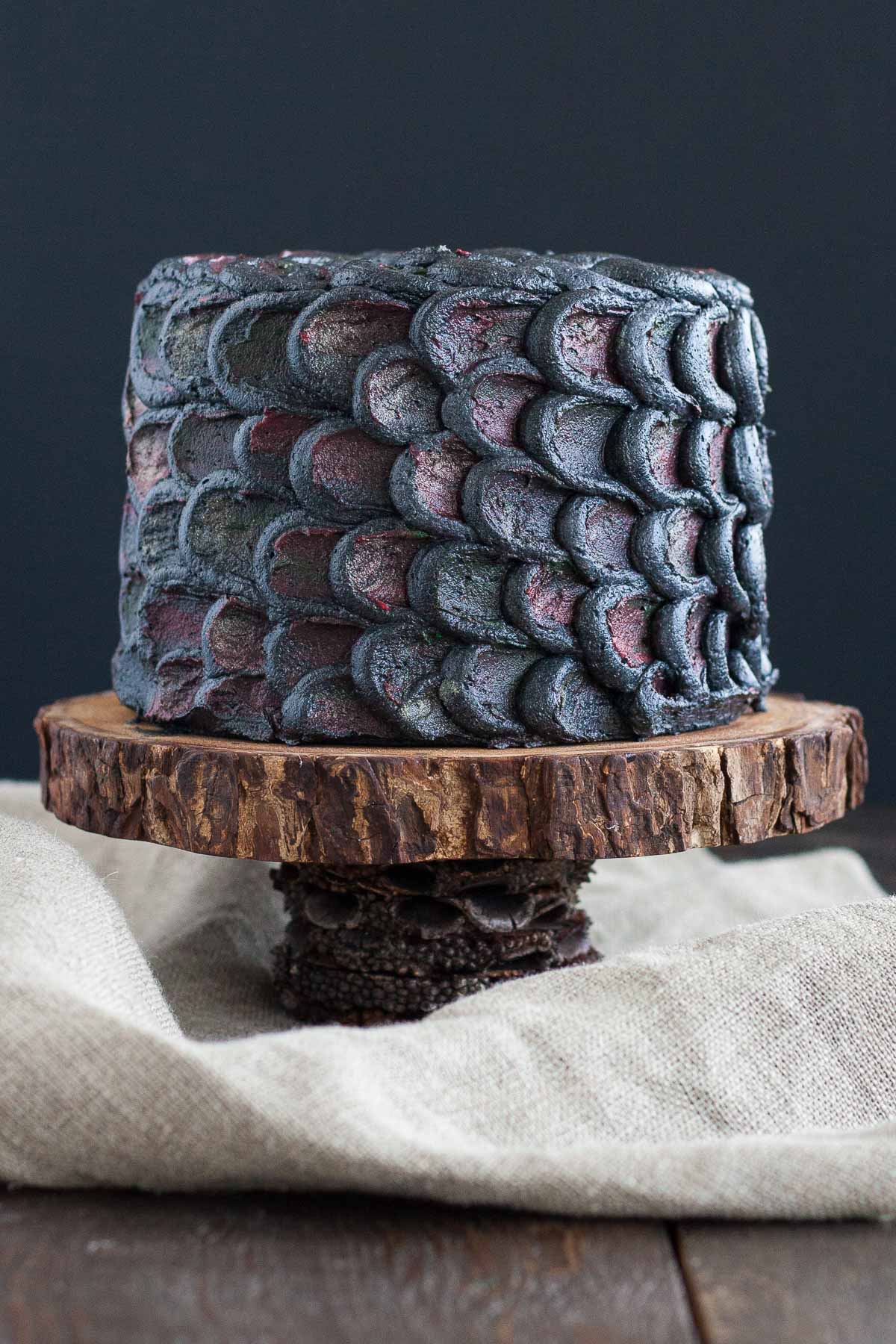 It's that time of year again… the sun is shining, the birds are singing, and you're looking forward to the premiere of one of the darkest shows on tv. A show that consistently crushes your soul, your dreams, your will to live, and yet you keep coming back for more. Those familiar with the Game of Thrones series will know exactly what I'm talking about. I'm still not over the whole Oberyn thing — I almost swore off the series at that point. Crushed.
So, in celebration of the season 6 premiere, I've collaborated with some fabulous bloggers to bring you some Game of Thrones themed recipes and crafts. Be sure to check out their links at the bottom of this post for some serious showstoppers!!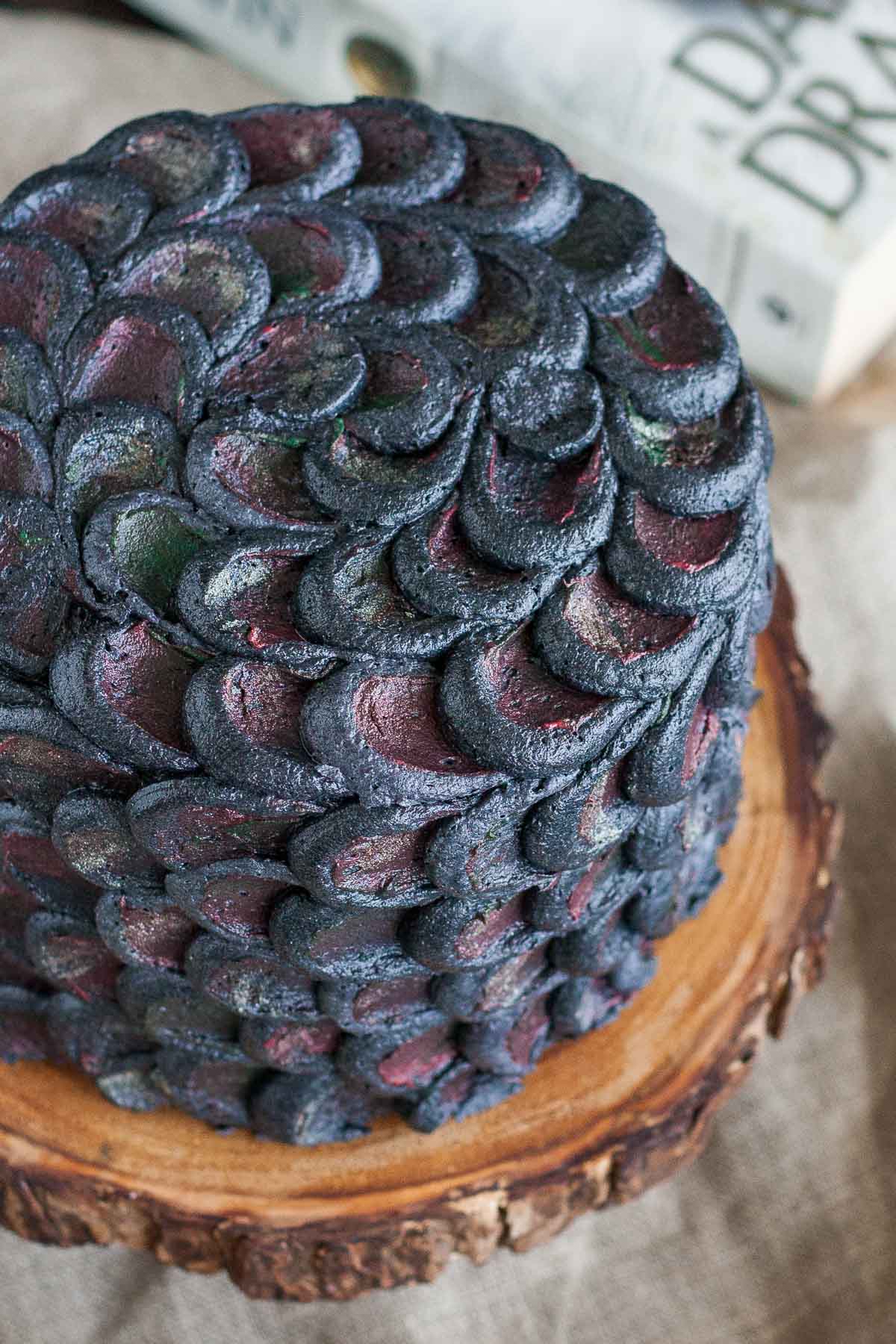 I didn't get my act together to make something until this past Tuesday. I wanted to participate, but I was uninspired and couldn't think of a thing to make. Then I came across this stunner, which was my inspiration for today's Dragonscale Cake.
Not gonna lie, I got excited pretty quickly. In true Olivia fashion, I left myself almost no time to get my act together to research, plan, and make this. The poor rhubarb recipe I was intending to make got cast aside, as did the rhubarb itself. Hopefully it survives a few more days in the back of my fridge.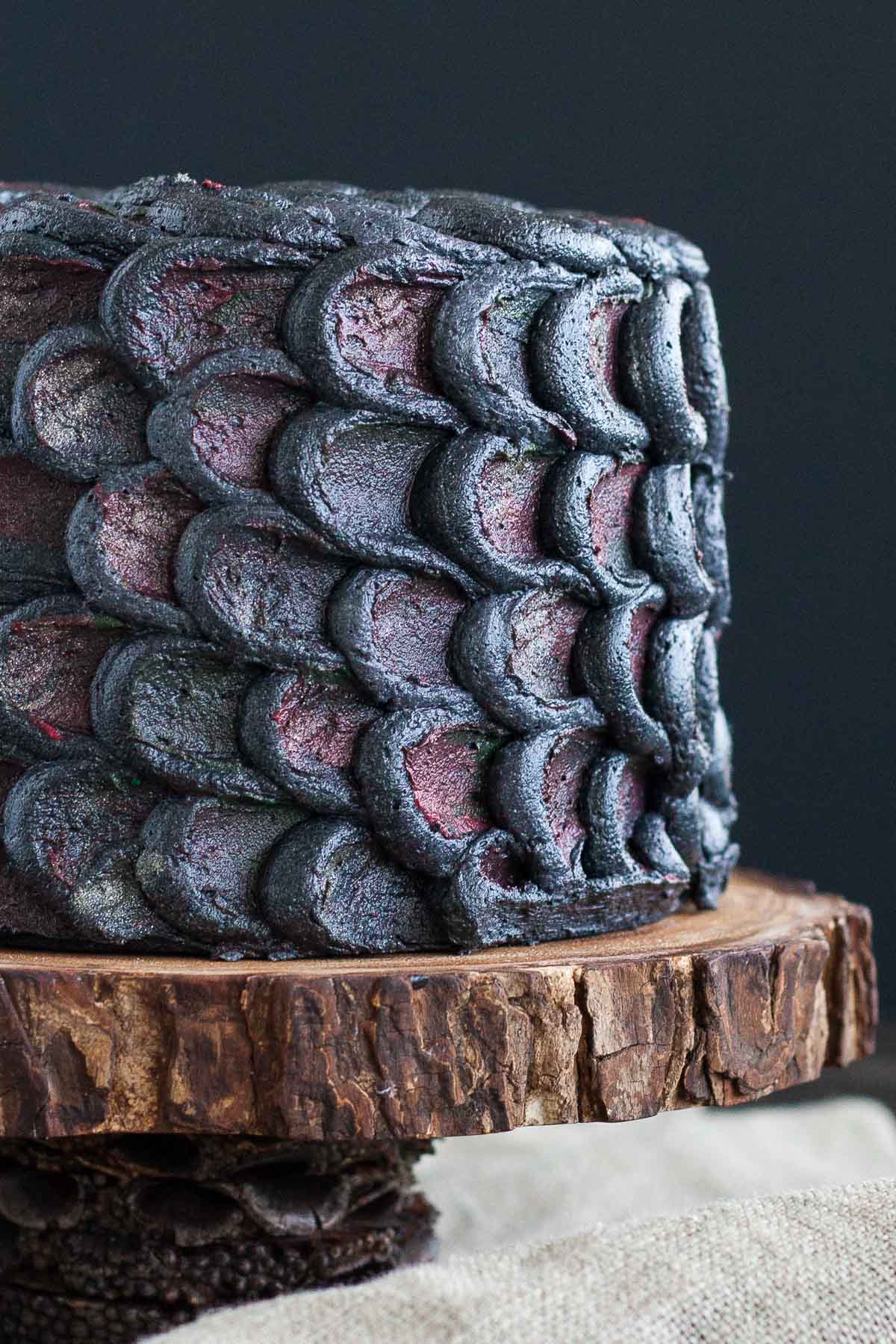 I decided to make the cakes and the frosting that same day, since I knew I'd need to space things out to have enough time to decorate (aka maintain some sanity). I wanted to do a red velvet cake for the inside, as I thought it would go well with the blood/dragon theme I was going for. A few quick modifications to the recipe I used for my Coffee & Baileys cake, and the red velvet cake was born. I used about 2 tsp of red color gel to get it to the color I wanted.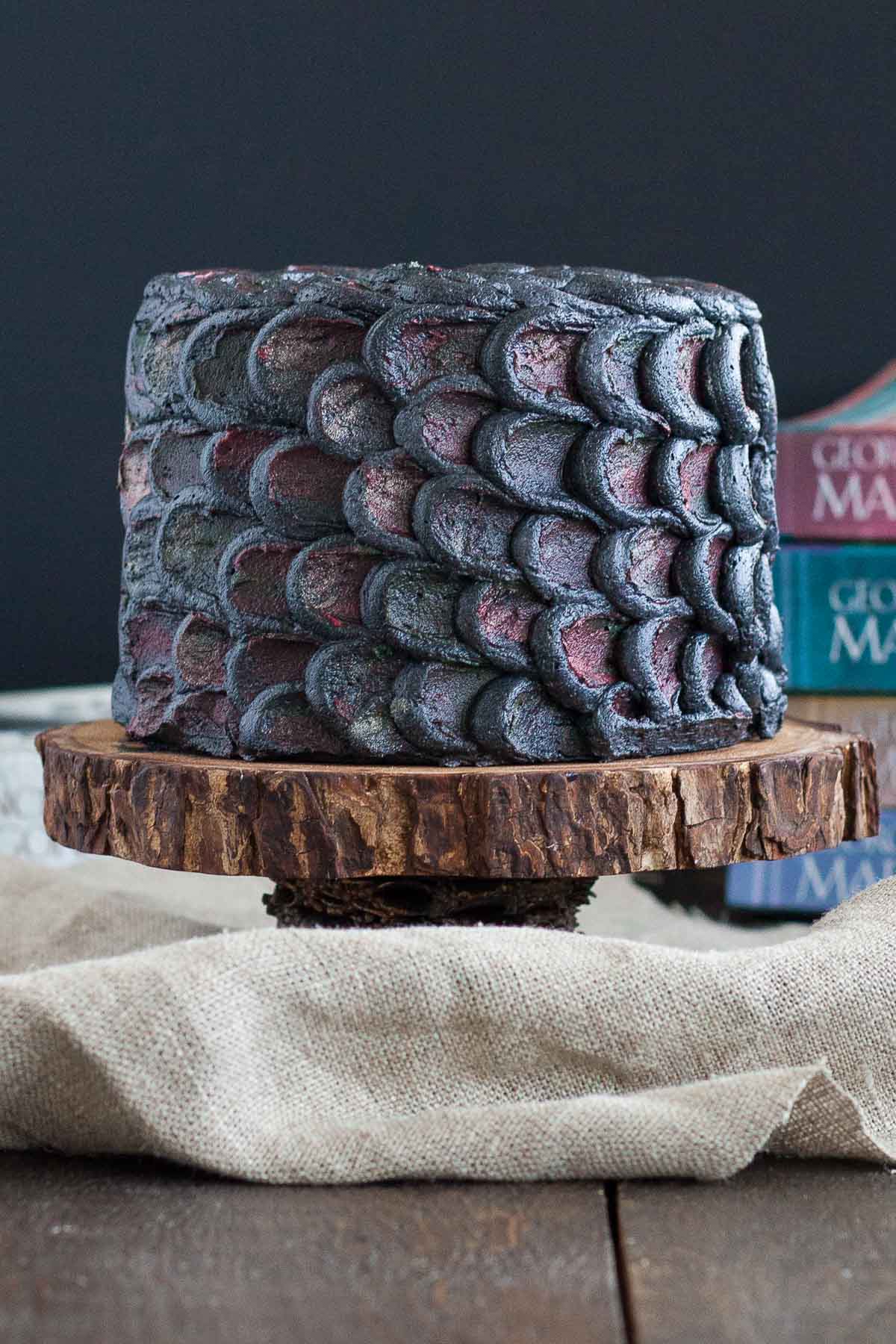 For the frosting, I used my Vanilla Buttercream recipe with a couple of modifications. I frosted and crumb coated the cake that day, stuck it in the fridge to set, and spent the rest of the afternoon figuring out techniques and color schemes. I won't bore you with the details of that, but I eventually decided to go with 3 shades of dark grey with red and green accents.
Except the colors darkened as they set, and you can't even tell that there are 3 different shades of grey on there (sigh). I knew they would darken up, but I thought you'd still be able to tell a subtle difference. Well, you can't. So maybe save yourself the time and energy and just do one dark shade.
Oh, and I used an entire bottle of black color gel to get it to that shade. Word to the wise — that dark grey frosting will dye everything. Lips, teeth, you name it. Let's just say I'm glad I went with the white icing on the inside.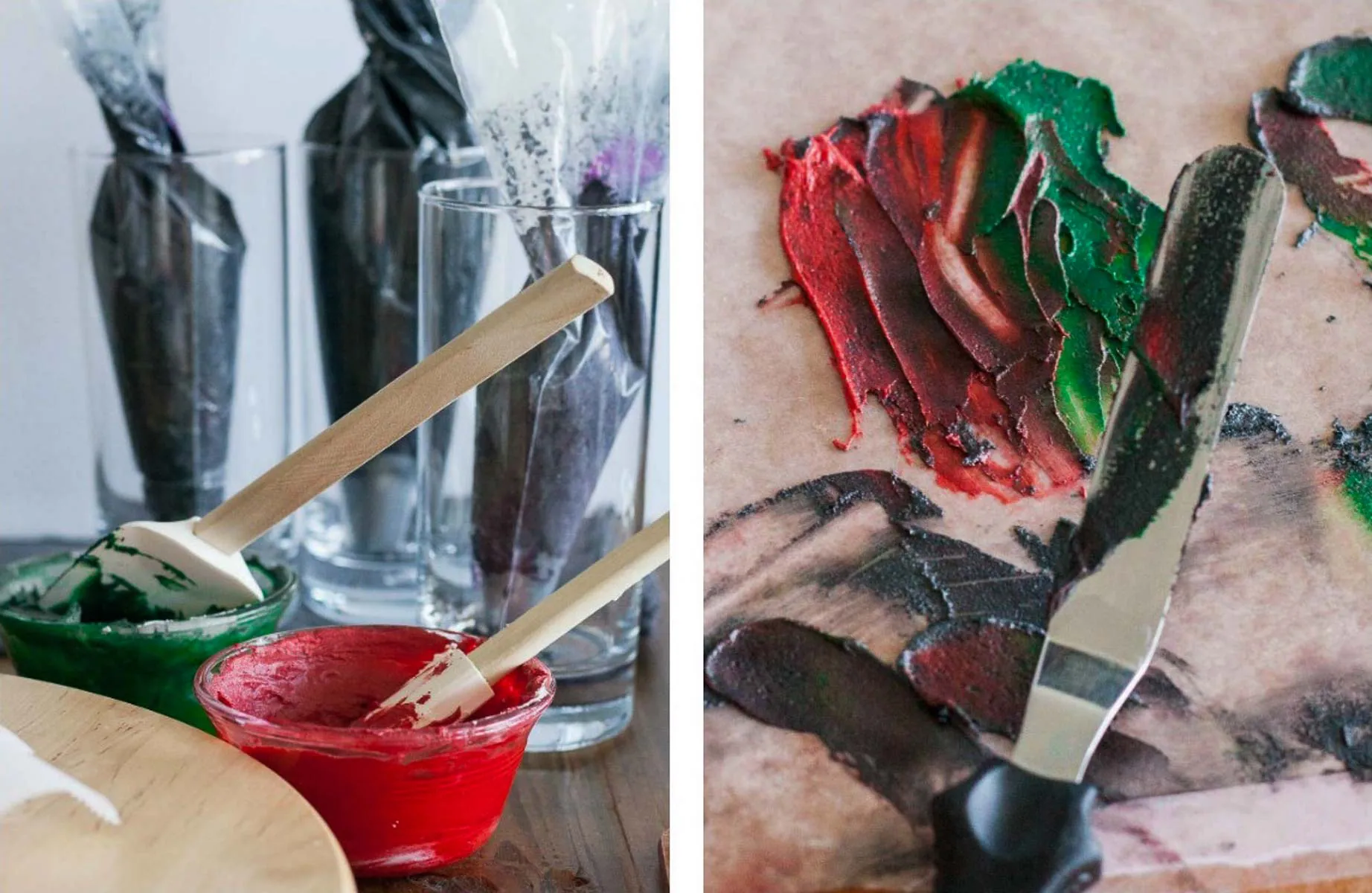 For the red and green, I created a palette of sorts so that the colors would look blended. From there, the technique I used to create each dragonscale was actually really simple to do — pipe a dot of frosting, scrape some color onto your offset spatula (or spoon), then press and smear the dot. Do that about 100 times around the sides of the cake and then do the top. I offset the dots, but you could align them if you prefer.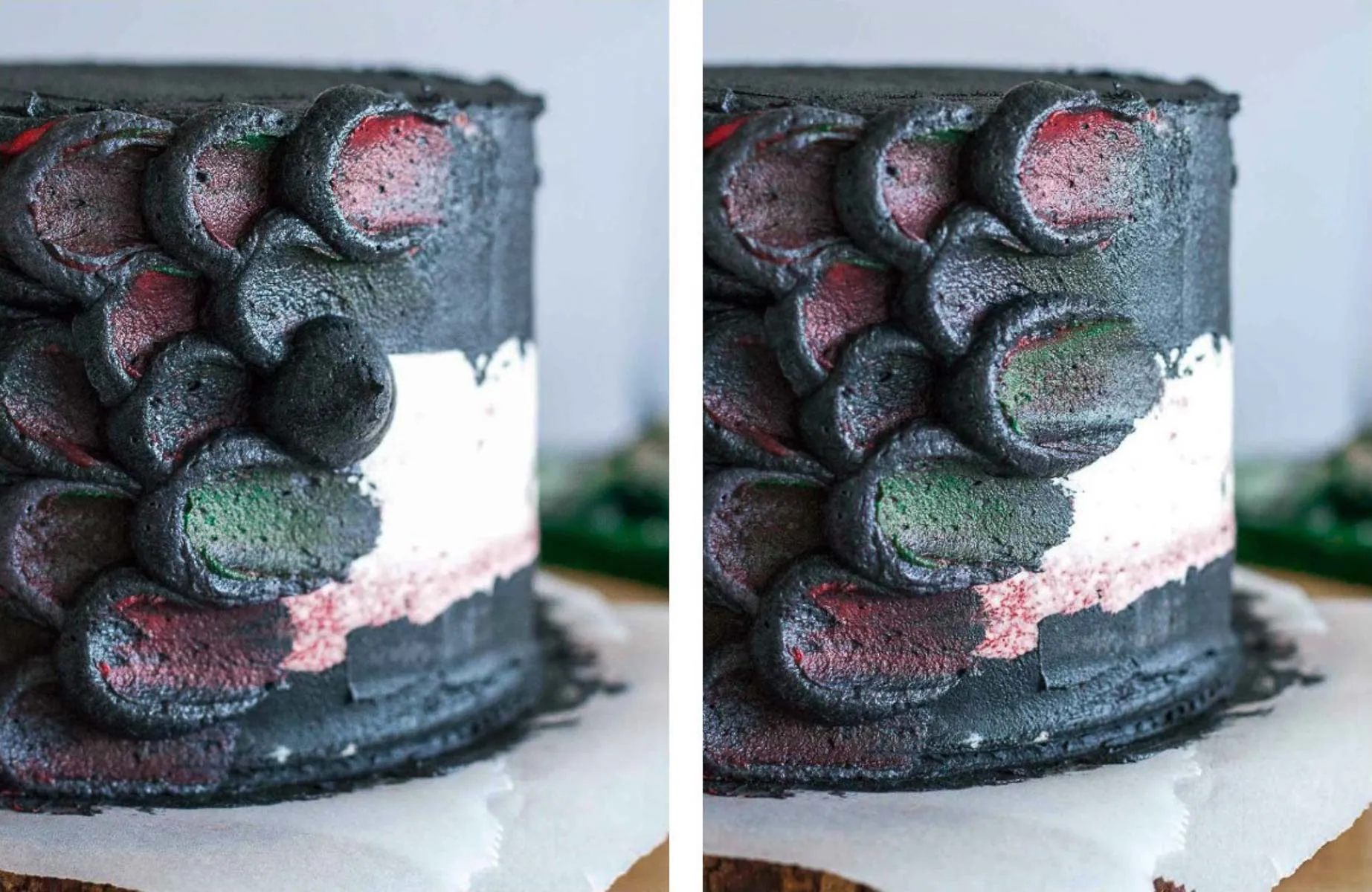 The trickiest part is getting back to the start, since you can't really smear those last dots easily. I left them as dots and hid them at the back of the cake. For the top, I just did the best I could so that there wasn't a lone dot sticking out. Once all the "scales" were in place, I brushed on some gold pearl dust to accent some of them.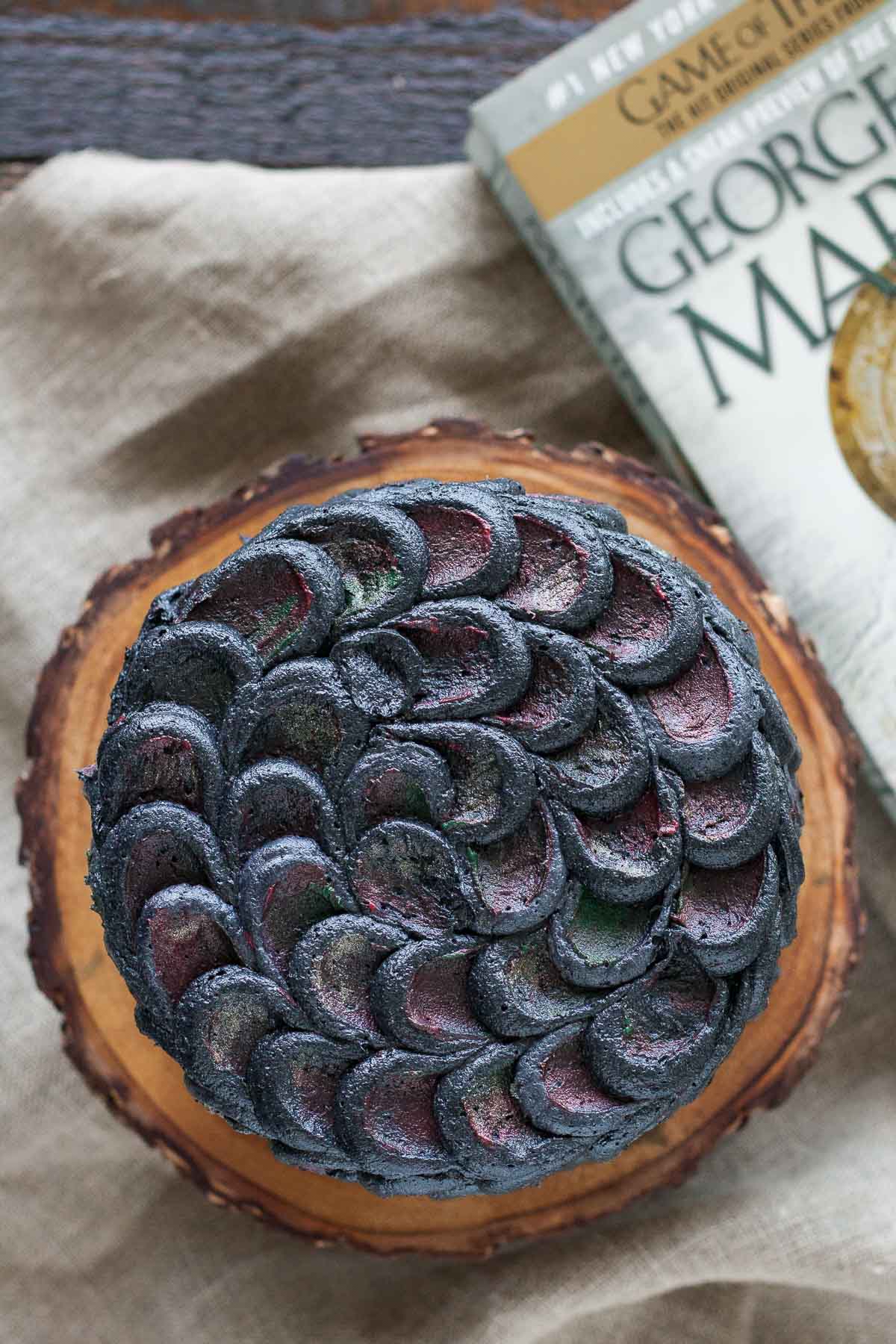 I'd say the decorating this Dragonscale cake took me… maybe an hour? But there was some trial and error, and I am a perfectionist, so next time I'm sure it would go quicker.
Despite choosing to make a dragonscale cake, the Daenerys storyline is actually one of my least favorites of the series. I find it mind-numbingly boring (except for her dragons, which are awesome). Ryan says it's better in the books (I haven't read them), but blahhh. I am not a fan. I'm sure I'm in the minority here, but I would not be upset if she met an untimely demise. Which means she'll probably stick it out till the end.
Arya's storyline, on the other hand, is my favorite by far. I'm so intrigued! Plus, let's be honest here, Jaqen H'ghar is kind of a hottie. It's that whole mysterious thing he's got going for him. Tyrion and Sansa are up there as well. Sansa's becoming a badass and I love it. The whole thing that got me hooked on the series in the first place was the White Walkers, so I'm excited to see more of them. And OMG will the crazy witch lady save Jon Snow?? Pleeeeease! Fingers crossed on that one.
So yeah… if you didn't already know from my About page, I can hardcore nerd out on some things — Harry Potter, Disney, (certain) video games (hello Witcher 3 expansion, where are you?!?), and apparently Game of Thrones. Admittedly I'm not as hard core on GoT as others are, but I love watching the show.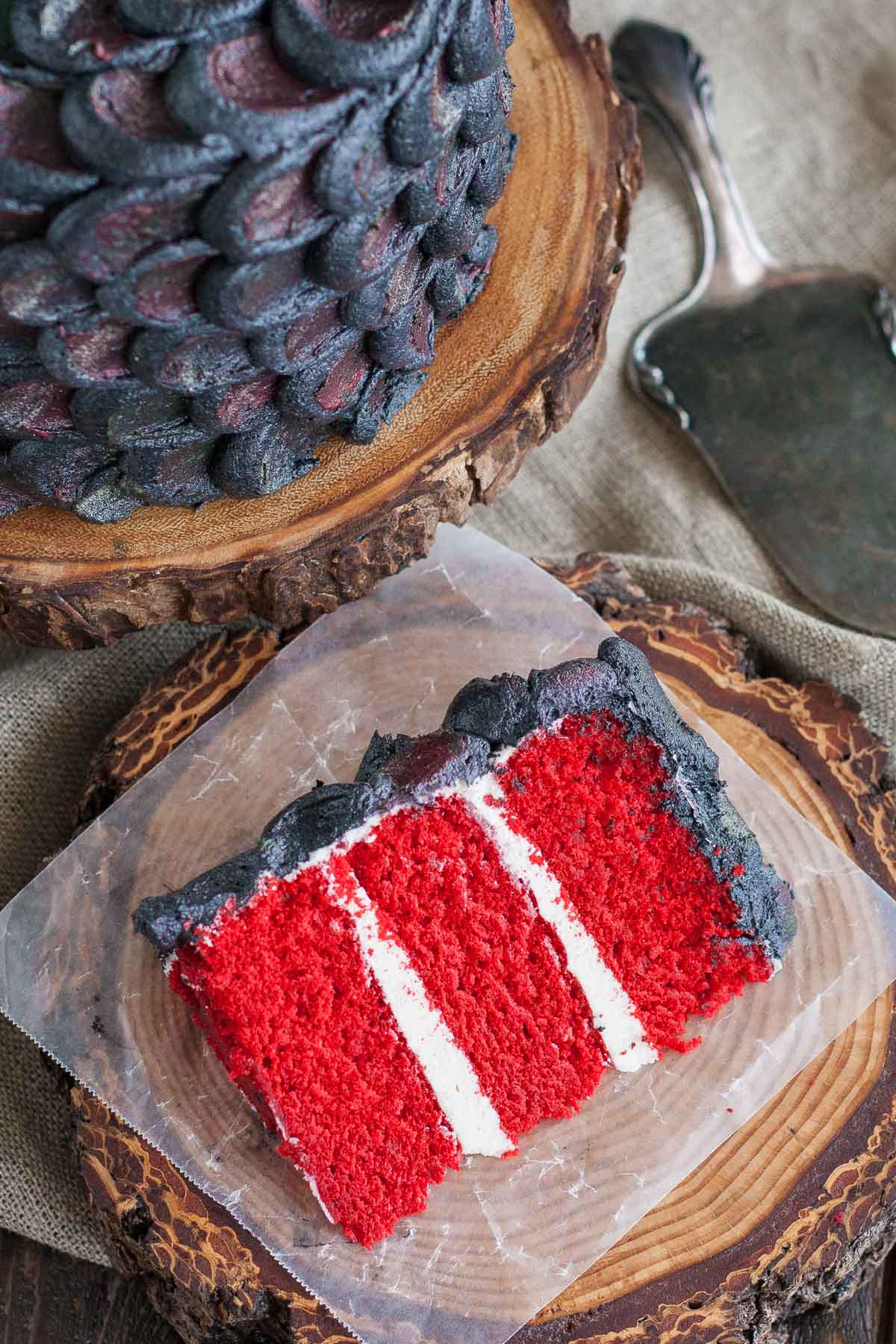 The Dragonscale Cake turned out perfectly color/flavor/texture-wise. It has a subtle chocolate taste from the cocoa powder, which pairs well with the simple vanilla buttercream. If you've got some Game of Thrones parties coming up, this cake would be the perfect way to wow your guests! Oh, and I chronicled the whole decorating process on Snapchat – you can find me there as livforcake.
Be sure to check out the posts from my blogger friends below — some great Game of Thrones themed recipes and crafts!
Tips for this Dragonscale Cake:
All of the colors will darken over time. So much so that you can't really tell that I have 3 different shades of grey. You may want to save some time and just do one dark shade.
You can use grey frosting for the inside of the cake — I think I would probably do that next time.
Ideally, serve same day, but it will keep quite well in the fridge for 2-3 days.
Serve at room temperature.
To help ensure your cake layers bake up nice and flat, see my tips here.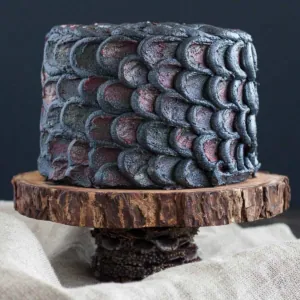 Red Velvet Dragonscale Cake
Use this simple decorating technique to create the perfect red velvet Dragonscale Cake and impress your Game of Thrones loving friends!
Instructions
Red Velvet Cake:
Preheat oven to 350F. Grease and flour three 6″ cake rounds, line with parchment.

In a medium bowl, whisk flour, baking powder, salt, and cocoa powder. Set aside.

Using a stand mixer fitted with the paddle attachment, beat butter until smooth. Add sugar and beat on med-high until pale and fluffy (2-3mins).

Reduce speed and add eggs one at a time, fully incorporating after each addition. Add vanilla, red color gel, and vinegar.

Alternate adding flour mixture and buttermilk, starting and ending with flour (3 additions of flour and 2 of milk). Fully incorporating after each addition. Do not overmix.

Spread batter evenly into prepared pans. Smooth the top with a spatula.

Bake for approx. 30mins or until a toothpick inserted into the center comes out mostly clean.

Place cakes on wire rack to cool for 10mins then turn out onto wire rack to cool completely.
Buttercream:
Prepare a stand mixer with a whisk attachment. Whisk butter until creamy. Reduce speed to low and add in icing sugar 1 cup at a time until well blended. Increase speed to med and beat for 3 minutes.

Add vanilla and 1 Tbsp cream and continue to beat on medium for 1 minute.

– Reserve 1.5 cups of the white frosting to frost the inside layers and crumb coat the cake.

– Reserve 1/4 cup of the white frosting to color red.

– Reserve 1/4 cup of the white frosting to color green.

For the remaining frosting, add enough color get to get it to the desired shade(s) of dark grey. I ended up using the entire bottle to get 3 different shades. Once it got to a dark enough grey shade, I removed 1/4 of the buttercream, then I added more black and did the same one more time. With the remaining buttercream I added the rest of the color gel for the darkest shade.*

See tutorial pictures above for decorating technique.
Notes
*Note: all of the colors will darken over time. So much so that you can't really tell that I have 3 different shades of grey. You may want to save some time and just do one dark shade.
Inspired by this House Targaryen Cake.
Calories:
724
kcal
Carbohydrates:
90
g
Protein:
3
g
Fat:
40
g
Saturated Fat:
25
g
Cholesterol:
136
mg
Sodium:
132
mg
Potassium:
148
mg
Sugar:
76
g
Vitamin A:
1270
IU
Calcium:
72
mg
Iron:
1
mg
The nutritional information and metric conversions are calculated automatically. I cannot guarantee the accuracy of this data. If this is important to you, please verify with your favorite nutrition calculator and/or metric conversion tool.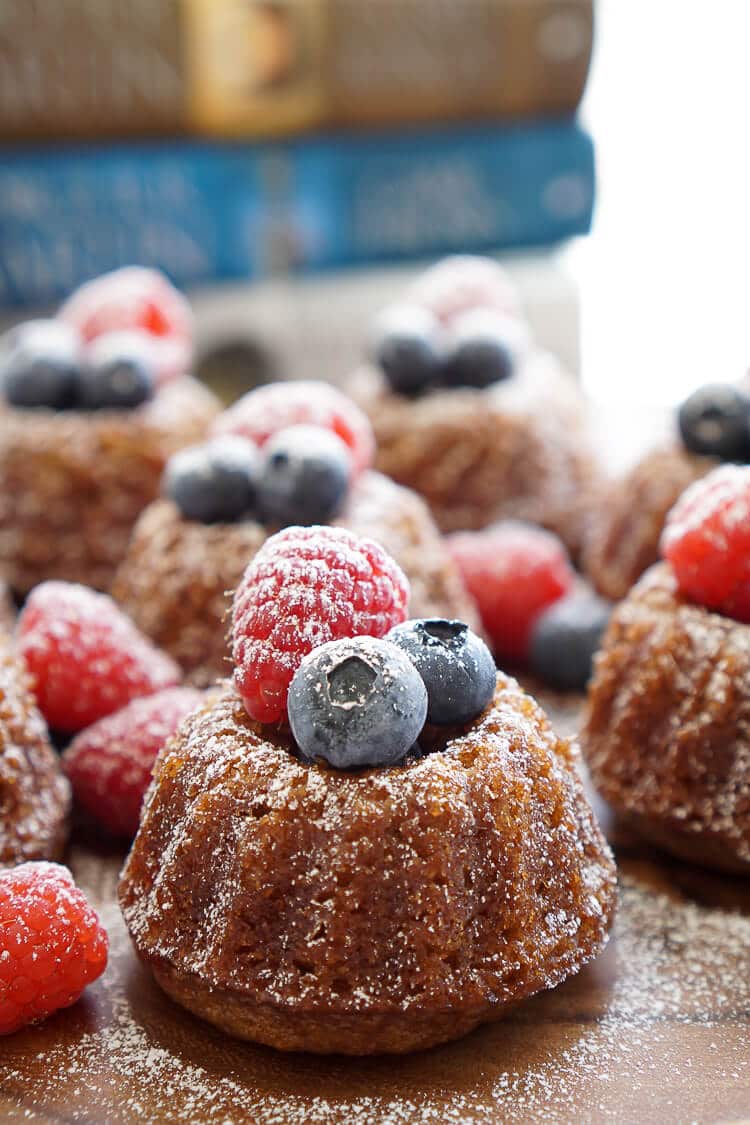 Game of Thrones Honey Cake by Sugar & Soul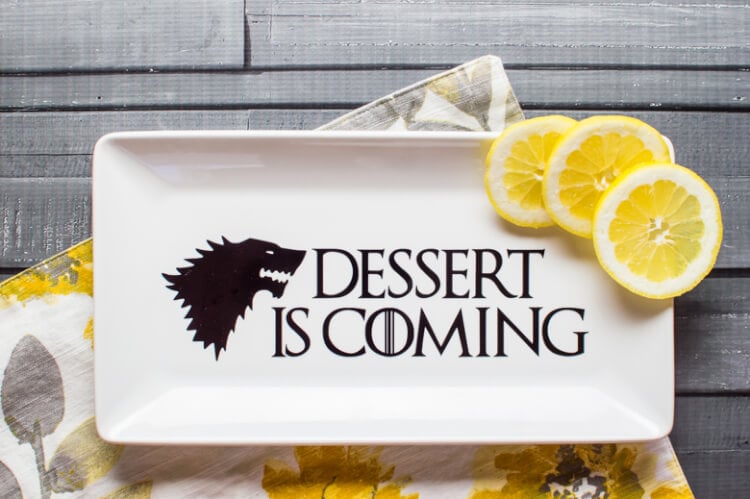 Game of Thrones Dessert Plate by Simply Made Fun