These chewy dark chocolate butterscotch cookies are loaded with sweet butterscotch chips and amped up with a sprinkling of sea salt.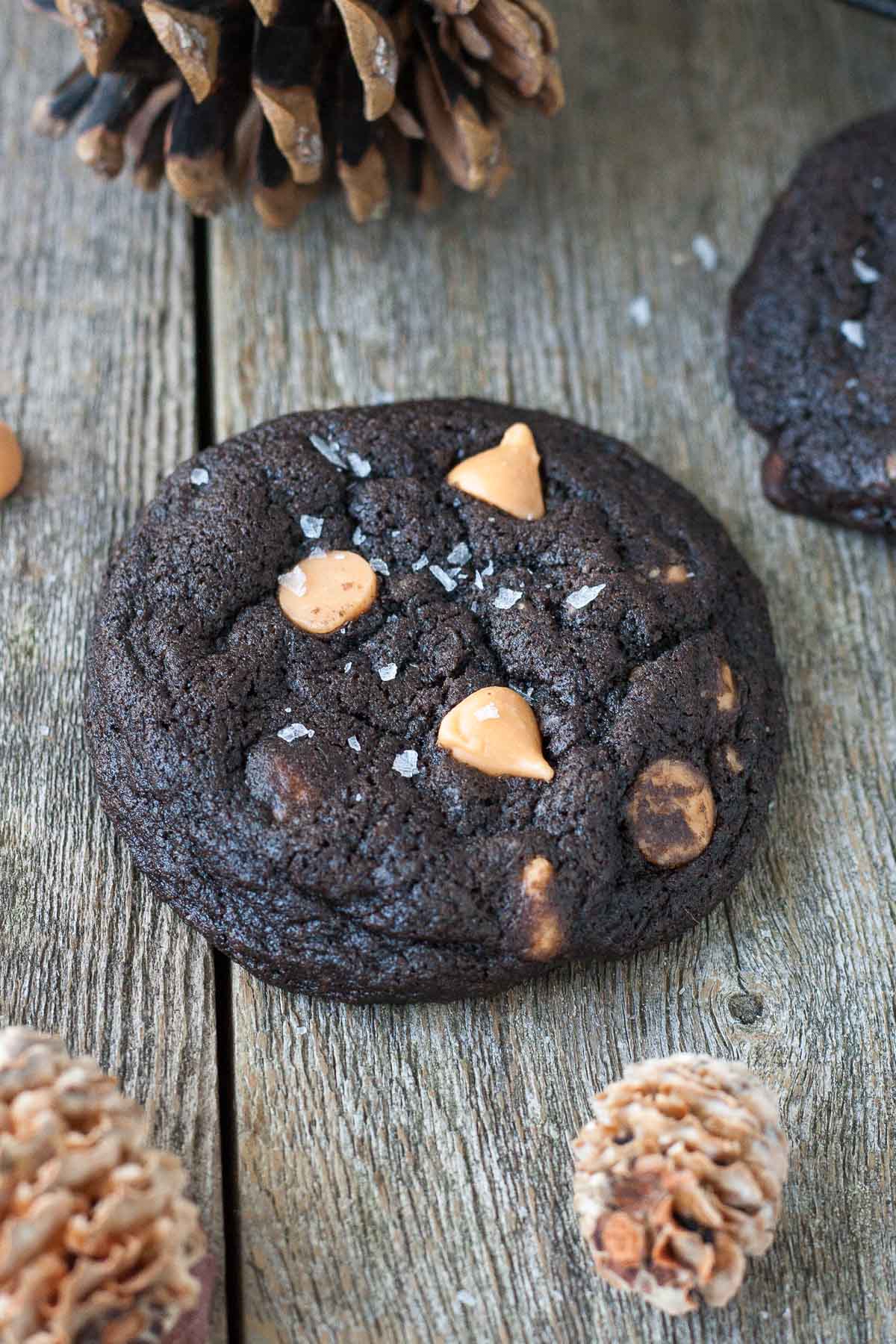 It's Halloween! I love Halloween. I should actually be throwing a Halloween recipe at you considering the day, but instead I'm giving you these delicious Dark Chocolate Butterscotch Cookies. Poor planning on my part led to one lone Halloween recipe this year, but I have a pretty cool cake from last year still kicking around if you're itching for some more Halloween baking and more than a few pumpkin recipes in my arsenal.
This is the first year, in I don't even know how long, that we'll have trick-or-treaters. For the past 10+ years we've been in apartments, some where you can only access your own floor, so we literally had no kids coming by. This is A-OK on Ryan's part, as he prefers his Halloween to be quiet and low key (secretly I think it's because he wants the Halloween candy all to himself). Personally, I'm really looking forward to seeing all the kids and their costumes!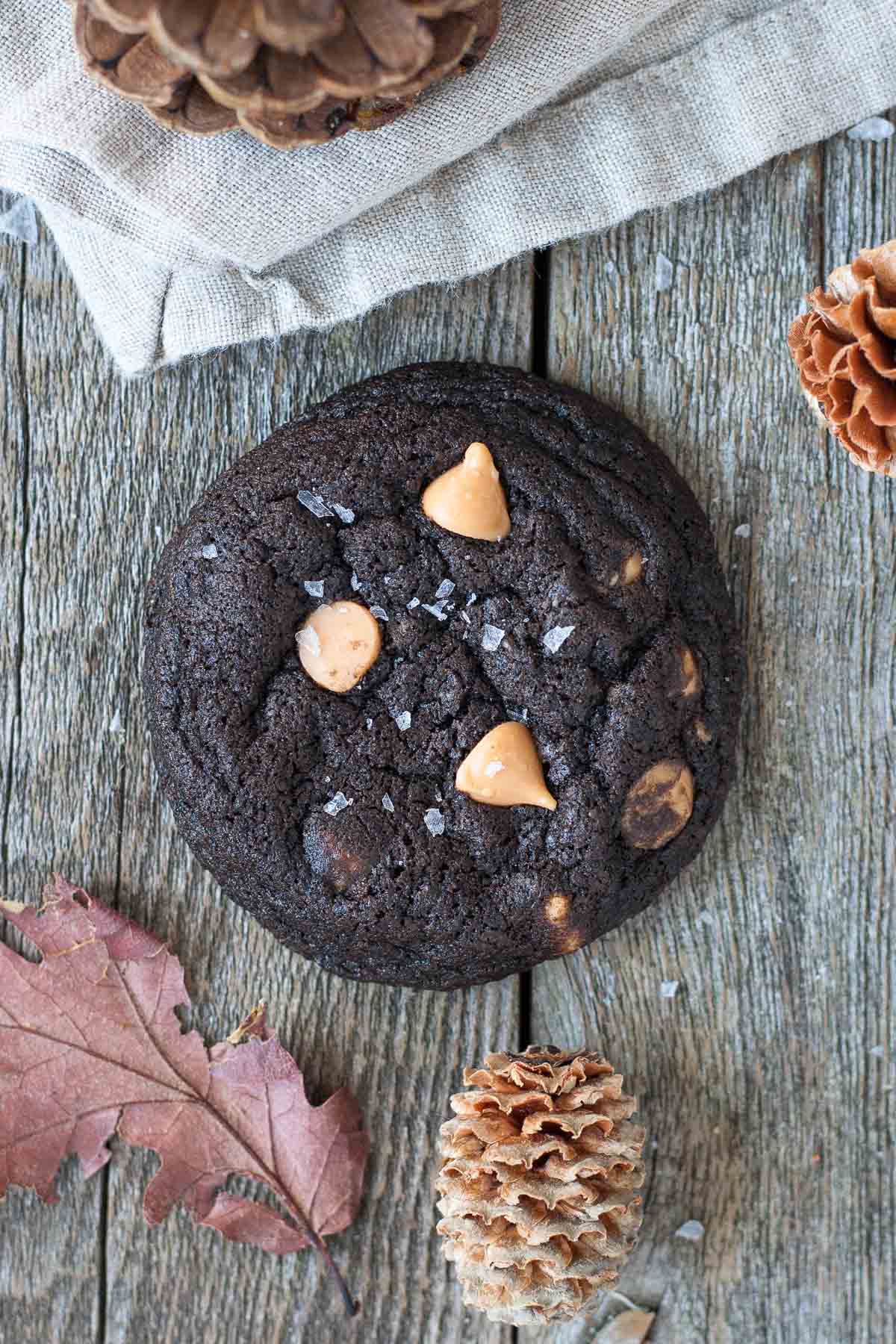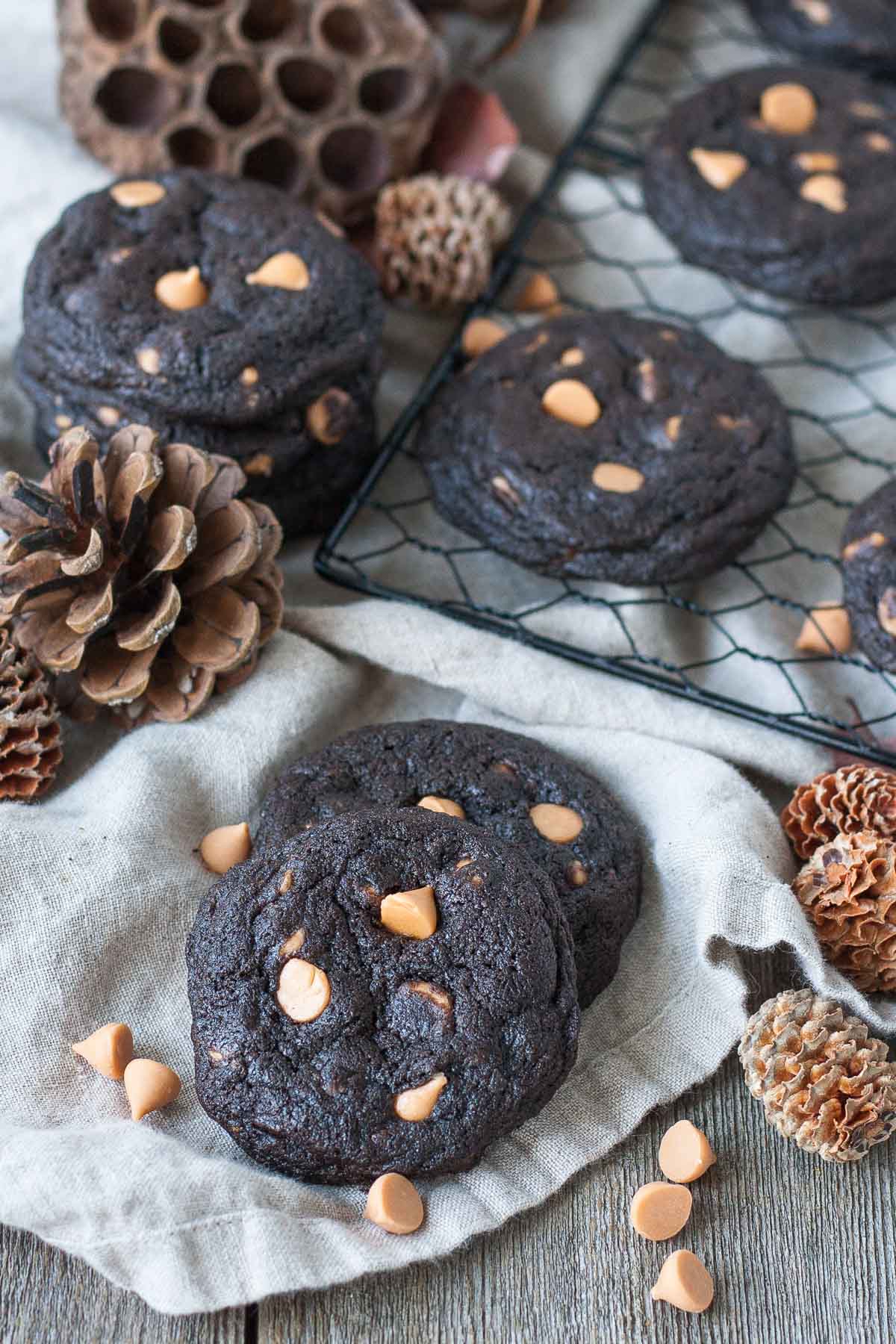 Actually, I haven't seen a lot of trick-or-treaters since we moved out to Vancouver, which is like 20+ years ago. Most of the neighborhoods we've lived in here were on steep hills or didn't have a lot of families. Trick-or-treating in Edmonton was much easier (flatter), albeit much colder. Most years I remember going out in a snow suit — so much for costumes. But it was fun nonetheless.
The neighborhood we're living in now is like family-ville. It's quiet, not a lot of traffic, and apparently has good schools, so I expect to see a whole bunch of kids coming by. We're in a townhouse complex, so I imagine the kids would hit this place up for sure. More bang for your buck!
Speaking of which, I wonder if we have enough candy… Probably not, considering that we've been snacking on it for weeks. How much candy are you supposed to give out, anyway?? Is it like one candy per kid, or handfuls? I have no idea what the etiquette is these days. You can bet I'm going to be extra generous to any Harry Potters that come by!!
I fully intended on forcing Ryan to carve up some pumpkins with me, but life/laziness got in the way of that. Oh well, maybe next year when we're fully settled into this place.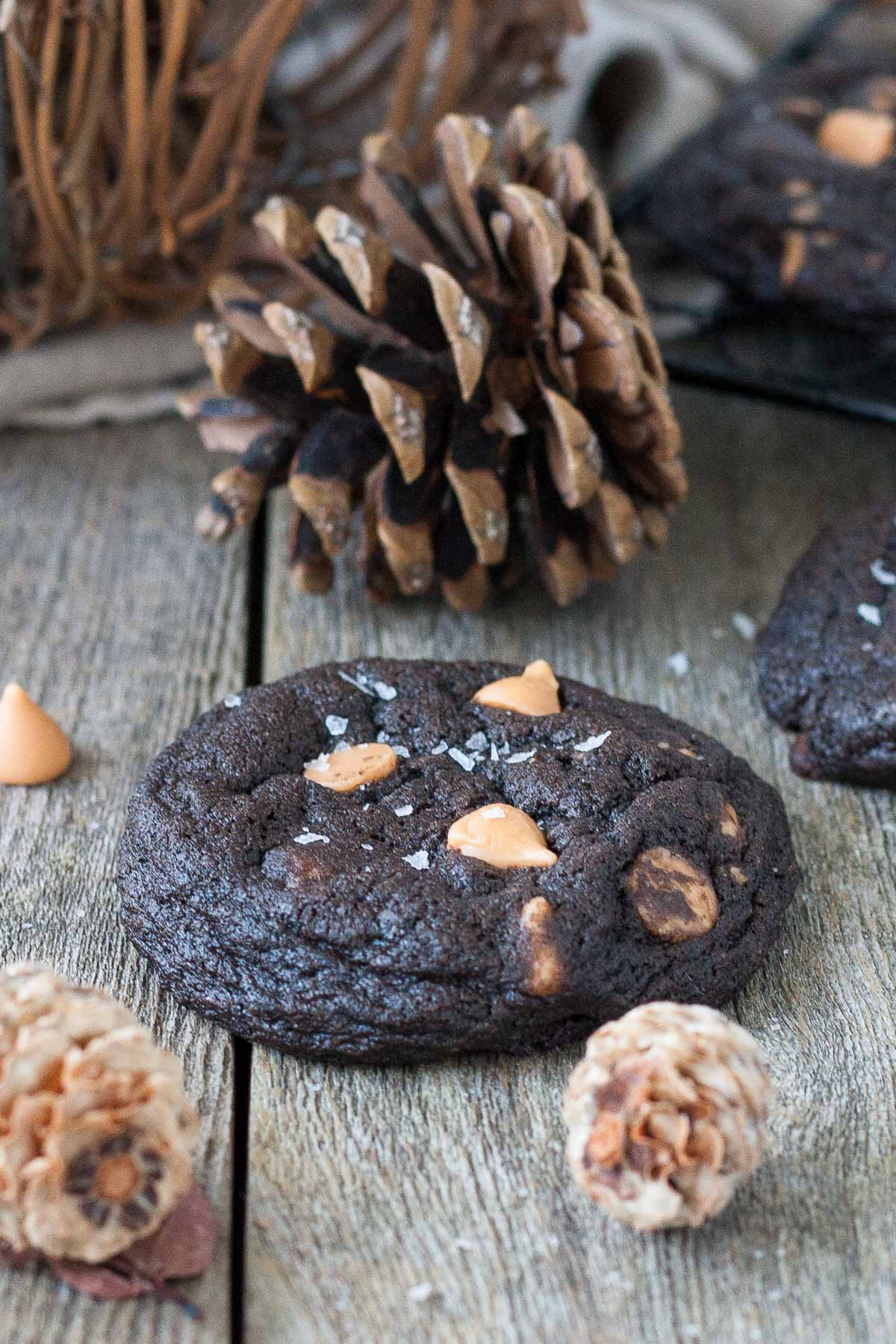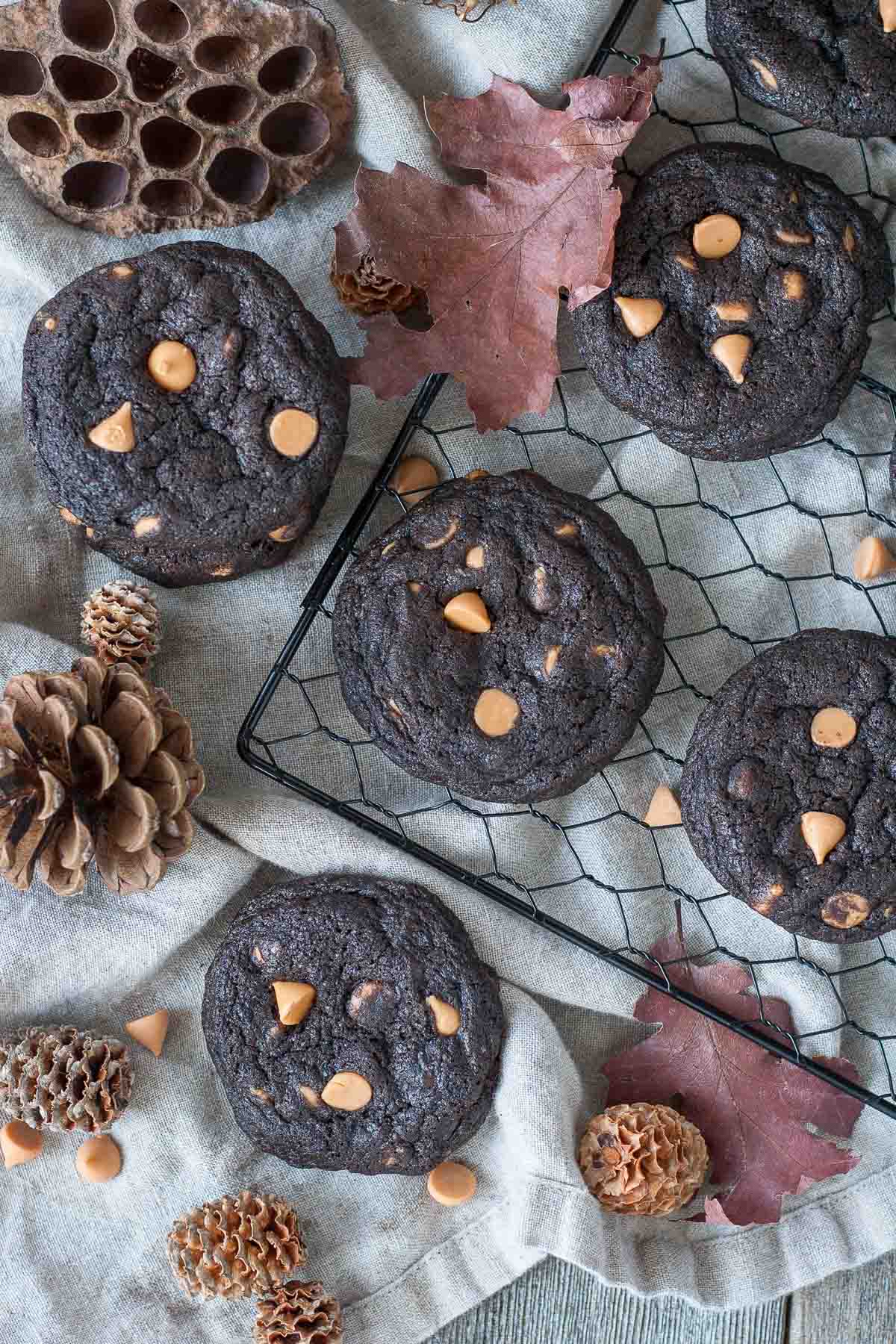 It's just barely Halloween, but I am seriously looking forward to holiday decorating. I was at Homesense the other day, and they have 100% busted out their holiday gear and I was SO happy to see it. Needless to say, I took my time wandering through those aisles and looking at all the goodies.
I didn't end up buying anything (this time), but I'm already itching to go back and check out what new stuff they have. You can bet that Christmas will start infiltrating this place as soon as the dust of Halloween is over. Pumpkins out, Christmas Trees in. Well, we'll probably hold off on the tree(s) till the end of November/early December, but I have plenty of other holiday decorations that I can bust out.
Ok, enough rambling about the holidays, I haven't even told you about these Dark Chocolate Butterscotch Cookies!! They are seriously delicious. I've used this cookie recipe twice already here and here, and I totally love it. I'll be using it again in a holiday cookie that's already on my radar.
The cookies themselves taste like Oreos because of the black cocoa powder. If you don't have that on hand, you can use regular cocoa, but it will affect the flavor and color (they'll still be yummy though!). If you're not a huge fan of butterscotch, you can substitute in any chips you like. It's a very versatile and delicious chocolate cookie!
Notes & tips for these Dark Chocolate Butterscotch Cookies:
If you don't have black cocoa powder, you can use regular cocoa powder. The recipe will work fine, but it will affect the flavor and color slightly.
If you're not a fan of butterscotch, you can make these with any kind of chips you like!
Store in an airtight container for up to a week, or freeze for up to a month.
Dark Chocolate Butterscotch Cookies
Dark Chocolate Butterscotch Cookies! Loaded with butterscotch chips and sprinkled with sea salt.
Instructions
In a medium bowl, whisk together flour, cocoa powders, baking soda, and salt. Set aside.

In the bowl of a stand mixer, beat butter and sugars on med-high until light and fluffy (approx. 2-3mins). Reduce speed and add egg and vanilla. Beat until combined. Add flour mixture and mix until just combined. Add butterscotch chips and mix until just combined.

Chill dough for at least 1 hour or overnight.

Preheat oven to 350F. Using a medium cookie scoop, portion dough onto baking sheet lined with parchment (I did 9 cookies per sheet). Bake for approximately 10 mins, or until the middle is mostly set. Sprinkle with sea salt if desired.

Cool on pans for 5 mins then transfer to to a wire rack to cool completely.
Notes
* If you don't have black cocoa you can substitute Dutch-processed. The cookies won't be as dark though.
** You can substitute any kind of chips you like!
Calories:
148
kcal
Carbohydrates:
23
g
Protein:
1
g
Fat:
5
g
Saturated Fat:
3
g
Cholesterol:
24
mg
Sodium:
110
mg
Potassium:
37
mg
Sugar:
16
g
Vitamin A:
180
IU
Calcium:
11
mg
Iron:
0.6
mg
The nutritional information and metric conversions are calculated automatically. I cannot guarantee the accuracy of this data. If this is important to you, please verify with your favorite nutrition calculator and/or metric conversion tool.