These chewy Chocolate Chip Cookie Cups are truly one of the easiest desserts you'll ever make. Filled with vanilla cream cheese mousse and a swirl of chocolate sauce.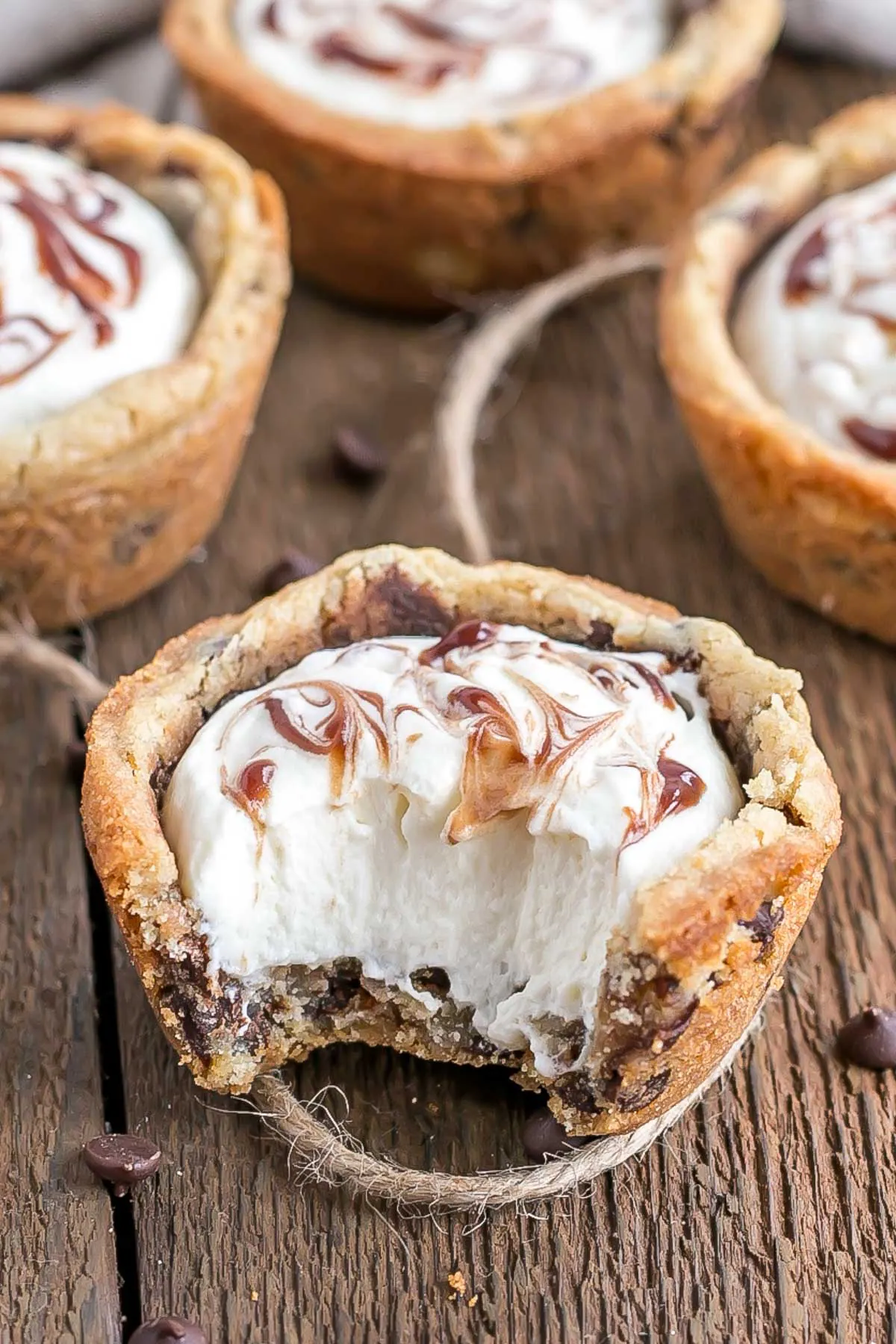 There are few things better and more comforting than good old chocolate chip cookies. Especially a batch that's just come out of the oven and you grab a cookie as soon as it's barely cool enough to hold and devour. One of life's little pleasures, for sure.
These delicious Chocolate Chip Cookie Cups made their debut last weekend at a Food Bloggers of Canada potluck get-together hosted by my good friend Sam of My Kitchen Love (seriously, check out her stuff, it's both stunning and delicious)!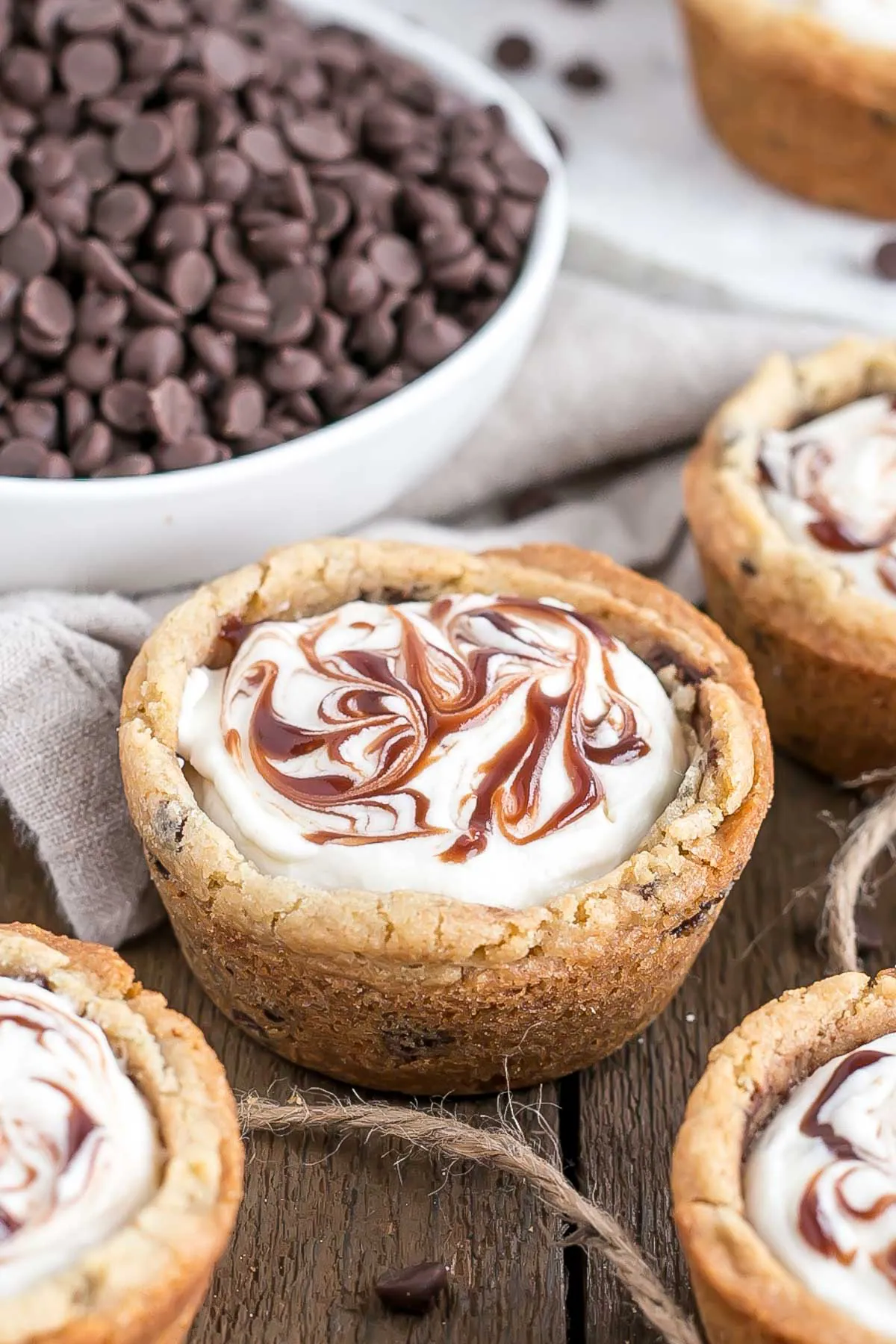 I typically tend to shy away from social events, especially ones where I don't know most of the people, but I promised my friend Sam I'd be there, so be there I was. Cookie Cups in hand! In hindsight, as always, I'm really glad I went and I got to meet a few new fellow food bloggers. Overall it was a super fun evening filled with delicious food. Why on earth would I have said no to that?!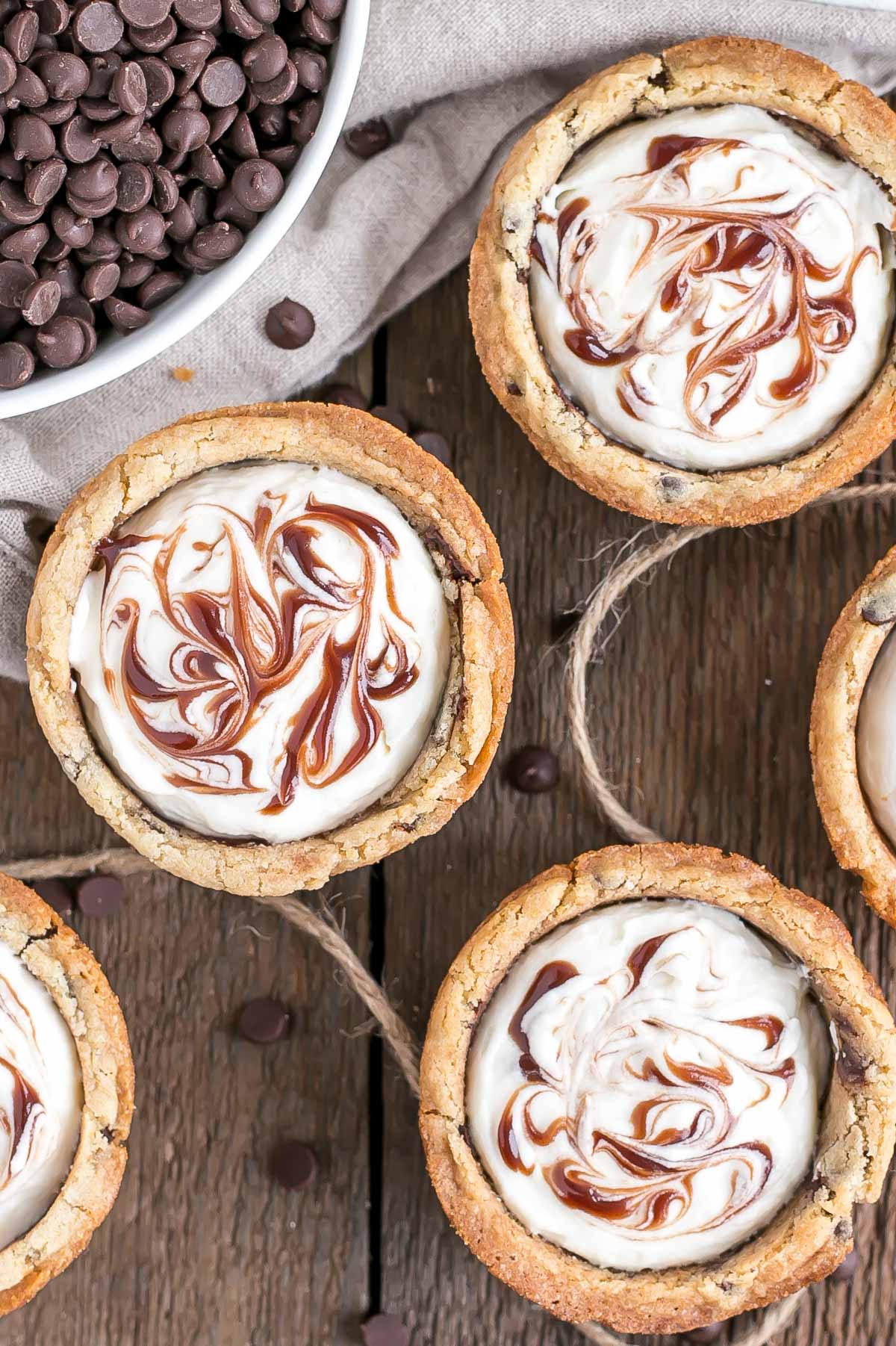 Like my other cookie cup recipes, these ones are really simple to make. Like, SO simple. Whip up some cookie dough, bake it in a muffin tin, and press down on them as they come out of the oven to create the cups. The filling is just as simple. Whip up the cream cheese & sugar and fold it into some whipped cream. Fill the cooled cookie cups and you're done!
Ideally you'd chill them in the fridge for an hour or two to thicken the filling, but this is totally optional and not at all necessary. It really just depends on how you like it. I prefer them out of the fridge, but I certainly won't turn my nose up at them if they're at room temperature.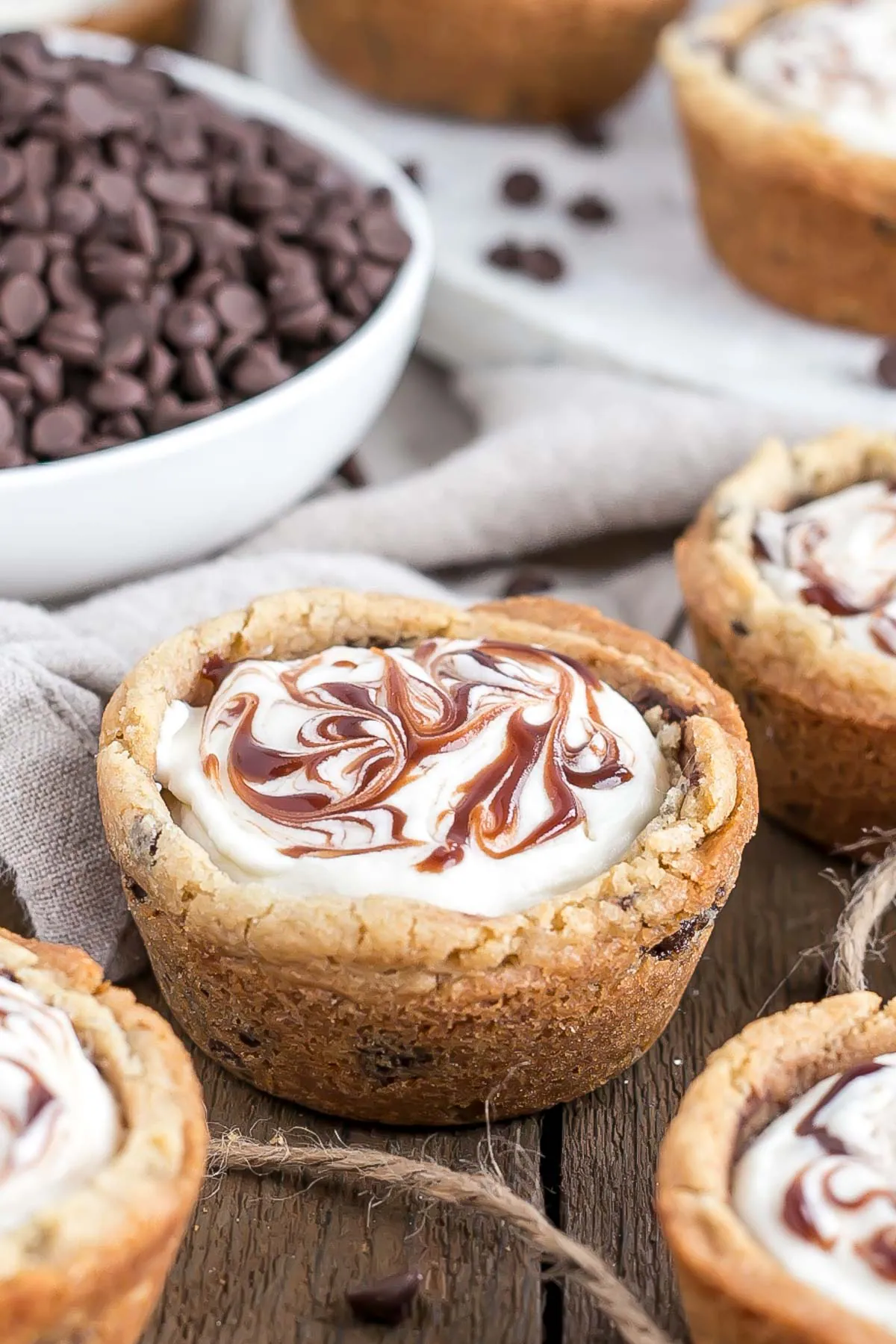 The best thing about these Chocolate Chip Cookie Cups? They freeze really well. So you can make them in advance for a special occasion, or just have an easily accessible treat for yourself stashed away. We all need those from time to time, right?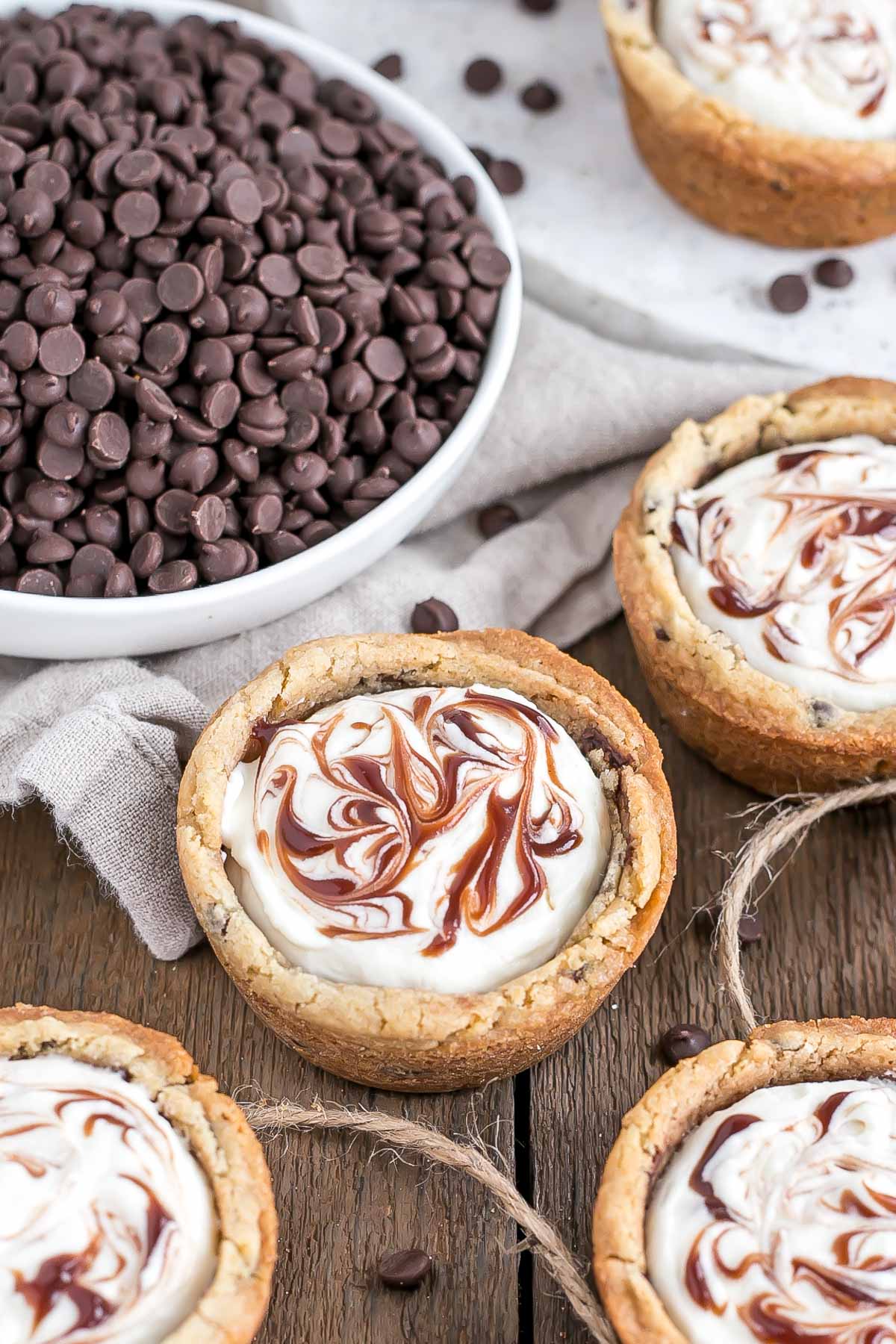 I honestly did not think it was possible to make chocolate chip cookies even better, but these Chocolate Chip Cookie Cups have done it. Pairing the cookies with a fluffy cheesecake mousse gives them just the right balance of sweet and tangy. The cream cheese flavor isn't strong, but it really helps intensify the flavor of the cookie cups.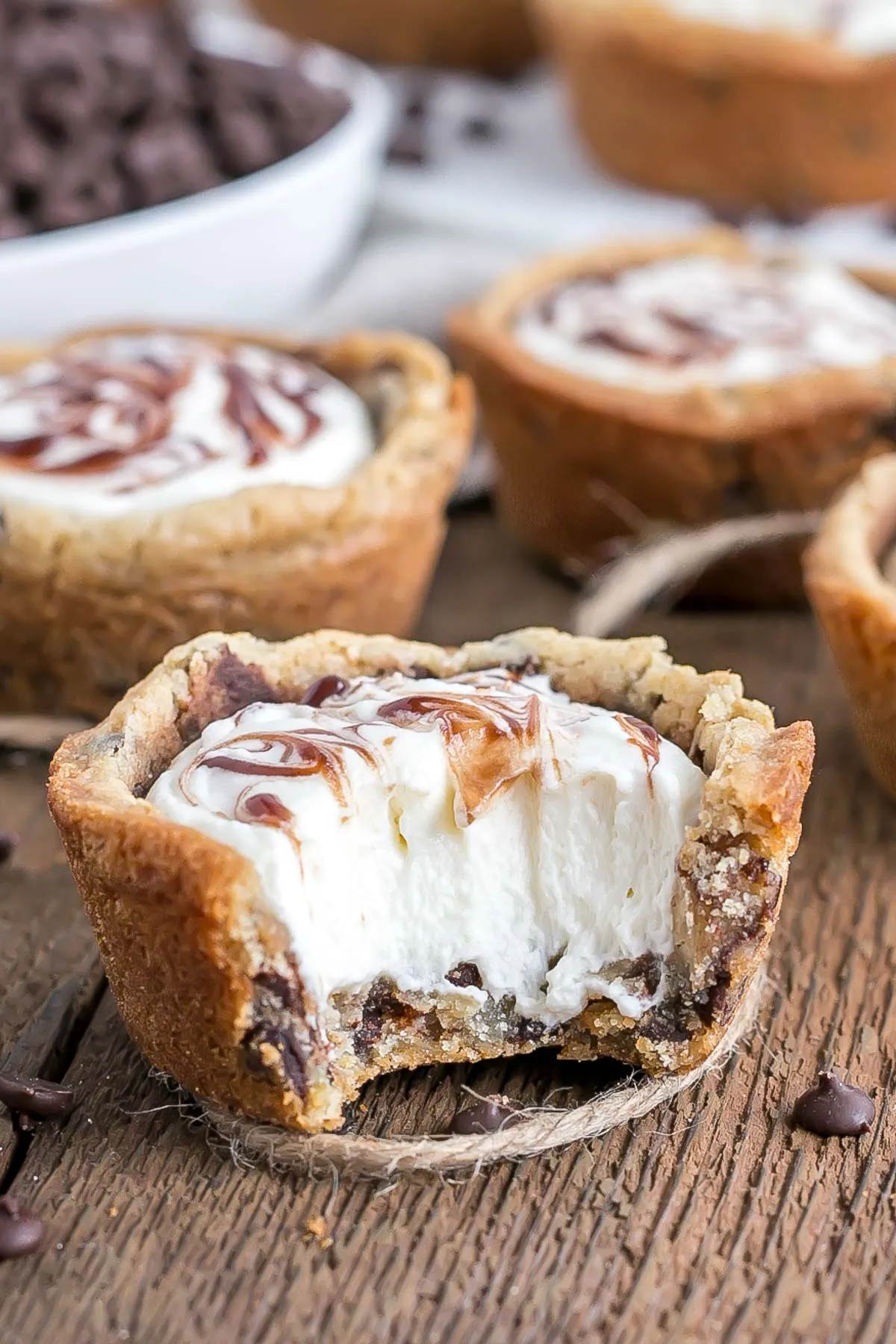 Notes & tips for these Chocolate Chip Cookie Cups:
Use sea salt in your cookies if possible. It really enhances the flavor!
Ensure your heavy cream is cold (ideally the mixer bowl too) as this will make the cream whip up better.
The cookies will soften a bit the longer they sit with the filling.
These freeze very well! Store in fridge for up to 4 days or in freezer (in an airtight container) for 1-2 months.
Best served cold, but can be served at room temperature.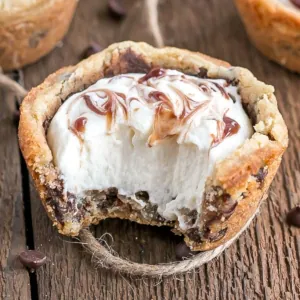 Chocolate Chip Cookie Cups
These chewy Chocolate Chip Cookie Cups are truly one of the easiest desserts you'll ever make. Filled with Vanilla Cream Cheese Mousse and a swirl of chocolate sauce.
Ingredients
Chocolate Chip Cookie Cups:
Cheesecake Mousse Filling:
Instructions
Chocolate Chip Cookie Cups:
Preheat oven to 350°F. Spray 2 regular sized muffin tins with cooking spray.

Whisk together flour, baking soda, and salt, set aside.

Beat butter and sugars on med-high until pale and fluffy (approx. 2-3mins). Reduce speed and add eggs (one at a time), and vanilla. Beat until combined.

Add flour mixture and mix until just combined. Fold in chocolate chips.

Using a large cookie scoop (3 Tbsp), scoop dough into muffin tins.

Bake for approximately 15 mins or until lightly browned and mostly set (but not completely).

Remove from oven and immediately use a small jar or container to press firmly down in the center to create a well. Cool in pans for 10 mins, then place on wire rack to cool completely.



Cheesecake Mousse Filling:
Whip heavy cream until stiff peaks (ideally with a cold whisk and in a cold bowl).

In a separate bowl, beat cream cheese and sugar until smooth, add vanilla and beat until smooth.

Fold cream cheese mixture into whipped cream. Pipe into cooled cookie cups. Top with chocolate sauce if desired and swirl with a toothpick. Refrigerate until set (approx. 2 hours).




Serve cold and eat within 2-3 days. Or freeze for up to 4 weeks.
Calories:
308
kcal
Carbohydrates:
34
g
Protein:
3
g
Fat:
17
g
Saturated Fat:
10
g
Cholesterol:
61
mg
Sodium:
174
mg
Potassium:
53
mg
Sugar:
24
g
Vitamin A:
555
IU
Vitamin C:
0.2
mg
Calcium:
43
mg
Iron:
0.9
mg
The nutritional information and metric conversions are calculated automatically. I cannot guarantee the accuracy of this data. If this is important to you, please verify with your favorite nutrition calculator and/or metric conversion tool.