This easy Caramel Almond Upside-Down Cake is packed with almond flavor and has just the right amount of sweetness.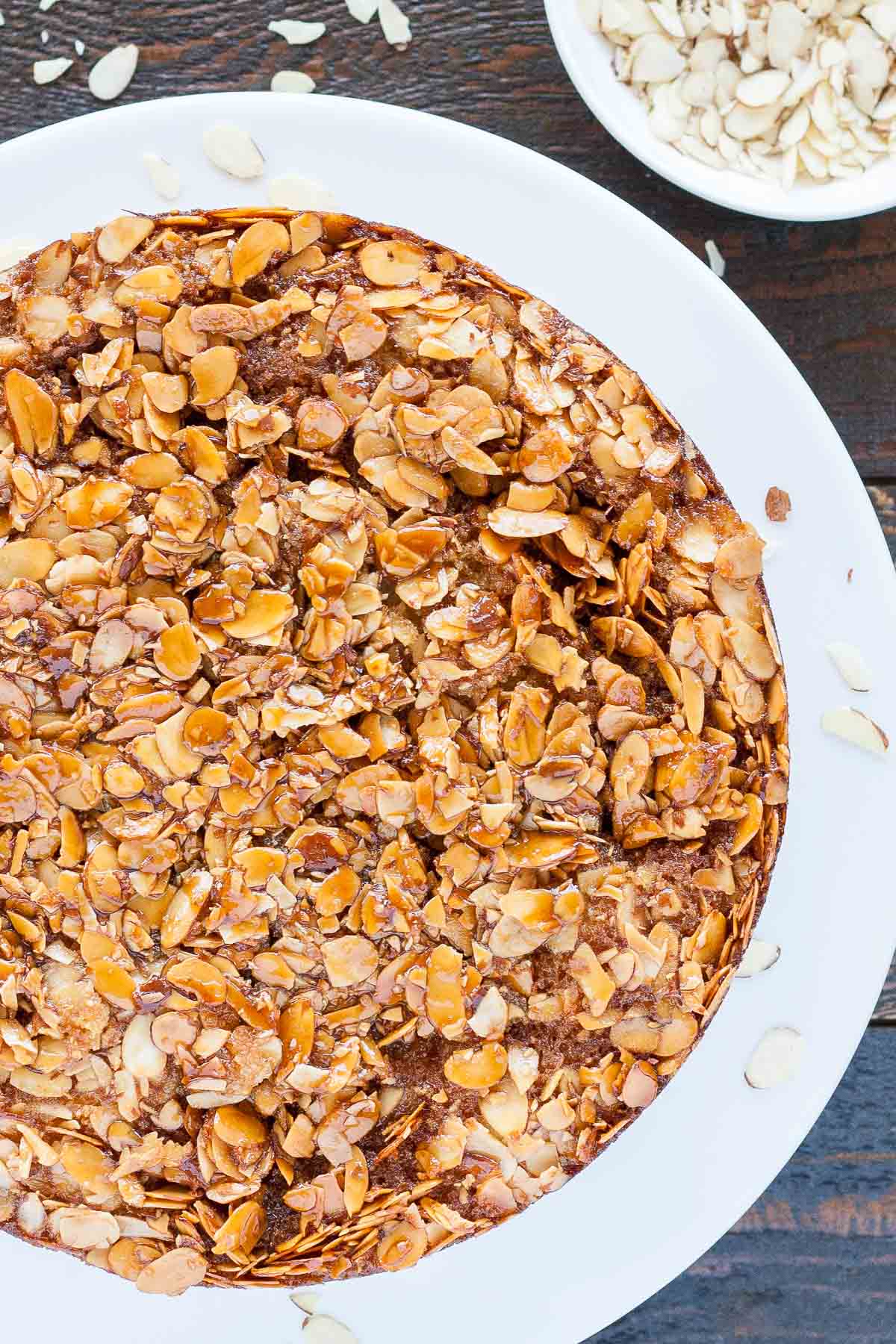 This post has been sponsored by Almond Breeze . They have compensated me monetarily for this recipe. All opinions are my own.
I honestly cannot believe it's already the end of March. We are in for a sunny and warm week here in Vancouver, and I am looking forward to finally putting away my winter coat (for a while, anyway). As I write this, it's pouring rain and a balmy 6℃. Thankfully, I have this delicious Caramel Almond Upside-Down Cake to comfort me, and it's going perfectly with the coffee, blanket, couch, laptop setup I have going.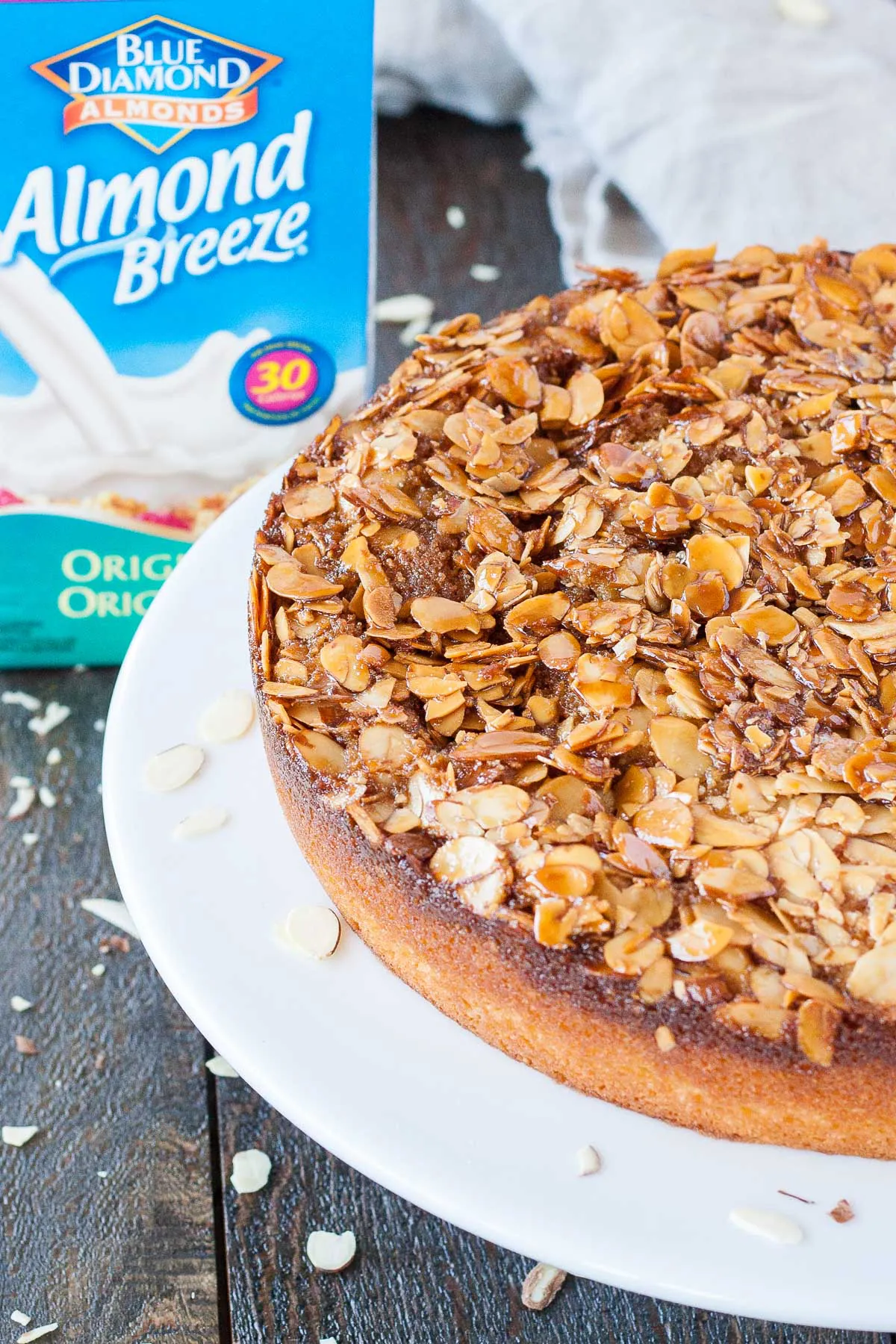 I was lucky enough to have the lovely folks at Almond Breeze send me some coupons to try out their new almond beverage. They have a new line of Almond Breeze products that can be found in the refrigerated section of the grocery store — as opposed to the Almond Breeze you've probably seen in the aisles.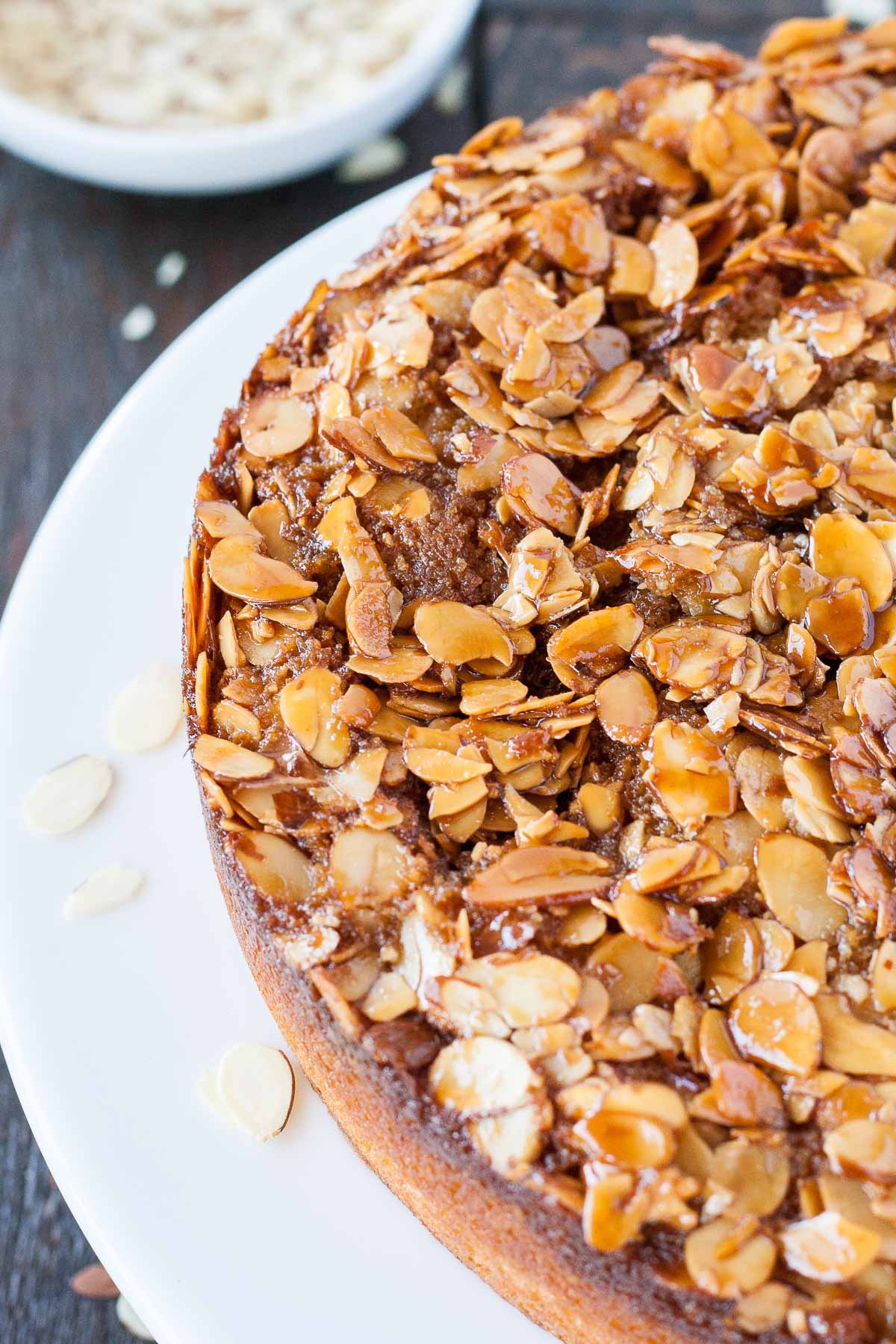 I was brainstorming ideas of what to make with my friend Sara and she suggested an upside-down cake. I had actually never made one before, but was up for the challenge. Surprisingly, it actually wasn't much of a challenge. It's WAY easier to make than any layer cake, and looks just as pretty in its own way. It turns out that upside-down cakes are not just for fruit!
I chose to amp up the almond flavour with some almond flour in addition to the sliced almonds and Almond Breeze beverage, but you can swap the almond flour for regular cake flour if you prefer. I do like how the almond flour adds to the texture though!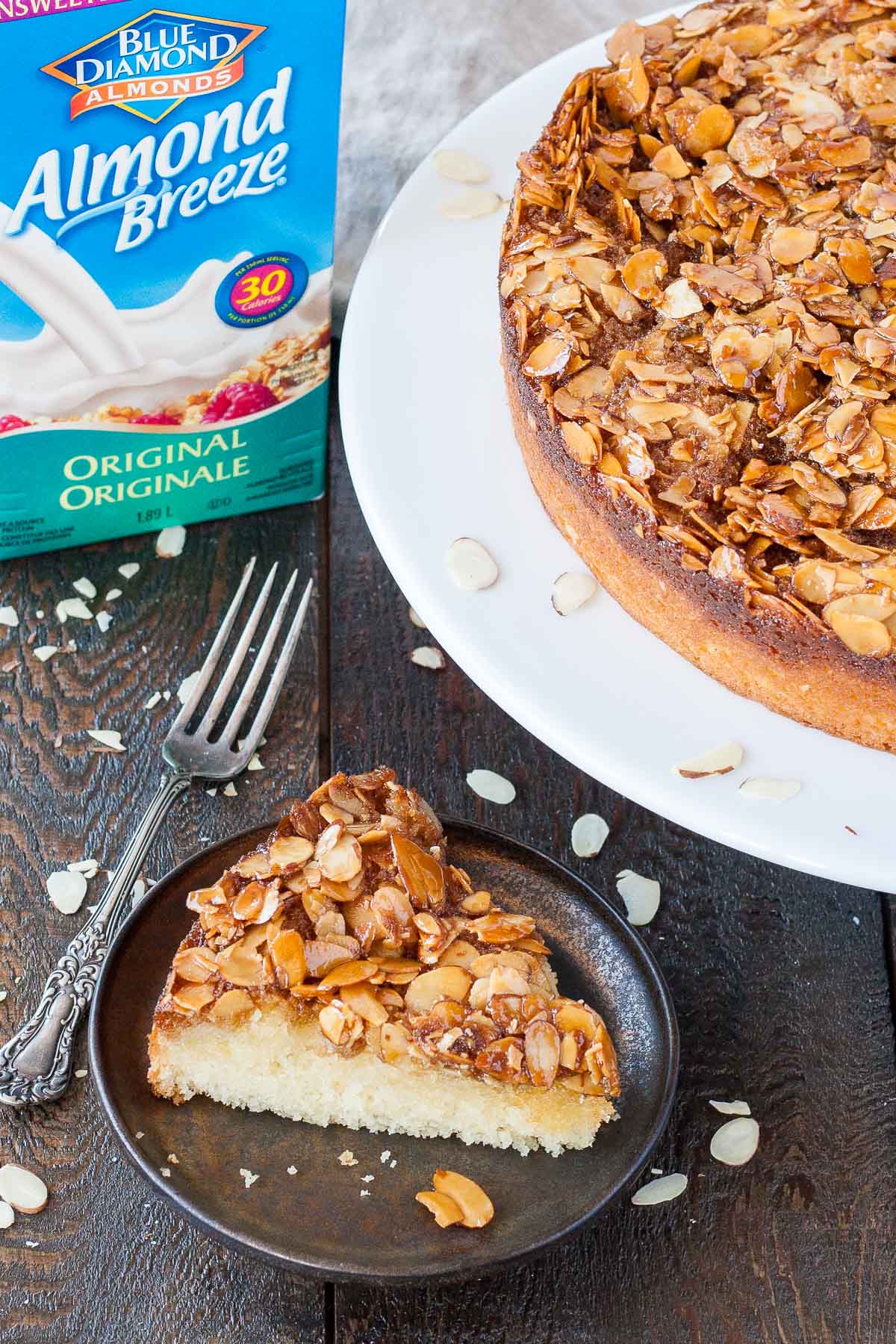 This Caramel Almond Upside-Down Cake is really simple to make. The most important thing is to turn this cake out while it's still hot — pretty much right out of the oven. If you have some caramel and almonds that stick to the bottom of the pan (I had a few), just pop the cake pan back into the oven briefly to loosen them up. I placed the cake pan over my gas burner to loosen the caramel, and then scraped the excess back onto the cake. I recommend cutting into it while it's still warm (though the cake will be more fragile then), or cooling it completely and cutting it with a hot serrated knife.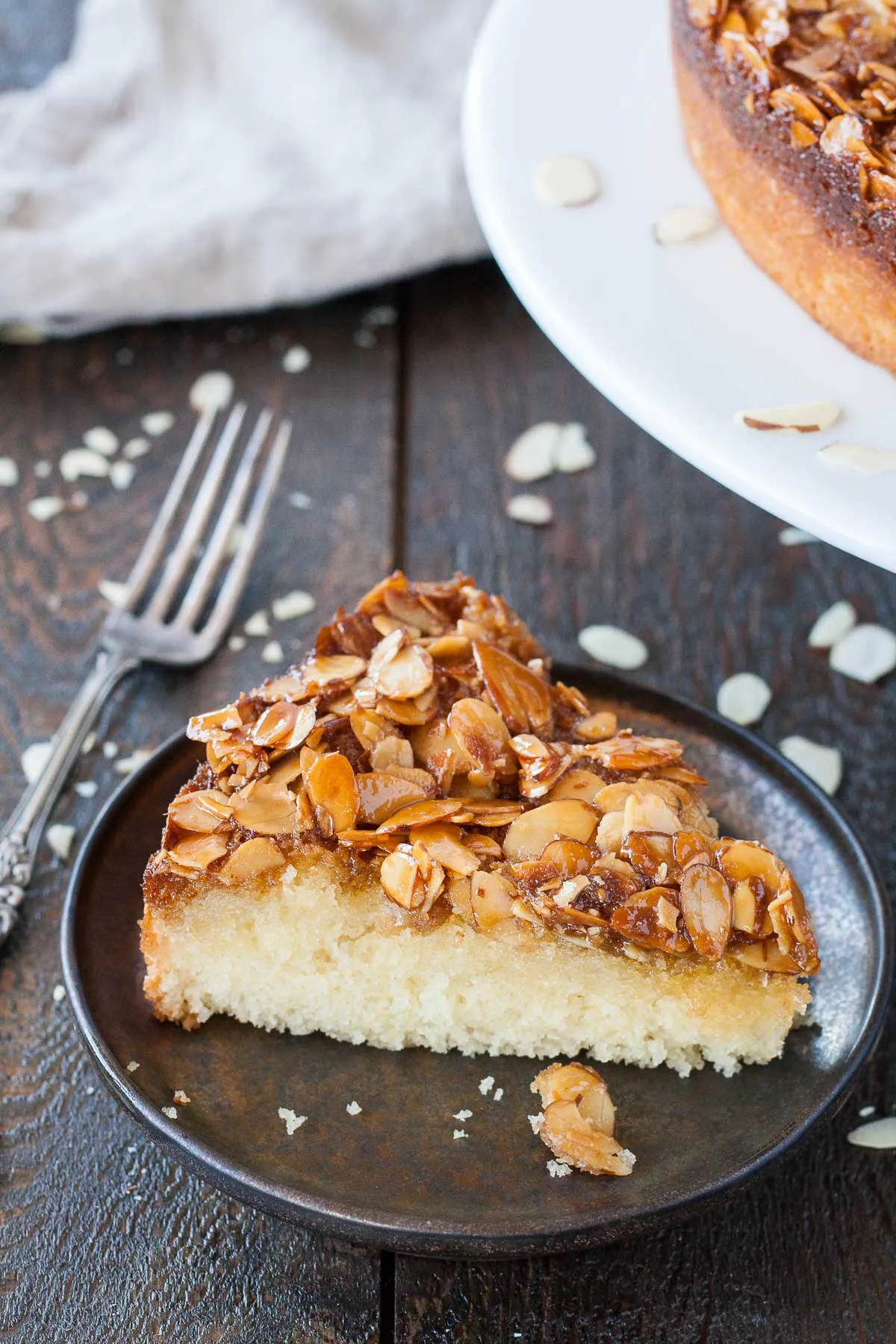 The cake has a very delicate texture, which I love — very light and airy. The almond beverage adds both moisture and a hint of almond flavour, and the caramelized almonds add a nice crunch. This Caramel Almond Upside-Down Cake is equally perfect as an everyday cake or for special occasions!
Caramel Almond Upside-Down Cake
This easy upside-down cake is packed with almond flavour and has just the right amount of sweetness. A perfect pairing for your afternoon tea.
Instructions
Caramel:
Place butter and light brown sugar into a small saucepan and cook over med-high heat until bubbling. Set aside to cool while making the cake.
Cake:
Preheat oven to 350F and generously grease a 10″ cake pan with butter.

Place cake flour, almond flour, salt, and baking powder into a medium bowl. Whisk well to combine.

Beat butter until pale. Add sugar and beat until pale and fluffy (approx 3 mins). Add eggs one at a time, fully incorporating after each addition. Add vanilla.

Alternate adding flour mixture and almond beverage beginning and ending with flour (3 additions of flour, 2 of liquid). Mix until just combined.

Pour caramel into bottom of cake pan and spread evenly. Drizzle honey over top and sprinkle with toasted almonds.

Pour cake batter over top of almonds and spread evenly in pan. Bake 40-45mins or until a cake tester comes out mostly clean. The center should be set and spring back when pressed lightly.

While the cake is hot out of the oven, run a knife around the edges if needed. Carefully invert cake onto a serving plate or cake stand. Let sit with the pan still on top for 5mins so the caramel soaks in. Gently remove the pan and allow cake to cool. Cut with a serrated knife.
Notes
If you have some almonds stick to the bottom of the pan, just place it on a heated burner or back in the oven for a minute. Scrape off excess back onto the cake.
The cake can be difficult to cut when cooled, use a heated serrated knife for ease of cutting. I usually run my knife under hot water for a few seconds.
Adapted from Martha Stewart.
Calories:
540
kcal
Carbohydrates:
69
g
Protein:
8
g
Fat:
27
g
Saturated Fat:
11
g
Cholesterol:
98
mg
Sodium:
179
mg
Potassium:
279
mg
Fiber:
2
g
Sugar:
53
g
Vitamin A:
580
IU
Calcium:
159
mg
Iron:
1.4
mg
The nutritional information and metric conversions are calculated automatically. I cannot guarantee the accuracy of this data. If this is important to you, please verify with your favorite nutrition calculator and/or metric conversion tool.