This adorable bear cake is perfect for a little one's birthday! The cake and frosting recipes are simple and the technique is surprisingly easy to do!
This Bear Birthday Cake is a huge departure from my my recent posts, but it's actually what Liv for Cake was all about when I started the blog 6 years ago. I was heavily into cake decorating for about a year, and if you delve deep into the archives you'll find some cake decorating relics. Cake decorating of this kind isn't my thing anymore, but I was offered a pretty sweet deal that I couldn't pass up!
My friend Brad is a woodworker, and I was looking to have some backdrops made for my photography. I reached out to him and asked about the cost, and he offered up a trade: some custom backdrops in exchange for a cake to celebrate his son's 1st birthday. Now, those of you that know me know that I don't like to do custom orders. I'm a perfectionist, and having to make something for someone that they're going to PAY me for is a whole 'nother level of stress that takes all the fun out of baking. But this was an offer that I couldn't really pass up.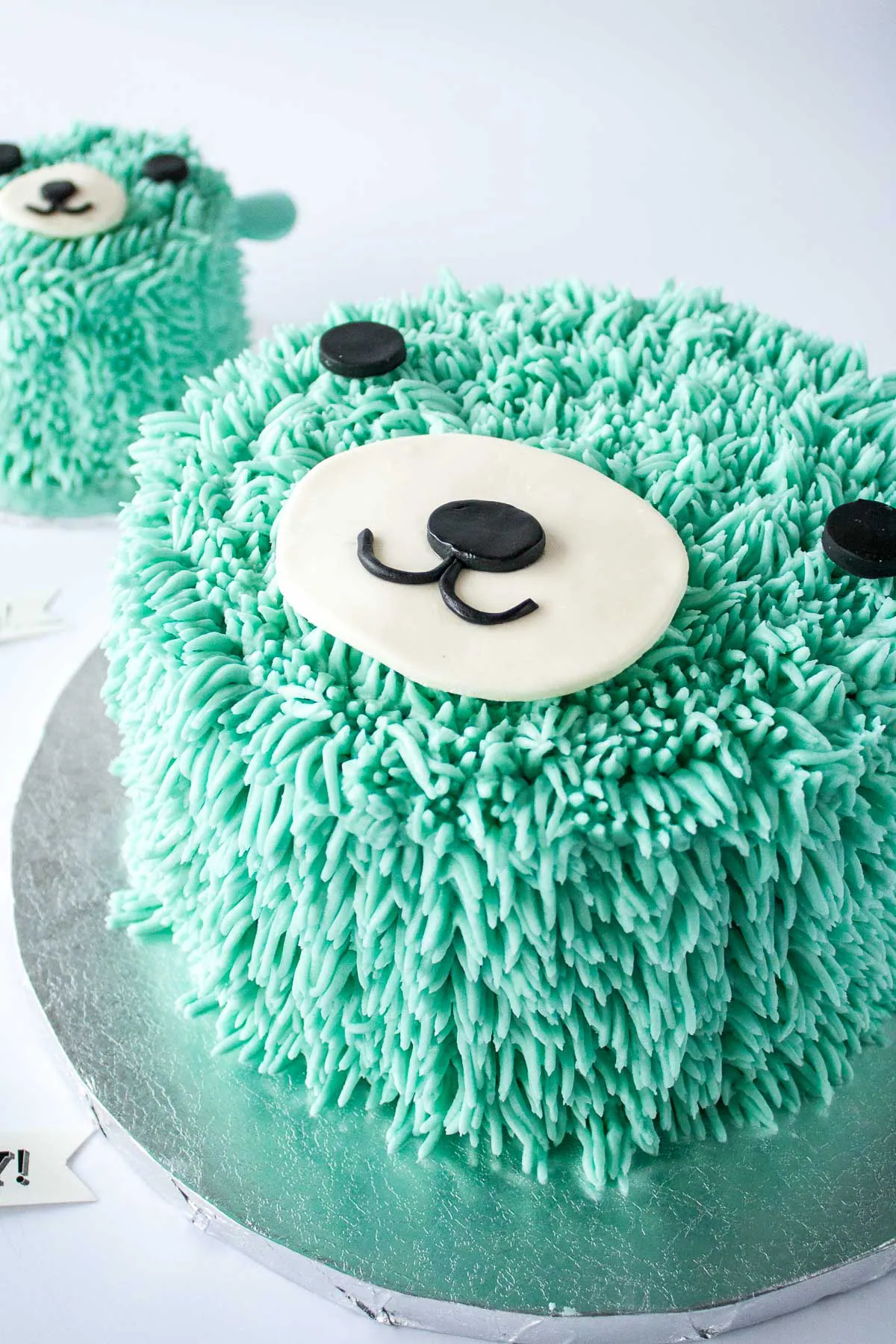 The design of this bear birthday cake is inspired by Coco Cake Land. Let's be honest here, I pretty much copied her cake except that I made a smash cake too. I've been following Lyndsay since way back in my cake decorating days, and I love how unique and adorable her style is. Go check out her site and see for yourself!
You'll need a large grass tip for this design — I used Wilton #234. After frosting and crumb coating the cake, I started piping the grass in columns around the side of the cake, starting at the base and working my way upwards. The technique took a bit of time to get used to, but was actually really easy. Press the tip onto the cake, apply pressure to pipe some frosting, release pressure and then pull back. It took a couple tries to get the hang of it, and I did a couple practice pipes on some parchment.
This was time-consuming to do, but easy overall. Not gonna lie, my hand was hurting a bit near the end!
The accent pieces (eyes, muzzle, mouth, and ears) are all made from homemade fondant. I would definitely use gumpaste for these next time, especially for the ears, as it dries harder. My fondant was too soft, so I had to create little cardboard supports for the ears so that they wouldn't flop down.
All in all, this Bear Birthday Cake was a pretty sweet trade (literally) and I love the backdrops Brad made for me. You can take a look at at some of them here and here and I have a couple others I still need to break in!
And, if you're looking for some more birthday cake inspiration, check out this epic list on Spaceships and Laser Beams!
Notes & tips for this Blue Bear Birthday Cake:
I used Wilton #234 for the fur, but any grass tip should work as long as it's not too thin.
It's best to make the accents out of gumpaste rather than fondant as it dries harder and is easier to work with.
The fur is easy to do, but takes time. The more comfortable you get with it, the faster it will go, but your hand may start to hurt after a while!
Blue Bear Birthday Cake
This super cute bear cake is perfect for a little one's birthday! The cake and frosting recipes are simple and the technique is surprisingly easy to do!
Ingredients
Buttercream:
9

cups

powdered sugar

sifted

3

cups

unsalted butter

room temperature

1

Tbsp

vanilla extract

or flavoring of your choice

4

tbsp

heavy whipping cream

Blue color gel
Instructions
Cake:
Preheat oven to 325°F.

Combine all dry ingredients and whisk together.

Add wet ingredients and mix until combined. I use my KitchenAid on low for 2 minutes but you can also do this by hand.

Divide the batter between the pans and bake for approximately 35-45 minutes.

Cool in pans on wire rack for 10mins, then turn cakes out onto wire racks to cool completely.
Buttercream:
Prepare a stand mixer with a whisk attachment. Whisk butter until creamy.

Reduce speed to low and add in icing sugar 1 cup at a time until well blended.

Increase speed to medium and beat for 3 minutes.

Add vanilla and 2tbsp cream and continue to beat on medium for 1 minute.

Add more cream as needed until desired consistency is reached (I added all 4).
Assembly:
Place one layer of cake on a cake stand or serving plate. Top with approximately 1 cup of frosting. Repeat with second layer and crumb coat the cake. Chill for 30mins.

Using Wilton tip #234, pipe fur all over the top of the cake and sides. Create eyes and ears our of fondant or gumpaste.
Notes
NOTE: This cake recipe makes enough for the large cake. For the small cake, I made another batch of the cake recipe and divided it amongst three 6″ rounds (which I froze to use later) and one 4″x3″ round which I used for the small cake. The frosting recipe makes enough to cover both. Cake design inspired by Coco Cake Land.
Calories:
835
kcal
Carbohydrates:
113
g
Protein:
3
g
Fat:
42
g
Saturated Fat:
26
g
Cholesterol:
138
mg
Sodium:
341
mg
Potassium:
69
mg
Sugar:
93
g
Vitamin A:
1260
IU
Vitamin C:
0.2
mg
Calcium:
104
mg
Iron:
1.3
mg
The nutritional information and metric conversions are calculated automatically. I cannot guarantee the accuracy of this data. If this is important to you, please verify with your favorite nutrition calculator and/or metric conversion tool.