Your favorite breakfast flavors in one delicious Banana Bacon Bundt Cake! Banana cake, maple sugar glaze, and candied bacon.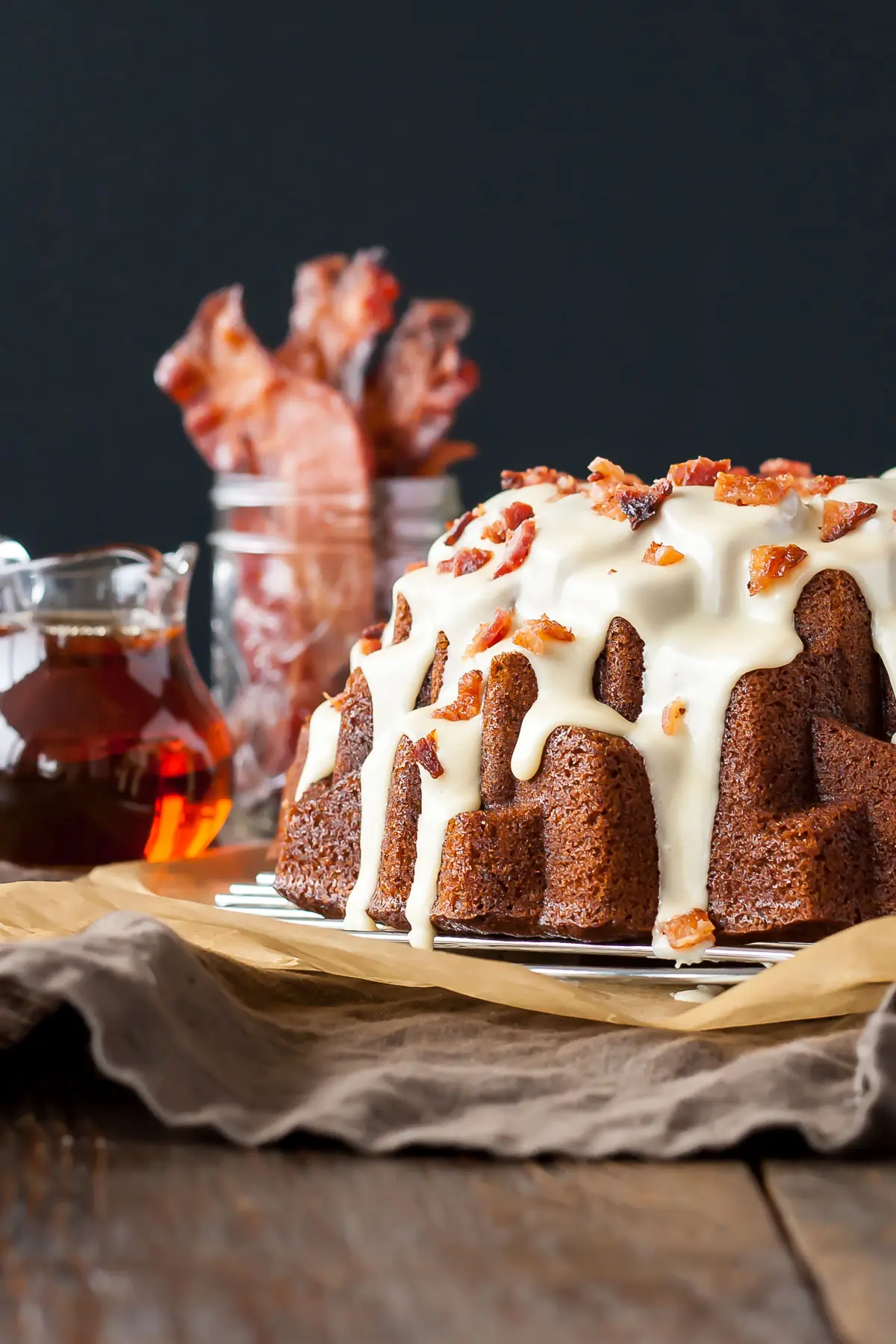 You're probably thinking to yourself, Banana bacon? Umm, gross. You wouldn't be alone. That's the reaction I got from a couple blogger friends when I mentioned my plan for this month's #BundtBakers theme. June over at How to Philosophize with Cake picked a doozy this month — weird but good flavor combinations. I don't usually have a hard time coming up with what to make for a particular #BundtBakers theme, but what on earth was I going to do here? I don't particularly like weird but good combos. Or so I thought.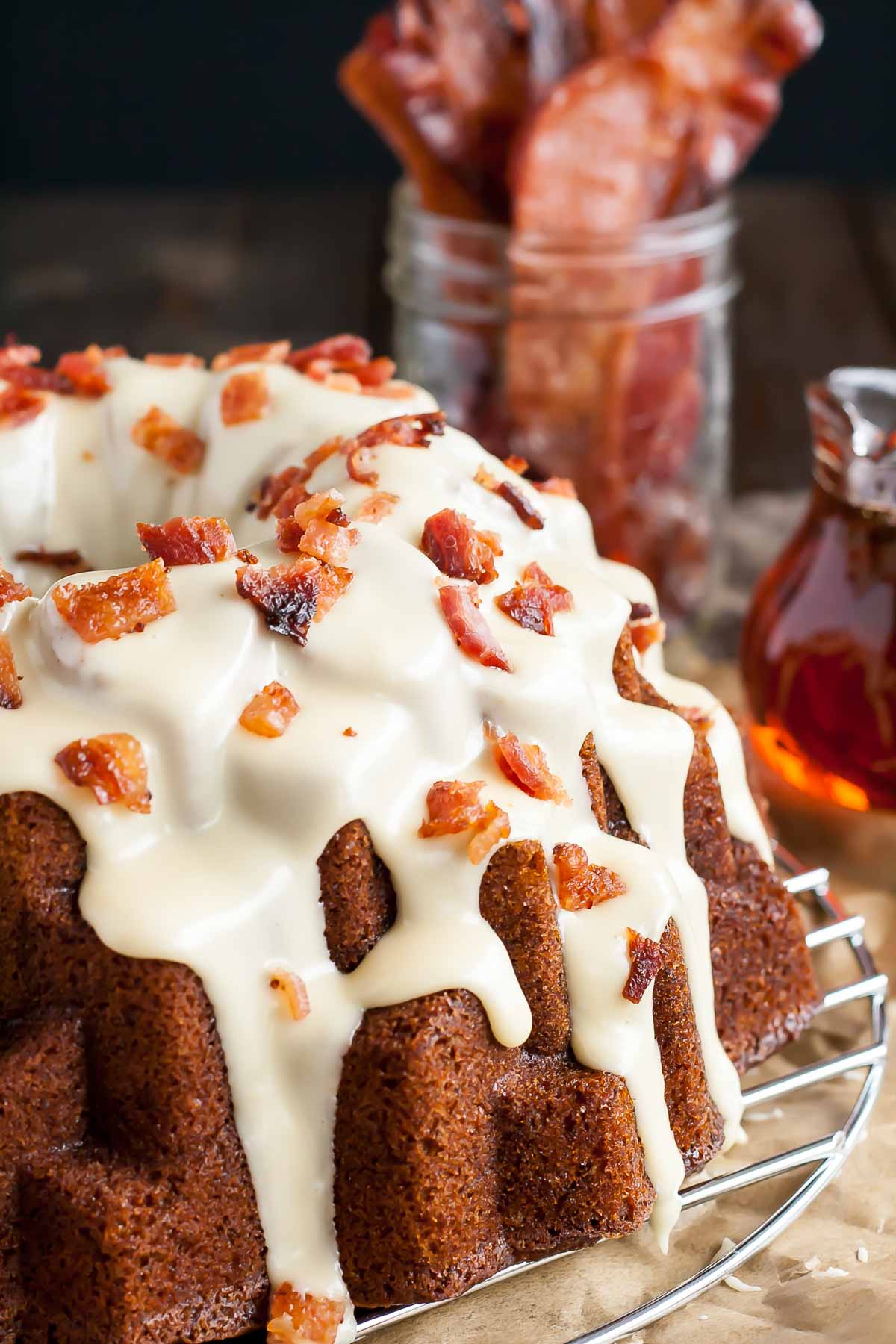 I tossed around a few ideas with friends — everything from lemon thyme to coffee orange, but none were particularly exciting to me. So, off I went to Google. The first link I clicked on led me to some interesting options. Chocolate and olive? Eww, no thank you. Banana bacon was on that list, and I found it intriguing. Ryan insisted it was the combo I should go with, so I did.
Can you believe this is the first time in my life that I've made bacon? True story. Unless, of course, you count the microwave kind, which you really shouldn't. I couldn't really give you a reason why. I mean, bacon is like the best thing out there (next to chocolate cake, of course). I guess I just never got around to making it. Naturally, this meant research needed to be done on the "best" way to make bacon.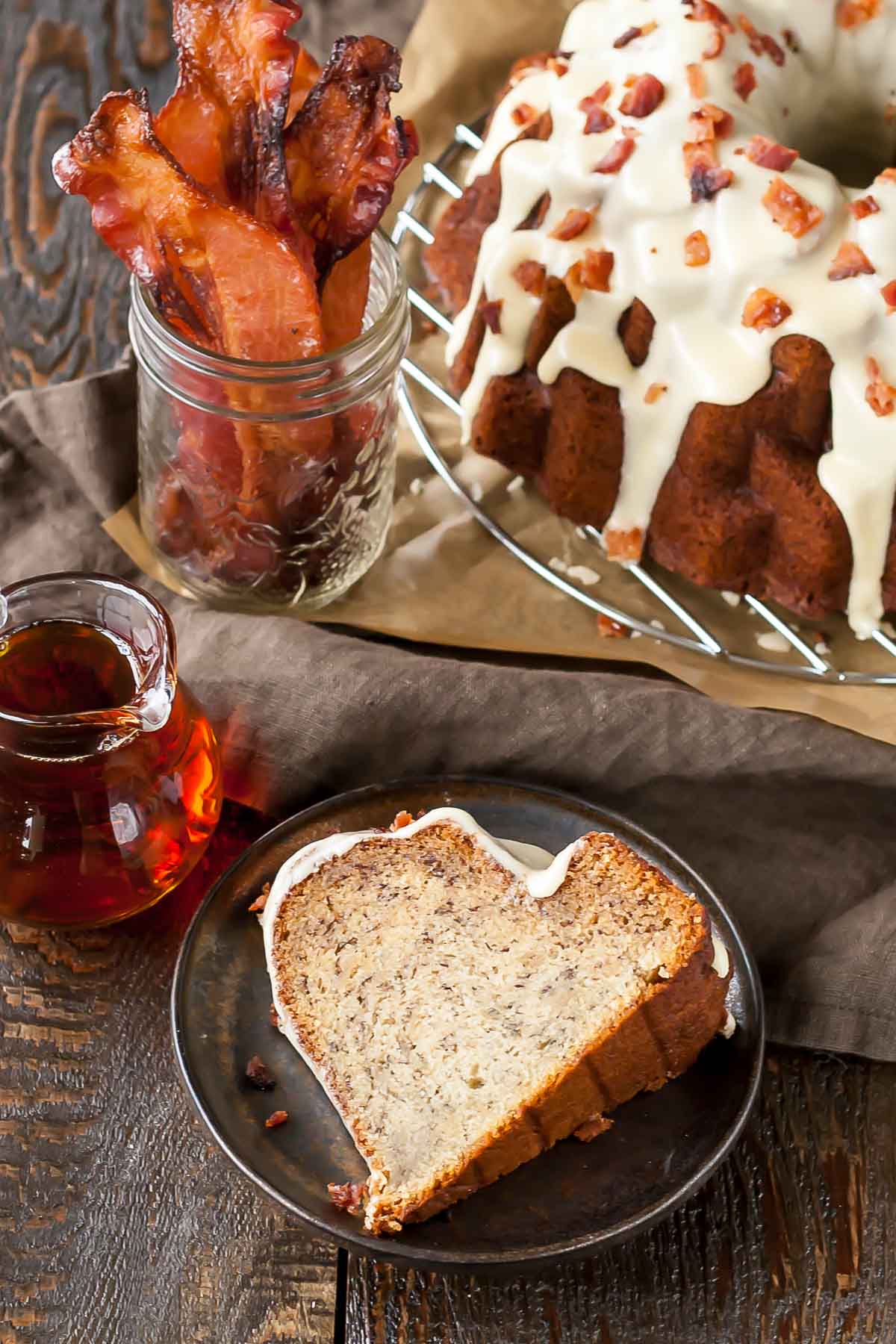 I opted for doing it in the oven and on a wire rack (I also tried a batch in the oven without a wire rack, but that was a huge mistake). The wire rack not only kept the bacon from shrivelling up, it also allowed it to cook more evenly. My biggest mistake was getting crappy bacon. I went for grocery store-bought — you know, the kind where you can only see a sliver into the package and you think it's going to be awesome, and then you open it up and it's almost entirely fat? Yeah, that. Next time I would buy thick cut bacon from my local meat shop — because clearly I am a bacon connoisseur from my from my one time making it and all.
At any rate, the rack-cooked bacon turned out perfectly and my house smelled amazing for hours. Few things smell better than maple candied bacon, let me tell you.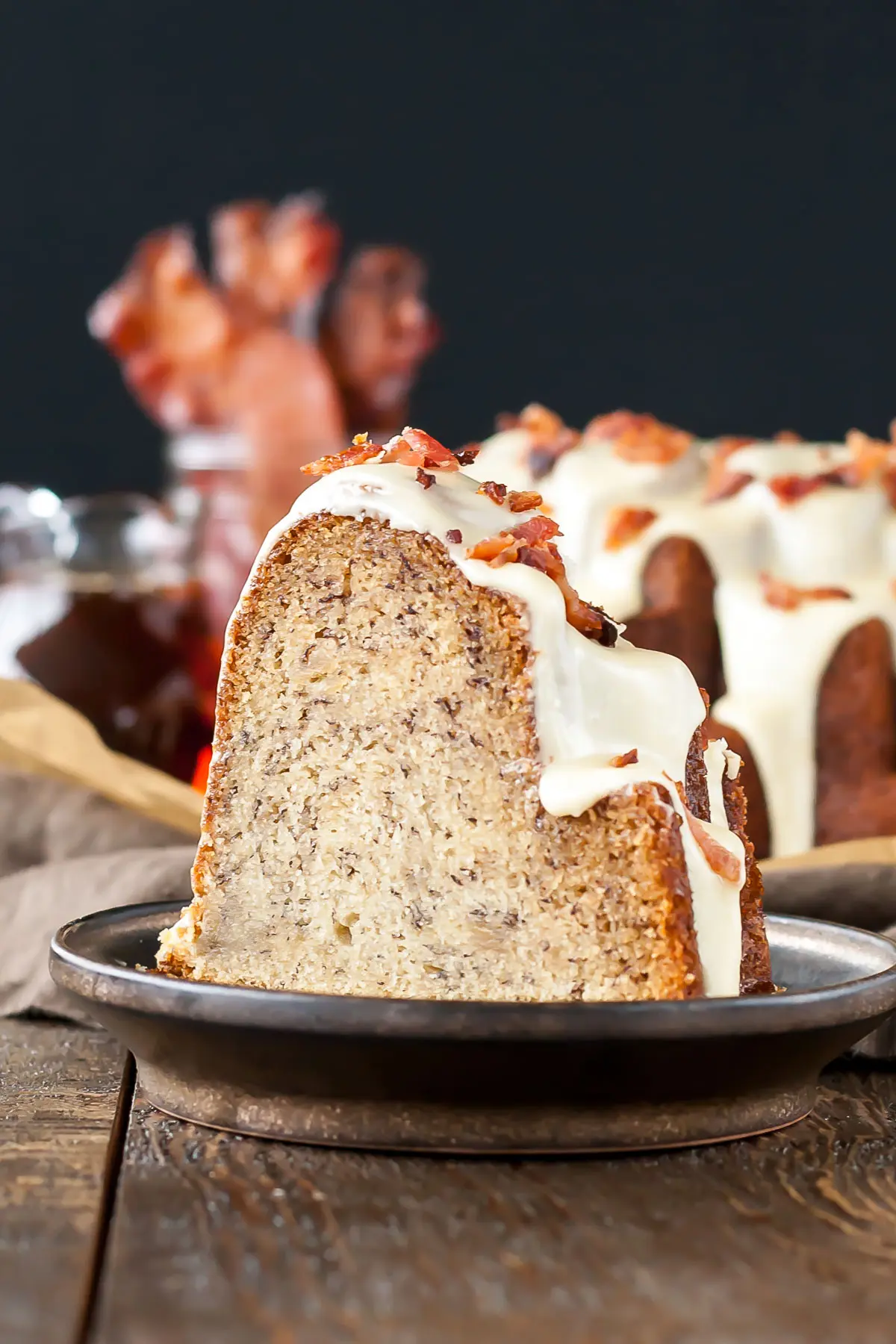 Enough about the bacon, what does it TASTE like?! Well, it tastes pretty damn good. The banana-bread type cake goes really well with the sweetness of the maple glaze and the salty/sweet bacon pieces. I didn't put any bacon IN the actual cake, but I would next time. I actually ended up sprinkling more bits of bacon on my piece after the fact so I could have more of that flavor.
If you're looking for something unique and weird but GOOD, this recipe is for you.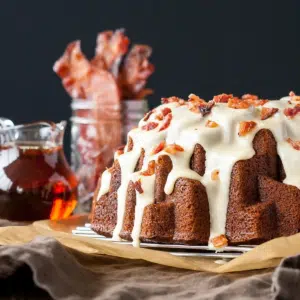 Banana Bacon Bundt Cake
Your favorite breakfast flavors in one delicious cake! Banana cake with a maple sugar glaze topped with chopped candied bacon.
Instructions
Bundt Cake:
Preheat oven to 350F and grease a 10-12 cup bundt pan with cooking spray.

In a medium bowl, whisk flour, baking soda, and salt. Set aside.

Using a stand mixer fitted with the paddle attachment, beat butter until smooth. Add sugar and beat on med-high until pale and fluffy (2-3mins).

Reduce speed and add eggs one at a time, fully incorporating after each addition. Add vanilla and mashed bananas. Beat well to combine.

Alternate adding flour mixture and buttermilk, beginning and ending with flour (3 additions of flour and 2 of buttermilk). Fully incorporating after each addition. Do not overmix.

Add some batter into your prepared pan and press it into the cracks of the bundt pan with a small spatula. Add remaining batter until pan is no more than 3/4 full. Smooth the top with a spatula and whack the pan against the counter to evenly distribute.

Bake for 60-70mins or until a toothpick inserted into the center comes out mostly clean.

Place cake on wire rack to cool for 10mins. Whack the pan on the counter to loosen the cake and turn out onto wire rack to cool completely.
Glaze:
Whisk powdered sugar and maple syrup until smooth. Thick but pourable. Pour over cooled cake.
Candied Maple Bacon:
Preheat oven to 350F. Line a baking sheet with aluminum foil and top with a wire rack.

Place maple syrup and sugar into a medium bowl and mix until combined. Add bacon slices and mix with your hands until coated.

Place strips of bacon onto wire rack and bake for 25-30mins or until browned and crisp. Remove from wire rack and place on parchment lined baking sheet to cool. Chop and sprinkle over top of glazed Bundt cake.
Calories:
556
kcal
Carbohydrates:
87
g
Protein:
6
g
Fat:
20
g
Saturated Fat:
11
g
Cholesterol:
94
mg
Sodium:
294
mg
Potassium:
219
mg
Fiber:
1
g
Sugar:
59
g
Vitamin A:
590
IU
Vitamin C:
2.5
mg
Calcium:
53
mg
Iron:
1.8
mg
The nutritional information and metric conversions are calculated automatically. I cannot guarantee the accuracy of this data. If this is important to you, please verify with your favorite nutrition calculator and/or metric conversion tool.