This Dark Chocolate Honeycomb cake is the ultimate dark chocolate cake! Layered with a rich fudge frosting and homemade honeycomb.
I apologize in advance for what is to be a very brief and to-the-point post! It's been a hectic week dealing with tech issues and seemingly never-ending errands and chores. I feel completely behind on everything. I *did* manage to get my act together enough this week to test out the photography setup in our new place (finally). Much stress, anxiety, and procrastination later — the setup actually worked better than I expected and I'm really happy with how the pics turned out!! That recipe is coming your way next week, but for this week I have for you my latest post for The Cake Blog!
This Dark Chocolate Honeycomb Cake is pure decadence. A rich chocolate cake slathered in the fudgiest, chocolatiest frosting you will ever have. Seriously SO GOOD. If you're a chocolate lover, that is. And I am.
I wanted to pair this cake with something striking with a sharp color contrast so I decided to make some honeycomb for it. Honeycomb is the stuff that's inside a Crunchie bar and it's delicious. If you've never made honeycomb yourself, its actually super simple. All you need is some sugar, corn syrup, and baking soda. Cook it till it just starts to turn color, whisk in the (sifted) baking soda, pour into a pan and let it cool. Ideally you'd use a candy thermometer to assess the correct temperature, but it's not necessary — you can kinda eyeball the color.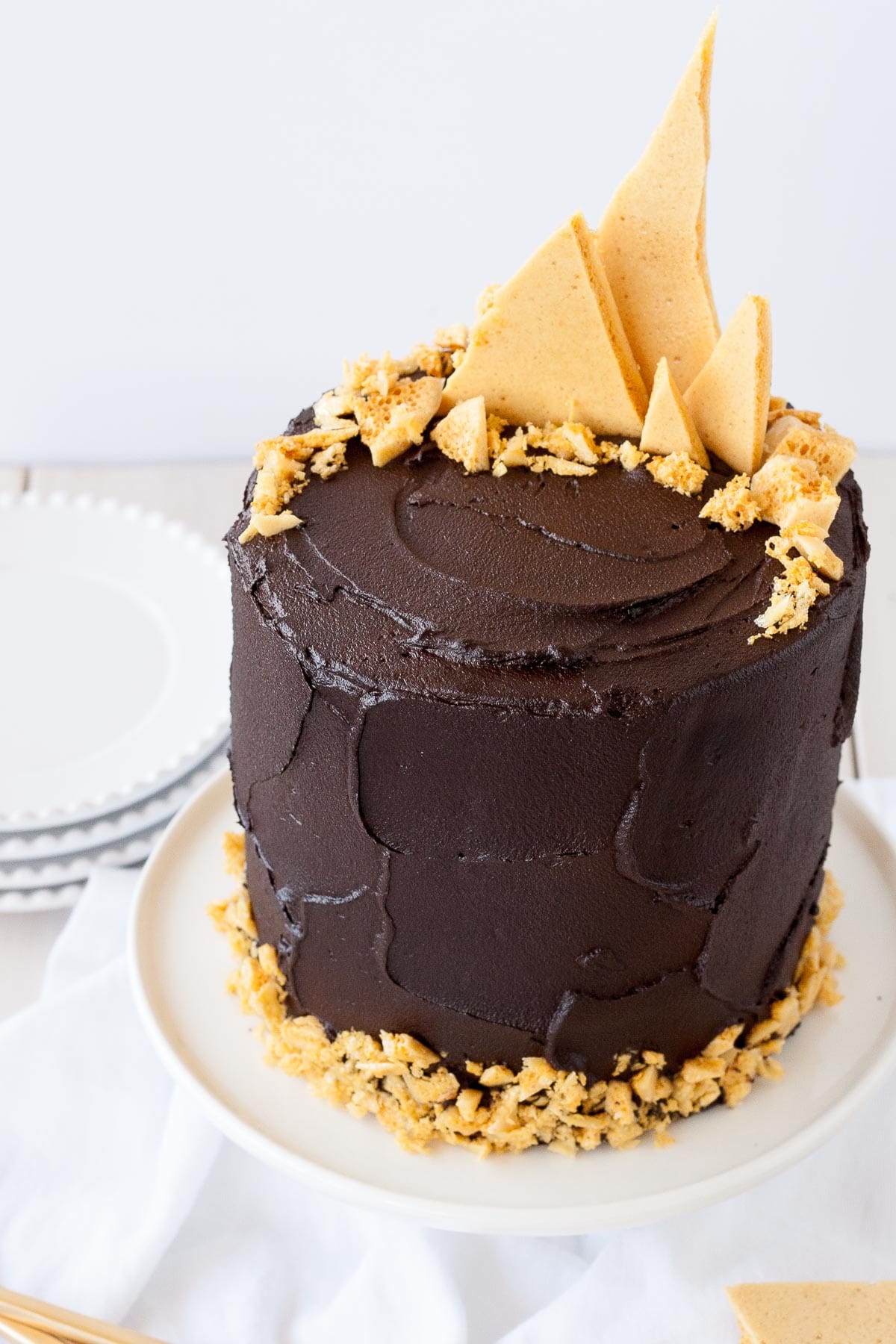 You'll have some honeycomb left over after you make this cake. A simple way to use it up would just be to dip pieces into chocolate, like my friend Sam did in her recipe here.
If you are a chocolate fan or have one in your life, you will love this Dark Chocolate Honeycomb Cake! Head on over to The Cake Blog for the recipe.